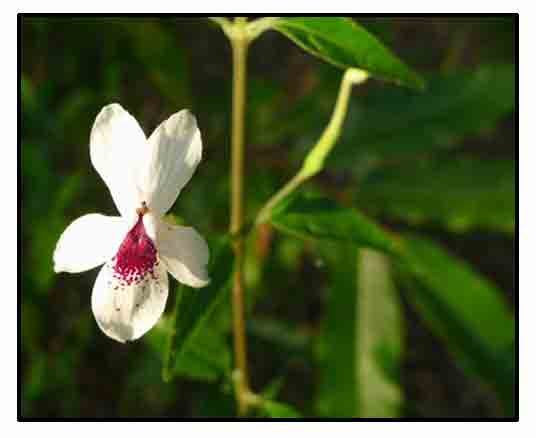 Botany
Limang-sugat is an erect, branched, rather slender undershrub or half-woody plant usually about 1 meter in height. Leaves are thin, elliptic-ovate to oblong-ovate or oblong-lanceolate, 5 to 12 centimeters long, the upper ones often reduced, pointed at the tip and narrowed to the petiole at the base. Peduncles are axillary and longer than the petioles, bearing near their apices 1 to 3 or more racemose or cymose flowers. Calyx is green, 5 to 7 millimeters long, with elongated, linear teeth. Corolla is white, the middle lobe of the lower lip has a purple spot at the base; the tube is slender and 2.5 to 3 centimeters long; lobes are spreading, elliptic to elliptic-oblong, and about 1.2 centimeters long. Fruit is a hairy, stalked capsule, about 2 centimeters long.
Distribution
Common in thickets at low altitudes from northern Luzon to Palawan and Mindanao and in most islands and provinces.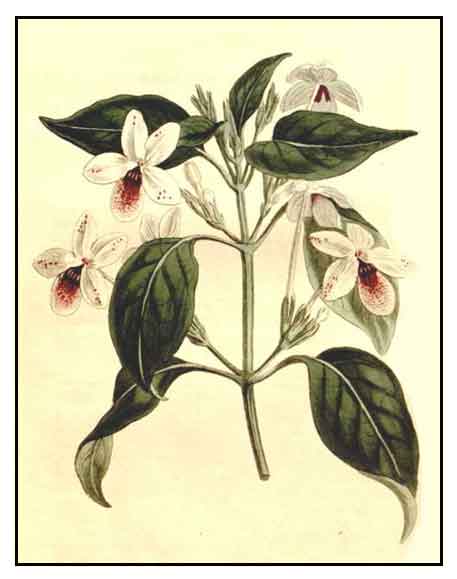 Constituents
- Study of methanolic extract of aerial parts yielded eleven compounds viz. β- amyrin (1), α-amyrin (2), Lupeol (3), β-sitosterol (4), Apigenin (5), Kaempferol (6), β-sitosterol 3-O-β-D-glucopyranoside (7), Benzoic acid (8), Kaempferol-3-O-β-D-glucopyranoside (9), Syringin (10) and Apigenin 7-O-neohesperidoside (11). (see study below) (3)
- Fatty acid analysis of aerial parts yielded saturated acids (lauric, myristic, palmitic, stearic, behenic and cerotic acid); unsaturated acids (palmetoleic, oleic, linoleic, linolenic and erucic acids). Major acids were palmetic, linoleic and oleic acids. (3)

Properties
- Studies have suggested antimicrobial, antipyretic, anti-inflammatory, hepatoprotective, CNS depressant, anticonvulsant properties.

Parts used
Roots, stems, leaves.

Uses
Folkloric
- Decoction of leaves, stems and roots used for aphthae.
- Also used as a cicatrizant of wounds and ulcers.
- In India, plant paste is applied on boils. Leaves are fried in Brassica campestris oil (sarsoon) and applied externally on cracked feet. (2)
- The Gujjar tribe of Sub-Himalayan tract, Uttarakhand, India , used the plant paste on boils. Leaves are fried in oil of Brassica campestriis (sarsoon) and applied externally on cracked feet. (5)
Studies
• Antimicrobial Triterpenes and Sterols: A dichlormethane extract of Pseuderanthemum bicolor yielded lupeol, betulin, and a mixture of stigmasterol and sitosterol. Tests showed activity against Gram-negative E. coli and Pseudomonas aeruginosa, with no activity against Gram-positive bacteria. Lupeol inhibited fungal growth of Candida albicans and Aspergillus niger. (1)
• Safety Studies / Aerial Parts: LD50 results showed different extracts of aerial parts of E. nervosum are safe enough to be used and the ethyl acetate fraction is the safest fraction. (3)
• Anti-Inflammatory / Antipyretic / Aerial Parts: Methanolic extract and different fractions of aerial parts showed anti-inflammatory activity with reduction of carrageenan-induced edema and antipyretic activity with reduction of yeast-induced fever. Best fractions were n-hexane, ethylacetate, and n-butanol. (3)
• CNS Effects / Depressant and Anticonvulsant Activity / Aerial Parts: All fractions of aerial parts attained a central nervous system depressant activity. A total methanolic extract showed potent anticonvulsant activity against PTZ induced convulsions comparable to carbamazepine. (3)
• Hepatoprotective Effects: A total aqueous extract showed remarkable hepatoprotective effect in CCl4-induced liver damage. (3)
• Polyherbal Invention for Renal Tubular Acidosis: This invention relates to a traditional Chinese medicine used for treating renal tubular acidosis prepared with a mixture of Eranthemum pulchellum, Nervilia fordii, Equisetum pretense, Evodia lepta, chickenweed, buttonbush, and linear leaf thistle. (6)

Availability
Wild-crafted.