Gen info
· Laportea meyeniana belongs to the Urticacea (Nettle) family characterized by the presence of stinging hairs known for causing contact dermatitis.
· Botanical factoid: Lipa City in Batangas is named after the Urticaceae species Dendrocnide meyeniana, known for the stinging trichomes on its twigs.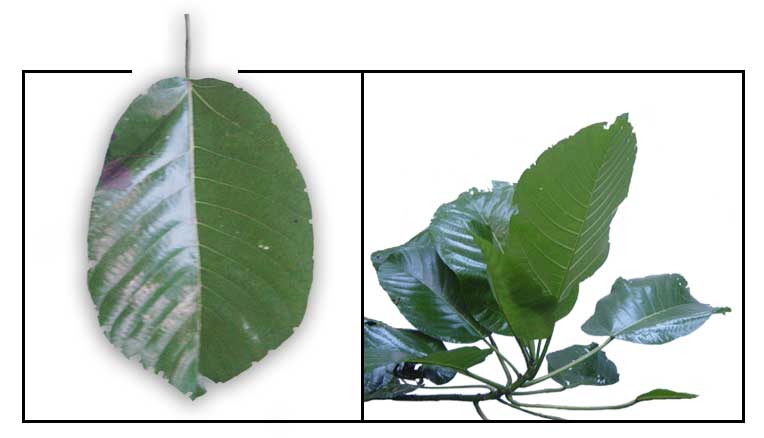 Botany
Lipa is a deciduous shrub or small tree, growing to a height of 3 to 5 meters. Leaves are ovate to broadly elliptic-ovate, 20 to 40 centimeters long, 10 to 22 centimeters wide, entire, with shortly pointed at the tip, and somewhat heart-shaped at the base. Upper surface is green and smooth, the underside paler and rather densely covered with numerous, soft and stinging hairs, abundant on the margins of the leaves. Petioles are about 20 centimeters long. Male inflorescence is axillary, paniculate, up to 20 centimeters long. Flowers are very numerous, crowded in small glomerules on the branches, the perianth- segments about 2 millimeters long. Female flowers are at the end of the branchlets of the inflorescence, 8 to 12, flabellately arranged, and greenish, about 5 to 7 millimeters in diameter. Fruit is small, fleshy, white to pale violet, 5 to 7 millimeters in diameter.
Distribution
- In thickets, at low and medium altitudes from northern Luzon to Mindoro and Guimaras.
Constituents
· Phytochemical screening of crude methanol extracts of leaves yielded antrhones, flavonoids, glycosidic flavonoids, phenolic compounds, steroids, tannins, triterpenes, and anthraquinones. (1)

Properties
· Leaves have numerous, conspicuous stinging hairs. The hairs have a large bulbous base from which projects a long tapering tube that ends in a curved tip that breaks off easily.
· Contact with the leaves causes breaking of the tips of the hairs and a poison is released that causes immediate and intense skin irritation. The stings are painful and may cause the formation of blisters, immediate and possibly progressing to confluence. Ammonia is used as treatment, rubbed on the affected part. In rural Quezon, Pungapong is used as a counterirritant, rubbing the stem juice to the affected parts.
· A study of the Australian species, Laportea gigas Wedd., which resembles Laportea meyeniana, shows it contains ninety times the free acid of European nettle.
· The poison could be formic and acetic acids, the latter in greater proportion than the former.
· Although much of the irritation is attributed to formic acid, some believe it is due to some albuminous poison.
Uses
· Dried or powdered leaves use to stop bleeding.
· Leaves used topically to cure carbuncles.
· Pounded roots applied externally for scrofula.
· Decoction used for nosebleeds.
· Infusion of roots and leaves used as diuretic.
· Caution: fresh leaves sting!
Studies
· Phytochemicals / Antioxidant / Cytotoxicity: The crude methanolic extracts of four Philippine medicinal plants, including Laportea meyeniana, were studied for their antioxidant and cytotoxic activities. L. meyeniana leaves, based on activity against HeLa cells can be a potential source of cytotoxic and antioxidant compounds. (see constituents above) (1)
· Alternative Therapy for Autosensitization Dermatitis : A combination formula of Xiao-feng-san (XFS) and Huang-lian-jie-du-tang (HLJDT) in the form of concentrated herbal extracts was found to be a potential alternative treatment for autosensitization dermatitis caused by Dendrocnide meyeniana. (3)

Availability
Wild-crafted.