Botany
Luiang-usiu is a smooth, erect, herbaceous plant. Rootstocks are large and tuberous, pale yellow within. Leafy stem is 0.6 to 2 meters high. Leaves are numerous, distichous, lanceolate to oblong-lanceolate, 15 to 30 centimeters long, 5 to 8 centimeters wide. Flowering stem from the rootstock is 10 to 30 centimeters long, clothed with long, appressed, obtuse sheaths, bearing at the apex an ovoid, oblong, or cylindric spike, red or green in color, 5 to 20 centimeters long. Bracts are numerous, imbricate, orbicular, 2 to 3 centimeters long, greenish, merging into red, and holding water. Flowers are 5 centimeters long, white or cream colored, the tube as long as the bracts, with 3-lobed lips. Fruit is oblong, about 2.5 centimeters long. Seeds are oblong, black, about 4 millimeters in diameter.

Distribution
- From norther Luzon to Mindanao, in most islands and provinces, In thickets and near settlements at low and medium altitudes.
- A native of tropical Asia.
- Now pantropic.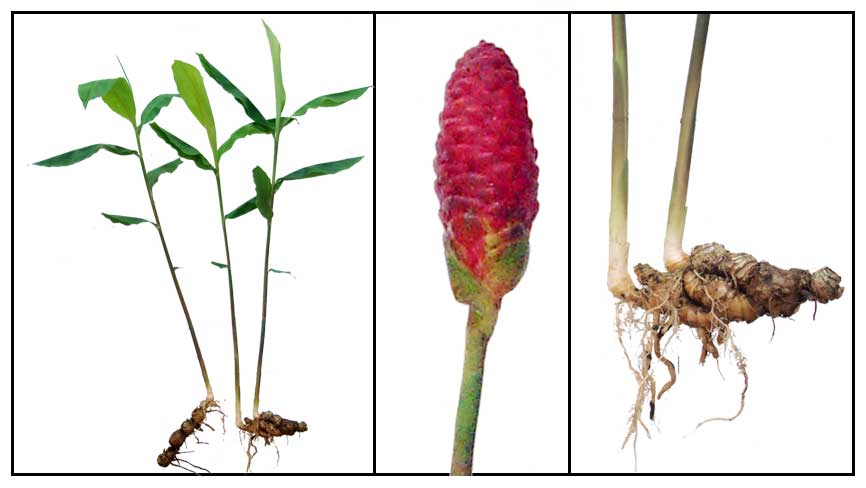 Constituents
- Volatile oils of the rhizomes contain zerumbone, humulene and camprene.
- Studies have isolated bioactive compounds: humulene, monoterpenes, zerumbone from the essential oil.
- (Z)-nerolidol have been isolated from extracts of stems, leaves, and flowers.
- Ethanol extract has yielded sesquiterpene and zederone.
- Study of rhizome isolated zerumbone (1), 3-O-methyl kaempferol (2), kaempferol 3-O-(2,4-di-O-acetyl-α-L-rhamnopyranoside (3), and kaempferol-3-O-(3,4-d9-O-acetyl-α-L-rhamnopyranoside (4). (see study below) (8)
- Aqueous extract has yielded phenolic compounds, saponins and terpenoids.
- Study isolated two aromatic compounds, p-hydroxybenzaldehyde and vanillin, and six kaempferol derivatives from the rhizomes.
- Preliminary phytochemical analysis of rhizomes revealed glycosides, sterols, triterpenes, saponins, tannins, carbohydrates, proteins, amino acids, and volatile oils. (23)
- Study of leaf oil yielded 29 components with major components of zerumbone 36.98%, α-caryophyllene 16.35%, and camphene 9.24%. Rhizome oil yielded major components of zerumbone 46.83%, α-caryophyllene 19.00%, and 1,5,5,8-tetramethyl-12-oxabicyclo[9.1.0]dodeca-3,7-diene 4.28%. (27)
- Active fraction of rhizome yielded five components: kaempferol 3-O-rhamnoside, kaempferol 3-O-(2"-O-acetyl)rhamnoside, kaempferol 3-O-(3"-O-acetyl)rhamnoside, kaempferol 3-O-(4"-O-acetyl) rhamnoside, kaempferol 3-O-(3",4"-O-diacetyl)rhamnoside, and kaempferol 3-O-(2",4"-O-diacetyl) rhamnoside. (34)

Properties
- Considered antihyperglycemic, antiinflammatory, antiulcer, antioxidant, anti-platelet activating factor, antimicrobial.
Parts utilized
Rhizome.
Uses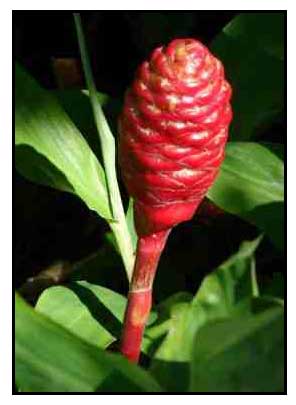 Edibility
- Used as food flavoring and appetizer in various Malays' cuisines.
Folkloric
- In the Philippines, decoction is prescribed for asthma, and as a topical for rheumatism.
- Pulverized rhizome also used for diarrhea.
- The fluid squeezed from the swollen ends of club-shaped stems is used for shampoo.
- Rhizome is used like the common ginger, as a remedy for coughs, asthma, parasitism, and variety of skin diseases.
- In China, used for stomach aches, tonic and stimulant.
- Malays use the fresh rhizome for edema, stomach aches, sores. The juice of boiled rhizomes are used to treat worm infestation in children.
- In Thailand, fresh rhizomes are used as antiflatulent.
- In China, rhizomes macerated in alcohol are used as tonic, depurative, stimulant.
- In Taiwan, plant used as antiinflammatory adjuvant for stomach pains, fever and sprains.
- In India, rhizome powder mixed with Morinda citrifolia used for severe pain. Cooked and softened rhizome used for toothache, asthma, cough, worms, leprosy and other skin diseases.
- In Hawaii, compressed rhizomes used for bruises and cuts and to treat headaches, toothaches, ringworm, joint sprains. The milky juice from the pine cones are used as shampoo.
- In Southeast Asia, used for fever, toothache, loss of appetite, constipation and pain.
Latino healers in NY use ZZ for uterine fibroids.
Others
- Perfume: Powdered rhizomes used as perfume.
- Shampoo: Sticky liquid existing in the clusters of this plant is containing surfactants which could be applied as a hair shampoo. (37)
STUDIES
• Antipyretic / Analgesic / Rhizome: Study evaluated ethanol and aqueous rhizome extracts of ZZ for analgesic activity using acid induced writhing in mice and antipyretic activity in Brewer's yeast induced pyrexia in rats. Results showed ZZ possess both analgesic and antipyretic activities. Although the mechanism is unclear, the possibility of prostaglandin inhibition is considered. (1)
• Anti-Inflammatory / Antinociceptive: Study of the methanol extract of ZZ rhizomes showed anti-inflammatory and antinociceptive activities probably involving the inhibition of bradykinin-, prostaglandin-, histamine- and opioid-mediated processes.
• Antiinflammatory / Rhizomes: Study of water-soluble extract of rhizomes of Zingiber zerumbet yielded a potent inhibitor of acute inflammation. The extracts were devoid of any toxicity up to 500 mg/kg in rats. The anti-inflammatory effect was similar to the reference drug mefenamic acid. (2)
• Zerumbone / Anti-Inflammatory: Study yielded zerumbone and kaempferol pyranosides. Compounds 1 and 2 demonstrated potent inhibition of NO production with IC50 values of 4,37 and 24,35 µM, and also significantly suppressed iNOS expression in a dose-dependent manner, (see constituents above) (8)
• Zerumbone / Inhibitor of Tumor Promoter: Study isolated zerumbone from the rhizomes of Z. zerumbet as a a potent inhibitor of tumor promoter 12-O-tetradecanoylphorbol-13-acetate-induced Epstein-Barr virus activation. (3)
• Anti-tumor / Zerumbone: Zerumbone, an active principle from Zingiber zerumbet, exhibited antitumor effects in P-388D1 cells in vitro and in vivo: Results suggest a potential lead compound for the development of anticancer drugs. (4)
• Apoptosis in Liver Cancer / Zerumbone: Zerumbone was found to induce the apoptotic process in HepG2 cells through the up-and-down regulation of Bax/Bcl-2 protein independently of functional p53 activity.(12)
• Immunomodulation: (1) Anti-hypersensitive and anti-inflammatory activities of water extract of Zingiber zerumbet (L.) Smith: Results show ZZ can be beneficial for asthmatic patients through immunomodulation and cytokine production. (2) Study evaluated the immunomodulatory effects of zerumbone isolated from ZZ. Results showed zerumbone can be used as an immunomodulatory agent which can react toward the immune cell cytokine production in a dosage dependent pattern.
• Chemopreventive: A study on the modifying effects of dietary feeding of zerumbone isolated from ZZ showed zerumbone to have possible chemopreventive abilities through expression of COX-2 expression, cell proliferating activity of colonic mucosa and induction of detoxification enzymes in the development of carcinogen-induced ACF.
• Antiproliferative: A study showed ZZ extracts and fractions exhibited antiproliferative effect on human breast carcinoma cell lines. (7)
• Anti-Asthma / Antiinflammatory: A study showed ZZ extracts have beneficial effects for the treatment of asthmatic patients through its ability to inhibit synthesis of LTC4 and through immunomodulation of Th1/Th2 cytokine production.
• Essential Oils: A study yielded 29 components in the leaf oil, the major components as zerumbone, a-caryophyllene and camphene. The rhizome oil yielded 30 components, the main ones being zerumbone, a-caryophyllene, 1,5,5,8-tetramethyl-12-oxabicyclo[9.1.0]dedeca-3,7-diene. (10)
• Antiplatelet Aggregation: Methanol extract exhibited strong antiplatelet aggregation in human whole blood in vitro.
• Anthelmintic: In a comparative study, it was observed that Z. zerumbet showed better activity than C. maxima compared to the standard Albendazole. The study concludes the potential use of the ethanol extracts of both plants as anthelmintic against P. posthuma in an in vitro model. (17)
• Absence of Genotoxic Effects: Study evaluated the potential genotoxicity of the ethanol extracts of rhizome. Results suggest the use of the extract in traditional medicine pose no risk of genotoxicity. (19)
• Antimicrobial Effects: Study evaluated an ethanolic extract and fractions of ZZ against pathogenic bacterial and fungi. Results showed potent antibacterial and antifungal phytochemicals in the extracts. The crude ethanol extract showed highest activity against Vibrio parahemolyticus. (20)
• Antioxidant / Cytotoxicity: Study evaluated the antioxidant and cytotoxic activities of an ethanolic extract of Z. zerumbet rhizome. Results showed significant radical scavenging activities on DPPH and hydroxyl radical scavenging assays. On cytotoxicity assessment by in vitro trypan blue exclusion test, the rhizome extract was found to be cytotoxic at concentrations higher for human consumption. ZZ was also found to be a rich source of kaempferol. (22)
• Gastroprotective / Zerumbone: Study evaluated the gastroprotective effect of zerumbone, the main bioactive compound of Z. zerumbet rhizome, against ethanol-induced gastric ulcer model in rats. Results showed zerumbone promotes ulcer protection, probably attributable to maintenance of mucus integrity, antioxidant activity, and HSP-70 induction. Zerumbone also exhibited antibacterial activity against H. pylori. (24)
• Antiproliferative / Human Breast Carcinoma Cell Lines: Study investigated the effect of extracts and fractions of Z. zerumbet on growth on human breast carcinoma (MCF-7) cell lines. A comparative study between both subfractions and tamoxifen showed that the active subfraction of ZZ displayed a strong antiproliferative effect with EC50 of 2.81 ± 0.24 and 2.49 ± 0.13 µg/mL, respectively on MCF-7, with less cytotoxicity to normal cells. (25)
• Mosquito Larvicidal / Rhizome: Study of dichlormethane and methanol extracts of Z. zerumbet rhizome showed larvicidal activity against Aedes aegypti and Anopheles nuneztovari mosquitoes, higher against AN than the former. (26)
• Anti-Leishmanial / Induction of Apoptosis / Zerumbone: Study showed zerumbone could induce ROS mediated apoptosis in Leishmania donovani promastigotes and was also found effective in reducing intracellular amastigotes in infected-macrophages. (28)
• Zerumbone / Anti-Inflammatory / Analgesic: Study evaluated the in vivo anti-inflammatory and analgesic activities of zerumbone isolated from ZZ in rats. Results showed zerumbone potently inhibited inflammation induced by both λ-carrageenan and prostaglandin E2 and potently inhibited pain in the abdominal writhing test. (29)
• Cytotoxicity / Thymoquinone and Zerumbone / Prevention of Leukemia Cancer Progression: Study evaluated the cytotoxicity effects of Nigella sativa and Zingiber zerumbet extracts on acute Human myeloid leukemia cell line (HL60) and compared the compounds thymoquinone from NS and zerumbone from ZZ. Results showed the PE extract of Ns and HEX extract of Zz showed cytotoxic effect on HL60 cells and triggers apoptotic cell death. The HEX extract of Zz was more effective a an anticancer agent than the PE extract of Ns for human myeloid leukemia. (30)
• Antinociceptive / Essential Oil / Rhizome: Study evaluated rhizome essential oil for antinociceptive activity using chemical and thermal models of nociception i.e., acetic acid-induced abdominal writhing test, hot plate test and formalin-induced paw edema licking test. Results suggest the essential oil of ZZ rhizome possessed both central and peripheral antinociceptive activities supporting the popular folkloric used to relieve some pain conditions. (31)
• Mosquito Larvicidal / Antimicrobial / Rhizome Essential Oil: Study evaluated the chemical constituents, antimicrobial and larvicidal properties of hydrodistilled rhizome essential oil. The most abundant compound of the EO was zerumbone (51.3%). The EO showed mortality of 98.3% at 24 h and 100% at 48 h against Ae. albopictus at concentration of 100 µg/mL. It showed 100% mortality against Cx. quinquefasciatus. It showed larvicidal activity towards /cx. quinquefasciatus with LC50 of 33.28 mg/mL at 24 h and 21.81 mg/mL at 48 h. The EO showed activity against microbe Aspergillus niger. (32)
• Seasonal Variation in Metabolites and Activities: Study showed the highest content of total flavonoid (29.7 mg quercetin equivalents (QE) g dry material (DM) and total phenolic (44.8 mg gallic acid equivalents (GAE)/g DM was detected at the rhizome extract of 9-month-old plants. As the plant matured from 3 to 9 months, total flavonoid and total phenolic content decreased in the leaf, but significantly increased in the rhizomes. The most abundant secondary metabolites were: flavonoids, catechin > quercetin > rutin > luteolin > myricetin > kaempferol, phenolic acids, gallic acid > ferulic acid > caffeic acid > cinnamic acid. The 9-month old rhizome extracts showed highest CHS activity. Nine-month old rhizomes showed highest DPPH activity (76.42%). Study suggests 3- and 9-month old plants are recommended when harvesting the leaf and rhizomes for most effective pharmaceutical quality of the components. (33)
• Anti-Allergic / Immunomodulatory / Essential Oil / Rhizomes / Review: The essential oil extracted from rhizomes yielded many major metabolites with anti-allergic and immune modulation properties. The major bioactive compounds in the rhizome essential oil were zerumbone, limonene, borneol, pinene, linalool, humulene, and caryophyllene. (35)
• Alleviation of Alcohol Induced Brain Injury / Antioxidant / Review: Study evaluated the effects of ethyl acetate. extract of Z. zerumbet rhizomes against ethanol-induced brain damage in male Wistar rats. Extract treatment significantly reduced malondialdehyde (MDA) and protein carbonyl (p<0.05) in the brain homogenate. Administration of the extract showed showed protective effects on ethanol induced brain damage as evidenced by higher levels of SOD, CAT, GPx, and GSH in the brain homogenate. Histological exam of the cerebrum and cerebellum showed the extract prevented loss of Purkinje cells and retained the number and shape of cells. The protective effect is mediated through its antioxidant properties. (36)
• Treatment of Osteoarthritis / Review: Study reviews the scientific resources around therapeutic effectiveness of Zingiber zerumbet in the treatment of adverse symptoms of OA disorder. Z. zerumbet is a plant which could be frequently applied for reduction of OA symptoms because of its circulatory stimulant and anti-inflammatory effects. (37)
• Immunosuppressive on Innate Immune Responses / Rhizome: Study evaluated the immunosuppressive effects of standardized ethanol extract on innate immune responses in male Wistar rats. Z, zerumbet significantly inhibited the migration of neutrophils, expressions of CD11b/CD18 integrine, phagocytic activity and production of reactive oxygen species in a dose-dependent manner The extract also dose-dependently inhibited the expression of lysozyme and ceruloplasmin in rat plasma.. Extract showed strong inhibitory effects on innate immune responses and potential as an effective immunosuppressive agent. (38)
• Anticancer / Zerumbone / G2/M Cell Cycle Arrest and Apoptosis / Jurkat Cell Line: Study evaluated the anticancer property of zerumbone (ZER) on the human T-cell (Jurkat) line using the MTT assay, microscopic evaluations, flow cytometric analyses, and caspase activity estimations. Results showed zerumbone has selective cytotoxicity to Jurkat cells in a dose-and time-dependent manner with IC50 of 11.9± 0.2, 8.6 ± 0.5 and 5.4 ± 0.41µg/mL at 24, 48 and 72 hours of treatment respectively. ZER significantly (P<0.05) arrested Jurkat cells at the G2/M phase of the cell cycle. The antiproliferative effect of ZER on Jurkat cells was through the apoptotic intrinsic pathway via the activation of caspase-3 and -9. Results suggest potential as a safe chemotherapeutic compound for the treatment of cancers, especially leukemia. (39)
• Neuroprotective / Paraquat-Induced Parkinsonism / Rhizome: Study evaluated the neuroprotective effects of ethyl acetate of Z. zerumbet against oxidative stress on paraquat-induced Parkinsonism in rats. Results showed Z. zerumbet reduced oxidative stress in the substantia nigra of PQ-induced neuronal damages. Study suggests potential as a preventive agent for neurodegenerative disorders caused by environmental toxins. (40)
• Inhibition of Tumor Angiogenesis / Zerumbone: Zerumbone derived from Z. zerumbet has been reported to have antitumor growth and anti-inflammatory properties in some types of cancer, Study evaluated the effects of zerumbone against gastric cancer angiogenesis examining the expression of vascular endothelial growth factor (VEGF) in gastric cancer cell lines. Among six cancer cell lines tested, AGS cells exhibited the highest expression of VEGF. Cell proliferation, VEGF expression and NF-kB activity in AGS cells were all significantly inhibited by zerumbone. Both VEGF and NF-kB activity in AGS cells were reduced by zerumbone treatment, thereby inhibiting angiogenesis. Results suggest a potential new anti-angiogenic and antitumor drug for treatment of gastric cancer. (41)
• Antidermatophytic and Protease Inhibiting activities / Rhizome: Study evaluated the Antidermatophytic and protease inhibiting activities of Zingiber zerumbet. Methanolic extract of the rhizome exhibited 100 percentage inhibition of mycelial growth of tested dermatophytes at the concentration 1 mg/ml. The inhibitory effect was statistically significant with P=0.000. The rhizome exhibited antidermatophytic as well as trypsin inhibiting activity. The material is a traditionally used ingredient in food preparations. (42)
• Hepatoprotective / Paracetamol toxicity/ Rhizome: Study evaluated the hepatoprotective effect of zerumbone (ZER) derived from Z. zerumbet in Paracetamol toxicity in rats. Results showed treatment with ZER significantly reduce ALT (P = 0.041), AST (P=0.044) and total hepatic protein (P = 0.045) in comparison to PCM-induced rats. Rats treated with ZER exhibited the normal structure of hepatocytes with no vacuolisation or necrosis and showed significantly reduced neutrophil count (P = 0.037). (43)
Availability
Wild-crafted.