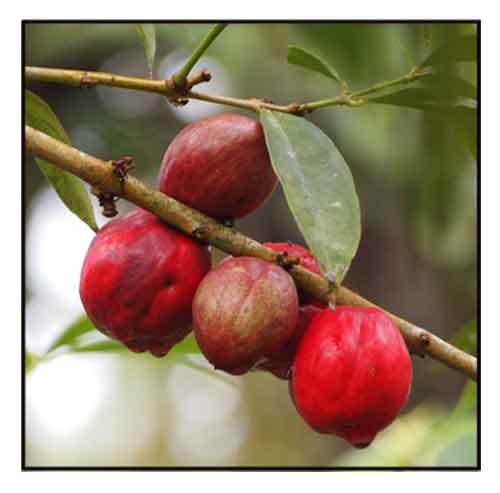 Gen info
- Phaleria is a genus flowering plants of about 20-25 species in the family Thymelaeaceae.
- Phaleria macrocarpa was introduced in the Philippines by the late Dr. Roberto E Coronel in 2009. (61)
- Etymology: The genus name derives from Greek 'phaleros' meaning white, referring to the flowers. The specific derives from Greek 'macros' meaning big and substantive, and 'carpos' meaning fruit.
- Phaleria macrocarpa is one of the sources of the gaharu inferior (gaharu buaya) kind of agarwood. (66)

Botany
P. macrocarpa is a shrub or an evergreen tree, height ranges from 1–18 m, with 1 m long straight root exuding sap, erect trunk, cylindrical, up to about 15 cm of diameter, smooth or slightly wrinkled brownish bark and dense crown. Leaves simple, oppositely arrangement, elliptic to oblong lanceolate with pointed apex, 7–14 cm long and 3–5 cm broad, coriaceous, dark green in color; petiole 0.5 cm long. Inflorescence umbel type, peduncle 0.3–2 cm long, borne in the axil of the leaves, carrying 2–5 white sessile flowers. Flowers tubular shaped, 1.5–3.5 cm long, whitish, fragrant, perfect flower with four sepals, four or five petals, 8 stamens and a carpel. Fruits simple, fleshy drupe with one or two seeds, round or elliptical in shape, matured fruit is 3–5 cm in diameter, color of matured fruit is green and turns to brightly red or maroon when it ripens. Seeds dicotyledonous with exalbuminous seeds type, brown in color, ovoid, anatropous and exist as 1-2 seeds per fruit. (2)

Distribution
- Introduced.
- Indigenous to Indonesia.
- Found in tropical areas of New Guinea up to 1,200 m above sea level.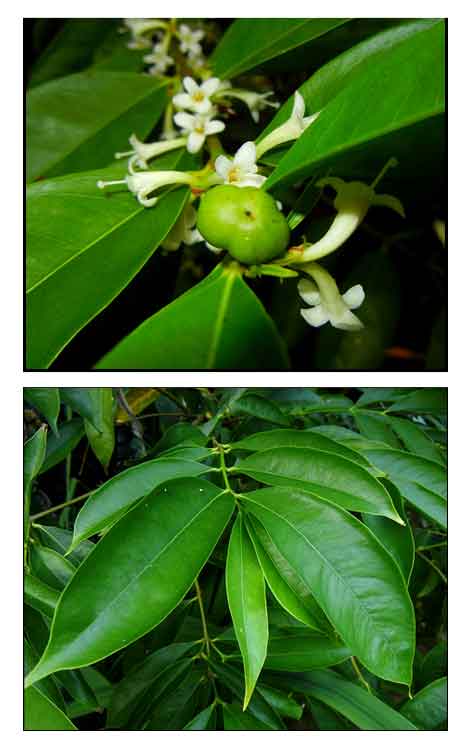 Constituents
- Studies of different parts have isolated phalerin, gallic acid, icaricide C, mangiferin, mahkoside A, dodecanoic acid, palmitic acid, des-acetylflavicordin-A, flavicordin-A, flavicordin-D, falvicordin-A glucoside, ethyl stearate, lignans, alkaloids, and saponins. (3)
- Phytochemical screening of seeds yielded flavonoids, glycosides, saponin glycosides, phenolic compounds, steroids, tannins, and terpenoids. Small amounts of alkaloids, α-amino acids, cyanogenic glycosides, organic acids, reducing sugars, and starches were also present. (see study below) (11)
- GC-MS study of hexane fraction of seeds identified six compounds: methyl stearate, oleic acid, methyl oleate, linoleic acid, methyl linolenate, and palmitic acid. Chloroform fraction of seeds yielded methyl myristate, palmitic acid, methyl oleate, methyl linoleate, oleic acid, and (z)- and 9,17-octadecadienal.   (11) 
- Preliminary screening of crude extracts of fruits yielded secondary metabolites such as flavonoids, phenols, saponin glycosides, and tannins. (see study below) (13) 
- Study showed different parts (pericarp, mesocarp, and seed) of fruit contains varied amounts of total phenolic (59.2, 60.5, 47.7 mg gallic acid equivalent/g DW) and flavonoid compounds (161.3, 131.7, 35.9 mg rutin equivalent/ g DW). (see study below) (16) 
-Study of fruits isolated icariside (1), phalerin (2), and mangiferin (3). (see study below) (18) 
- Study evaluated the amounts of flavonoid quercetin in various parts of P. macrocarpa. Crude extracts showed stalks with the highest amount of quercetin (1670.40 µg/ml(, followed by fruit (1426.72), leaf (494.47), and seed extracts (313.22 µg/ml). (see study below) (50)
Properties
- Studies have suggested antimicrobial, antioxidant, gastroprotective, wound healing, anticancer, immunomodulatory, anti-inflammatory, antidiabetic, spermatogenic, libido-enhancing, PMS alleviating, chemopreventive, antiviral, UV-protective, hepatoprotective, vasorelaxant properties.

Parts used
Fruits, leaves, stems.

Uses
Edibility
- Fruit is a main ingredient in tea and other health drinks.
- In Papua Island and Indonesia, used as a herbal drink.
- Caution: There fruit seeds are reported to be poisonous. Fruits should not be consume raw; best suited for cooked applications, boiled, shredded and dried, for use in tea or coffee.
Folkloric
- No reported folkloric medicinal use in the Philippines.
- Stems used to treat bone cancer; egg shells of seed for treatment of cancer, liver and heart disease, hemorrhoids, acne. Leaves used to treat impotence.
- Used for treatment of diabetes, gout, hypertension.
- In Indonesia, used for treatment of breast cancer.
- In Papua New Guinea, fruits traditionally used to treat various ailments, including diabetes, psoriasis, loose bowels, skin inflammation, malignancy, kidney, liver, and heart diseases. (21)

Studies
• Gastroprotective / Wound Healing / Antioxidant / Immunomodulatory / Stems: Study evaluated ethanol extracts of P. macrocarpa fruit and Tinospora crispa stems for immunomodulatory, gastroprotective, and wound healing properties. On antioxidant evaluation using DPPH and FRAP, results showed high antioxidant activity attributed to high phenol and flavonoid contents. On gastroprotective testing on rat gastric mucosal injury induced by ethanol, results showed significant ulcer protective effects evidenced by reduction in ulcer size, significant elevation of gastric juice pH, and increase in mucus production, and significant increase in levels of inflammatory mediators PGE2 and TGF-ß1 and decrease in TNF-α, along with increased activity of SOD and CAT and reduced MDA, gastrin, and pepsin levels. Topical treated wounds showed significantly accelerated wound healing. Immunomodulatory effects was evidenced by increased RAW 264.7 macrophage cell proliferation in a dose dependent manner, and significant induction of intracellular expression of cytokines. (3)
• Anticancer on Human Cancer Cell Lines / Gallic Acid / Fruits: The natural antioxidant gallic acid (GA) was isolated from fruits of P. macrocarpa. GA exhibited significant inhibition of cell proliferation in a series of cancer cell lines and induced apoptosis in esophageal cancer cells (TE-2) but not in non-cancerous cells. GA upregulated the pro-apoptosis protein, BAX, and induced caspase-cascade activity in cancer cells and induced down-regulation of the survival Akt/mTOR pathway. Results suggest GA as a potential anticancer compound. (4)
• Wound Healing / Fruit: Study evaluated the wound healing potential of P. macrocarpa by monitoring levels of inflammatory mediators, collagen and antioxidant enzymes on experimental full-thickness deep wound excision model in rats. Results showed significant healing of excision wounds with decrease in wound area and significant increase in TGF-ß1 level, decrease in TNFα and increase in collagen formation. (5)
• Antidiabetic / Fruit Pericarp: Study evaluated the hypoglycemic and anti-hyperglycemic effects of P. macrocarpa fruit pericarp extracts in normal and diabetic rats. The extracts showed no effect on acute dose study. In diabetic rats, the methanol extract lowered blood glucose (p<0.05) in an effect similar to metformin, glibenclamide, and insulin treated groups. Plasma insulin in the methanol treated group decreased. Phytochemical screening showed abundance of flavonoids, terpenoids, and tannins. The antidiabetic activity of the methanol fraction may be through extra-pancreatic means. (6)
• Anti-Breast Cancer / Leaves: Study evaluated P. macrocarpa as an alternative low cost herbal medicine to fight breast cancer especially useful for low income people. Cytotoxicity study was done using MTT assay against MCF-7 cell lines. Study showed the methanol P. macrocarpa leaves extract had toxicity against breast cancer MCF-7 cell lines. Phenolic antioxidant compounds may play a role i reducing cell number. (7)
• Spermatogenesis Effect / Improved Male Fertility / Fruits: Study evaluated the effect of Phaleria macrocarpa aqueous extract of fruits on spermatogenesis measured by histological changes of testes in adult male rats. Results showed significantly increased number of cell and thickness of seminiferous tubules of male rats (p<0.05) with no significant effect on volume and size of testes. Results showed potential alternative for improving sexual strength by increasing the number of spermatogonic cells and thickness of seminiferous tubules. Study suggests potential herbal remedy to improve fertility in men.   (8)
• Effect on Sperm Characteristics Effect / Fruits: Study evaluated the effect of PM fruits on male fertility by assessing its effect on sperm characteristics in male rats. Phaleria macrocarpa aqueous extract significantly increased (p<0.05) the percentage of sperm viability, with no significant effect on both sperm motility and morphology. Results suggest an alternative to improving male fertility by improvement of sperm quality. (9)
• Effect on Sexual Function / Increased Testosterone and Libido / Fruits: Study evaluated the effect of P. macrocarpa aqueous extract of fruits on reproductive performance of adult male rats by assessing serum testosterone level and evaluating libido behavior. Results showed significantly increase (p<0.05) serum testosterone level and mounting frequency of male rats. There was no significant effect on mounting latency. (10)
• Antioxidant / Cytotoxicity / Seeds: Study of seeds showed the water fraction to have the highest antioxidant activity by DPPH assay. Scavenging activity increased with increasing concentration and was in the descending order of water fraction > methanol extract > ethyl acetate fraction > hexane fraction > chloroform fraction. On cytotoxicity evaluation, the methanolic extract of seeds showed cytotoxic effect against HT-29, MCF-7, Cas Ki, and SKOV-3 cell lines (IC50 values giving from  1.1 to 36) and mild toxicity on normal cell lines. There were significant cytotoxic effects on selected cancer cells lines that were both time- and dose-dependent manner due to the presence of many secondary metabolites. (see constituents above) (11)
• Antibacterial / Radical Scavenging / Cytotoxicity / Leaves: Study evaluated the antibacterial, radical scavenging activities of four crude extracts of leaves and its cytotoxic properties in human hepatoma cell lines (HepG2). Crude extract showed equally good activity against P. aeruginosa, and strong activity against B. cereus and S. aureus, with inhibition zones from 15-18 mm. Crude extracts of MMD and CMD exhibited strong and moderate radical scavenging with inhibition percentages of 79% and 76%, respectively. EMD and MMD extracts exhibited low cytotoxic effect against HepG2 cell line with IC50s between 30-60 µg/mL. (12)
• Antibacterial / Radical Scavenging / Cytotoxicity / Fruits: Study evaluated various fruit extracts for phytochemicals, physiochemicals, nutritional value, antioxidant properties and cytotoxicity (MTT cell proliferation assay). The EA and ME displayed high antioxidant activity (IC50 of 8.15 µg/mL) in DPPH assay comparable to standard gallic acid (IC50 10.8 µg/mL). The ME showed excellent anti-proliferative activity against SKOV-3 (IC50 7.75 µg/mL), while hexane and EA extracts displayed good cytotoxic effect against both SKOV-3 and MDA-MB231 cell lines. There was no cytotoxic effect in Ca Ski cell line and two normal cell lines. (see constituents above) (13)
• Antidiabetic / Fruits: Study evaluated a methanol extract and fractions for antidiabetic activity. An n-butanol fraction (NBF) reduced blood glucose in diabetic rats after a 12-day treatment by 66.67% (p<0.05), similar to metformin (51,11%), glibenclamide (66.67%), and insulin (71,43%). Phytochemical screening yielded flavonoids, terpenes, and tannin in ME, NBF, and SFI, and LC-MS analysis revealed 9.52, 33.30, and 22.50% mangiferin respectively. Results suggest antihyperglycemic effect, probably via extra-pancreatic action. Possibly, mangiferin may be responsible for the activity. (14)
• Mangiferin Extraction / Fruits: Mangiferin is one of the major bioactive compounds of Phaleria macrocarpa. Study reports on an extraction method for mangiferin using Face Centered Central Composite Design. Experimental values showed good accuracy with those predicted (1.1% deviation), indicating suitability of the model employed. (15)
• Antioxidant / Anti-Inflammatory / Cytotoxicity / Fruit: Study evaluated different parts of fruit for antioxidant, anti-inflammatory, and cytotoxic activities. Pericarp and mesocarp showed high antioxidant activities by DPPH, FRAP, and NO scavenging activity. Pericarp and mesocarp inhibited inducible nitric oxide synthesis in macrophage RAW 264.7 cell lines induced by LPS/IFN-γ indicating notable anti-inflammatory potential. Cytotoxic activities were observed in all parts against HT-29, MCF-7, HeLa, and Chang cell lines. (see constituents above) (16)
• Treatment of Ulcerative Colitis / Anti-Inflammatory / Leaves: Due to its anti-inflammatory effect, P. macrocarpa is considered an alternative therapy for ulcerative colitis. Study evaluated an ethanol extract of leaves for its effect on UC by using Ki-67 as a marker of proliferation. Dextran sodium sulphate (DSS) was used for modeling UC in the colon tissue of mice. Based on H-score, the extract at 300 mg and 200 mg significantly decreased the expression of Ki-67 compared to negative control (p=0.001 and p=o.01). Results suggest the leaf extract is related to Ki-67 expression in cells, as it was inversely proportional in the analysis. (17)
• Vasorelaxant / Fruits: Study of fruits isolated icariside (1), phalerin (2), and mangiferin (3). Icariside (1) showed slow vasorelaxant activity against noradrenaline-induced contraction of isolated rat aorta. (18)
• Antiproliferative Activity / Fruits: Study evaluated the antiproliferative activity of ethanol extract of various parts of P. macrocarpa (pericarp, mesocarp, seed, and leaf) against T47D human breast cancer lines. WST-1 assay revealed P. macrocarpa leaves exhibited the most potent antiproliferative activity (p<0.05) compared to other plant parts. The leaf extract effectively induced apoptosis, inhibited proliferation, and arrested cell cycle of T47D cells. Caspase-3 was significantly (p<0.05) increased after extract treatment. There was dose dependent accumulation in the Bax/Bcl-2 ratio due to up-regulation of Bax and down-regulation of Bcl-2. Results suggest leaves can inhibit proliferation of T47D cells and trigger apoptosis through caspase-3 activation and Bax/Bcl regulation. Study suggests leaves can be used for breast cancer therapy. (19)
• Acute and Subacute Toxicity Assessment / Fruits: Study evaluated the acute and subacute toxicities of liquid carbon dioxide extract (LCE) from ripe fruits of P. macrocarpa in mice. Acute toxicity was a single dose of 3000 mg/kbw according to OECD 425 guideline, while the subacute test was assessed at doses of 250, 500, 1000, and 2000 mg/kbw for 28 days. Acute exposure to LCE showed no evidence of any severe or fatal effects in mice. Acute toxicity results exhibited an LD50 was >3000 mg/kbw. LCE at 1000 and 2000 mg/kbw demonstrated toxicity to the heart and lung in mice identified by histological and biochemical measures. Results suggest LCE at dosage of 500 mg/kbw is considered a safe dose that can provide therapeutic effects without any adverse side effects. (21)
• Antimicrobial / Flavonoids / Fruits: Study of pericarp yielded kaempferol, myricetin, naringin, and rutin as major flavonoids, while the mesocarp and seed yielded naringin and quercetin. Various fruit parts showed weak to moderate activity against pathogenic tested bacteria (inhibition range: 0.93-2.17 cm) at concentration of 0.3 mg/disc. Seed extract showed anti-fungal activity against Aspergillus niger. The antimicrobial activity was attributed to flavonoid compounds. (22)
• Gastroprotective / Ethanol-Induced Gastric Ulcer / Fruits: Study evaluated the protective effects of P. microcarpa fruit extract on rat gastric mucosal injury induced by ethanol. Pre-treatment with P. macrocarpa has protective effects against ethanol-induced gastric ulcers as evidenced by reduction of ulcer area ad increase ulcer inhibition by significant elevation of gastric pH and increase in mucus production. Results suggest gastroprotective activity via significant stimulation of inflammatory mediators PGE2, TGF-1 and reducing TNF-α. (23)
• Inhibition of ROS Production in SH-SY5Y Cells: / Leaves: Reactive oxygen species generation in mammalian cells profoundly affects several critical cellular functions, and lack of efficient cellular detoxification mechanisms that remove these radicals can lead to several human diseases. Study evaluated the reactive oxygen inhibitory effect of Phaleria macrocarpa 80% leaf extract. Cytotoxicity studies were done using MTT and ROS inhibitory activity were evaluated using DCF-DA assay in SH-SY5Y cells model. The extract exhibited ROS inhibitory activities. HPLC showed presence of vitexin and isovitexin. High antioxidant activities and low toxicity effect of the crude extract has potential as a natural medicine/supplement. (24)
• Cytotoxity / Human Cervical Carcinoma Cell Line / Fruits: Study evaluated the cytotoxic activities of two benzophenones derivatives identified as 2,6,4'-trihydroxy-4-methoxybenzophenone (1) and 6,4'-dihydroxy-4-methoxybenzophenone-2-O-ß-D-glucopyranoside (2) isolated from the EA extract. Compound 1 exhibited low cytotoxic effect against HeLa and 3T3 cells lines with IC50s of 132 and 158 µg/ml, respectively. (25)
• Symptomatic Treatment of Premenstrual Syndrome and Dysmenorrhea: Study evaluated the efficacy and safety of DLBS1442, a bioactive extract of fruit, in alleviating symptoms of premenstrual syndrome and primary dysmenorrhea in 23 women, aged 18-40. Results showed efficacy in alleviating symptoms of PMS. The extract was safe and well tolerated. (26)
• Effect on Density of Collagen Incision Wounds / Fruits: Study evaluated the effect of mahkota dewa fruit on the density of collagen incision wound of white rats (Rattus norvegicus). Treatment group was given oral dose of 22.5 mg/kbw. Results showed a significant difference of collagen density between control and treatment group. There was increased macrophage activity, which could increase the Transforming Growth Factor-ß (TGF-ß) secretion that could stimulate fibroblast proliferation. (27)
• Toxicty Study on Hematological Parameters / Leaves: Study evaluated the hematological toxicity of ethanol extract of P. macrocarpa leaves using OECD guidelines, using doses of 100, 500, 1000 mg/kbw and control satellite and satellite group dose of 1000 mg/kbw orally for 90 days on test animals. Results showed not toxic effect on hematological parameters with long-term use. (28)
• Hypocholesterolemic / Effect on Weight Control / Fruit: In vivo study evaluated the hypocholesterolemic effect of Pm extract in 36 male Sprague Dawley rats. The Pm extract significantly (p<0.05) reduced body weight gain, total cholesterol, triglycerides, HDL and LDL levels and upregulated hepatic LDL receptor as well as PCSK9 proteins of hypercholesterolemic rats. Results were supported by studies in HepG2 cells whereby Pm extract significantly upregulated both LDL receptor and PCSK9 at protein and mRNA levels. Study enhances potential use of Pm fruit for controlling body weight of obese people and treating hypercholesterolemia. (29)
• Anti-Herpes Simplex Virus Type 1 / Fruit: Study evaluated the cytotoxicity and antiviral activity of aqueous extract of P. macrocarpa fruit. The extract was safe and not toxic towards Vero cells. On plaque reduction assay, the extract showed antiviral activity against herpes simplex virus type 1 (HSV-1) with effective concentration (EC50) of 0.28 mg/mL. The selective index (SI=CC50/EC50) of 17.9 indicated potential for further evaluation of antiviral activity. (30)
• Functional Properties of Fruit Flesh at Different Stages of Ripening: Study evaluated the functional property changes in Pm macrocarpa fruit during tree ripening. Fruit juice from fruit flesh showed low acidity and soluble solid content. Fruit acidity decreased while soluble solids increased as fruit ripened. Unripe fruit flesh showed highest antioxidant content, ascorbic acid, DPPH free radical scavenging activities and total phenolic content, and lowest in fully ripe fruit flesh. Results suggest that unripe fruits should be harvested for valuable medicinal product development instead of the fully ripe fruits. (31)
• Use in Cardiovascular and Metabolic Diseases / Review: Studies have showed P. macrocarpa to be a promising agent for managing chronic diseases, especially those related to hyperglycemia, dyslipidemia, and renal disorders. Pm has been shown to lower and maintain blood glucose levels through inhibition of α-glucosidase, maintain and improve blood lipid profile through regulation of protein and gene expression related to cholesterol transport and homestasis, and a nephroprotective effect through reduction in gene expressions that regulate angiogenic and cells proliferation. (32)
• Mangiferin in Sunscreen Gels / Fruits: Ultraviolet (UV)-mediated photoreaction and photo-oxidation damage to the skin can be prevented by sunscreens. Mangiferin is a major constituent of P. macrocarpa fruits that has both sunscreen and antioxidant activity. Studies formulated and evaluated a sunscreen gel made from mangiferin isolated from P. macrocarpa fruits. Results showed gel formulations containing mangiferin at concentrations of 1.25, 2.5, and 5% were effective as sunscreens, with the 2.5% concentration the most preferred formulation. There was no skin irritation. The physicochemical properties showed to be stable for 2 months storages at temperatures of 8°, 25°, and 40°C. (33)
• Chemopreventive / Colorectal Cancer Aberrant Crypt Foci / Fruits: In vivo and in vitro studies evaluated the chemopreventive properties of Phaleria macrocarpa ethanol extract of fruits on azoxymethane (AOM)-induced aberrant crypt foci (ACF) in rats. Crude ethanolic extract sowed high antioxidant activity and modulated the oxidative stress by up-regulation of glutathione-s-transferase and superoxide dismutase. Immunological staining showed over-expression of PCNA and Bax, reduced crypt sizes and numbers, suggesting characteristic feature of apoptotic cancer cells. Results suggest the potential modulation of colorectal pathophysiological pathway by P. macrocarpa compounds, mostly flavonoids, offer opportunity for discovery of new leads for colorectal cancer. (34)
• Angiotensin Converting Enzyme Inhibition / Antihypertensive / Leaves and Fruits: An Indonesian study evaluated 10 parts from nine plants used by traditional healers for the treatment of hypertension. Results showed the leaves and fruits of Phaleria macrocarpa exhibited strong inhibitory activity against ACE with IC50 in leaves of 189.13 (petroleum ether), 157.74 (ethyl acetate), and 101.52 µg/ml (methanol) extracts, while fruits yielded 161.7, 139.11 and 122.38 µg/ml, respectively. (35)
• Cytotoxicity / Apoptosis in MDA-MB-231 Cells / Fruits: Study evaluated the in situ cytotoxicity effect of P. macrocarpa fruit ethyl acetate fraction on MDA-MB-231 cells by MTT cytotoxicity assay and CyQuant Cell Proliferation Assay. Results showed the EA fraction is a potential anticancer agent with average IC50 of 18.10 µg/mL by inhibiting MDA-MB-231 cell proliferation. Characteristics of apoptotic cell death--cell shrinkage, membrane blebs, chromatin condensation, and formation of apoptotic bodies --were observed. Results suggest potential for development of a potent anticancer drug of chemo-preventive supplement. (36)
• Chitosan Nanoparticles / Anti-Inflammatory / Leaves: Excessive TNF-α production in colon mucosa can cause homestasis disturbance, which can lead to chronic inflammatory reaction, such as Inflammatory Bowel Disease (IBD). Study evaluated if encapsulation of mahkota dewa leaf extract in chitosan nanoparticles can suppress TNF-α expression. TNF-α expression index in NPMD 12.5 and 6.25 mg showed significant reduction (p<0.05), which was insignificant in extract treated group. Results showed low dose makhota dewa extract loaded in chitosan nanoparticles was able to suppress TNF-α expression in mice colon tissue. (37)
• Fevicordin-A / Anticancer: Study evaluated the cytotoxicity of fevicordin A on P388, HeLa, TE-2 and TE-3 cancer cells. MTT assay showed IC50 values of fevicordin-A on cancer cell growth: 0.01 µg/mL (P388), 1.16 (HeLa), 12 (CasKi), 40 (TE-2) and 14.6 µg/mL (TE-3). Results showed fevicordin A has potential as cytotoxic agent against leukemia and cervix cancer. (38)
• Anti-Osteoarthritis / Fruit / Clinical Trial: A prospective Randomized Open End Blinded Evaluation (PROBE) evaluated the efficacy of Mahkota dewa fruit compared to meloxicam 7.5 mg in patients with knee osteoarthritis. Phaleria macrocarpa 330 mg was equal to meloxicam 7.5 mg in reducing the degree of pain; however there was no effect on reducing proinflammatory cytokines in the blood of OA patients. No adverse effects were noted in blood, liver and kidney function with consumption of fruit extract. (39)
• Apoptosis and Cell Cycle Arrest / Breast Cancer Cell Line / Fruit: Study evaluated the in situ cytotoxicity effect of P. macrocarpa fruit ethyl acetate fraction (PMEAF) against MDA-MB-231 cells and underlying mechanism of cell death. Results indicated PMEAF treatment induced apoptosis in MDA-MB-231 cells through intrinsic mitochondrial related pathway with participation of pro- and anti-apoptotic proteins, caspases, G0/G1 and G2/M-phases cell cycle arrest by p53-mediated mechanism. (40)
• Synergism with Adriamycin-Cyclophosphamide / Breast Cancer: Study evaluated the effect of supplementation of Phaleria microcarpa to adriamycin-cyclophosphamide (AC) in treatment of C3H mice with breast cancer. Results showed PM supplementation has a synergic effect to AC treatment in reducing tumor growth, by increasing apoptosis, and protecting the liver and kidney from damage caused by AC. (41)
• Antibiofilm / Antiadhesion Against Oral Streptococcus mutans / Stem, Leaf, Fruit: Study evaluated crude extracts of fruit, leaf, and stem of P. macrocarpa for antiadhesion and antibiofilm activities against Streptococcus mutans. All tested extracts showed inhibition of bacterial activities with concentration less than 8 mg/mL. The extracts were capable of reducing adhesion and biofilm activity of S, mutans by 50% to 80% at 1.56 mg/mL. The effectiveness as antiadhesion and antibiofilm agent against S. mutans suggests potential antiseptic agent to treat oral dental caries. (42)
• Anti-Inflammatory / DSS-induced Colitis / Fruit: Study evaluated the anti-inflammatory effect of Mahkota dewa fruit pericarp extract on inducible nitric oxide synthase (iNOS) in mice colon induced by dextran sodium sulfate (DSS). The pericarp extract of fruit exhibited anti-inflammatory activity in the experimental model by suppressing the expression of inflammatory cell and iNOS. (43)
• Inhibition of iNOS Expression of HCT116 Colorectal Cancer Cell Line / Stem Bark: Study evaluated the effect of ethanol extract of Pm stem bark on expression of inducible nitric oxide synthase (iNOS) in colorectal cancer cell line HCT116. Administration of the ethanol extract of bark in 200 ppm dose significantly decreased the iNOS expression H-Score by 23.5%. Results showed the bark can decrease expression of iNOS in the HCT cell line. (44)
• Silver Nanoparticles / Antibacterial / Leaves: Study reports on green synthesis of silver nanoparticles using ethanol extract of makhota dewa leaves. The NPs showed antibacterial activity against E. coli and S. aureus, with inhibition zone greater than AgNO3 and 0.125% ethanol extract. (45)
• Antifibrosis / Co-Delivery with Curcumin: Study evaluated the antifibrotic effect of curcumin-loaded nanoemulsion and its combination with Phaleria macrocarpa extract on collagen expression in fibroblast NIH/3T3 cells. Both preparations of curcumin- curcumin-Pm nanoemulsion decreased procollagen α1 (1) and collagen IV genes and collagen protein. Curcumin nanoemulsion and curcummin-PM nanoemulsion showed potential as a promising antifibrotic agent. (46)
• Suppression of Endometriosis Growth / Flavonoids: Study evaluated the effects of flavonoids isolated from Phaleria macrocarpa on the development of granulomas apoptosis, proliferation and angiogenesis associated with endometriosis. Results showed the flavonoid isolates from PM can suppress the growth of endometriosis lesions through normalization of proliferation and apoptosis. (47)
• Protective Effect on Testicular Damage in Induced Diabetes / Pericarp: Persistent hyperglycemia in diabetes mellitus induces systemic oxidative stress in the testis, which can disrupt germinal cells and cause abnormalities in the male reproductive system. Study evaluated the protective effect of PM pericarp extract on the testicular oxidative marker and testicular histological changes in T2D induced by streptozotocin and nicotinamide. Treatment with PM extracts and vitamin E significantly reduced testicular MDA level compared to untreated group. Treatment significantly improved sperm count, spermatogenic score seminiferous tubule epithelial thickness, Sertoli and Leydig's cell's number. (48)
• Hepatoprotective / Antidote to Cadmium Exposure / Fruit Flesh: Cadmium is a heavy metal that cause toxicity in humans. Study investigated the effectiveness of P. macrocarpa fruit extract as an antidote for the toxicity of Cd (II) in the liver of experimental rats. Results showed significant decrease of observed parameters including MAD, SGOT, and SGPT at 71.5, 72.1 and 93.6%, respectively. The P. macrocarpa flesh fruit given as antidote to rats protected the liver from damage due to exposure to Cd (II) as evidenced by decrease in liver function enzyme parameters, SGOT and SGPT. (49)
• Quercetin: Quercetin is a flavonol, a plant-derived flavonoid, largely found in often consumed fruits and vegetables, such as green apple, onion, green tea, lemon, and in many seeds, flowers, barks, and leaves. It has potent biologic activities i.e., antioxidant, antidiabetic, antitumor, antiviral, anti-inflammatory. (see constituents above) (50)
• Reduction of Tumor Growth / 4T1 Breast Cancer Model / Leaves: Study evaluated crude extracts of leaves for effective dose for reducing breast cancer growth and its safety for the liver and kidneys in 4T1 cell line in mice. Results showed a dose of 58.9 and 117.8 mg/kg could reduce tumor volume by more than 90%. The 117.8 mg/kg dose is safest and did not cause liver or kidney damage. (51)
• Hepatoprotective / CCl4-Induced Toxicity: Study evaluated the protective effect of water extract of makhota dewa in liver fibrosis and its mechanism of action in male Sprague Dawley rats treated with carbon tetrachloride for 8 weeks. The water extract of PM prevented CCl4-induced fibrosis in rats. The prevention was in part through antioxidant and anti-inflammatory activities and through capacity to inhibit hepatic stellate cells (HSC) activation by reducing fibrogenic cytokine TCG-ß1. (52)
• Antidiabetic / Antioxidant / Fruit Peel: Study evaluated fruit peel extract of P. macrocarpa potential as antidiabetic and antioxidant. Results showed strong antioxidant activity with FRAP IC50 of 77.37 mg/L and CUPRAC IC50 of 39.63 mg/L. It showed antidiabetic activity by inhibition of alpha glucosidase at 0.45 mg/L. Results suggest potential of fruit peel as antioxidant and antidiabetic. (53)
• Fevicordin A / Estrogen Receptor Antagonist / Anticancer / Seeds: Fevicordin-A (FevA) isolated from seeds was evaluated for potential anticancer activity by in vitro and in silico methods. Cytotoxicity studies indicated FevA was selective against cell lines of human breast adenocarcinoma (MCF-7 with IC50 of 6.4 µM. At 11.2 µM, FevA resulted in 76.8% cell death of T47D human breast cancer cell lines. Molecular dynamics (MD) simulation suggested the tail of FevA was accountable for repulsion of the C-terminal Helix-11 in both agonist and antagonist receptor forms. Results suggest FevA has potential as anticancer agent. (54)
• Hypoglycemic / Fruit: Study evaluated the effect of doses of PM dry fruit extract on blood glucose levels in healthy adults. Results demonstrated a dose of 125 mg dry extract has a hypoglycemic effect in healthy adults, and may be suitable as a traditional antidiabetic drug. (55)
• Toxicity Effect on Liver Function / Fruit: Study evaluated the possible toxic effect of P. macrocarpa fruit on liver function by measures of liver enzymes and histopathological examination of the liver tissue in Sprague Dawley rats using doses of 750, 1500 and 300 mg/kbw. There was no significant difference in AST and GGT. There was significant increase (p<0.05) in ALT and ALP compared to control. Histopathological study showed mild to severe changes of vacuolization and degeneration of tissues in treated group. Results showed extract at dose of 3000 mg/kbw for 28 days caused mild toxicity to liver tissue but did not contribute to changes in liver function in rats. (56)
• DLBS1425 / Induction of Cellular Apoptosis in Human Breast Cancer: Study evaluated the molecular mechanism of Phaleria macrocarpa using a bioactivity-guided DLBS1425, an extract of P. macrocarpa, on MDA-MB-231 breast cancer cell line. DLBS1425 exhibited inhibition of proliferative, migratory, and invasive potential of MDA-MD-231 in a dose dependent manner, and significantly reduced phosphoinosite-3 (PI3)-kinase/protein kinase B (AKT) signaling by reducing PI3K transcript level and reduction in AKT phosphorylation. It induced proapoptotic genes and induced cellular death signal by casoase-9 activation. Results suggest DLBS1425 is a potential anticancer agent which targets genes involved in both cell survival and apoptosis in MDA-MB-231 breast cancer cells. (57)
• Anti-Gout / Antioxidant / Fruit Peel: Phaleria macrocarpa fruit peel yielded phenolic compounds, tannins, saponins, and alkaloids. Extract showed antioxidant activity with IC50 of 52.01 mg/L on DPPH assay and reduction of uric acid level of 90.49. Results showed antioxidant and anti-gout potential. (58)
• Effect on Uric Acid Level / Fruit: Study evaluated the effect of fruit decoction of Phaleria macrocarpa on the levels of uric acid in the elderly. Results showed significant effect on uric acid level in the elderly. The fruit decoction has potential as alternative therapy to prevent increase in uric acid. (59)
• Immunomodulatory: Study evaluated the protective effect of P. macrocarpa extract on the peripheral immune system in immunocompromised rabbits. Imunosuppression was induced by Imuran and followed by extract treatment 500 mg/kg for 15 days. The extract significantly improved specific and non-specific immune system cells through modulation of their populations and peripheral ratios with improvement in overall immunity. (60)
• Forhidrol / Hypocholesterolemic / Anti-Atherogenic: Study evaluated the effect of Forhidrol, a bioactive fraction of P. macrocarpa, to increase reverse cholesterol transport through the down-regulation of cholesteryl ester transfer protein (CETP) activity in hepatocellular carcinoma cell lines. Forhidrol was found to significantly down-regulate CETP mRNA expression, as well as total CETP and cholesteryl esters transfer activity (p<0.05). In vivo study showed elevated HDL in rabbits after 4-week treatment of Forhidrol, along with reduction of LDL, triglyceride and CETP activity. Forhidrol showed safety without negative effect on blood pressure. Results suggest a potential anti-atherogenic drug. (62)
• Reduction of Blood Glucose and Blood Pressure / Fruit: Study evaluated a methanolic extract of PM fruits for antihypertensive and antihyperglycemic capacity in 18 male Spontaneous Hypertensive rats (SHR). Blood pressure and blood glucose significantly decreased in SHR treated with Telmisartan and P. macrocarpa. (63)
• Nephroprotective: Study evaluated the protective effects of P. macrocarpa against oxidative stress in male Sprague Dawley rats using alloxan. Treatment with fractions reduced blood glucose, decreased kidney hypertrophy, and diminished blood urea nitrogen (BUN) in diabetic rats. There was suppression of malondialdehyde (MDA), a lipid peroxidation marker. SOD, CAT, GPx activities, and GSH level were significantly decreased. The antihyperglycemic and anti-nephropathy of P. macrocarpa may be attributed to increased renal antioxidant activity in the kidney. (64)
• Inhibition of COX-2 Expression of HCT116 Colorectal Cancer Cell Line / Stem Bark: Study evaluated the inhibition of ethanol extract of P. macrocarpa stem bark on COX-2 expression in colorectal cancer cell line HCT116. Results showed anticancer activity by inhibiting its growth with IC50 of 1,327 µg/ml. Study showed the stem bark is a colorectal cancer growth inhibitor through inhibition of COX-2.    (65)
Availability     
Wild-crafted.
Cultivated.