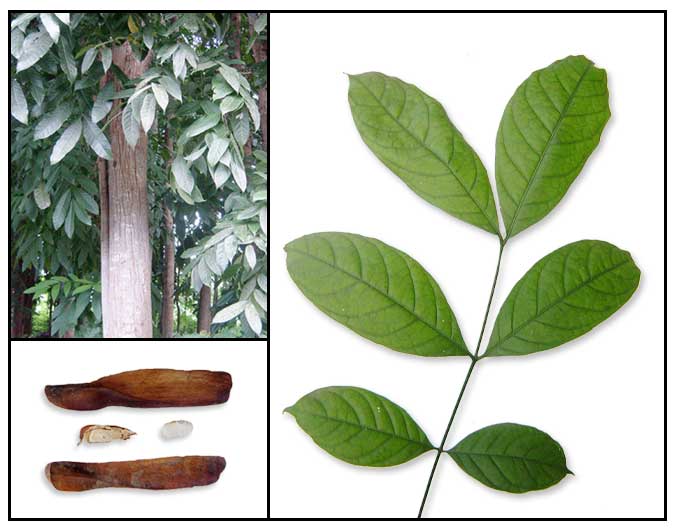 Botany
Mahogany is a deciduous, erect tree growing to a height of 10 meters, with a heavy, dark-green, and dense crown. The trunk is more or less buttressed. Bark is dark gray and ridged. Young leaves when in the flush are pink, soon turning green. Leaves are alternate, smooth, compound, about 15 centimeters long, in 3 to 6 pairs, most often 5 pairs, of leaflets. Leaflets are inequilateral, ovate to oblong-ovate, 5 to 8 centimeters long and half as wide, pointed at the tip, broadly obtuse or rounded at the base. Flowers are greenish yellow, about 8 millimeters wide, borne in axillary panicles shorter than the foliage. Calyx is rim-like and the petals are oblong, less than 5 millimeters in length. Staminal tube is slightly reddish, thick, and nearly as long as the corolla. Fruit is large, cylindrical, barrel-shaped, woody, grayish-brown, rough and less than 12 centimeters long. Body of the fruit splits into five thick outer valves and five thinner inside valves. The outer valves fall off when ripe exposing closely packed seeds attached by the tips of their wings. Seeds are brownish, 5 to 7 centimeters long, with a broad and thin wing and a corky, thickened part containing the embryo.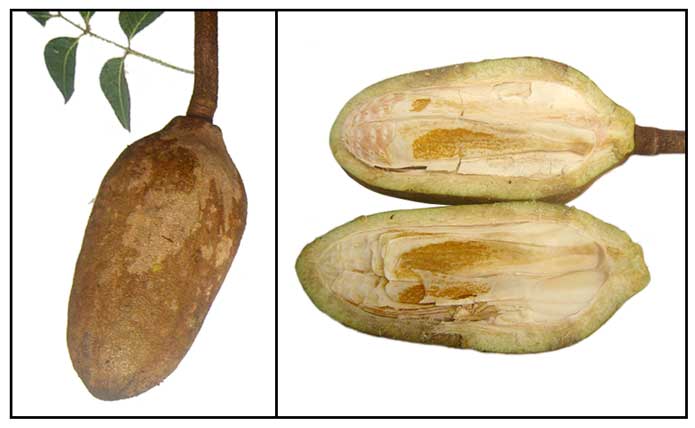 Distribution
- Recently introduction in the Philippines.
- Cultivated for the commerce of its wood.
- Native of the West Indies.

Constituents
• The bark contains tannin; leaves contain seven phragmalin limonoids.
• Two new tetranortriterpenoids, mahonin and secomahoganin were isolated from the cotyledons of SM.
• Study yields 6-Desoxyswietenine, a tetranortriterpenoid from Swietenia mahogani.
• Study on the acidic polysaccharide isolated from the gum exudate yielded residues of D-galactose, L-arabinose, L-rhamnose and D-galacturonic acid.
• Crude methanolic seed extract yielded alkaloids, terpenoids, anthraquinones, cardiac glycosides, saponins, and volatile oils. (see study below) (16)
• Phytochemical screening of air dried powdered leaf, stem bark and fruit yielded alkaloids, flavonoids, steroids and sterols, saponin, tannins, phenolic compounds, glycosides, carbohydrate, protein and amino acids. (see study below) (23)
Properties
• Considered astringent, antipyretic, abortifacient, depurative.
• Studies have suggested anticoagulant, antioxidant, antimicrobial, antidiabetic, antiprotozoal, anthelmintic, cytotoxic, gastroprotective, and hepatoprotective properties.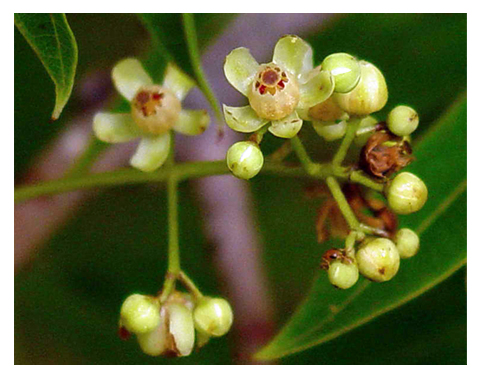 Uses
Folkloric
- Bark is antipyretic, tonic and astringent.
- Decoction of seeds used as abortifacient.
- Used for hypertension, amoebiasis, chest pains, parasitism, cancer.
- Used by Ifugao migrants for malaria, cough and miscarriage.  (11)
- In India, bark extracts used as astringent for wounds.
- Used for malaria, anemia, diarrhea, fever and dysentery.
- In Africa, bark decoction used as febrifuge
Others
Wood: This is the true mahogany of commerce, yielding the highly prized reddish-brown wood. Because of its fast growth, it is much desired in Manila as a shade tree. In India, wood is a popular material for making of furniture, musical instruments, boats, caskets.

Studies
• Anti-Ulcer / Anti-H. Pylori / Seeds: Study in female Spragiue-Dawley rats found a potential effect on the healing of gastric ulcers, attributed to the phospholipid and long chain unsaturated fatty acid content of mahogany seeds, with a healing effect similar to that of misoprostol. Results provide an attractive possibility for H. pylori therapy. (1)
• Hypoglycemic / Hypolipidemic: Study on streptozotocin and nicotinamide-induced type 2 diabetes in rats concludes that the ME of seeds of Swietenia macrophylla has hypoglycemic as well as hypolipidemic effect. (3)
• Antioxidant / Xanthine Oxidase Inhibition: Study of the methanol extract of Swietania mahogani exhibited both high free radical scavenging and xanthine oxidase inhibition activities. (4)
• Cytotoxic: Study on the cytotoxic activities of the crude ethanolic extracts of seed, bark and leaf of Sm and their various fractions showed promising results with the seed extract and some fractions showing the most significant cytotoxic properties. (5)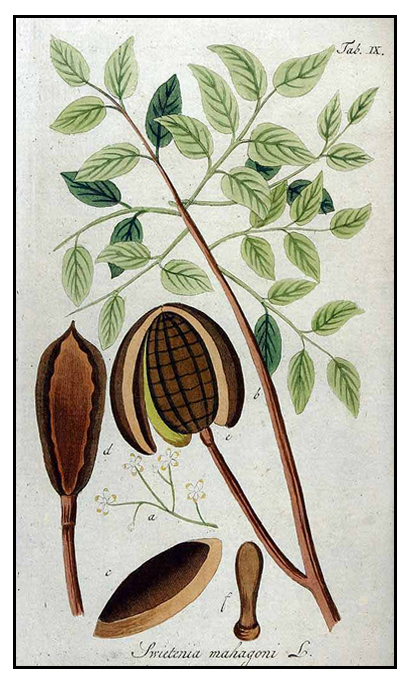 • Hepatoprotective: Study of an aqueous leaf extract of S. mahogani in chronic alcohol-induced liver injury in rats exhibited hepatoprotective activity. (8) Study of a defatted methanol extract of SM bark exerted remarkable hepatoprotective activity against paracetamol-induced hepatic damage in rats, probably attributable to its augmenting endogenous antioxidant mechanisms. (25)
• Anti-Protozoal: In a study of 10 lectins screened for cytotoxic activity against Acanthamoeba sp. (a keratitis-causing amoeba) and Tetrahymena pyriformis, lectins from Schefflera odorata and Swietenia macrophylla were found to possess high cytotoxic activity against the test organisms. (9)
• Anti-Diabetic / Seeds: An ethanolic extract of seeds produced significant reduction of blood glucose level. Histological examination of the pancreas showed retaining of islets and few degranulations of beta cells.  (12) Study of SM seeds in alloxan induced diabetic mice showed significant reduction of blood glucose. (18)
• Hypoglycemic / Bark Extracts: Bark extract of mahogany was evaluated for in vivo hypoglycemic activity against alloxan-induced diabetic rats. A hot water extract showed significant dose-dependent hypoglycemic effect compared to standard drug. Histopath study showed significant ß-cell count. (13)
• Antiulcer Activity / Ethanol-Induced Injury / Leaf Extract / Acute Toxicity Study: Study of an ethanol extract of leaves showed antiulcer activity against ethanol-induced gastric ulcer in rats. Pretreatment resulted in significant protection of gastric mucosa and increase in mucus production. Acute toxicity study did not show any toxicological signs in rats. (14)
• Gastroprotective / Seed Extract / Ethanol-Induced Injury: An ethanol extract of seed showed anti-ulcerogenic activity against ethanol induced gastric mucosal injury in rats, ascertained grossly and histologically. (15)
• Antimicrobial / Seeds: Study evaluated the antimicrobial activities of S. mahogani crude methanolic seed extract. Results showed inhibitory effects on growth of Candida albicans, Staphylococcus aureus, Pseudomonas aeruginosa, Streptococcus faecalis and Proteus mirabilis. (16)
• Antioxidant / Seeds: Study evaluated the antioxidant potential of methanolic and aqueous extracts of SM seeds by various in vitro models. The extracts contained phenolic compounds and were capable of inhibiting free radicals. Results showed a significant and linear relationship between the antioxidant activity and phenolic content. (17)
• Hypoglycemic / Comparative Study with Rosiglitazone: Study compared the blood glucose lowering effect of S. mahogani seeds with rosiglitazone in experimentally induced diabetic rats. Administration of ethanolic extract of seeds in group C and rosiglitazone in group D produced significant reduction in blood glucose. Histological exam showed destruction of beta cells in pancreatic islets in group B, with retention of islets and few degranualations of beta cells in groups C and D. (20)
• Acute Toxicity Study / Leaves: Study evaluated the acute toxicity of Swietenia mahogani whole leaf powder in Wistar rats. Study showed non-toxicity of the leaf powder, with no mortality or toxic reaction, no behavioral or physical changes, and no significant changes in serum biochemical parameters. (21)
• Anticoagulant / Bark: Phytochemical analysis of Swietenia mahogani yielded terpenes and steroids. A methanol extract of bark exhibited significant anticoagulant activity. (22)
• Antioxidant / Free Radical Scavenging: Study on different solvent extracts of leaves, stem bark and fruits of S. mahogani at five different concentrations (20-100µg) exhibited dose dependent free radical scavenging activity by DPPH method. (see constituents above) (23)
• Anthelmintic / Seeds: Study evaluated various solvent extracts of Swietenia mahogani seeds for in-vitro anthelmintic activity against Indian adult earthworm Pheretima posthuma. An aqueous extract showed more potent activity compared to chloroform and acetone extract. Piperazine citrate was used as standard drug.   (24)
• Acaricidal Against Varroa destructor in Honeybee Colonies: Study evaluated the acaricidal (miticidal) activity of 90% ethanolic extract of leaves and stem bark of S. mahogani and S. macrophylla against Varroa destructor mite. Treatment decreased the rate of infestation to 0.11% (S. mahogani bark), and 2.41% and 1.08% (S. macrophylla leaves and bark). Results suggest the potential of natural plant extracts as an ecofriendly biodegradable alternative for the control of Varroa mite. (26)

Availability
Wildcrafted.
Extracts, capsules and seeds in the cybermarket.