Gen info
- There is continuing confusion on three Syzygium species: S. aqueum, S. malaccense, S. samarangense. They are three distinct separate species, sharing in fruit edibility but quite confusing in their common names.
- These three Syzygium species are: (1) Syzygium aqueum - referred to as water apple, bell fruit and Tambis locally; (2) S. malaccense is Malay apple, yambu, Makopang-kalabaw; and (3) S. samarangense is Java apple, wax jambu, Makopa. (24)

Botany
Makopa is a tree reaching a height of 15 to 20 meters., with a straight trunk, 20-45 centimeters in diameter, often branched near the base, with a broadly ovoid canopy. Leaves are opposite, elliptic-oblong, 15 to 38 centimeters, pinkish when young. Older leaves are large, drooping, elliptic-oblong to broadly oblong-lanceolate, 15 to 38 centimeters long, 7 to 20 centimeters wide, narrowed and pointed at both ends, petiole 0.5 to 1.5 centimeters long. Flowers are large, 5 to 7 centimeters long, showy, crimson, 5 to 6 centimeters in diameter, borne on the branches below the leaves, clustered on short, few-flowered racemes, 6 centimeters long or less. Fruit is shiny, oblong or pear-shaped, 5 to 8 centimeters in diameter, either white splashed, striped with pink, or wholly crimson to purplish, and slightly shiny, seedless or one-seeded. Flesh is white, pithy, juicy. Although rather tasteless, some varieties have a pleasant flavor.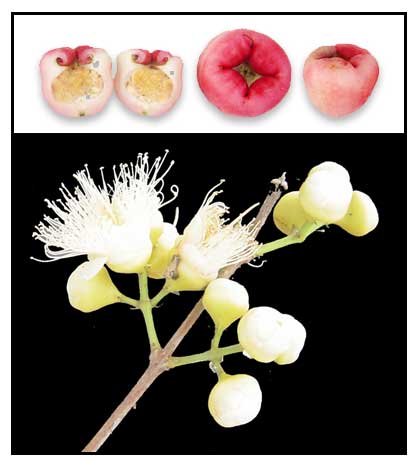 Distribution
- Cultivated for its edible fruit.
- Nowhere naturalized.
- Also occurs in Indo-Malaya.
- Now planted in most tropical countries.
Constituents
• Study of hydrodistilled essential oil from the fresh leaves of SM grown in Nigeria showed the oil to be largely composed of monoterpenes (61.1%) characterized mainly by a-pinene, b-pinene, p-cymene and a-terpineol. The sesquiterpenes constituted 30.8% of the oil with b-caryophyllene as the major component. (4)
• Study yielded leaf fraction for essential oil yielded three compounds – ursolic acid, B-sitosterol, and sitos-4-en-3-one. (See study below) (6)
• Study of essential oil from fresh leaves yielded showed 61.1% monoterpenes characterized mainly by (+)-α-pinene (7.3%), (−)-β-pinene (8.0%), p-cymene (13.5%), and α-terpineol (7.5%). Sesquiterpenes constituted 30.8% of the oil with (−)-β-caryophyllene (9.0%) as the major component. (18)
- Total phenolics (1293 mg gallic acid equivalent/100g) and total anthocyanins (1045 mg/100g) contents were higher in the peel. (see study below) (25)

Properties
- While Malay apple is easily recognized, it may not be easy to distinguish the various water apples and wax jambu fruits.
- Considered diuretic, emmenagogue, abortifacient, febrifuge.
Parts used
Leaves.
.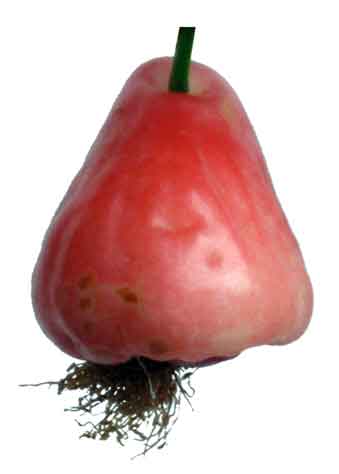 Uses
Nutrition / Culinary
- Fruit is eaten raw but may be prepared with flavoring.
- In Puerto Rico, used for making of table wines.
- In Indonesia, flowers eaten in salads. Young shoots and leaves eaten, raw or cooked.
Folkloric
- Not known in the Philippines for its medicinal properties.
- In the Moluccas, the astringent bark is used for making a mouthwash for thrush (dapulak).
- A root-bark decoction used for dysentery and amenorrhea.
- Malays applies the dried, powdered leaves for cracked tongues.
- Root applied to itches.
- For sore throat, the inner bark is scraped or the whole bark is decocted.
- Root-bark used as abortifacient; also for amenorrhea and dysentery.
- In Hawaii, juice of salted pounded bark used for wounds.
- In Molucca, decoction of bark used for thrush.
Malayans use powdered dried leaves for cracked tongues. Root preparations for itching.
- In Cambodia, decoction of fruit, leaves and seeds used for fever. Juice of leaves used for baths and lotions. The root is considered diuretic.
- In Brazil, used for diabetes, cough, headaches, constipation.
- In Malaysian Borneo, Malaysian Borneo, decoction of stem and bark for diarrhea.
Others
- Timber: Wood is used for construction, bowls and boards.
- Leaves: In Indonesia, leaves are used to wrap snacks of fermented sticky rice.

Studies
• Anti-Inflammatory: Flavan-3-ols isolated from some medicinal plants inhibiting COX-1 and COX-2 catalyzed prostaglandin biosynthesis: S malaccense was one of four plants tested that were traditionally used for inflammatory conditions. (2)
• Antioxidant: Study of 58 underutilized Malaysian fruits of 32 different species, showed fruits from some genera, including Syzygium, had higher antioxidant capacity compared to other genera. (3)
• Essential Oils / Ichthyotoxicity: Preliminary ichthyotoxic test on all parts of SM showed the leaves fraction to be most ichthyotoxic against tilapia fish (Tilapia oreochromis). Study isolated three compounds – ursolic acid, B-sitosterol, and sitos-4-en-3-one. None of the compounds gave any significant ichthyotoxicity. (6)
• Aldose Reductase Inhibition / Cataract Prevention: Cataractogenesis is a common complication in diabetes, and aldose reductase in a lens enzyme involved in its development. In a study, S malaccense was one of the best four plant extract inhibitors with a preventive effect on cataract formation. (7)
• Hypoglycemic / Antidiabetic: Study of SM aqueous and alcoholic bark extracts in STZ-induced diabetic rats showed reduction of blood sugar and improvement in hyperlipidemia and liver glycogen depletion. The alcohol extract was more effective than the aqueous extract and equivalent to that of glibenclamide.
• Candied Fruit Slices: Study was done to develop pomera (S. malaccense), an underutilized highly perishable fruit, into a candied fruit product. Results showed the color, taste, and texture of the candied fruit to be acceptable. (9)
• Antioxidant / Leaves: A methanolic extract of fresh leaves exhibited high antioxidant activity with DPPH and hydroxyl radical scavenging assays. A strong correlation was noted with phenolic and flavonoid contents. (10)
• Hypoglycemic / Hypolipidemic: Study evaluated the effect of aqueous and alcoholic extracts of S. malaccense on serum glucose, lipid profile and liver glycogen in normal and hyperglycemic rats. Results showed reduction of FBS and significant reversal of diabetes induced hyperlipidemia and liver glycogen depletion. (12)
• Anticancer Effect / Fruits: Study evaluated the antiproliferative effects of three Syzygium fruits, viz., water apple, milk apple, and malay apple against two types of cancer-origin cells: MCF-7 (hormone dependent breast cancer cell line) and MDA-MB-231 ( nonhormone-dependent breast cancer cell line. The extracts of water apple and malay apple displayed antiproliferative effects on MCF-7 cell lines in 72 hours. The methanol extract of S. malaccense showed a more significant effect. (14) Study showed malay apple extract showed anti-proliferation effects on MCF-7 cell lines (p<0.05) in 72 hours. A methanolic extract showed 79% cell viability of MCF7. (17)
• Subacute Toxicity Testing / Hematological and Liver Tissue Effects: Study evaluated the subacute effects of extract of S. malaccense in albino rats in doses of 50, 100, 250, 500 mg/kbw for 28 days.. Results showed a tendency to affect the hematopoeitic elements and alter the structural integrity of the liver tissue if ingested at higher doses. (15)
• Calcium Antagonist / Anti-Diarrheal: Study evaluated the use of the plant in hypermotility states of the gut. A hexane extract was found to dose-dependently relax the spontaneously contracting isolated rabbit jejunum. Four flavonoids isolated from the hexane extract showed dose dependent spasmolytic activity with SS2 showed the most potency. These compounds exhibiting spasmolytic and calcium antagonist activity may be responsible for the medicinal use of the plant in diarrhea. (16)
• No Anti-Inflammatory Activity / Fruits: Study evaluated the anti-inflammatory activities of methanol extracts of Syzygium malaccense fruits on lipopolysaccharide (LPS)-stimulated RAW 264.7 macrophages. The methanol extract did not show any anti-inflammatory activity. The author suggests the testing of other extracts as bioactive compounds could be extracted from different solvent systems. (19)
• Antioxidant / Pulp in Ripe and Unripe State: Study of both extracts of ripe and unripe rose apple fruits showed high antioxidant activity and free radical scavenging; however, the unripe rose apple showed greater activity. (20)
• Anthelmintic / Antimicrobial / Leaves: Study evaluated the antimicrobial and anthelmintic activity of methanolic extract of leaves of Syzygium malaccense. Results showed clinically significant antibacterial and antifungal activity against clinically important Proteus bacteria and Candida albicans. The extract showed concentration dependent anthelmintic activity against earthworm Pheretima posthuma. (21)
• Anthocyanins / Antioxidant Capacity / Fruits and Leaves: Each part of S. malaccense exhibited different chemical characteristics: the pulp was rich in soluble fibers and reducing sugars; the peel concentrated insoluble fibers, lip content, lipophilic/hydrophilic antioxidant power, and anthocyanins; seeds showed both lipophilic and hydrophilic antioxidant power; the leaves yielded large amounts of catechins, quercetin, carotenoids, and great antioxidant capacity. Anthocyanins found in the fruit were cyanidin-3-P-glucoside, cyanidin-3,5-O-diglucoside, and peonidn-3-O-glucoside. (22)
• Myricetin / Effect on Hyperglycemia / Leaves: Study evaluated the potential of S. malaccense as an anti-hyperglycemic agent. In an adipocyte model, the most active fraction, F2, exhibited significant insulin-like effects as evidenced by enhancement of adipogenesis, glucose uptake and adiponectin secretion. F2 activated insulin signaling pathway, adiponectin, and AMPK signaling cascades. Study suggests the myricetin isolated from the leaf extract could attenuate oxidative stress and potentially serve as adjuvant in the treatment of hyperglycemia and related symptoms. (23)
• Antioxidant / Bioactive Compounds/ Fruit: Study evaluated the bioactive compounds and antioxidant activity of Malay apple fruit. The peel exhibited higher values for DPPH radical scavenging activity (47.52 µMol trolox equivalent antioxidant capacity/g) and FRAP (0.19 mM ferrous sulfate/g). All tested extracts showed ability to inhibit oxidation in the ß-carotene/linoleic acid system. Results highlight the Malay apple as a good source of beneficial antioxidant compounds. (see constituents above) (25)
• Myricetin Derivatives / Protective Against Hydrogen Peroxide-Induced Stress / Potential for Diabetic Retinopathy: Oxidative stress in implicated in the pathology of diabetes and its debilitating complications, including diabetic retinopathy (DR). Study evaluated the antioxidant potential and protective effect of myricetin derivatives against glucose oxidase (GO) induced hydrogen peroxide (H2O2) production that causes oxidative stress in ARPE-19 (RPE) cells. Results showed myricetin derivatives have the capacity to exert considerable exogenous antioxidant activities and stimulate endogenous antioxidant activities. The derivatives have potential as therapeutic agent for DR. (27)
• Thrombolytic / Leaves: Study evaluated the in-vitro thrombolytic activity of hydroalcoholic extract of leaves of Syzygium malaccense. The % clot lysis of the extract at various concentrations i.e., 100, 200, 300, 400, and 500 µg/mL were found to be 20.15, 23.64, 32.12, 55.21, and 40.65%, respectively. Positive control Streptokinase showed 71.43% clot lysis. The in-vitro thrombolytic activity was attributed to the presence of phytoconstituents like tannins and flavonoids. (28)

Availability
- Cultivated.
- Extracts and tinctures in the cybermarket.