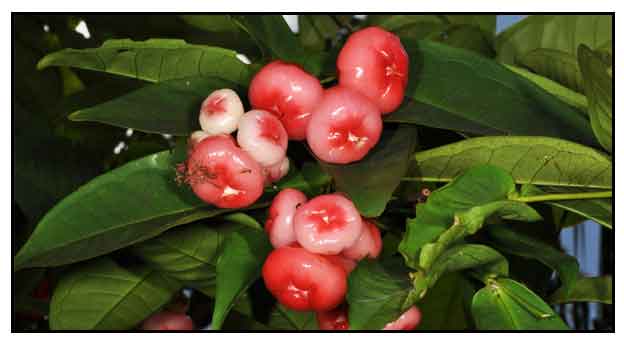 Gen info
- There is continuing confusion on three Syzygium species: S. aqueum, S. malacense, S. samarangense. They are three distinct separate species, sharing in fruit edibility but quite confusing in their common names.
- Syzygium aqueum is referred to as water apple, bell fruit and Tambis locally; S. malacense is Malay apple, yambu, Makopang-kalabaw; and S. samarangense is Java apple, wax jambu, Makopa. (8)
Botany
Syzygium aqueum is a tree growing 8- to 10 meters tall, with a short and crooked trunk, 30 to 50 centimeters in diameter, often branched near the base and and with an irregular canopy. Leaves are opposite, elliptic-cordate to obovate-oblong, 7 to 25 centimeters long and 2.5 to 16 centimeters wide, sometimes aromatic when bruised. Petioles are 0.5 to 1.5 millimeters long. Inflorescences are terminal and axillary 3- to 7-flowered. Flowers are 2.5 to 3.5 centimeters in diameters, with calyx tube 5 to 7 millimeters long; petal are 4, spathulate, up to 7 millimeters long, yellow-white; stamens 0,75-2 centimeters long. Fruit is a fleshy yellow or red berry, turbinate, 1.5 to 2 centimeters by 2.5 to 3.5 centimeters, crowned by fleshy calyx segments, white to red, glossy; with a watery and juicy flesh. Seeds are 1 to 6, small and rounded. (8)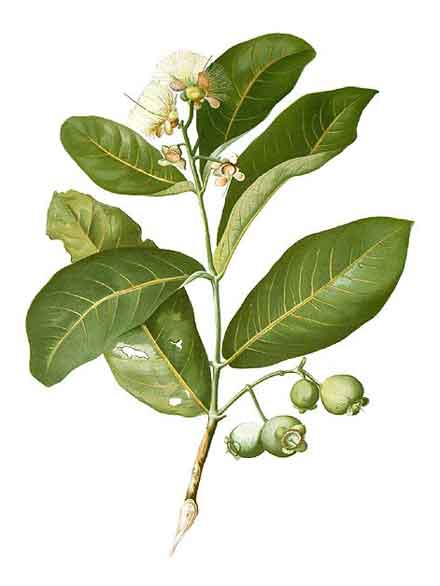 Other botanical info (S. equeum, S. malacense, S. samarangense)
- While Malay apple can easily be recognized, it is not easy to distinguish between the various water apple (S. aqueum) and wax jambu fruits (Z. samarangense)
- Water apple (S. aqueum) is watery, thirst-quenching, with a glistening, almost transluscent skin, while wax jambu (S. samarangense) is glossy, wax-like, rather dry-fleshed.
- Eighty percent of the fruit is edible. The composition of all 3 species is similar per 100 g edible portion: water >90%, protein 0.3g, fat none, carbohydrate 3.9 g, fiber 1.0 g, vitamin A 253 IU, vitamin B1 ad B2 traces, vitamin C 0.1 mg, energy value 80 J/100g.
- All three species show a lot of seedling variation and several forms are recognized by fruit color (white, green, or pink for wax jambu) and taste (sweet and sour forms of water apple). (8)

Distribution
- Cultivated.
- Native to the Philippines, Indonesia, and Malaysia.
Constituents
- Study of leaf extracts yielded six flavonoid compounds viz. 4-hydroxybenzaldehyde, myricetin-3-O-rhamnoside, europetin-3-O-rhamnoside, phloretin, myrigalone-G, and myrigalone-B. (see study below)   (5) Myricetin- and europetin-3-O-rhamnoside were identified as major bioactives.
- Screening of crude ethanolic extracts of fruits and leaves for bioactive components yielded alkaloid, tannins, glycosides, formic acid, tartaric acid, flavonoids, and steroid. (see study below) (6)
- Nutritive study per 100 g yielded as follows: total phenolic contents 28.80-30.70 mg/100g, total flavonoids 62.03-62.07 µg/g, antioxidant activity 138.4 - 144.50 µg/g, beta carotene 37.21-37.28g, ascorbic acid (vitamin C) 13.06 to 13.08 mg/100g, moisture 91.70 g%, protein 0.31 g%, fat 0.29 g%, ash 1.24 g%, crude fiber 0.07 g%, calcium 0.64 mg. (11)
- Study of leaves of Syzygium aqueum and S. samarangens yielded two proanthocyanidins, Samarangenins A and B, along with a variety of flavan-3-ols, proanthocyanidins and hydrolyzable and complex tannins. (21)
- In a study of leaves for essential oil, α-Selinene (13.85%), β-caryophyllene (12.72%) and β-selinene were the most abundant constituents in S. aqueum.  (22)
Properties
- A blog describes the Tambis as lighter and crisp and watery, the Makopa as denser and sometimes with a seed as well. (7)
- While Malay apple is easily recognized, it may not be easy to distinguish the various water apples and wax jambu fruits.
- Astringence attributed to tannins.

Parts used
Fruit, leaves.

Uses
Edibility
- Fruit is edible, mildly sweet taste similar to apples, and a crisp watery texture.
- Unripe green fruits are eaten raw and used to make pickles, jelly, syrup, and sauces. (11)
- In Malaysia and Indonesia, fruits are used as fruit salad ingredients. (11)
- Leaves are edible, eaten raw or dried. Also, used to wrap food.
- In Malaysia, water apple salad is ceremonially served after childbirth. In Indonesia water apple and wax jambu are used in fruit salads (rujak), and preserved by pickling (asinan).
Folkloric
- Fresh leaves eaten raw as treatment for malaria and pneumonia. (12)
- Infusion of leaves used to treat stomach aches and dysentery. (12)
- In Malaysia, powdered dried leaves used to treat cracked tongue. Roots used to relieve itching and to reduce swelling (15)
Others
- Wood: Wood is heavy, moderately hard, moderately resistant to fungi and termites. Used tor making ordinary tools, tool handles, musical instruments, heavy carpentry, flooring, joinery, etc. (11)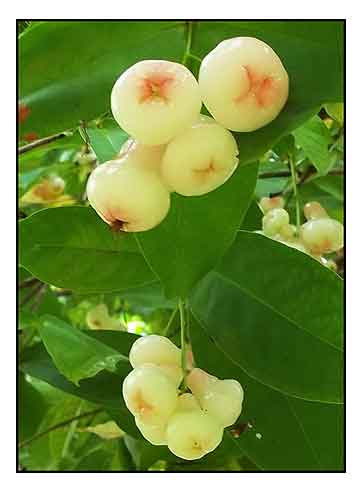 Studies
• Tyrosinase Inhibitory Activity /Antioxidant / Leaves: Study of leaf extracts of S. aqueum showed excellent radical scavenging activity with EC50 of 133 µg/mL DPPH, 65 µg/mL ABTS, and 71 µg/mL Galvinoxyl, with low prooxidant capabilities and a phenolic content of 585-670 mg GAE g/extract. It also exhibited substantial tyrosinase inhibition activity with IC50 of about 60 µg/mL. It showed anti-cellulite activity with 98% activation of lipolysis of adipocytes (fat cells). It was not cytotoxic to Vero cell lines up to 600 µg/mL. The cosmeceutical properties suggest potential for applications in the cosmetic industry. (3)
• Hepatoprotective / Analgesic / Anti-Inflammatory / Leaves: Study of polyphenol-rich extract of leaves showed a plethora of substantial phamacological properties. Extract showed antioxidant properties in-vitro and protected human keratinocytes (HaCaT cells) against UVA damage. It reduced elevated AST, ALT, total bilirubin, TC, and TG in rats with acute CCl4 (carbon tetrachloride) intoxication. It reduced high MDA level, restored GSH and SOD to normal control levels. It exhibited promising anti-inflammatory properties in-vitro with inhibition of LOX, COX-1, and COX-2 with higher COX-2 selectivity than indomethacin and diclofenac. The extract also reduced leukocyte numbers in rats challenged with carrageenan. Results suggest good protection against oxidative stress and free radicals, and a potential for treating oxidative stress related diseases. (4)
• Antidiabetic / Antioxidant / Leaves: Study revealed the effectiveness of Syzygium aqueum leaf extract in inhibiting the carbohydrate hydrolyzing enzymes, α- glucosidase and α-amylase at more significant levels than commercial drug acarbose. The extract also inhibited the key enzyme in the polyol pathway, aldose reductase and prevented AGE formation. Unlike TZDs, it did not induce obesity or other side effects. Sub-acute toxicity studies in Sprague-Dawley rats showed no toxicity up to 2000 mg/kg. (see constituents above) (5)(14)
• Antimicrobial / Fruits and Leaves: Syzygium aqueum has three varieties: red, green, and white. Study compared the three varieties in its antimicrobial activity and the presence of secondary metabolites. Crude ethanolic extracts of fruits and leaves showed effective antibacterial activity against S. aureus, B. subtilis, E. coli and P. aeruginosa. No inhibition was observed against Aspergillus flavus and Saccharomyces cerevisiae. (see constituents above) (6)
• Antioxidant / Fruits: Study compared the antioxidant activity of fruit of water apple and fragrant mango against DPPH as free radical. Vitamin C content of water apple and mango fruit was 0.087% (w/w) and 0.050% (w/w), respectively. Inhibitory concentration 50% values was 4.857µg/ml and 4.379 µg/ml, respectively. Results showed antioxidant activity of water apple was higher than fragrant mango fruit. (9)
• Flavanone / Antioxidant / Xanthine Oxidase Inhibitor / Leaves: Study of a methanolic extract of S. aqueum leaves isolated an active compound, demothoxymatteucinol (5,7-dihydroxy-6,8-dimethlyl- flavanone). Results showed mild antioxidant and XO inhibitory activities. At 100 and 50 µg/mL, it could inhibit 25.13% of xanthine oxidase (XO) activity and scavenge 11.87% of DPPH, respectively. (10)
• In-Vivo Toxicity Study / Leaves: Study evaluated acute and subchronic toxicity effects of a leaf extract of Syzygium equeum in male Sprague Dawley rat. The extract did not show any signs of toxicity or mortality. Results showed safety with LD50 greater than 2000 mg/kbw. The extract was standardized against myricitrin. (13)
• Antioxidant / Potential Antihyperglycemic / Leaves: Study evaluated the antioxidant activity of fresh and dried plant extracts of Paederia foetida and Syzygium aqueum using ß-carotene bleaching and ABTS radical cation assay. Percentage antioxidant activity of all extracts using both assay was between 58 and 80%. Fresh plant samples had higher antioxidant activity than dried samples. (15)
• Antiangiogenic / Leaves: Angiogenesis plays a major role in the spread of several pathological processes such as ocular diseases and tumor metastasis. Study evaluated the anti-angiogenic activity of an ethanol extract of S. aqueum leaves using Chorioallantoic Membrane (CAM) assay. Results showed anti-angiogenic activity in CAM measures of mean length density, mean number of junctions, mean number of tubules and mean vascular density. (19)
• Anticonvulsant / Anxiolytic / Toxicity Study / Leaves: Study evaluated the anticonvulsant and anxiolytic activity of extract of S. equeum leaves. Oral toxicity study of methanol extract using OECD-423 guidelines showed not mortality or acute toxicity up to 2000 mg/kbw. Study showed anxiolytic activity in mice by Elevated Plus Maze, Rotarod and Open Field methods. Anticonvulsant activity was exhibited by dose dependent protection in MES and PTZ induced convulsion models, with increased seizure latency and reduced seizure duration. (20)
• Enhancement of Adipogenesis / Antidiabetic Potential / Leaves: Study investigated the insulin-like and/or insulin-sensitizing effects of S. aqueum leaf extract and its six bioactive compounds 4-hydroxy-benzaldehyde, myricetin-3-O-rhamnoside, europetin-3-O-rhamnoside, phloretin, myrigalone-G and myrigalone-B  in 3T3-L1 adipocytes. Results showed effective enhancement of adipogenesis stimulation of glucose uptake and increase adiponectin secretion in 3T3-L1 adipocytes. The compounds myricetin-3O-rhamnoside and europetin-3-O-rhamnoside showed insulin-like and insulin-sensitizing effects on adipocytes at concentration of 0.08 µM. These compounds were far better than rosiglitazone and other compounds in enhancing adipognesis, stimulating 2-NBDG uptake, and increasing adiponectin secretion. (23)
• Tyrosinase Inhibitor in Food Products / Leaves: In this study, response surface methodology (RSM) in combination with central composite rotatable design (CCRD) were performed to optimize the extraction parameters for total phenolic content (TPC) on Syzygium aqueum (S. aqueum) leaves. The effect of operational conditions on the extraction of S. aqueum leaves using carbon dioxide (CO2) on TPC was investigated. 2-propen-1-one,1-(2,4-Dihydroxyphenyl)-3-(4methoxyphenyl)- has similar chemical properties with kaempferol as tyrosinase inhibitor. (24)
Availability
Wild-crafted.