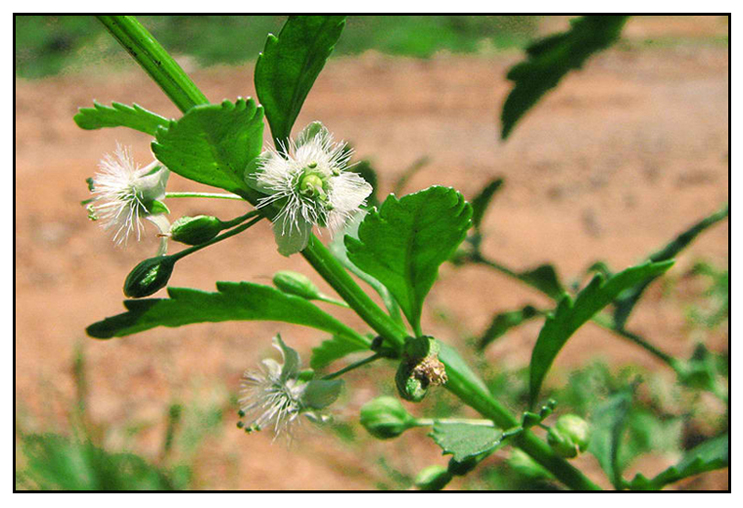 Botany
Mala-anis is an erect, much branched, smooth, herbaceous, or half-woody plant 25 to 80 centimeters in height. Leaves are opposite and whorled, lanceolate to elliptic or oblanceolate, 0.5 to 2 centimeters long, pointed at both ends and narrowed below the short stalk, and toothed in the margins. Flowers are white, small, very numerous, and in pairs; their stalks slender, and 1 centimeter long or less. Sepals are 4 or 5, imbricate, corolla rotate, 4-fid, the throat bearded, lobes subequal, white stamens 4, subequal. Capsules are ovoid or rounded, 2 to 3 millimeters in diameter.
Distribution
- Ubiquitous weed throughout the Philippines in settled areas at low to medium altitudes along roadsides, sides of ditches, and other more or less shaded and moist places.
- Native or tropical America.
- Now pantropic.
Properties
• When chewed, bitter at first, later sweet.
• Sweet and has cooling nature.
• Considered antipyretic, diuretic, analgesic, anti-inflammatory, antifungal, antibacterial,
• Considered by some as aphrodisiac.
• Studies have shown antiviral, antimalarial, antidiabetic, anticancer, anti-inflammatory, antioxidant properties.

Constituents
• Study yielded diterpenoids, flavonoids, tannins, alkaloids, triterpenes, hexaconasol, b-sitosterol, ketone, dulcitone and amellin.
• Triterpene and mannitol isolated from the roots; dulcitol from aerial parts.
• Phytochemical studies revealed acacetin, amellin, amyrin, apigenin, benzoxazin, benzoxalinone, betulinic acid, daucosterol, dulcidion . . among others. Also isolated were a flavone glycoside and a diterpene.
• Studies have yielded amellin, scoparic acid A, B, and C, scopadulic acid A & B, scopadulin, scoparinol, friedelin and glutinol. (29)
• Studies revealed the presence of flavonoids, steroids, quinone, starch, cellulose, terpenoids, phenols, carbohydrates, fixed oil and fat, and saponins in varying solvents. (33)
• Study of aerial parts yielded four new labdane-derived diterpenes, sio-dulcinol (1), 4-epi-scopadulcic acid (2), dulcidiol (4), and scopanolal (5), along with two known diterpenes, dulcinol/scopadulciol (3) and scopadiol (6). (see study below) (47)
• Study of four crude extracts yielded the presence of alkaloid, saponin, tannin and flavonoid. (48)
• Preliminary phytochemical analysis of ethanolic root and leaves extract yielded tannins, saponins, alkaloids, flavonoids, terpenoids, and phenols, with absence of cardiac glycosides, anthraquinones, and reducing sugars. (49)
• Methanol extract fractions yielded alkaloids, balsams, cardiac glycosides, glycosides, phenols, steroids, and tannins; saponins were detected in the n-hexane fraction. (see study below) (50)

Parts utilized
· Whole plant.
· Collected from April to June.
· Wash, cut into pieces, dry under the sun.
Uses
Edibility
· Infusion of seeds, soaked overnight, considered a cooling drink. Leaves used for making tea; also, to sweeten well water. Young shoots consumed as vegetable. (56)
Folkloric
· In the Philippines, roots, leaves, and tops used as infusion for gastralgia, diarrhea, and dysentery.
· Root decoction used for fevers.
· Decoction of leaves and tops used for intestinal affections.
· Decoction of dried material used for cold and fever, enteritis, diarrhea, beriberi, edema, difficulty in urination.
· For miliaria, rub the squeezed juice from fresh plant.
· For headaches associated with fevers, leaf or whole plant macerated in water is drunk copiously when cooled.
· Used as a children's remedy for coughs and diuretic.
· In Liberia decoction taken for gravel and kidney complaints.
· Decoction applied as fomentation on bruises and contusions.
· In Brazil decoction used for bronchitis and broncho-pulmonary afflictions.
· In the Antiles, plant used as emollient; decoction used as enema and for local baths.
· Decoction used for diarrhea, colic, and indigestion.
· Roots used as diuretic.
· In Costa Rica decoction of leaves used as stomachic; infusion used as emmenagogue.
· In India, China and Southeast Asia, used for pain, fever, dysentery, diarrhea, cough, bronchitis, hypertension, piles and insect bites.
· In Vietnam, used for snakebites and antidote for cassava intoxication. Also, for pimples, impetigo, ulcers and eczema.
· In Taiwan, used for hypertension.
·Murong tribe in Bangladesh used the plant in the treatment of malaria.
· In Sierra Leone, used for remittent fevers and gonorrhea. For the latter, a cold infusion, sweet and mucilaginous, is drunk repeatedly.
· In Nigeria, plant used in the management of sickle cell anemia.
· In Nicaragua, plant used for malaria.
· In India, used for gonorrhea, to induce labor, and diabetes.
· In India, leaves ground to a paste applied topically for wound healing. (29)
· In China, used for herpes.
· In Burma and India, herb infusion used as mouthwash for infected gums.
· In Nepal, leaves used for stomach ache and venereal diseases. (41)
· In Brazilian folk medicine, used for bronchitis, gastric disorders, hemorrhoids, insect bites, skin wounds.
· In the Guianas, Scoparia dulcis is boiled with Momordica charantia and infusion of Tradescantia elongata, and the liquid drunk as purgative. Plant is boiled along with Lantana camara and Pteridium aquilinum, and the water used as an herbal bath. (57)
Others
· Ritual: In Trinidad's santowah ceremony, sweetbroom is used to sprinkle holy water.
· Household use: Bushy stems used as temporary brooms. (56)

Studies
• Antioxidant / Free Radical Scavenging: Free Radical Scavenging Activity of Scoparia dulcis Extract: Study showed strong antioxidant activity corresponding to the reduction of hydroxyl radical generation, a possible rationale for the weeds observed therapeutic effects. (3) Study of methanol and aqueous extracts of Scoparia dulcis showed significant free radical scavenging activity by DPPH, Nitric Oxide and Superoxide ion models. (39)
• Antioxidant / Anti-Diabetic: Study showed significant decrease in TBARS and hyperperoxides formation in the brain of rats suggesting a role in protection against lipid peroxidation induced membrane damage. Results suggest, in addition to its antidiabetic effect, SD possess antioxidant potential. (5)
• Antihyperglycemic / Polyol Pathway: Effect of an aqueous extract of Scoparia dulcis on blood glucose, plasma insulin and some polyol pathway enzymes in experimental rat diabetes: Study showed SD was effective in attenuating hyperglycemia in rats, possibly due to the decreased influx of glucose into the polyol pathway with increased activities of antioxidant enzymes and plasma insulin and decreased activity of sorbitol dehydrogenase. (4)
• Anti-Diabetic: Study showed the aqueous extract of Scoparia dulcis exhibited antihyperglycemic effect by attenuating biochemical alterations in streptozotocin-induced diabetic rats.
• Cytoprotective / Insulin-Secretagogue Activity: Study showed significant decrease in blood glucose with significantly increased plasma insulin level with use of aqueous extract of S dulcis in STZ-induced diabetic rats. Other results showed its insulin secretagogue activity and protection against STZ-mediated cytotoxicity. The glucose lowering effect was associated with potentiation of insulin release from the pancreatic islets. (10)
• Anti-Ulcer: Study showed water extracts of S dulcis showed dose-dependent inhibition of indomethacin-induced gastric damage in rats validating its use in traditional medicine as an antacid and anti-ulcer agent.
• Protective on Brain Antioxidant Status and Lipidperoxidation: Study evaluated the protective role of Scoparia dulcis plant extract on brain antioxidant status and lipid peroxidation in STZ diabetic male Wistar rats. Study showed significant increase in levels of plasma insulin, SOD, catalase, GPX, glutathione-S-transferase and reduced glutathione in the brain of treated rats. There was also significant decrease in TBARS and hydroperoxide formation in the brain suggesting protection against lipidperoxidation-induced membrane damage. (5)
• Antibacterial / Antifungal: Study of isolated fractions showed significant antimicrobial and antifungal activity against all tested organisms – S typhii, S aureus, E coli, B subtilis, P aeruginosa, P vulgaris and fungal strains (C albicans, A niger and F oxysporum). (6) An ethanolic extract and cream based formulation exhibited significant antimicrobial activity against gram-positive organisms (S. aureus and E. coli) and antifungal (C. albicans and A. niger) organisms. (23) Study showed a methanol extract displayed better MIC compared to aqueous extract against gram-positive and gram-negative bacteria and fungus. (30)
• Antitumor / Scopadulcic Acid B: Scopadulcic acid B (SDB), a tetracyclic diterpenoid isolated from S dulcis, inhibited the effects of a tumor promoter, inhibited phospholipid synthesis and suppressed the promoting effect of TPA on skin tumor formation. Its potency is stronger than other natural anti-tumor promoting terpenoids. (7)
• Antihyperlipidemic: Effect of Scoparia dulcis (Sweet Broomweed) in Streptozotocin Diabetic Rats: Study showed antidiabetic and antihyperlipidemic activity in normal and experimental diabetic rats.
• NGF Activity: Acetylated Flavonoid Glycosides Potentiating NGF Action from Scoparia dulcis: Three new acetylated flavonoid glycosides were isolated, two of which showed enhancing activity of nerve growth factor-mediated neurite outgrowth. (9)
• Scoporic Acid A / Beta-glucoronidase Inhibitor: Study isolated three labdane-type diterpene acids: scoparic acid A, B and C. Scoporic acid A was found to be a potent beta-glucoronidase inhibitor. (8)
• Hepatoprotective / Antioxidant: Study isolated showed the hydroalcoholic extract of S dulcis exhibits significant hepatoprotective activity against carbon tetrachloride-induced liver damage in rats, an activity attributed to free radical scavenging activity. (13) Study investigated the antioxidant and hepatoprotective activity of aqueous extracts of S. dulcis against N-nitrosodiethylamine (DEN) induced liver cirrhosis in experimental rats. Results showed hepatoprotective activity significant (p<0.01) decrease in enzyme markers and increase antioxidant enzymes, with significant reduction in LPO levels in extract treated animals. (36)
• Anti-Trypanosomal Immunosuppression / Immunological Boosting: Previous findings suggest T. brucei is immunosuppressive. Study showed Scoparia dulcis provides a measure of immunological boost during experimental T. brucei infection in rabbits.
• Sympathomimetic Effects / Catecholamines: Study yielded both noradrenaline and adrenaline in the plant extract. The catecholamines may be responsible for the hypertensive and inotropic effects after parenteral administration of S dulcis extracts. (15)
• Anti-Urolithiasis: Study investigating the inhibition of calcium oxalate, calcium phosphate and calcium carbonate mineralization by five medicinal plants – A aspera, P leschenaultii, S amplexicaulis, Scoparia dulcis and A lanata – showed that increased intake of the fruit juices and seed extracts of the test plants would be helpful in urinary stone prophylaxis. The sequestering of the insoluble calcium salts by the fruit juices may be due to single or mixed ligand chelation by the hydroxyl acids present in them. (16) Study evaluated the on the effect of ethanolic leaf extract of Scoparia dulcis on the urolithiatic and control kidney marker enzymes on urolithiasis induced by ethylene glycol. Results showed decrease in the levels of marker enzymes suggesting the capability of S. dulcis in counteracting the toxic effect of ethylene glycol. (40) In-vitro study evaluated S. dulcis whole plant for potential in dissolving calcium oxalate crystals using Cystone as standard compound. An aqueous extract showed higher dissolution of stones (66.96%) than the alcoholic extract. The turbidity shown was highly significant compared to the standard. (42)
• Anti-Inflammatory / Analgesic: Study results indicate that the extract of S dulcis possess analgesic effects probably related to its anti-inflammatory activity, effects probably attributable to the presence of glutinol and flavonoids. (17)
• Pro Blood Clotting Activity: Study investigated the effect of a decoction of S. dulcis on blood clotting time in rats. Results showed significant reduction in clotting time. The proclotting activity was faster than vitamin K. (19)
• Anti-Malarial / Scopadulcic acid A: Phytochemical screening yielded pharmacologically active compounds scopadulcic acid A (SDA) and scopadulcic acid B (SDB), and semi-synthetic analogues. SDB has shown antiviral activity against Herpes simplex virus 1 and antitumor activity against various human cancer cell lines, and potent inhibitory activity against gastric proton pumps. Pure SDA was tested and found to have in vitro activity against P. falcifarum. (20)
• Anti-Diabetic / Antioxidant: Study on in vivo hypoglycemic activity of methanol extract of Scoparia dulcis on streptozotocin induced diabetic model showed significant effect on blood glucose similar to that of glibenclamide. The extract showed promising results on both DPPH and ferric ion reducing capacity. The antioxidant activity is directly correlated to the antidiabetic potential of the drug. (22)
• Antilithiatic / Antibacterial / Stems and Leaves: Chloroform and ethanol extracts of stems and leaves showed maximum resistance against Staphylococcus aureus while ethanol and aqueous extracts showed maximum resistance against Klebsiella pneumonia. The plant extract showed in vitro antilithiatic activity for kidney stones with great great potential to dissolve calcium oxalate crystals. (24)
• Antiurolithiatic / Combination with Aerva lanata: Study evaluated the potential of Scoparia dulcis and Aerva lanata in the management of urine volume in ethylene glycol induced urolithiatic male albino rats. Administration of SD and AL gradually increased urine volume. Results indicated that the fruit part of Scoparia dulcis in combination with A. lanata showed higher antiurolithiatic activity than others. (25)
• Neuroprotective / Cytoprotective: Study evaluated the protective effect of various extracts of S. dulcis against neuroinflammation and erythrocyte hemolysis. Results showed significant neuroprotective effect on both brain neuronal cells and neurotransmitter enzyme as acetylcholinesterase. Cytoprotective effect was evidenced by prevention of rat erythrocytes hemolysis between 56% and 83% at 300 µg/ml. The protective effects may be attributed to its antioxidant components as flavonidic polyphenols. (26)
• Antidiabetic / Antioxidant / Anti-Inflammatory: Review article discusses the antidiabetic activities as well as its antioxidant and anti-inflammatory properties of Scoparia dulcis. The primary mechanisms of antidiabetic activity are through a-glucosidase inhibition, curbing of PPAR-y and increased secretion of insulin. (27)
• Analgesic / Whole Herb: Study evaluated two medicinal plants, Ficus racemosa and Scoparia dulcis for central analgesic activity using hot plate and peripheral pharmacologic action using acetic acid induced writhing test in mice. Results showed the whole herb of S. dulcis demonstrated both central and peripheral analgesic activities. (28)
• Antisickling / LD50 / Leaves: Study evaluated the antisickling activity of plant leaves on sodium metabisulphite-induced sickling of HbSS red blood cells obtained from sickle cell patients who were not in crises. Results showed antisickling activity with significant (p<0.05) percentage sickling inhibition by the aqueous methanol extract compared to crude extracts. LD50 in mice was above 8000 mg/kg body weight when administered orally. Toxicological evaluation at 250 and 500 mg/kg showed mild congestion in virtually all target organs. (31)
• Anti-Anaemic: A major feature of trypanosome infection is anemia. Study evaluated the effect of Scoparia dulcis on Trypanosoma brucei induced anemia in a rabbit model. Although no significant (p>0.05) changes were observed in the RBC indices, the severity of the anemia was significantly less pronounced (p<0.05) in treated infected rabbits. The mechanism/s of its anti-anaemic activity still need to be established. (32)
• Flavone Cirsitakaoside / Clastogenicity: Study evaluated the mutagenic effect of flavone cirsitakaoside isolated from Scoparia dulcis and tested in vitro by using human peripheral blood cultures. The compound was found to be mutagenic at highest concentration (15 µg/ml). The proliferative index was significantly reduced in all cultures treated with flavone, although the mitotic index was not reduced. (34)
• Antibacterial / Immuno-Stimulatory: Study showed a methanol extract of plant demonstrated antibacterial activity against Haemophilus influenzae and Klebsiella pneumonia. The extract showed good immunostimulatory effect with a significant increase (p<0.05) in white blood cell proliferation. The extract was non toxic with an LD50 of 3807 mg/kbw. (35)
• Immunomodulatory Triterpenoids / Glutinone: Study investigated the immunomodulatory potential of five compounds isolated from S. dulcis by inhibition of oxidative burst. Among the five compounds isolated, compound 1, glutinone showed anti-inflammatory potential with potent inhibition of intracellular reactive oxygen species (ROS), with moderate inhibition of production of proinflammatory cytokines TNF-a and IL-1ß. (36)
• Anti-Anxiety: Study investigated the anti-anxiety activity of crude hydroalcoholic extract of S. dulcis by various behavioural models: Open-field test, Elevated plus-maze, Elevated Zero-maze, Social Interaction, and Novely induced suppressed feeling latency tests. Phytochemical analysis yielded phenols and flavonoids. Results showed dose dependent anxiolytic activity of Scoparia dulcis. (37)
• Anti-Diarrheal: Study investigated the antidiarrheal potential of a Scoparia dulcis decoction in a castor oil-induced diarrheal rat model. Results showed significant (p<0.05) and dose-dependent antidiarrheal effect. The effect was mediated via inhibition of intestinal transit due to impairment of intestinal peristalsis. Results suggest potential use for symptomatic relief of non-specific acute diarrhea. (38)
• Antioxidant / Anti-Inflammatory: Various extracts obtained from S. dulcis by successive extraction with hexane, chloroform, and methanol showed significant antioxidant capacity in various antioxidant models mediated (xanthine oxidase and lipoxygenase) and not mediated (DPPH, ferric reducing antioxidant power, ß-carotene bleaching, lipid peroxidation) by enzymes. The chloroform extract was richest in phytochemicals. The extracts strongly inhibited lipid peroxidation mediated by lipoxygenase. (43)
• Antiulcer / Aerial Parts: Study showed oral treatment with water extracts of S. dulcis whole aerial parts dose dependently inhibited indomethacin induced gastric damage in rats. (44)
• Sedative / Hypnotic / Whole Plant: Study evaluated an ethanolic extract of whole plant of S. dulcis for sedative and hypnotic activity using various testing models in mice. The EESD produced significant dose dependent inhibition of locomotor activity of mice in hole cross and open field tests (p<0.05) along with decreased rota-rod performance and number of head dips in the hole-board test, and significantly decreased induction time to sleep and prolong duration of sleep induced by thipental sodium. Results suggest EESD possess sedative principles with potent hypnotic properties. (45)
• Larvicidal Against Dengue Vector / Aedes aegypti: Study evaluated the larvicidal activity of S. dulcis aqueous extract against dengue vector, Aedes aegypti. Results showed significant larvicidal efficacy with LC50 of 3.3835 mg/mL and LC90 of 5.75 mg/L (46)
• Cytotoxic Diterpenes / Six Human Stomach Cancer Cell Lines / Aerial Parts: Study of aerial parts isolated four new labdane-derived diterpenes. Crude extracts and pure diterpenes showed cytotoxicity against a panel of six human stomach cancer cell lines. (see constituents above) (47)
• Anti-Mycobacterial / Antimicrobial: Study evaluated the antimicrobial activity and anti-mycobacterial potency of Pulicaria crispa and Scoparia dulcis whole plant extracts in solvents of different polarities. The n-hexane extract of S. dulcis exhibited Mycobacterium tuberculosis zone of inhibition of 12.14 ± 0.02 mm, while an ethyl acetate extract exhibited 17.00 ± 0.91 mm compared to control of 33.70 ± 0.64 mm. The MIC values for EA and n-hexane extracts of S. dulcis were 12.03 ± 0.86 and 20.40 ± 0.24, respectively, compared to rifampicin at 0.38 ± 1.40. (see constituents above) (50)
• Nephroprotective / Cisplatin Induced Nephrotoxicity / Aerial Parts: Study evaluated the nephroprotective potential of an ethanolic extract of aerial parts of S. dulcis against cisplatin induced nephrotoxicity in Wistar rats. Results suggested the supplementation of Scoparia dulcis during cisplatin therapy reduced the risk of cisplatin induced nephrotoxicity in a dose dependent manner. The curative and prophylactic effect may be due to the antioxidant property of S. dulcis. (51)
• Sympathomimetic Effect: Study evaluated the sympathomimetic activity of an ethanolic extract of S. dulcis in in-vivo and in-vitro rodent preparations. Results suggest that catecholamines (noradrenaline and adrenaline) may be responsible for the hypertensive and inotropic effects after parenteral administration of S. dulcis extracts. The sympathomimetic effect seems unrelated to previously reported analgesic and anti-inflammatory activity, but may explain its effectiveness on topical application in the healing of mucosal and skin wounds. (52)
• Scopadulcic Acid B / H+-K+-ATPase Inhibitory Activity: Study elucidated scopadulcic acid B. SDB inhibited both the K+-dependent adenosine triphosphatase (ATPase) activity of a hog gastric proton pump and proton transport into gastric vesicles. Results suggested the sustained plasma level of DSB after oral administration of SDB-Na or SDB was accounted for by relatively slow by efficient gastro-intestinal absorption in rats. (53)
• Glucose Uptake Properties / SDF7: Insulin stimulates glucose uptake and promotes the translocation of glucose transporter 4 (Glut4) to the plasma membrane on L6 myotubes. Study investigated the effect of S. dulcis water extracts on glucose uptake and Glut4 translocation components. in L6 myotubes compared to insulin. Results showed the extract from TLC fraction-7 (SDF7) possessed glucose uptake properties on L6 myotubes that are dose dependent, time dependent, and plasma membrane Glut 4 expression-dependent. The glucose uptake activity was as potent as insulin at maximum concentration. Study suggests S. dulcis has potential to be classified as a hypoglycemic plant based on its good glucose transport properties. (54)
• Anti-Tussive / Muco-Suppressant / Expectorant: Study evaluated the anti-tussive, mucosuppressant, and expectorant properties of hydroalcoholic extract of S. dulcis and ascertained its safety. The extract showed dose-dependent inhibition (p<0.001) of cough elicited by 7.5% nitric acid. For muco-suppresant activity, the extract dose-dependently reduced (p<0.001) the concentration of ammonium chloride-induced phenol red secretions from mice trachea. Safety evaluation showed no acute and/or delayed toxic symptoms. Results suggest a potential herbal remedy for asthma and obstructive pulmonary disease. (55)
• Antidiarrheal: Study evaluated the antidiarrheal potential of S. dulcis decoction in a castor-oil induced diarrheal rat model. Results showed significant (p<0.05) dose dependent antidiarrheal effect from 1-hr post treatment. The effect was mediated via an inhibition in intestinal transit due to impairment of intestinal peristalsis, rather than an increase in intestinal fluid absorption and/or reduction in secretion. Study suggests potential use for symptomatic relief of non-specific acute diarrheas. (58)

Availability
Wild-crafted.
Powders, extracts in the cybermarket.