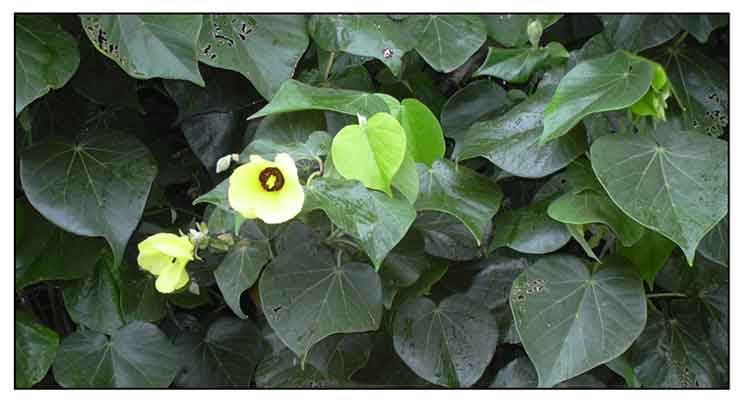 Botany
Malabago is a much branched tree, 4 to 12 meters high. Leaves are suborbicular, 10 to 15 centimeters long, green, smooth and shining on the upper surface, grayish and hairy on the under surface, with a pointed tip and heart-shaped base, and minutely toothed margins. Sepals are hairy, 5 in number, oblong and about 2 centimeters long. Petals are yellow, dark purple at the inside base, orbicular-obovate or rounded, about 5 centimeters in length and width. Capsules are hairy, ovoid, 1.5 centimeters long, surrounded by persistent sepals and, at the base, by the bracteolar cup, falsely 10-celled, and 5-valved.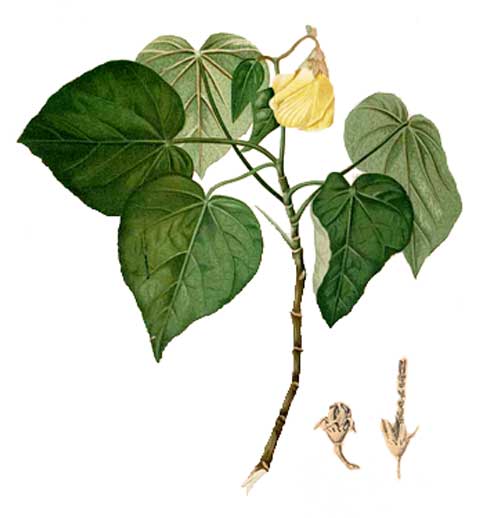 Distribution
- Found throughout the Philippines, along the seashore and tidal streams.
- Occasionally planted inland for ornamental purposes.
- Pantropic along the seashore.
Constituents
- Study isolated 10 compounds: friedelin (1), pachysandiol (2), glutinol (3), lupeol (4), germanicol (5), stigmast-4-en-3-one (6), stigmast-4, 22-dien-3-one (7), ergosta-4, 6, 8 (14), 22-tetraen-3-one (8), β-sitosterol (9), and stigmasterol (10). (7)
- Study of leaves and twigs isolated 14 compounds viz., friedelin (1), β-sitosterol (2), vanillin (3), syriacusin A (4),hibiscolactone (5), scopoletin( 6), cleomiscosin C (7), fumaric acid (8), kaempferol (9), quercetin (10), daucosterol (11), azelaic acid (12), succinic acid (13), and rutin (14). (20)
- Phytochemical screening of leaf extract yielded tannins, whereas the bark yielded alkaloid, reducing sugar, and tannins. (see study below) (21)
- GC-MS analysis of methanol extract yielded N, N- Dimethylglycine (83.97%), 3,7,11,15-Tetramethyl-2-hexadecen-1-ol (phytol) (2.94%) and 4H-Pyran-4-one, 2, 3-dihydro-3, 5-dihydroxy-6-methyl- (2.69%). (23)

Properties
- Bark is mucilaginous.
- Considered aperitive, emollient, emetic, diuretic, febrifuge, sudorific, and laxative.
- Studies have suggested antioxidant, antiproliferative, antimutagenic, antinociceptive, anti-inflammatory, antiulcer, anti-tyrosinase, immunomodulatory, antidepressant, antimicrobial properties.
Parts used
Flowers, bark, seeds, leaves, roots.
Uses
Edibility
• In the Pacific Islands, the bark is sometimes used as famine food.
• Roots used as food Queensland aborigines.
• Bark used as famine food.
Folkloric
• Macerated fresh bark in water is mucilaginous and used for dysentery.
• Infusion of roots used for fevers.
• Flowers boiled in milk used for cure of earaches.
• Flowers used for birth control and treating skin infections.
• Leaves used to treat cough, sore throats, and open wounds.
• In Amboina and Pahang, foot infusion used for fevers.
• In Java, decoction of roots used for fever.
• In Brazil, infusion of roots used as diuretic and febrifuge.
• Roots used in preparation of embrocation.
• In Mexico, roots and bark are used as aperitive, emollient, sudorific and laxative.
• Root preparation used externally for sprains and strains.
• In Indo-China, leaves used as laxative and resolutive.
• In Biduanda, leaves are rubbed over swellings.
• In Java, young leaves are boiled with sugar for bronchitis and coughs.
• Leaves and flowers used as emollient; used for ulcers.
• In China, flowers used for headache.
• In Brazil, infusion of seeds used as an emetic; infusion of roots used as diuretic and febrifuge.
• In the Antilles, decoction of flowers and root-bark used as laxative and emollient.
• In New Guinea, bark is used as cough remedy and also to treat tuberculosis. In Tonga, bark and young leaves are used for skin diseases. Leaf infusion used as aid in childbirth and to alleviate postpartum discharges. (18)
• In Fiji, leaves are wrapped around fractured limbs and sprained muscles; leaf juice used for gonorrhea. (18)
• In Vanuatu, juice from stem bark drunk to facilitate childbirth; likewise, sap obtained from a slit in the trunk is drunk. (189
Others
• Fiber: Bast fibers make a strong rope; also for making string and hog traps. (See study below) (9)
• Wood: Wood used for light boat and canoe construction, planking, firewood, carvings, fishing nets, household implements, axe handles. (18)
• Forage: Leaves are fed to cattle. (18)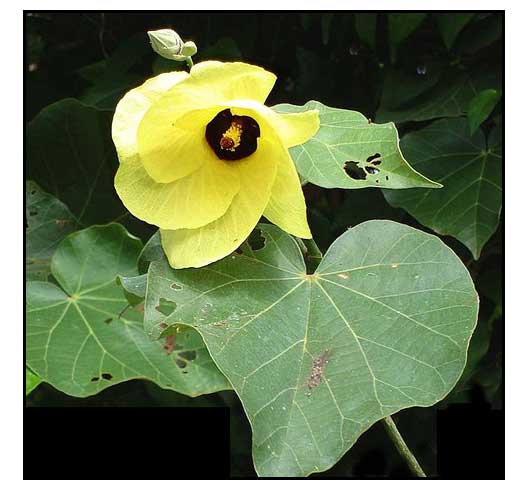 Studies
• Antitumor Activity / Roots: Study of antitumor activity of the roots of Hibiscus tiliaceus against Dalton's ascitic lymphoma in mice showed a significant enhancement of survival time with inhibition of tumor cell growth. (1)
• Antioxidant / Antimutagenic / Flowers: Study on the methanolic flower extract of HT showed the a clear antioxidant activity, attributed to vitamins and phytosterols. Extract also showed significant antimutagenic action against oxidative mutagens in S cerevisiae. (2)
• Antioxidant / Flowers: Aqueous flower extract of H tiliaceus exhibited significant reducing power and free radical scavenging. The antioxidant activities were concentration dependent. The total phenolic content were gallic acid equivalents and the total flavonoids as catechin equivalents. (3)
• Antiproliferative / Cytotoxicity: Study showed the acetone extract of HS exhibited better cytotoxic effect on lung cancer cells than the methanol and water extract. Results show HS-AE exerts significant dose-dependent anti-proliferative effect on cancer cells in vitro and in vivo.
• Antinociceptive / Anti-Inflammatory: Study on the different leaf extracts of H tiliaceus showed significant anti-inflammatory activity and antinociceptive activity on two types of noxious stimuli. (4)
• Antimutagenic / Antigenotoxic: Study showed the methanolic extract strongly inhibited the mutagenic action of hydrogen peroxide and tert-butyl-hydroperoxide. Results showed antioxidant activity and both antigenotoxic and antimutagenic effects against oxidative DNA damage. (5)
• Antioxidant / Antityrosinase / Leaves and Flowers: The flowers and leaves of six Hibiscus species were studies for antioxidant, antityrosinase and antibacterial activities. The leaves and flowers of H. tiliaceus showed outstanding antioxidant property. Leaves of TH had the strongest antityrosinase activity. Results suggest HT have the potential for development into functional food and skin care products. (6)
• Hibiscus Yarn: Study evaluated the characteristics and properties of Hibiscus tiliaceus fiber of different ages. Results showed the 4-month H. tiliaceus fiber could produce the smallest and longest yarn (45 meters) while the 3-month yarn had the highest average strength (111.39 N). The differences on physical properties of fiber and yarn of different ages were statistically significant at level of 0.5. (9)
• Immunomodulatory / Leaves: Study evaluated the immunomodulatory effect of a methanolic leaf extract of H. tiliaceus in pyrogallol induced immunosuppressed Wistar rats. Oral administration of the MLHT showed dose-dependent immunomodulatory effect in Wistar rats with significant effect on both humoral and cellular immunity. The results may be attributed to the polyphenols and flavonoid content of the extract. (10)
• Antiulcer / Leaves: Study evaluated fresh leaf extracts of H. tiliaceus for anti-ulcer activity in albino rats. Results showed pretreatment of extract showed significant reduction in lesion index, total area affected and percentage of lesion in cold restraint stress-induced and pylorus ligation ulcer models. (11)
• Anti-inflammatory / Wood / Safety Study: Study evaluated the anti-inflammatory activity of a methanolic wood extract in experimental acute and chronic inflammatory animal models. Results showed dose-dependent significant results with the 200 and 4000 mg/kg body weight extracts. The acute toxicity study showed the methanolic extract of plant wood to be safe up to 200 mg/kbw. (12)
• Antidiabetic / Hypolipidemic / Flowers: Study evaluated the antidiabetic and hypolipidemic activities of a methanolic extract of flowers of H. tiliaceus in STZ-induced diabetic wistar rats. Results showed antidiabetic activity with significant improvement in body weight. There was also significant reduction of serum cholesterol and triglycerides, with improvement of HDL levels. (13)
• Antidepressant / Flowers: Study evaluated a methanol flower extract of HT for antidepressant, anxiolytic, and sedative effects in animal models using forced swimming test, tail suspension test, elevated plus maze test, and ketamine-induced sleeping time. Results showed an antidepressant-like action without sedative side effect. (14)
• Antioxidant / HPLC Profiling / Leaves: Study investigated the antioxidant activity and HPLC profile of ethanolic leaf extract. Catechin, rutin hydrate, ellagic acid, and quercetin were quantified by HPLC-DAD at 99.00 ± 1.88, 79.20 ± 1.59, 59.40 ± 1.36, and 69.30 ± 1.47 mg/100 g of dry extract, respectively. The extract showed potent antioxidant activity by ABTS assay with IC50 of 6.25 ± 0.15 µg/ml. Total antioxidant capacity, total phenolic, and flavonoid contents were considerable (595.2 ± 3.61 mg of ascorbic acid/g, 298.07 ± 2.01 mg/g of gallic acid, and 13.69 ± 0.06 mg/g of quercetin equivalent, respectively). (15)
• Antioxidant / Antimicrobial / Leaves: Study evaluated an ethanol extract of dried leaves for antioxidant and antimicrobial activities. The extract showed antioxidant activity with a significant inhibition of DPPH activity with IC50 of 86.5 µg/ml compared to ascorbic acid IC50 15.00 µg/ml. The extract also showed activity against three strains of bacteria viz., S. aureus, E. coli and S. paratyphi.   (17)
• Cytotoxicity / Antibacterial / Neuropharmacological Effect / Leaf and Bark: In Brine Shrimp Lethality bioassay, the leaf extract exhibited moderate cytotoxic effect (LC50 20 µg/ml, LC90 40 µg/ml), while the bark extract showed low cytotoxic effect with LC50 of 50 µg/ml. The bark extract exhibited very little inhibitory effect against S. aureus and S. epidermis, while the leaf extract showed no activity against test bacterial strains. In neuropharmacologic evaluation, the leaf and bark extract produced a decrease in both time of onset of sleeping and total sleeping time. (see constituents above) (21)
• Effect of Leaves Extract on Liver Structure: Study evaluated the effects of natural extract of waru leaf on histology of liver tissue in rats. Dose of 100 mg/kg showed histopathological changed in hepatocyte cells in the form of hydropic degeneration, fat degeneration, necrosis, vascular congestion, and sinusoid congestion. The changes were still within normals due to the degree of minor damage of 25%. (22)
• Anthelmintic / Wood and Leaves:Study evaluated the anthelmintic activity of H. tiliaceus wood and leaves using Pheretima posthuma as test organism and parameters of time of paralysis and time of death. All extracts showed significant dose dependent anthelmintic activity compared to standard drug albendazole. Activity was attributed to secondary metabolites like tannins, saponins and alkaloids. (25)
• Tetracyclic Triterpenoids / Cytotoxicity Against Cancer Cell Lines / Leaves and Branches:Study of MeOH extracts from air dried leaves and branches yielded two new tetracyclic triterpenoids (3β,24S)-19(10→9)-abeo-8α,9β,10α-eupha-5,25(26)-dien-3,24-diol (tiliacol A, 1), and (3β,23Z)-19(10→9)-abeo-8α,9β,10α-tircalla-5,23-dien-3,25-diol (tiliacol B, 3), together with one known analog (2). The compounds were tested for cytotoxic activity against three tumor cell lines, P388 (leukemia), HeLa (cervical carcinoma), and K562 (erythroleukemia). Compound 2 showed potent activity with IC 50s of 11.2, 11.5, and 13.5 mmol/L. (26)
• Diuretic / Laxative / Bark: Study investigated the diuretic and laxative activity of H. tiliaceus bark in albino rats using standards of furosemide for diuretic activity and agar agar for laxative activity. Results showed significant dose dependent diuretic and laxative activity. (27)
• Antifungal / Wood: Study evaluated 15 plants used as folk medicine in East Kalimantan, Indonesia for antifungal activity against dermatophyte, Trichophyton mentagrophytes. Using agar diffusion antifungal assays, five showed more activity than others with 35-61% inhibitory activity in comparison to commercial antifungal agent, miconazole. Hibiscus tiliaceus showed 47 ± 0.1% inhibitory activity. (28)

Availability
Wild-crafted.
Cultivated.