Parts used
Gardenia pseudopsidium (Blanco) Fern.-Vill. is considered a doubtful name, to which some authors have referred the endemic G. barnesii Merr.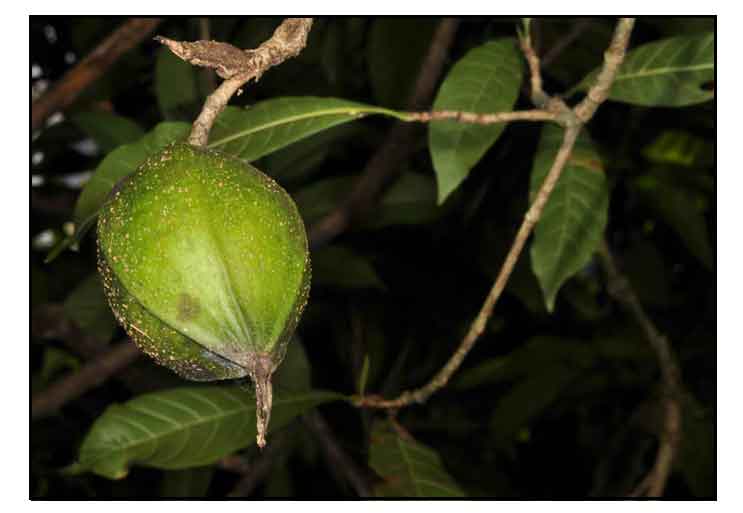 Botany
Malabayabas is a small tree. Leaves are crowded at the ends of branchlets, obovate-oblong, 11 to 22 centimeters long, 4 to 10 centimeters wide, and pointed at both ends. Flowers are fragrant, white, but turning yellow, 7 to 10 centimeters long, and 5 to 8 centimeters wide. Calyx-tube is obscurely ridged, and the upper half linearly segmented, green and smooth. Corolla-tube is 5 to 6 centimeters long. Fruit is green, hard, ovoid or somewhat rounded, 5 to 7 centimeters long, obscurely ridged longitudinally, and terminated by the calyx crown. Seeds are many and embedded in pulp.
Distribution
- Common in the primary forests at low altitudes in Cagayan, Benguet, Nueva Viscaya, Pangasinan, Tarlac, Rizal, Bataan, Batangas, Laguna, Quezon, and the Camarines Provinces in Luzon; and in Mindoro, Busuanga, Masbate, Negros, Samar, and Mindanao.

Parts used
Fruit.

Uses
Folkloric
Fruit used for smallpox.
Studies
• No studies found.

Availability
Wild-crafted.