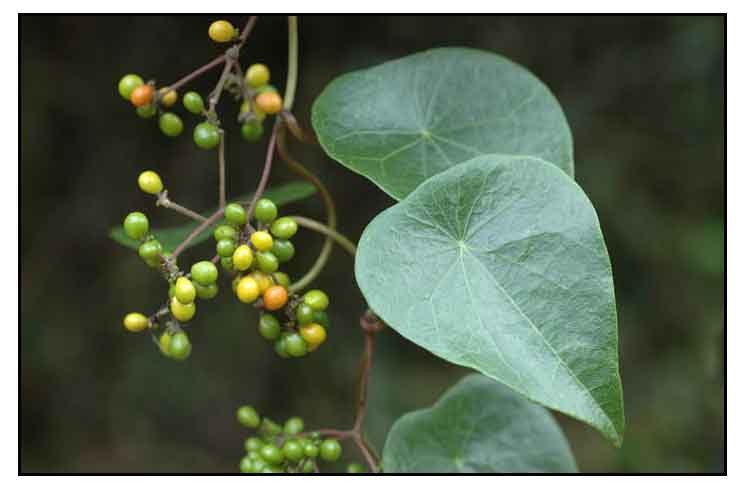 Botany
Malabuta is a woody smooth vine. Leaves are oval or sub-rounded oval in shape, 6 to 15 centimeters in length, and 4 to 12 centimeters in width, with obtuse and nearly retuse apex and rounded base, and smooth on both surfaces, with long petioles, 4 to 12 centimeters long. Inflorescences are in umbels on peduncles 3 to 4 centimeters in length. Male and female flowers are small, and pale yellow. Fruit is red, small, rounded but flattened, about 8 millimeters long and 6 millimeters wide.
Distribution
- In thickets and forests at low and medium altitudes in the Batan Islands; in Cagayan, Ilocos Norte, Bontoc, Lepanto, Benguet, Batangas, Rizal, and Laguna Provinces in Luzon; in Camiguin de Misamis.
- Also occurs in India to Japan, China and Taiwan.
Constituents
- Phytochemical analysis of leaf extracts yielded alkaloids, glycosides, flavanoids, saponins, carbohydrates, tannins, phenols, and mucilage. (8)
- Stem yields alkaloids, metastephanin, protosetaphin; phenol base and base.
- Roots, tubers and leaves yield alkaloids, steroids, and fats.
- Roots and tuber alkaloids are: aknadinine, aknadine and aknadicine.
- Stems yield bis-benzylisoquinoline alkaloids, stephasubine and 3'-4'-dihydro-stephasubine, saponins, steroids and fats.
- Roots yield alkaloids, franchinoline, dl-tetrandrine, d-tetrandrine and d-isochondrodendrine.
- Aerial parts have yielded aknadinine, epistephaine, hernandifoline and magnoflorine.
- Study isolated an alkaloid with a phenanthrene nucleus, hasubanonine.

Properties
- Leaves and roots are bitter and astringent.
- Studies have suggest antioxidant, diuretic, cytotoxic, analgesic, antimalarial, anti-inflammatory, antidiarrheal, antioxidant, neuroprotective, antidiabetic, antihyperlipidemic properties.

Parts used
Whole plant, leaves, roots.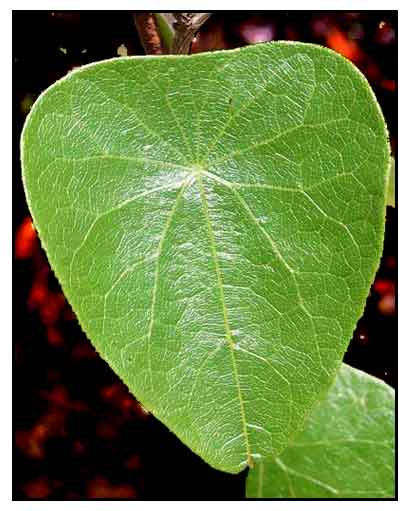 Uses
Edibility
- Jelly produced from squeezed leaves. (17)
Folkloric
- Plant used to cure itches.
- In Ayurveda, one of the three plants used as sources of "Patha," used in the treatment of urinary and heart related disorders.
- Used for skin sores, ulcers, furuncles, snake bites, stomach pains and leg edema.
- In northeast India, roots used for treatment of fever, diarrhea, dyspepsia and urinary diseases. Juice of root used for heart patients.
- In India, juice of whole plant used for convulsions, skin diseases, asthma, cough and renal disorders. (18)
- In Japan and Taiwan, plant decoction used for malaria.
- In Indonesia, roots used for stomach aches.
- In Bangladesh, roots and leaves used for fever and diarrhea. Leaves applied on abscesses to facilitate pointing. Leaves macerate in water, mixed with molasses and drunk as cure for urethritis. Leaves also used for gastritis. Root paste used for vertigo and dysentery. Root tuber mixed with root juice of Flemingia stricta for asthma. Warmed root paste rubbed onto hydrocoeles.
- Gelatinous mass formed by leaves crushed in water applied to breast infections. (17)
- Tablets prepared from paste of stems mixed with equal parts of fresh seed paste of Momordica charantia used as daily contraceptive. Leaf paste mixed with Cuscuta reflexa fresh plant past used as contraceptive. (23)
- In India, tribal communities of Jawhar tie the shoots of S. japonica as bangle on a male child's leg to treat stomach aches. (24)
Others
- Insecticidal: In Thailand, leaf extract used as insecticidal against fruit flies. (17)

Studies
• Antioxidant / Analgesic / Cytotoxicity: A crude methanolic extract exhibited moderate antioxidant activity in the DPPH radical scavenging and NO scavenging assays. The extract displayed analgesic activity with significant reduction in acetic acid writhing in mice. In Brine Shrimp lethality assay, it showed significant toxicity to Brine Shrimp nauplii. (1)
• Diuretic Activity: Study of Stephania japonica roots showed diuretic activity, with significant increase of urinary output; the effect was much less than that of furosemide. (2)
• Multidrug-Resistance Modulator: Alkaloidal extract of vines of Stephania japonica showed multidrug-resistance-reversing activity. Two known besbenzylisoquinoline alkaloids, isotrilobine and trilobine, were isolated. Trilobine showed to be as active as verapamil in reversing doxorubicin resistance in human breast cancer cells. (5)
• Hasubanonine: Study has isolated an alkaloid, hasubanonine, which was tested against opiate-withdrawal. The compound also worked against multi-drug resistance.
• Anti-Inflammatory / Antioxidant / Anti-Diarrheal: Plant showed significant anti-inflammatory effect on all phases of carrageenan-induced inflammation. The DPPH radical scavenging effect was 33.57 µg/mL compared to 15.57µg/ml for ascorbic acid. An anti-diarrheal effect in a castor oil-induced diarrheal model showed a reduction of total number of feces. (9)
• Stephabenine: Study of fresh fruits yielded a hasubanan ester-ketal alkaloid, stephabenine. (11)
• Diuretic Activity: In a study of comparative diuretic potential of methanolic extracts of C. pareira, Cyclea peltata, and Stephania japonica, all three demonstrated dose-dependent diuretic effects., with C. peltata exhibiting the most significant activity. (12)
• Antioxidant / Analgesic / Leaves: Study evaluated antioxidant (DPPH, reducing power assay, Fe ion chelating ability, total phenolic content) and analgesic (acetic acid-induced writhing model of pain in mice) potential of ethanolic extract of leaves of S. japonica. Results showed moderate antioxidant and potent analgesic activity which increased with concentration. Activity may be due to the presence of phytochemicals like tannins, flavonoids, phenolics, and others. (14)
• Antinociceptive / Leaves: The antinociceptive effect of a methanolic extract of S. japonica leaves was investigated using both heat- and chemical-induced nociceptive models such as hot plate, tail immersion, acetic-acid induced writhing, formalin and glutamate tests. Morphine and diclofenac were used as reference drugs. Results strongly support the antinociceptive activity of leaves and rationalize its traditional use in the treatment of various painful conditions. (15)
• CNS Depressant Activity / Bark: Study evaluated a methanolic extract of Stephania japonica bark in Swiss albino mice model. Evaluation of CNS activity by open field methold and hold board test showed significant (p<0.001) dose dependent reduction of peripheral locomotion, central locomotion and leaning in the open field test and reduction of head dipping and head poking in the hold board test. (18)
• Antioxidant / Analgesic / Leaves: Study of ethanlolic extract of leaves showed moderate antioxidant (DPPH, reducing power assay, Fe++ ion chelating ability and total phenolic content) and potent analgesic (acetic acid-induced writhing in mice) activity. Activities increased with concentrations and was attributed to the presence of phytochemicals like tannins, flavonoids, phenolics, etc. (19)
• Antimalarial / Leaves: Study evaluated the antimalarial activity of a crude aqueous extract of Stephania japonica leaves using chloroquine-sensitive Plasmodium falcifarum in mice. Results showed promising antiplasmodial activity as evidenced by dose dependent reduction in parasite density and percentage of parasitemia. The antimalarial activity was attributed to the presence of alkaloids. (20)
• Antidiabetic / Antihyperlipidemic / Leaves: Study investigated the antidiabetic and antihyperlipidemic activities of a methanolic leaf extract of S. japonica alone and with metformin in alloxan induced diabetic rats. The leaf extract and combination therapy reduced BG, TC, TG, LDL-C and increased HDL significantly (p<0.001). The LE also decreased LVH caused by alloxan and increased BW. (21)
• Antioxidant-Mediated Neuroprotective / Leaves: Study evaluated the antioxidant, neuroprotective and possible anxiolytic-like activity of a methanol leaf extract of S. japonica. The methanol LE exhibited antioxidant and anti-inflammatory activities. It also potentiated the action of diazepam and antagonized the effect of flumazenil suggesting a possible GABAergic, DZP-agonistic anxiolytic-like action in experimental animals. Study suggests a potential good source of neuroprotective phytochemicals. (22)

Availability
Wild-crafted.