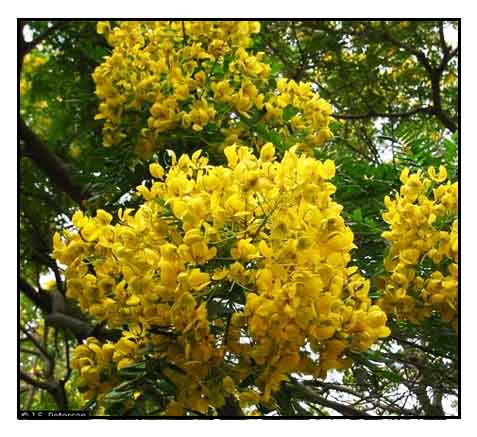 Botany
Senna multijuga is an evergreen to deciduous tree with a dense crown growing to a height of 6 to 10 m, sometimes as high as 30 m., with a bole 30 to 40 cm in diameter. Leaves are 12 to 20 cm long, stipules early caducous, linear; rachis and petiole puberulent. Leaflets 10 to 26 pairs, linear-oblong or oblong, 1.2 to 4 by 0.6 to 0.8 cm, both surfaces puberulent or adaxially glabrous, apex obtuse, rounded, mucronate, slightly oblique. Racemes several, arranged in a terminal, leafy panicle 10-20 cm peduncle and pedicels puberulent flowers are 2.5 to 4 cm in diameter; bracts ovate, about 2 mm, tomentose. Sepals are greenish yellow when mature, slightly unequal, 5 to 6 mm. Petals are yellow, ovate-oblong, 1 to 2 cm, glabrous. Legume is dark brown, flat, broadly linear, obtuse. Seeds are 30-60, flattened, about 6 mm. (Flora of China Editorial Committee, 2014) (3)
Distribution
- Introduced.
- Native to northern part of South America and Mexico.
- Widely introduced to tropical regions of the world as an ornamental. (3)
- Planted as hedge plant.
- In Asia, found in Bangladesh, China, Hongkong, India, Indonesia, Malaysia, Singapore, Sri Lanka. (3)
- Reported invasive in Hawaii. (3)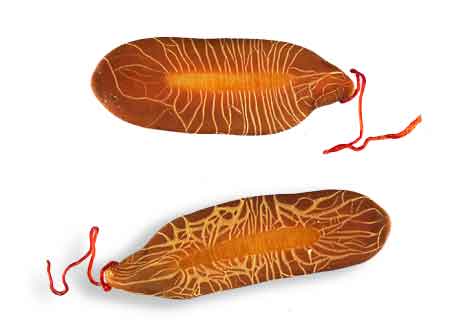 Constituents
- Study of leaves isolated five new pyridine alkaloids, namely, 12′-hydroxy-7′-multijuguinol (1), 12′-hydroxy-8′-multijuguinol (2), methyl multijuguinate (3), 7′-multijuguinol (4), and 8′-multijuguinol (5). (see study below) (4)
Study of leaves isolated two unusual pyridine alkaloids, 7′-multijuguinone (1) and 12′-hydroxy-7′-multijuguinone (2),  along with known flavonoid rutin. (see study below) (6)
Properties
- Studies have suggested acetylcholinesterase inhibitory and phytoremediative properties.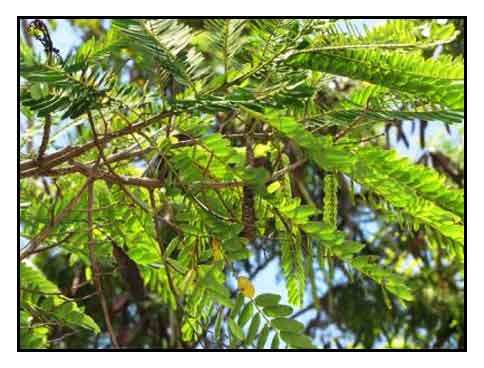 Parts used
Leaves, seeds.

Uses
Edibility
- Several Senna species, including S. multijuga, have reportedly edible leaves, shoots, and seeds, eaten as vegetable. Seeds used as coffee substitute. (3)
Folkloric
- No reported folkloric medicinal use in the Philippines.
Others
- Wood: Soft and light, No industrial use. Use limited to making toys and boxes.
- Environmental: Agroforestry, barrier or support, erosion control or dune stabilization, revegetation, and soil improvement. (3)
Studies
• Pyridine Alkaloids / Acetylcholinesterase Inhibitors / Leaves: Study of leaves isolated five new pyridine alkaloids, namely, 12′-hydroxy-7′-multijuguinol (1), 12′-hydroxy-8′-multijuguinol (2), methyl multijuguinate (3), 7′-multijuguinol (4), and 8′-multijuguinol (5). All compounds exhibited weak in vitro acetylcholinesterase inhibitory activity when compared to standard compound physostigmine. (4)
• Copper Phytoremediation: Study evaluated the initial growth, tolerance, and copper phytoremediation. While S. multijuga did not demonstrate high tolerance to the highest copper concentration in the study, it showed tolerance to the metal for use for reclamation of copper-contaminated areas. (5)
• Acetylcholinesterase Inhibitory Pyridine Alkaloids / Leaves: Study of leaves isolated two unusual pyridine alkaloids, 7′-multijuguinone (1) and 12′-hydroxy-7′-multijuguinone (2),  along with known flavonoid rutin. Compounds 1 and 2 showed moderate in vitro acetylcholinesterase (AChE) inhibitory activity compared with standard compound physostigmine. (6)
Availability
- Wild-crafted.
- Ornamental cultivation.