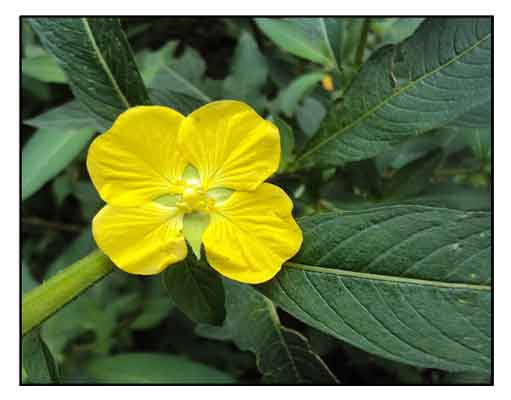 Gen info
- Ludwigia octovalvis is a species of flowering plant in the Onagraceae family known by the common name Mexican primrose-willow.
- Ludwigia octovalvis is listed fourth in global scale importance among broadleaved weeds that infest rice (out of a total of 350 weed species in rice, worldwide). (Raju and Reddy, 1986)
- In the Philippines, it is a major broadleaved weed of legume crops, including soybeans. (29)
Botany
Malapako is a stout, coarse, smooth or somewhat hairy herb, more or less branched, often half-woody, and 0.4 to 1.5 meters high. Leaves are lanceolate, 6 to 15 centimeters long. Flowers are solitary, yellow, axillary, without a stalk or with a very short stalk, borne in the upper leaf axils. Calyx is green. Petals are four, yellow, orbicular-obovate, and about 1 centimeter long. Capsules are green or purplish, clove-like shape, 3 to 5 centimeters long, 5 millimeters thick or less, and 8-ribbed, containing many rounded black seeds. Calyx lobes are persistent, oblong-ovate, and about 1 centimeter long.
Distribution
- Native to the Philippines. l. (28)
- Throughout the Philippines in open, damp places, in swamps, etc.
- Also native to Assam, Bangladesh, Borneo, Cambodia, China, Hainan, Japan, Jawa, Lesser Sunda Is., Malawi, Malaya, Myanmar, Nansei-shote, Nepal, New Guinea, Queensland, Sri Lanka, Sulawesi, Sumatera, Taiwan, Thailand, Tibet, Vietnam, among many others. (28)
- Found throughout the Tropics, from sea level to 1500 m elevation.
- In wet places usually associated with agriculture, most commonly in either rain-fed or irrigated rice fields. (29)
- Primarily a weed of rice, especially in South-East Asia, infesting a wide range of rice culture systems, like dry seeded rice, wet-seed rice, transplanted rice, and upland rice in the Philippines. (29)
Constituents
- Study of Ludwigia octovalvis yielded thirteen compounds: beta-sitosterol (1), oleanolic acid (2), 2alpha-hydroxy ursolic acid (3), tormentic acid (4), daucosterol (5), maltol (6), luteolin (7), quercetin (8), apigenin (9), methyl brevifolincarboxylate (10), gallic acid (11), 3, 4, 8, 9, 10-pentahydroxydibenzo[b, d]pyran-6-one (12), and ellagic acid (13). (4)
- Phytochemical screening yielded flavonoids (+), alkaloids (+), tannin (+++), saponin (+++), phenol (++), and steroids (+). (10)
- Study of whole plant yielded three new oleanane-type triterpenes, (23Z)-coumaroylhederagenin (1), (23E)-coumaroylhederagenin (2), and (3Z)-coumaroylhederagenin (3), together with two known triterpene acids, oleanolic acid and ursolic acid. (see study below) (23)
Properties
- Considered astringent, carminative, diuretic, emmenagogue, and vermifuge.
Studies have shown antipyretic, antioxidant, antibacterial, hepatoprotective, antiproliferative, antidiabetic properties.

Parts used
Leaves, roots.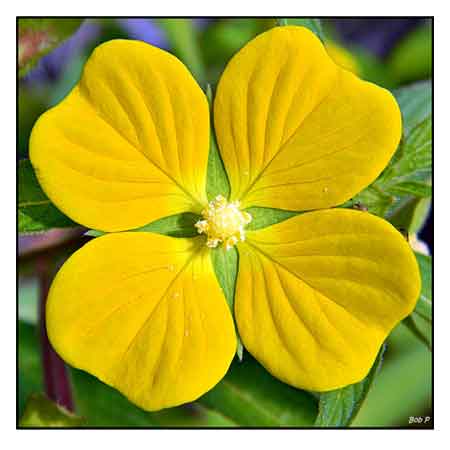 Uses
Culinary
- Leaves used for tea by the Malay.
Folkloric
- Among the Kalanguya tribe in Tinoc, Ifugao in Northern Luzon, leaf extract is applied to chickenpox lesions. (25)
- Plant, pulped and steeped in buttermilk, used for diarrhea and dysentery.
- Decoction used as diuretic, vermifuge and purgative; also, used for flatulence.
- As astringent, used for hemoptysis and leucorrhea.
- Mucilaginous leaves used for poulticing headaches and for orchitis and glands in the neck.
- Leaves used for nervous diseases.
- Roots used for skin diseases.
- In India, leaf paste applied externally to eczematous lesions. especially old age eczema. (10) In Tamil, India, leaf juice used for relief of cough and cold. (20)
- In the Thoubal district of Manipur, northeast India, the Meitei and Loi communities use boiled extract of whole plant for treatment of diabetes. (12)
- The Keffi people in Nigeria use roots to treat dermatosis; root extract in water taken orally three time daily to treat any skin injury. (13)
- In Uttar Pradesh, India, leaf juice used for intermittent fever. (15)
- In the Tinsukia District of Assam, India, ethnic communities apply plant paste to fungal infections of the toes. (27)
- In Saint Lucia, plant used as emmenagogue. Plant also used for ground itch by boiling it and washing the feet with hot water. (16)
- In Java, plant used to treat ulcerations of the nose. In India and Malaysia, mucilaginous leaves used as poultice for various complaints including headache, swollen glands, orchitis. Decoction used for diarrhea, nervous disorders and as carminative and vermifuge. In Nigeria, pulp of plant is boiled and taken as laxative and vermifuge. (17)
- In Malay traditional medicine, used to treat gastrointestinal complaints such as diarrhea and dysentery. (26)
Others
- Fodder: In Vietnam, fresh or cooked green forage used as feed for pigs. (11 )

Studies
• Antipyretic: Study was done to evaluate the anti-pyretic potential of a methanol extract of the aerial part of Jussiaea suffruticosa in yeast-induced pyrexia in albino rats. Various doses of MEJS showed significant dose-dependent reduction in normal body temperature and yeast-provoked temperature elevation. The effect was comparable to that of paracetamol. (2)
• Anti-Diarrheal: Study was done to evaluate the anti-diarrheal potential of a methanol extract of J. suffruticosa on experimental models in rats. Results showed a significant reduction in gastrointestinal motility following a charcoal meal in rats. The extract exhibited significant anti-diarrheal potential in all animal models. (3)
• Toxicological Study / Hepatoprotective / immunostimulatory / Cardioprotective: Study evaluated the toxicity profile of an 80% methanolic extract of in BALB/c mice. Results showed no mortality or morbidity in acute and subacute toxicity testing. The extract yielded biologically active principles which may have immunostimulatory, hepatoprotective and cardiovascular protective properties. (5)
• Antioxidant / Antibacterial: Study evaluated twelve extracts of L. octovalvis for their total phenolic content, antimicrobial, and antioxidant activity. There was a strong correlation between total phenolic content and antioxidant activity. Results showed the leaf of L. octovalvis as a potential new source of natural mixture of antioxidant and anti-E. coli O157:H7. (6)
• Chlorophyll a / Anti-Proliferative: Study evaluated the anti-proliferative activity of extracts and active constituent (chlorophyll a; CHL-a) in 3T3-L1 adipocytes. Results showed CHL-a possesses potent anti-proliferative activity, and its apoptotic effects on 3T3-L1 adipocytes are mediated through the activation of CD95 system and AMPK signaling pathway. (8)
• Anti-Diabetic / Glucosidase and Lipase Inhibitory Activities: Study in Mexico evaluated hydroalcoholic extracts of selected plants for glucosidase and lipase inhibitory activities. Ludwigia octovalvis showed high α-glucosidase inhibitory activity of 82.7 %, IC50 202 µg/mL and high lipase inhibitory activity at 31.4%, IC50 288 µg/mL. (14)
• Diuretic: Study evaluated the diuretic potential of whole plant of Jussiaeae suffruticosa in male albino rats. A methanolic extract at 400 mg/kg dose produced very significant increase in urine volume, urinary concentration of sodium, potassium and chloride ions. Phytochemical screening yielded alkaloids, steroids, flavonoids, tannins, carbohydrates, and glycosides that may individually or collectively possess natriuretic and diuretic activities. (18) Methanolic extract of J. suffruticosa aerial parts significant diuretic potential with a two-fold increase in urine volume and increased electrolyte excretion. The activity was comparable to that of standard diuretic agent furosemide. (19)
• Antitussive / Leaves: Study of leaf extract showed dose-dependent inhibition of cough on sulphur dioxide induced experimental cough model. Results were comparable to effect by codeine phosphate. The highest inhibition of cough (59.81%) was produced by a 400/mg dose, whereas codeine phosphate 10 mg/kg showed 63.37% inhibition. (Murugesan T, Ghosh L, Pulok Mukherjee K, Pal M, Saha BP. 399. Evaluation of antitussive potential of Jussiaea suffruticosa Linn. extract in albino mice. Phytotherapy Research. 2000; 14:541-542.) (20)
• Anti-Aging Potential: Study evaluated the anti-aging effects of Ludwigia octovalvis using fruit fly, Drosophila melanogaster, as model organism. Results showed significant extension of fly lifespan . The LO extract may regulate lifespan through a dietary restriction-related pathway. The LOE also attenuated age-related cognitive decline in both flies. LOE contained high levels of polyphenols and flavonoids, and was shown to attenuate paraquat-induced oxidative damage and lethality in flies. GC-MS analyses yielded 17 known molecules, of which ß-sitosterol and squalene were most abundant. (21)
• Antidiabetic / Glucosidase and Lipase Enzyme Inhibition: Study evaluated 23 medicinal plants used in traditional treatments for diabetes in Mexico for glucosidase and lipase inhibitory activities. Ludwigia octovalvis and Iostephane heterophylla showed the highest inhibition of α-glucosidase activity at 82.7% (IC50=202 µg/mL) and 60.6% (IC50=509 µg/mL), respectively. On lipase activity, L. octavalvis and T. stans showed highest inhibition at 31.4% and27.2%, respectively. (22)
• Oleanane-Type Triterpenes / Cytotoxicity Against Human Cancer Lines: Study yielded three new oleanane-type triterpenes, together with two known triterpene acids. All new triterpenes showed significant cytotoxicity against two human tumor cell lines, oral epidermoid carcinoma KB and colorectal carcinoma NT29 with IC50s in the range of 1.2-3.6 µM. (see constituents above) (23)
• Phytotoxicity / Uptake of Arsenic / Phytoremediation Study: Arsenic (AS) is a first rank dangerous and toxic chemical. Ludwigia octovalvis has been noted to survive on an arsenic contaminated site in Malaysia. Study evaluated the phytotoxicity and uptake of As by LO at various concentrations of 5, 22, and 39 mg/kg in a pilot reed bed system. An increase in As uptake by whole L. octovalvis plants occurred with increasing As concentration in the spiked sand, providing evidence that As can induce toxic effects of L. octovalvis. (24)
• Immune-Stimulating Against Shiga Toxin-Producing E. coli: Study evaluated the in vitro antibacterial activity of L. octovalvis against Shiga toxin-producing E. coli O157:H7, an important food-borne pathogen, on male Balb/c mice model. There was an increased systemic immune response to E. coli O157:H7 via potentiation of the synthesis of IgA antibodies. (26)
• Digestive Enzyme Inhibitors: Study evaluated the inhibitory activity of pancreatic lipase and
α-glucosidase inhibitors from hydroalcoholic extract of L. octavalvis. For α-glucosidases, L. octovalvis extract and EA fraction showed IC50 of 700 and 250 µg/mL, for lipase 480 and 718 µg/ml. The most active compounds were ethyl gallate (1) with IC50 832 µM, and gallic acid (2) IC50 969 µM; both displayed competitive inhibition of α-glucosidases and isoorientin (3) IC50 201 µM, which displayed uncompetitive inhibition of lipase. Results provide data useful for development of a novel phytopharmaceutical drug. (30)
• Effect on Glycemic Control and Memory: Study evaluated the antihyperglycemic potential of L. octovalvis extract (LOE). Open field test and novel object recognition test evaluated spontaneous motor activity and memory performance of HFD-induced diabetic mice. In differentiated C2C12 muscle cells and HepG2 hepatocellular cells, treatment with LOE and active component (ß-sitosterol) induced significant AMPK phosphorylation. LOE enhanced uptake of 2-NBDG and inhibited glucose production in cells. The antihyperglycemic effect was comparable to metformin. LOE also improved glycemic control and memory performance of mice fed a HFD. (31)
• Endophytic Bacterial Alpha-Glucosidase Inhibitory Activity: Study evaluated the alpha-glucosidase inhibitory potential of extracts of endophytic bacteria isolated from Ludwigia octovalvis. Nineteen endophytic bacteria were isolated from the leaves, stems, roots, flowers, fruits, and twigs. The extracts from these endophytic bacteria all showed alpha-glucosidase inhibitory effect. The S4155 extract showed less than 50% enzyme inhibitory activity with IC50 of 163.98µg/mL. Results showed endophyte bacteria associated with L. octovalvis provided a source of bioactive compounds than can prevent or reduce the prevalence of diabetes. (32)

Availability
Wild-crafted.