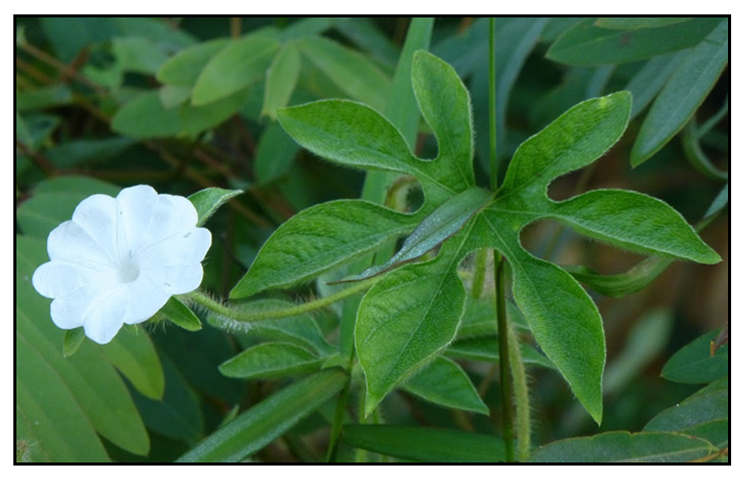 Botany
Malasandia is a twining, herbaceous, annual vine, all part being more or less covered with rather long, spreading, pale or brownish hairs. Leaves are somewhat rounded in outline, 6 to 10 centimeters in diameter, palmately 5- to 9-lobed, heart-shaped at the base and somewhat hairy on both surfaces. Lobes of the blade are elliptic, with narrowed base and rounded sinuses. Flowers occur in axillary heads usually only one opening at a time. Calyx is green and about 1 centimeter long. Corolla is white and 4 centimeters long, the limb about 3 centimeters in diameter. Fruit is rounded, 6 to 7 millimeters in diameter.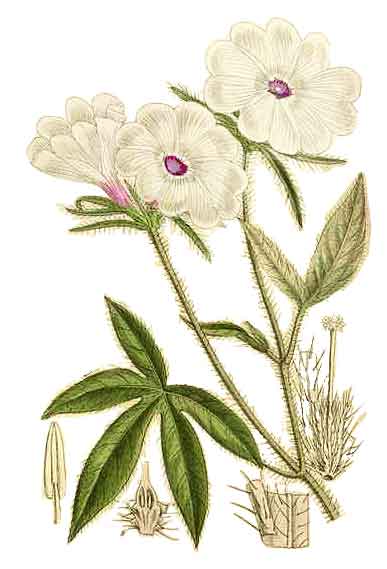 Distribution
- In all or most parts of the Philippines in open grasslands and waste places at low and medium altitudes.
- Also occurs in tropical Africa and Asia through Malaya to Polynesia.

Constituents
- Ethyl acetate extract yielded flavonoids, glycosides, alkaloids, saponins, carbohydrates and tannins. (see study below) (10)
Properties
- Studies suggest analgesic and cytotoxic properties.

Parts used
Leaves

Uses
Folkloric
- Poultices of leaves used as resolvent for pimples, boils, carbuncles, etc.
- In Java, leaves used for poulticing sores, boils, pimples.
- In Sri Lanka, entire creeper is crushed and the juice extracted and take orally for treatment of or prevention of rabies if bitten by a rabid dog.
- In India, used for wound healing. In the Jalgaon district of Maharashtra, leaf powder is smoked to get relief from bronchial spasm.
- The Kerala tribe use the herb for various painful conditions - headaches, swellings, poisonous stings, snake bites, etc. (4)
- In Tamil Nadu, southern India, leaf paste is applied twice daily for 2 days to treat pimples. Seed paste with coconut oil is applied to facilitate wound healing.
- In Andhra Pradesh, India, leaf paste is warmed and cooled, and applied to the head for hypnotic effect. Twining stems are dipped in tumeric water and worn around the neck of children for restlessness and to drive away evil spirits. Leaf paste is applied on whole body before bathing with warm water to treat fever. Also used for wound healing. Leaf powder smoked to relieve bronchial spasm. (12)
Others
- Fodder: In India, used as fodder plant.

Studies
• Analgesic / Leaves: Study showed the ethanolic leaf extract of Ipomoea pes-tigridis has significant analgesic activity with a dose-dependent significant reduction of writhes using plate reaction time. (4)
• Analgesic and Neuropharmacological Testing: Study investigated the analgesic and neuropharmacological activities of an ethyl acetate extract of I. pes-tigridis in albino mice. In acetic acid writhing test and hot plate method in mice the extract showed significant analgesic activity. Testing did not show any CNS depressant activities. (see Constituents above) (10)
• Cytotoxic / Leaves: Study evaluated the anticancer activity of leaves of Ipomoea pes-tigridis against liver HepG2 cell line. A 70% ethanolic extract of I. pes-tigridis showed significant anticancer effect against liver cancer on HEPG2 cell line, with an antiproliferative effect comparable to that of Ipomoea stans. (11)
• Antibacterial Anti-Inflammatory / Aerial Parts: Study evaluated methanolic extract of aerial parts for antibacterial activity against routine bacterial strains and anti-acne activity against S. epidermis and Propionibacterium acnes. Staphylococcus epidermis was more susceptible to the extract than P. acnes, with MIC of 96 µg/ml and 100 µg/ml, respectively. Alkaloids and flavonoids were the potent inhibitors of these microorganisms. Anti-inflammatory activity screening showed 100 mg/kg as the most effective dose. (12)

Availability
Wild-crafted.