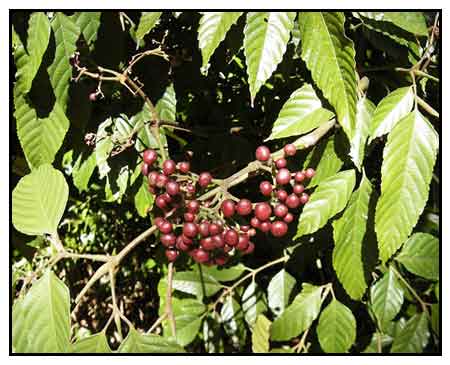 Botany
Mali is a shrub or small tree, up to 10 meters high. Leaves are pinnate or tripinnate, 90 to 120 centimeters long. Leaflets are extremely variable in size and shape. Flowers are greenish-white, sepals 2 to 3 by 3 to 4 millimeters, smooth to pubescent. Fruit is a small berry, dark purple to black, 5 to 10 millimeters in diameter, and 6-seeded.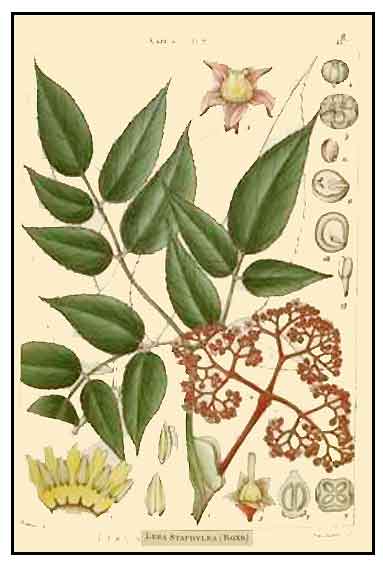 Distribution
- In thickets at low altitudes in Mindoro, Mindanao, Panay, and the Sulu Archipelago.
- Rare in the Philippines.
- Also occurs in India to Indo-China, the Malay Peninsula, Java, Sumatra, and Borneo.
Constituents
- Study of leaves of Leea indica yielded twenty-three known chemical compounds including 11 hydrocarbons, phthalic acid, palmitic acid, 1-eicosanol, solanesol, farnesol, three phthalic acid esters, gallic acid, lupeol, ß-sitosterol and ursolic acid. (2)
- Phytochemical screening isolation a novel carotenoid, leeatene, and nine other known compounds including squalene, hexadecanoyl-0-amyrin, vitamin E, 1 - tetratriacontanol, P-amyrin, 3-hydroxy-12-oleanen-28-oic acid, Psitosteryl- P-D-glucopyranoside, 2a,3a,23-trihydroxy-12-oleanen-28-oiacc id and phloridzin.
- An ethanolic extract of roots yielded alkaloids, carbohydrates,steroids, triterpenoids, flavonoids, glycosides, anthraquinone glycosides, tannins, resins, and saponins. Chemical entities characterized included ß-sitosterol, lupeol, di-n-octyl phthalate, ß-amyrin, gallic acid, quercitrin, dibutyl phthalate and a-tocopheral. (12)
Properties
- Root considered cooling, digestive, thirst-quenching.
- Elsewhere considered anticancer, antioxidant, antidiabetic, antidiarrheal, antidysenteric, antispasmodic.
- Studies have shown antioxidant, anticancer, antimicrobial, cytotoxic, analgesic properties.

Parts used
Roots, leaves.

Uses
Edibility
- Tender shoots used as vegetable.
- In Sri Lanka, leaves cooked and mixed with rice as medicinal treatment.
Folkloric
- Decoction of roots used in colic and for relieving thirst.
- In Goa, roots used for diarrhea and chronic dysentery.
- Young shoots chewed for relief of severe cough.
- Decoction of shoots applied to sores.
- Root decoction used for stomach ache, colic, dysentery and diarrhea.
- Roasted leaves applied to the head to relieve vertigo.
- Leaf juice applied on the head for dizziness or vertigo.
- Juice of young leaves used as digestive.
- In La Reunion, roots used as sudorific.
- Jakuns reported to use poultice of leaves for body pains.
- Paste of roots applied to relieve skin complaints with rashes and allergic reactions.
- In Sri Lanka, leaves cooked and mixed with rice (Heenati haal) and use for treating hemorrhoids, intestinal worms, etc. Externally, leaves bruised in gingelly oil used as dressing for wounds and ulcers. Juice of berries applied to warts. Pith of stems used as diuretic and for treatment of acute cystitis and strangury. (10)
- In Bangladesh, the Marma of Chittagong Hill Tracts combine the root paste of plant with roots of Orecnide integrifolia and Cissus repens to treat bubo and boils. (Yusuf et al. 2009).
- In Ayurveda, used in the treatment of ringworm, wounds, ulcers, warts, cystitis, diarrhea, dysentery, burns, dental caries, hemorrhoids, and fever.

Studies
• Antioxidant: Study of extracts from Leea indica and Spermacoce articularis showed strong DPPH free radical scavenging activity comparable with standard quercetin, BHT and vitamin C. Leea indica also showed strong inhibitory activity on nitric oxide production. (1)
• Anti-Cancer: Several extracts and fractions were evaluated for cytotoxicity on various cell lines. The ethyl acetate fraction showed the greatest cytotoxic effect against Ca Ski cervical cancer cells via induction of growth suppression and apoptosis effects. It presents a potential as an anticancer drug. (3)
• Anthraquinones / Cytotoxic / Antioxidant: A total 43 derivatives of anthraquinone have been successfully synthesized including damnacanthal and nordamnacanthal. A total 22 anthraquinone derivatives showed cytotoxicity against the cell-lines used, with 2-bromomethyl-l,3-dimethoxyanthraquinone (A-34) showing most cytotoxicity against all the cell-lines. Only two synthesized anthraquinones, damnacanthal (A-46) and nordamnacanthal (A-37) showed strong antioxidant activity comparable with vitamin E. (4)
• Essential Oil Constituents / Antimicrobial: Study showed more than 95% of the oil consisted of esters of phthalic acid. The essential oil showed moderate antibacterial activity against three Gram positive and two Gram negative and three pathogenic fungi. (5)
• Phenolic Content / Antioxidant / Leaves: Study showed a strong correlation between total phenolic content and antioxidant activity and showed significant differences among the leaf extracts. The crude ethanol and its fractions showed the highest phenolic content and antioxidant activity. (6)
• Antitumor Activity / Ehrlich Ascites Carcinoma: Study evaluated a crude methanolic extract of leaves of L. indica for antitumor, antioxidant, and cytotoxic activity. Against Ehrlich Ascites Carcinoma cells in Swiss albino mice, there was a significant decrease in tumor weight, increase in life span and reduced tumor cell growth rate. On DPPH assay, the extract showed dose-dependent moderate antioxidant activity. On brine shrimp lethality assay the extract showed significant cytotoxic activity. (7)
• Cytotoxic Activity / Leaves: Study of an ethanol leaf extract by brine shrimp lethality bioassay method showed significant cytotoxic effect. (8)
• Analgesic Activity / Leaves: Study evaluated the analgesic potential of L. indica. Results in experimental animal models. showed the extracts exhibited anti-nociceptive activity by central and peripheral mechanisms. Results suggest a potential source of analgesic drugs. (11)
• Antimicrobial / Essential Oil / Flowers: Study evaluated essential oil of flowers of L. indica. 95% consisted of esters of phthalic acid. Major constituents were di-isobutylphthalate (>75%), di-n-butylphthalate (>7%), n-butylisobutylphthalate (>6%), butylisohexylphthalate (>3.5%). Testing showed moderate antibacterial and antifungal activity. (13)
• Antihyperglycemic / Hypolipidemic / Leaves: Study evaluated extracts of L. indica leaves for hypoglycemic and hypolipidemic activity in alloxan induced diabetic rats. Data indicated significant decrease in blood glucose, triglycerides, total cholesterol, LDL, VLDL, with increased HDL cholesterol, compared to standard drug glibenclamide. The hydroalcoholic extract was more effective than alcoholic extract. (13)
• Sedative / Anxiolytic / Leaves: Study evaluated a crude methanol extract of leaves showed significant dose-dependent sedative and anxiolytic effects in rodent behavioral models. (19)
• Hepatoprotective / Paracetamol Hepatotoxicity / Stem Bark: Study evaluated the hepatoprotective activity of ethanolic extract of Leea indica stem bark against paracetamol induced hepatotoxicity in rats. Results showed promising hepatoprotective effect with significant decrease in elevated serum marker enzymes, bilirubin, and triglycerides. (20)
• Wound Healing Activity: Study evaluated the diabetic wound healing activity of Leea indica and Stachytarpeta indica in cultured RAW 264.7 mouse macrophage cells and NIH 3T3 mouse fibroblast cells. Both extracts showed wound healing activity with enhancement of mitochondrial activities of cells. Leea indica extract was more effective than Stachytarpeta indica, and more suitable on macrophage cells than fibroblast cells. (22)
• Wound Healing Activity: Study investigated the antifungal and radical scavenging potential of leaf and bark extracts of Leea indica. On antifungal activity against Colletotrichum capsici, Helminthosporium sp., and Curvularia sp., the leaf extract displayed marked antifungal effect compared to the bark extract. The leaf extract scavenged DPPH radicals more efficiently than the bark extract. The marked antifungal and radical scavenging potential of the leaf extract may be attributed to the high phenolic content. (23)
• Thrombolytic Activity: Study investigated six Bangladesh herbal extracts for clot lysis effect in an in vitro thrombolytic model using streptokinase as positive control. Of the six, Clausena suffruticosa, Leea indica and Leucas aspera showed effective thrombolytic properties. (24)
Availability
Wild-crafted.