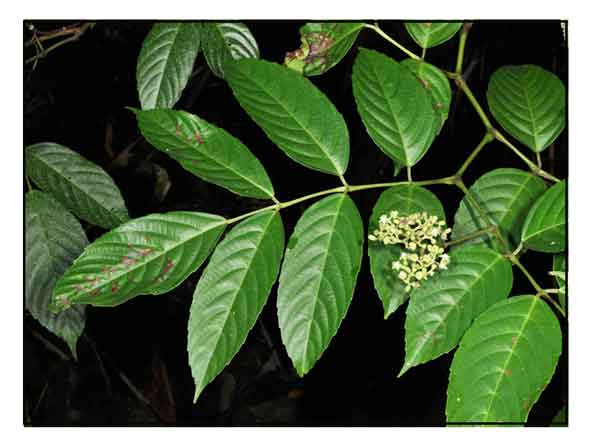 Gen info
- Leea comprises bout 34 species, confined to the Old World tropics; 25 species are endemic to Malesia. (5)
- Quisumbing's compilation lists three species under the Genus Leea: Leea aculeata (mali-mali), L. indica
(mali), and L. manillensis (abang-abang).
Botany
Mali-mali is a shrub or small tree reaching a height of 8 meters. Stems are spiny. Leaves are smooth and trifoliate or pinnate. Leaflets are oblong to subelliptic, up to 15 centimeters in length or more, 3 to 4 centimeters in width, the terminal leaflet being larger, prominently toothed along all margins except the base, pointed at the tip, blunt at the base. Flowers are white, and borne on corymbs 5 to 8 centimeters long. Fruit is red, somewhat rounded, about 1 centimeter in diameter.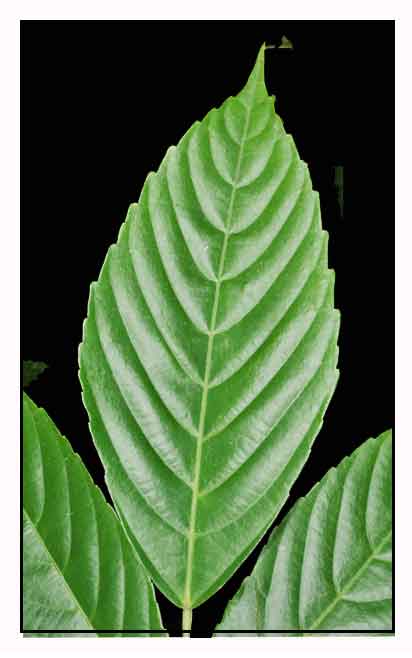 Distribution
- Common in thickets and secondary forests, especially along streams at low and medium altitudes, from the Babuyan Islands and northern Luzon to Mindanao and Palawan, in most or all provinces.
- Also occurs in Borneo, Java, Celebes, New Guinea, and the Moluccas.
Constituents
- Phytochemical screening of air dried leaves yielded tannins, steroids, terpenoids, cardiac glycoside, and flavonoids. (4)

Properties
- Study suggests antioxidant property. (3)

Parts used
Leaves.

Uses
Folkloric
- Leaves are reported to be used for purifying the blood.

Studies
• Antioxidant: Study screened leaves of various Philippine medicinal plants for antioxidant activities. Results from antioxidant screening using DPPH radical scavenging method and total phenolic contents showed the decoction, crude ethanol, and 50:50 ethanol-water extracts of L. capitellata and L. aculeata with antioxidant profiles similar to reference standards ascorbic acid and butylated hydroxytoluene (BHT). (3)

Availability
Wild-crafted.