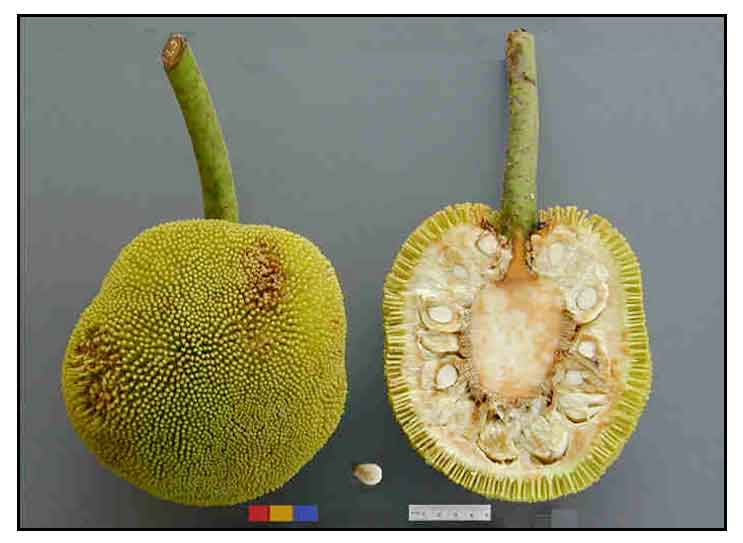 Botany
Marang is a medium-sized tree growing to a height of 18 to 25 meters, sometimes with low buttresses. Twigs are 4 to 10 millimeters thick, with long, yellow to red, spreading hair and stipule-scar rings. Leaves are alternate, ovate, 7- to 9-lobed, the lobes lanceolate, glossy, dark green above, green below, stiff and petioled. Inflorescences occur in the leaf axils. Male flowers are minute, in stiff spikes. Female flowers are in conical heads. Fruit is subglobose, up to 20 centimeters in diameter, green yellow, densely covered with stiff, hairy processes about 1 centimeter long, borne at the end of long flexible branches, with a mass of seeds embedded in pulp. Fruit flesh is white, edible, juicy, and fragrant but strong-smelling edible pulp.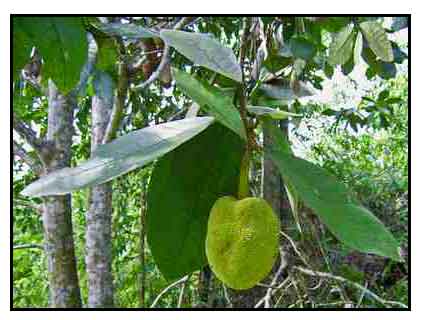 Distribution
- Abundant in Mindanao, cultivated for its edible fruit.
- Also occurring in Mindoro, Basilan, and the Sulu Archipelago.
- Probably introduced from Borneo.
- In Borneo, common in the wild state.
- Usually cultivated for its edible fruit.
- IUCN Red List: Near threatened. (Last assessed Oct 2017) (27)
Constituents
- Fruit is 24 to 33% of fresh fruit weight; 100 g of edible portion yields water 65.7 to 84.2 g, protein 0.8 to 1.47 g, fat 0.2 to 0.3 g, carbohydrates 32.4 g, ash 0.5 to 0.8 g, fiber 0.6 to 0.77g, calcium 17 mg, phosphorus 35 mg, iron 2.1 mg and vitamin C 30 mg. (6)
- Crude protein from the seeds is higher than that found in other fruits.
- Study yielded a prenylated pyranoflavone derivative, artosimin.
- Dichloromethane extract of Artocarpus odoratissimus afforded ß-sitosterol and squalene, and unsaturated fatty acids from the flesh of the fruit and seeds; and ß-sitosterol, unsaturated fatty acids and hydrocarbons from the fruit rind. (5)
- Analysis of minerals in flesh and seed yielded (in mg/100g): Potassium 176-298 (F), 352-443 (S); magnesium 15-31 (F), 103-132 (S); sodium 1.1-1.7 (F), 0.9-3.8 (S); calcium 0.5-1.4 (F), 1.5-3.0 (S); iron 0.3-0.5 (F), 0.8-1.2 (S); nickel 0.01-0.06 (F), 0.13-0.29 (S); cobalt 0.11-0.26 (F), 0.10-0.15 (S); manganese 0.02-0.93 (F), 0.27-8.64 (S); copper 0.39-0.67 (F),0.58-0.83 (S); zinc 0.17-0.45 (F), 0.71-1.83 (S); cadmium 0.0104-0.0149 (F), 0.0125-0.0172 (S). (8)
- Proximate composition of flesh nutrient per 100g yielded: Moisture (%) 67.9-73.4; ash 0.6-0.8 g; carbohydrate 12.0-25.2 g; protein 1.31-1.52 g; fiber 0.90-1.13 g; fat 0.2-0.3 g (wet basis), energy 90.7-100.6 kcal. (8)
- Proximate analysis of fruit flesh from Sarawak, Malaysia yielded: moisture 75.90%, carbohydrate 82.70%, protein 14.59%, ash 3.87%, and crude fiber 0.03%. Mineral composition showed K > Ca > Na > Mg > P > Cu. Potassium was the major mineral component, ranging from 1237.16 -1654.17 mg/100g. Total phenolic content ranged from 2.11-2.70 mg gallic aid equivalents (GAE)/g, total flavonoid ranged from 0mic.75-1.44 mg quercetin equivalents (QE)/g and total antioxidant activity of 187.25 - 189.48 mg/mL. (21)
- Study of root extract isolated two known flavonoids, pinocembrin (1) and pinostrobin (2). The compounds were successfully synthesized with 2-hydroxy-4,6-dimethoxyacetphenone and benzaldehyde as starting materials. (22)
- Study of various extracts of root, bark and leaves lead to the isolation of two flavonoids, pinocembrin (1) and pinostrobin (2), and six triterpenoids, α-amyrin acetate (3), ß-amyrin acetate (4), traxateryl acetate (5), hexyl dodecanoate (6) ß-sitosterol (7), and stigmasterol (8). (23)

Uses
Edibility
- Fruit is esteemed for its sweet, juicy, aromatic perianths surrounding the seeds. with a flavor similar to jackfruit. Used as ingredient for cakes.
- Thick and fleshy rind of fruit reported to be edible.
- Seeds are roasted or boiled, yielding a delicious nutty flavor.
- Young fruit also cooked in coconut milk and eaten as curried vegetable.
Folkloric
- No reported folkloric medicinal use in the Philippines.
- Latex used to treat inflammation from wounds. (20)
- Ibans in Sarawak drink root decoction for diarrhea. Ash from leaves applied on scorpion stings and centipede bites. Mixed with a little coconut oil, the ash is used for scabies and kuris. (6)
Others
- Ritual: In the Iban community in Sarawak, leaves are hang on the door to drive away evil spirits from entering the premises to steal men's testicles. (6)

Studies
• Artosimin / Anticancer / Antioxidant:: Study yielded a new prenylated pyranoflavone derivative, artosimin, together with traxateryl acetate. Artosimin was found to be significantly cytotoxic against cancer cell lines (HL60 and MCF7)and also showed to have strong antioxidant property on the DPPH assay.  (2)
• Antioxidant: Study evaluated the flesh, kernel and peel from M. pajang and seed and flesh from A. odoratissimus for total antioxidant activity, total polyphenol, total flavonoid and total anthocyanins contents. The phytochemical and antioxidant properties of M. pajang and A. odoratissimus, especially their kernel/seed by-products indicate they may impart health benefits when consumed and should be regarded as a valuable source of antioxidant-rich nutraceuticals. (4)
• Antioxidant / Flesh and Seed: Study investigated the chemopreventive and chemotherapeutic potential of two fruits endemic to Borneo Island: Mangifera pajang (bambangan) and Artocarpus odoratissimus (tarap). The kernel of M. pajang extract displayed strongest antioxidant activity as assessed DPPH and FRAP assays, followed by M. pajang peel, A. odoratissmus seed, M. pajang flesh and A. odoratissmus flesh. (7)
• Adaptogenic / Seed: Study evaluated dried seed extract of Artocarpus odoratissimus for adaptogenic activity using anoxic tolerance test with male Albino mice. Extract prolonged the time of convulsion and minimized the increase of biochemical parameters (glucose, cholesterol, and triglycerides). Results suggest the seed extract may be explored as an adaptogenic agent. (9)
• Artosimin / Antimicrobial / Seed Oil: Study yielded a new prenylated pyranoflavone derivative, artosimin. Artosimin exhibited significant cytotoxicity against HL60 and MCF7 cancer cell lines.
• Antiangiogenic Effect: Study evaluated crude leaf extracts of Artocarpus odoratissimus and A. heterophyllus (jackfruit) for angiogenic activity using chorioallantoic membrane (CAM) assay on 12-day old duck embryo. Both plants showed antiangiogenic activity as evidenced by a decrease in number of collaterals. A 300ppm dose of A. odoratissimus exhibited highest inhibitory effect which was attributed to the presence of phenolic compounds such as flavonoids, saponins, glycosides, sterols, tannins and anthocyanins. (12)
• Friedelinol / Cytotoxicity / Leaves: Study isolated friedelinol (triterpene) from leaf extracts of Artocarpus odoratissimus. The compound showed moderate toxicity against brine shrimp A. salina with LC50 of 48.39 ppm. (13)
• Biosorbent / Methylene Blue and Methyl Violet / Skin: Study of Artocarpus odoratissimus skin showed great potential as an effective low cost biosorbent for toxic dyes, methylene blue (MB) and methyl violet 2B (MV). (14)
• Adsorption Characteristics / Crystal Violet / Leaves: Study reports on the use of A. odoratissimus leaves as a potential low-cost adsorbent for the removal of toxic crystal violet (CV) dye. Langmuir was the best fit isotherm model. The adsorbent showed potential to be regenerated and reused, maintaining high absorption of CV even after four consecutive cycles. (15)
• Adsorption of Crystal Violet Dye / Skin: Study reports on the feasibility of utilizing A. odoratissimus skin as a potential adsorbent for removal of crystal violet dye. The dye showed strong affinity toward the adsorbent, which is enhanced upon treatment with a NaOH solution. Based on thermodynamic parameters, the sorption of CV dye is a spontaneous and endothermic process. (18)
• Modification of Skin for Enhancement of Adsorption Capacity toward Toxic Malachite Green Dye: Study modified the surface of A. odoratissimus skin to more efficiently attract malachite green dye molecules. Results showed increase in maximum adsorption capacity of chemically modified TS (Tarap skin) compared to untreated TS. (19)
• Potential Source of Sugar / Fruit: Study suggests marang fruit is a potential source of an alternative to expensive commercial sugar. Researcher suggested further studies. (16)
• Alternative Source of Flour / Seeds: Study evaluated the potential for seeds as alternative source of commercial flour. Seeds, preferably fresh, were gathered from marang, and soaked in water for at least 5 minutes, then dried for 20-30 minutes. Preliminary results suggest a product comparable to commercial flour. (17)
• Leaf-Based Cellulose as Adsorbent / Methyl Violet and Crystal Violet Dyes: Study successfully extracted cellulose from leaves of A. odoratissimus for application as potential low cost and effective adsorbent to remove toxic dyes, including methyl violet (MV) and crystal violet (CV) from aqueous solution. Results suggest the extracted cellulose has potential application for treating contaminated wastewater. (24)
• Fatty Acid Profile in Kernel Oil: GC-MS study of kernel oil for FAME (fatty acid methyl esters) composition. The kernel oils of A. odoratissimus are rich in unsaturated fatty acids with total MUFA and PUFA accounting for more than 60% of the total fatty acids. The predominant component was linoleic acid with range of 37.30 to 40.74%. as the dominant compound. Results suggest potential to be developed for applications in nutrition, industry, and cosmetics. (25)
• Adsorbent for Removal of Toxic Rhodamine B Dye / Leaves: Study reports on the cheap, eco-friendly, readily available, natural adsorbent, Artocarpus odoratissimus leaves, for the removal of toxic rhodamine B dye in simulated wastewater.. (26)

Availability
- Wild-crafted.
- Seeds in the cybermarket.