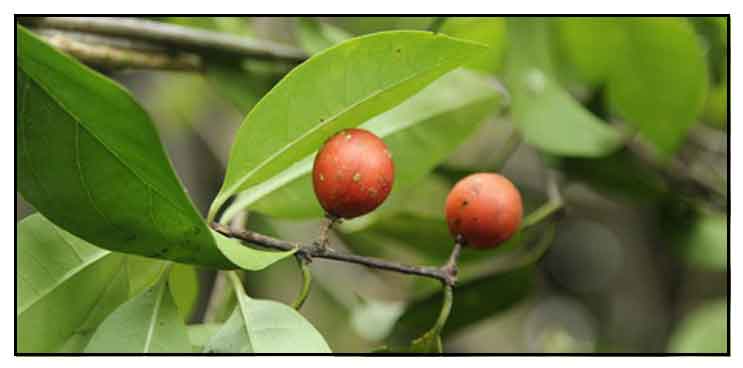 Botany
Matang-ulang is a climbing, smooth shrub, reaching a height of 4 meters or more. Leaves are oblong, 8 to 16 centimeters long, margins entire or faintly and distantly toothed, and pointed at both ends. Flowers are borne in clusters in the axils of the leaves. Sepals are very small; petals are five and about 3.5 millimeters long. Fruit is ovoid or rounded, red, fleshy, about 1 centimeter in diameter, containing one seed.
Distribution
- In thickets and forests at low altitudes, often near the sea, in Zambales, Bataan, Batangas, Quezon, and Camarines Provinces in Luzon; and in Mindoro, Palawan, Biliran, Romblon, Leyte, Panay, Bucas Grande, Mindanao, and the Sulu Archipelago.
- Also occurs in India, through Malaya to tropical Australia.
Constituents
- Study isolated sixteen compounds, including seven triterpenes ( lupeol, lupendiol, 30-hydorxylupenone, 3, 22-dioxo-29-normoretane, ursolid acid, beta-sitosterol, beta-daucosterol); four flavanoids (quercetin, quercet-in-3', 4'-dimethylether, Isorhamnetin, kaempferol-4'-methylether); three phenolic acids (gallic acid, ethyl gallate, egallic acid); two fatty series (hentriacontanol, hentriacontan-12-ol).
- Roots contain alkaloids, glycosides, polyphenols, flavanoids, coumarins, proteins, carbohydrates, gums and mucilage, fixed oil and volatile oil. Stem and roots are abundant in triterpenoids like lupanes, hopanes and friedelanes. (8)
- Root bark yields diketones, fatty matter, rubber, dulcitol, mangiferin, phlobatannin, and glycosidal tannins.
Properties
- Considered invigorating to the circulation.
- Roots considered astringent and abortifacient.
- Studies have shown anti-diabetic properties.

Parts used
Stems, roots.

Uses
Folkloric
- Decoction of roots used for amenorrhea and dysmenorrhea.
- Considered abortifacient.
- Used in Ayurvedic and Unani medicine as an antidiabetic drug.
- In India, hot water extraction of the whole plant has been used orally as anti-diabetic; dried parts of the plant including the rootbark, also used for the same.
- Used as tonic, blood purifier, and for treatment of dysmenorrhea and amenorrhea.
- Root bark, decoction or boiled in oil, used for treatment of rheumatism, gonorrhea, itches, asthma and ear diseases.
- In traditional South and Southeast Asian herb medicine, used as antidiabetic agent.

Studies
• Anti-Diabetic / Herbal Formulation: (1) An herbal formulation of Salacia chinensis with an extract from Hippophae rhamnoides or Coccinia indica studied for the prevention of endothelial dysfunction and microvascular complications. In a study on streptozotocin-induced diabetic rats, Salacia chinensis showed better glucose lowering effect than S. oblonga. (2) Antidiabetic function has been attributed to α-glucosidase inhibitory activity.
• Chemical Constituents: Studies yielded 16 compounds, including 7 triterpenes, four flavanoids, three phenolic acids. (1)
• Anti-Hyperglycemic / Antioxidant / a-Glucosidase Inhibition / Salcinol: Study showed the methanolic extract from the stems of Salacia chinensis showed potent anti-hyperglycemic effects in oral sucrose or maltose-loaded rats, inhibitory effects on intestinal a-glucosidase, rat lens aldose reductase and radical scavenging activities. Study also isolated the a-glucosidase inhibitor, salacinol. (3)
• Mangiferin Constituents / Anti-Mutagenic: Mangiferin was found to be non-mutagenic to five S. typhimurium tester strains. The ethanol extract showed a significant dose-dependent anti-mutagenic activity. Results suggest that triterpenoids might contain antioxidants which protect against mutagens. (4)
• Triterpenes / Radical Scavenging Activity: Study of stems isolated two new friedelane-type triterpenes, salasones D and E, a new norfriedelane-type triterpene, salaquinone B, and a new polyacylated eudesmane-type sesquiterpenes. Some norfriedelane-type triterpene, lignan, and catechin constituents showed radical scavenging activity.
• Triterpenoid / Diabetes Treatment: A novel hopoglycemically active triterpenoid compound was isolated from S. prinoides, useful for treating insulin-dependent type 1 and non-insulin diabetes type 2 diabetes. (6)
• Toxicity Study / Reproductive Effect: Studies of SC extract showed no toxic effects on reproductive outcome, any parameters of reproductive function or survival, growth, sensory reflex or function development in Sprague-Dawley rats, even at a remarkably high dose level. (7)
• Nephroprotective Study / Diabetic Renal Disease: Study evaluated S. chinensis for effects on stabilization of renal functions and endothelial dysfunction in chronic diabetic kidney disease. Results show Salacia chinensis may retard the progression of chronic kidney disease. There was also a significant decline in markers of endothelial dysfunction (serum homocysteine and IL-6 levels). (9)
• Antihyperlipidemic / Root Extracts: Study evaluated various extracts of S. chinensis root for anti-hyperlipidemic activity. The chloroform and alcoholic extract of roots showed significant antihyperlipidemic activity. (10)
• Roots / Multiple Targets in Diabetes and Obesity: Recent pharmacological studies have demonstrated that Salacia roots modulate multiple targets (peroxisome proliferator-activated receptor-alpha-mediated lipogenic gene transcription, angiotensin II/angiotensin II type 1 receptor, alpha-glucosidase, aldose reductase and pancreatic lipase) which may mainly contribute to Salacia root-induced improvement of type 2 diabetes and obesity-associated hyperglycemia, dyslipidemia and related cardiovascular complications seen in humans and rodents and fulfill a multiple-target strategy in the prevention and treatment of diabetes and obesity. (11)
• Mangiferin / Anti-Diabetic: Study evaluated the effect of mangiferin in STZ-induced diabetic rats. There was a significant decrease in blood glucose. Results showed the antidiabetic potential of mangiferin, mediated through the regulation of key carbohydrate metabolic enzyme activities. (12)
• Hypotensive / Stems: Study investigated an S. chinensis extract of dried stems for hypotensive activity in anesthetized female rats in estrus and for vasodilator activities on isolated thoracic aortic rings in vitro. Results showed a hypotensive effect. The vasodilation could be an indirect effect by stimulated release of nitric oxide from vascular endothelial cells. (13)
• Cytotoxicity / Triterpenoids: Study yielded two new triterpenoids, namely 7α,21α-dihydroxyfriedelane-3-one (1) and 7α,29-dihydroxyfriedelane- 3-one (2) together with a known triterpenoid 21α,30-dihydroxyfriedelane-3-one. Compound one showed good activity against four tested cancer cell lines Hep-G2, LU, KB, and MCF-7. (14)
• Antimicrobial / Leaves: Study evaluated the antimicrobial effects of ethanolic and aqueous extracts of Salacia chinensis against pathogenic bacteria and fungi. An ethanolic extract showed significant antimicrobial activity against S. epidermis, C. albicans and C. neoformans. An aqueous extract showed showed significant inhibition against S. epidermis and C. neoformans. (15)
• Hypoglycemic / Post-Prandial Effect / Randomized Double-Blind Placebo Controlled: Study using a 1000 mg extract and placebo showed a lowering of post-prandial blood sugar after a carbohydrate-rich meal and can be used as an oral hypoglycemic agent. (16)
• Immunomodulatory Effects / Leaves: Study evaluated the immunomodulatory effects of Salacia chinensis on Swiss albino rats fed concentrations of 1, 2, 4, and 32mg/kbw of aqueous extract. Various hematological, serological, and immunological parameters were measure at the end of the 14-day trial. At 1 mg/kbw, there was increased total leukocyte count, neutrophil percentage, blood glucose, hemoglobin, hemagglutination antibody titer against SRBC and delayed hypersensitivity reaction were increase. In contrast, higher concentrations reduced the immune response. Results showed the concentration of 1 mg/kg can boost the immune system while higher concentrations yielded a negative immune response. (18)
• Natural Antidiabetic Potential / Alternative to Salacia reticulata: Salacia reticulata is widely used in traditional systems of medicine for the natural control of diabetes. However, obtained from the wild, there is limited supply. Study evaluated Salacia chinensis as an alternative natural antidiabetic, in various parameters of phenolic and flavonoid content, radical scavenging activity, brine shrimp toxicity. Results showed S. chinensis displayed positive results in all monitored parameters justifying its used as an alternative natural antidiabetic source, while easing the demands on S. reticulata. (19)
• Potent Source for Antidiabetic and Antiobesity Herbal Drugs: Review reports on scientific developments on the potential of Salacia sps as a promising herbal drug. Salacia sps yield salacinol, katnanol, and mangiferin as active principles which inhibit α-glucosidase enzyme and slow down intestinal glucose absorption. Report also warns on the ruthless exploitation of Salacia sps which threatens its extinction. (20)
• Free Radical Scavenging / Anti-Diabetic / Roots: Study evaluated the antioxidant property of a methanolic root extract of S. chinensis in streptozotocin induced diabetic rats. Results showed significant decrease in blood glucose, glycosylated hemoglobin and increase in hemoglobin levels. Results showed free radical scavenging, with decreased levels of lipid peroxidant and hydroperoxides. (21)
• Silver Nanoparticles / Antibacterial: Study reports on the synthesis of silver nanoparticles (AgNPs) using Salacia chinensis plant extract. The synthesized nanoparticles were found to be effective against Staphylococcus aureus and Pseudomonas aeruginosa. (22)
• Cardioprotective : Prior treatment with extract of Salacia chinensis reduced the extent of myocardial damage induced by isoproterenol and maintained the activity of marker enzymes at normal. The methanolic stem extract exhibited antioxidative and cardiotonic properties. (23)
Availability
Wild-crafted.