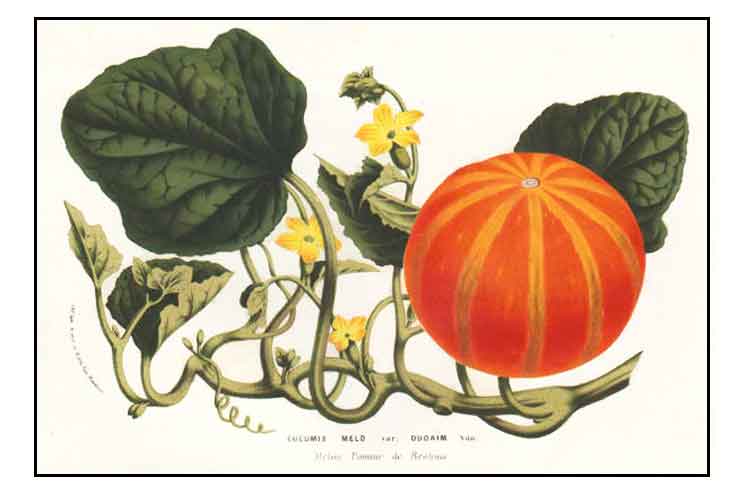 Snippets
- Sweet melons were familiar in antiquity.
- Lexicographies dating to the 9th century suggest the presence of Cucumis melo in Central Asia.
- Cucurbitaceae originated in Asia and includes over 100 genera. The genus Cucumis is recognized to have 66 species.
- Cucumis melo originated in Asia. (30)
Botany
Melon is a spreading, annual, more or less hairy vine. Leaves are somewhat rounded, angled, 6 to 15 centimeters long, heart-shaped at the base, and shallowly 3- to 7-lobed. Flowers are yellow, 1.5 to 2 centimeters long. Fruit is ovoid, somewhat rounded or ellipsoid, 20 centimeters long or less, smooth, green, and longitudinally striped or mottled.

Distribution
- Cultivated in several forms or varieties in the Philippines.
- Occasional as an escape.
- Cultivated in all warm countries.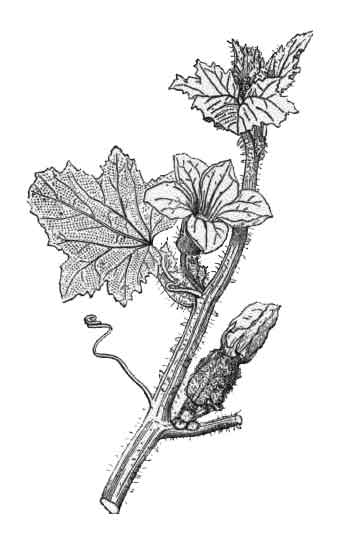 Constituents
- Fruit contains dextrose, 1.4 to 2.6%; citric acid, water, 92 to 96%; fat, 0.5 to 0.8%;.
- Seed contains globulin and glutine, arginine, histidine, lysine, cystine, tryptophan, fixed oil, galactan and glucose.
- Oil consists of glycerides of linoleic, oleic, palmitic, stearic and myristic acid; also, lecithin and chloresterin.
- Roots contain nenemetin, potassium malate and pectin.
- Contains an emetic principle.
- Study of various seed extracts yielded the presence of tannins, saponins, phenols, flavonoids, cardiac glycosides, terpenoids, alkaloids, and steroids. (see study below) (17)
- Proximate analysis of three varieties of seeds and seed oils of melon showed chemical composition values as follows: fat 41.6 to 44.5%, protein 34.4 to 39.8%, crude fiber 4.5 to 8.5%, carbohydrates 8.2 to 12.7%, soluble sugars 3.7 to 4.2%, and minerals 4.6 to 5.1%. Content of sterols, phospholipids, and tocopherols in the oils was 0.6, 0.7-1.7% and 435-828 mg/kg, respectively. Major fatty acid in lipids was linoleic (51.1-58.5%), followed by oleic acid (24.8-25.6%). Palmitic acid was the major fatty acid of the phospholipids, followed by oleic acid. Oleic acid was the main component among the fatty acids of the sterol esters, followed by oleic acid. (18)
- Study of EtOAc fraction of Cucumis melo var. reticulatus seeds yielded a new phenylethyl chromenone, cucumin S [(R)-5,7-dihydroxy-2-[1-hydroxy-2-(4-hydroxy-3-methoxyphenyl)ethyl]chromone] (1), along with five known compounds: 5,7-dihydroxy-2-[2-(4-hydroxyphenyl)ethyl]chromone (2), 5,7-dihydroxy-2-[2-(3,4-dihydroxyphenyl)ethyl]chromone (3), luteolin (4), quercetin (5), and 7-glucosyloxy-5-hydroxy-2-[2-(4-hydroxyphenyl)ethyl]chromone (6). (see study below) (25)
- Phytochemical screening showed a methanolic extract of fruit and seed to be rich in alkaloids, essential oil, flavonoids, phenolic compounds, steroids, tannins, and triterpenes. (32)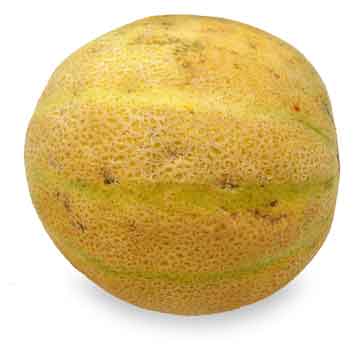 Properties
- Considered emetic and purgative.
- Fruit, especially the pulp, considered nutritive, demulcent, diuretic and cooling.
- Seeds considered diuretic.
- Kernel considered stomachic, peptic and constructive remedy.

Parts used
Roots, pulp, seeds, kernel.
Uses
Culinary / Nutrition
- The native variety as a soft, white flesh, which is cut up, shredded, or mashed, and eaten or drunk with sugar.
- The other cultivated varieties have yellowish or pale-orange flesh, with firmer flesh, and with rough skins. These belong to the cantaloupe group.
- Seeds are salted, dried, and the kernels eaten as delicacy.
- Seed kernels are rich in protein and fat, used as dressing for cakes, bread, confectionery, sweet snack foods. Sometimes, it is used as substitute for almonds and pistachio.
- Source of edible oil with the nutritional value of melon seed oil.
- A good source of potassium, vitamin A, and folate.
Folkloric
- Root considered an effective emetic – one piece in 60 gm of lime water.
- Peduncles used for anasarca and indigestion. In Indo-China, it is employed to arrest vomiting.
- Fruit pulp used as a lotion for chronic and acute eczema; also used for removing tan and freckles; and internally, used for dyspepsia.
- Seeds yield a sweet, edible oil which is nutritive and diuretic, useful for painful discharges and suppression of the urine.
- Fruit pulp also used as diuretic.
- Kernels prescribed for cancer of the stomach and for purulent problems of the digestive tract.
- Kernels used for menorrhagia, after the oil has been extracted.
- In Italy seeds are used as emollient and refreshing medicine.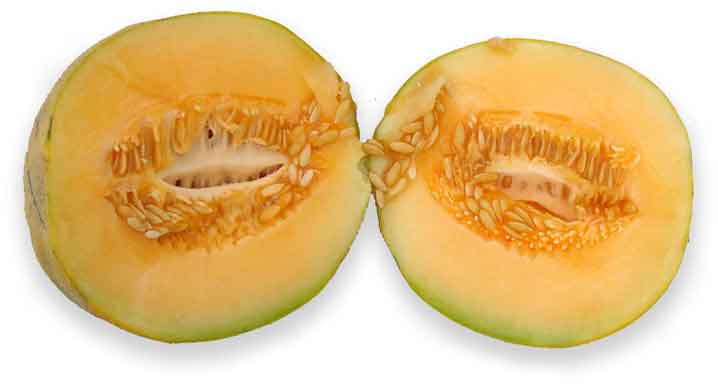 Studies
• Cucurbitane-Type Triterpenoids / Cytotoxic Activity: Study of the stems of Cucumis melo isolated 21 cucurbitane-type triterpenoids, including 9 new compounds. Two known compounds, cucurbitacin B and cucurbitacin A showed significant cytotoxic activity against proliferation of A549/ATCC and BEL7402 cells in vitro. (1)
• Melon Allergy / Randomized, Double-Blind, Crossover Challenge Study: In a study of 53 patients with a clinical history of adverse reactions to melon, acute clinical reactivity was confirmed in 19 (36%). The most frequent was oral allergy, two had life-threatening reactions. Skin prick test and specific IgE measurements were 42% and 44% predictive, respectively. Isolated melon allergy is rare, most patients having allergic rhinitis and asthma or both, and associated food allergies. (2)
• Antioxidant / Anti-Inflammatory: The CM extract inhibited in a dose-dependent manner the production of superoxide anion, closely linked to superoxide dismutase activity. The anti-inflammatory activity of the extract was related to its capacity to induce the production of IL-10 by peritoneal macrophages. Also, animals supplemented with the CME/gliadin combination was protected against the pro-inflammatory properties of IFN-g. (4)
• Antioxidant / Analgesic / Anti-Inflammatory: Study of the seed extract of Cucumis melo var. agrestis in albino mice showed significant antioxidant, anti-inflammatory and analgesic properties. (9) Study showed C. melo seeds have potent anti-inflammatory activity (carrageenan-induced paw edema in rats), antioxidant activity (DPPH and H2O2 radical scavenging) and analgesic activity (tail immersion and tail flick methods in mice). (20)
• Cytotoxicity / Antioxidant: Study of an aqueous extract of fruit pulp showed hydroxyl radical, superoxide radical, nitric oxide and DPPH activity. It was found to be cytotoxic dose-dependent and concentration-dependent effect against Ehrlich's Ascites Carcinoma Cells. (10)
• Curcubitacin Liposome / Antitumor: Study showed CLI (Cucurbitacin Liposome for Injection) showed significant antitumor effects in vivo and in vitro probably through induction of G2/M cell cycle arrest. Cucurbitacins are highly oxygenated tetracyclic triterpenes, predominantly found in the cucurbitaceae family. (11)
• Antifungal / Aflatoxin: Aflatoxins are the most important fungi toxin produced by Aspergillus flavus on animal feedstuff. Various extracts of mature and immature fruits of C. melo was studied for effect on fungi. Results showed an effect on A. flavus and suggest possible benefit of adding the extract to feedstuff for decreasing the growth of A. flavus, thus decreasing aflatoxin production. The ethanolic extract showed better antifungal effect than the methanolic one. (12)
• Immunomodulatory: Study showed the fruit extracts of P. granatum, A. squamosa and Cucumis melo significantly stimulated both cell mediated immunity and humoral immunity in mice. (13)
• Anti-Hyperlipidemic / Fruit Peels: Study showed methanolic and aqueous extract of fruit peels of Cucumis melo have potent antihyperlipidemic activity in high cholesterol diet induced hyperlipidemic model, with activity equipotent with the atorvastatin treated group. (14)
• Cytotoxic Potential / Prostate Cancer Cell Line / Fruit: Study of aqueous fruit extract of C. melo in human prostate cancer cell line (PC-3) showed dose-dependent cytotoxic activities. As dose increased the number of viable cells decreased. (16)
• Antioxidant / Seeds: Among different solvents, maximum antioxidant activity was found in the aqueous extract (73.2%). Total phenol and flavonoid content in the seed extract was 23.32 mg gallic acid equivalents (GAE)/g and 63.1 mg Quercetin Equivalent (QE)/g, respectively. The powerful antioxidant activity was attributed to phenols and flavonoids in the ethanolic peel extracts. (see constituents above) (17)
• Anti-Inflammatory / Anti-Prostate Cancer: Study evaluated the therapeutic potential of ethanolic extract of C. melo as anti-inflammatory and anticancer agent on the prostate gland in various in vitro and in vivo experiments with wistar albino rats. Results showed reduction of prostate hyperplasia suggesting benefit in BPH, together with apoptotic activity. The ethanolic extract showed reduction of inflammation through reduction of prime inflammatory mediator TNF-α. (19)
• Cytotoxic / Ehrlich's Ascites Carcinoma Cells: Study of an aqueous extract of C. melo seeds showed cytotoxic effect against Ehrlich's cancer cells in a dose dependent manner. Maximum cytotoxicity was observed at 500 µg of extract. (21)
• Antibacterial / Antifungal: Whole plant and fruit extracts of C. melo showed highest zone of inhibition against C. albicans and E. coli. (22)
• Antidepressant / Anxiolytic / Fruit: Study investigated the antidepressant activity of C. melo fruit extract in stress induced rats by Forced Swimming Test (FST). Results showed anti-stress and moderate anxiolytic activity, which may be due, in part, to its antioxidant effect. (23)
• Diuretic / Seeds: Study investigated the diuretic effect of ethanolic seed extracts of Macrotyloma uniflorum and Cucumis melo in albino rats. Significant diuretic effect was observed. C. melo extract (400 mg/kg) showed more diuretic effect than standard furosemide (5mg/kg). (24)
• Cucumin S / Antioxidant / Seeds: Study of Cucumis melo var. reticulatus seeds yielded a new phenylethyl chromenone, cucumin S [(R)-5,7-dihydroxy-2-[1-hydroxy-2-(4-hydroxy-3-methoxyphenyl)ethyl]chromone], along with five known compounds. Using DPPH assay, compounds 3, 4, and 5 showed potent antioxidant activity compared to propyl gallate at concentration of 100 µM.(see constituents above) (25)
• Antihyperglycemic / Leaves: Study investigated the possible anti-hyperglycemic activity of C. melo leaf extracts in streptozotocin induced hyperglycemia in rats. Results showed a methanolic leaf extract to have greater anti-hyperglycemic effect than the aqueous extract, compared to the glibenclamide treated group. The acute toxicity value was 5000 mg/kg. (26)
• Antilithiasis / Prevention of Calcium Oxalate Crystallization / Fruit Skin: Study investigated the effect of C. melo fruit skin hydro-alcoholic extract on calcium oxalate crystallization in vitro. Results showed C. melo fruit skin can facilitate kidney stones excretion by decreasing the size of crystals and prevent the formation of primary kidney stone nucleus. (27)
• Anti-Cancer Against Human Melanoma Cells: Study showed C. melo ethanol extract has a strong toxicity against human melanoma A375 cancer cells. (28)
• Mosquito Repellent / Fruit: Study evaluated the repellent activities of C. melo and C. prophetarum against larvae of Cx. quinquefasciatus. Highest larval mortality was seen with the petroleum ether fruit extract of C. melo as compared to C. prophetarum. (29)
• Effect on Insulin Resistance and Gut Microbiome: Obesity-induced insulin resistance is a causative factor in type 2 diabetes mellitus morbidity in obese people. Study investigated the effects of Cucumis melo on obesity-induced insulin resistance (IR) in genetically leptin-deficient mice. Results showed Cucumis improved IR in obese mice and relieved inflammation in adipose tissue and blood, along with change in microbiota composition ratios. (31)
• Anticandidal / Antiviral / Antioxidant / Aerial Parts: Study evaluated aerial parts and flesh of C. melo L. var. cantalupensis for anticandidal, antiviral and free radical scavenging effects. Aerial part extracts showed the best anticandidal activity with MIC ranging from 0.265 to 2.5 mg/ml and MFC from 2.5 to 5 mg/ml. The extracts also showed highest antiviral activity against human cytomegalovirus (HCMV) strain and antiradical activities using ABTS assay. (33)
• Amelioration of Dyslipidemia / Inhibition of Adipogenesis / Fruit: Study evaluated the anti-dyslipidemic and anti-adipogenic potential of C. melo var. agrestis fruit extract and fractions in male hamsters. Results showed reduction of total cholesterol, triglycerides, LDL cholesterol, and VLDL in high fat diet-fed dyslipidemic hamsters. The hexane fraction also modulated expression of genes involved in lipogenesis, lipid metabolism, and reverse cholesterol transport. Results showed anti-dyslipideic,antihyperglycemic, and anti-adipogenic activity. (34)
• Antiulcer / Fruits: Study evaluated the antiulcer potential of C. melo var. momordica fruits in ethanol and pylorus ligation induced ulcer models in rats. Results showed significant dose dependent reduction (p<0.05) in acid parameters of ulcer index gastric volume, free and total acidity and pH elevation. Results showed antiulcer activity attributed to anti-secretory properties and suggest a potential for the extract as adjuvant treatment of gastric ulcer. (35)
• Antifungal / Fruits: Study of aqueous, ethanolic and methanolic extracts of mature and immature C. melo fruit showed antifungal activity against Candida albicans. GC-MS analysis showed the presence of hexadecanoic acid in all of the extracts. (36)
• Antihypertensive / Polyphenols / Callus: Study evaluated the callus of C. melo L. var glamour for polyphenol content and antihypertensive and antibacterial activity. GC/MS analysis of the callus yielded polyphenol compounds that possess antihypertensive property and antiibacterial activity. (37)
• Natural Mucilage / Fruits: Because of low cost compared to synthetic polymers, mucilages from plants are common ingredients in cosmetic, pharmaceutical, and food and non-food industries. Study isolated mucilage from the fruits of C. melo which yielded only carbohydrates and amino acids. Evaluation indicated purity, solubility in warm water, and insolubility in organic solvents. Results suggest potential for use in dosage form without causing adverse effects. (38)
• Nephroprotective / Gentamicin Induced Nephrotoxicity / Seed Kernel: Study of methanol extract of C. melo seed kernel showed nephroprotective activity in gentamicin induced renal damage. Nephroprotective effect was confirmed by histopathological and biochemical parameters and was attributed to antioxidant activity. (39)
Availability
Wild-crafted.