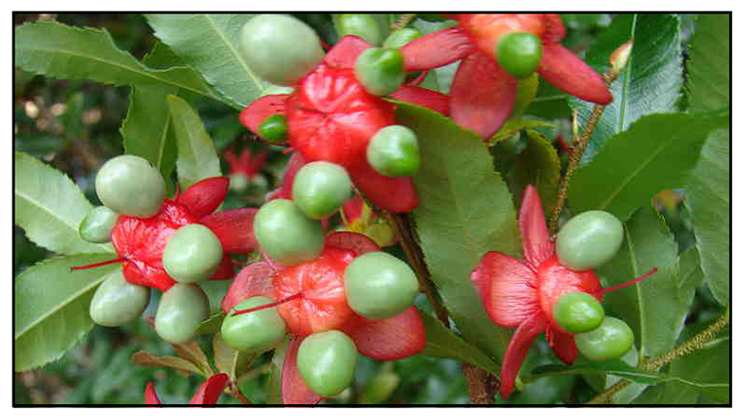 Gen info
- Etymology: Ochna, of Greek origin from the word Ochne means 'wild pear'. The species epithet 'serrulata' is Latin from the word 'serrula' which means 'little saw' referring to the fine-toothed margins of the leaves.
- Taxonomy: Ochna serrulata was first described by German naturalist Christian Ferdinand Friedrich Hochstetter, and Its binomial name was given by Wilhelm Gerhard Walpers.
- Ochna serrulata, from the family Ochnaceae, is one of the 86 species of Ochna shrub and trees. It is similar to Ochna kirkii, also called Mickey Mouse plant, which has larger and rounder leaves and larger flowers.
- Common name "Mickey Mouse bush" derives from the plant's ripe blackfruit, which upside-down resembles the ears of Mickey Mouse, and the bright-red sepals, which resembles his trousers.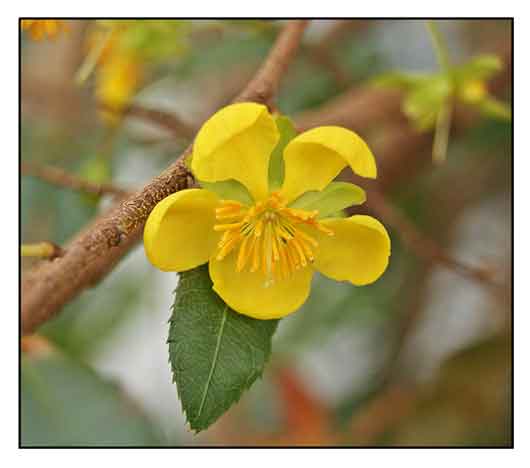 Botany
Ochna serrulata is a shrub that grows up to 1.5 meters high. Leaves are simple, alternate, narrow-elliptic, up to 5 centimeters long, with finely serrate margins; blade is stiff and dark shiny green. Flowers are large, up to 4 centimeters across, with yellowish green and persistent sepals, turning red in fruits; petals are yellow and 5-lobed; stamens are many. Fruit is an enlarged red receptacle.
Distribution
- Introduced to the Philippines.
- Planted in Philippine gardens; not widespread.
- Native to South Africa.
- Considered an invasive weed in some parts of Australia and New Zealand.
- In temperate regions, grown as greenhouse ornamental.

Constituents
- Study of methanol extract of pulverized roots yielded three new biflavonoids, viz., 4,4′,7-tri-O-methylisocampylospermone A (1), 4′′′-de-O- methylafzelone A (2) and serrulone A (3), along with irisolone 4′-methyl ether (4), 3',4'-dimethoxy- 6,7-methylenedioxyisoflavone (5), iriskumaonin 3′-methyl ether (6), lophirone L (7), a mixture of biflavanone 1 and campylospermone A, syringaresinol (8), and 16α,17-dihydroxy-ent-kauran-19-oic acid (9). (see study below) (9)
- Oil yield was high (39-71%), containing mainly palmitic acid (35.62-37.31%), oleic acid (37.31-46.80%), and linoleic acid (10.61-18.66%). The oil had a very distinctive aroma predominantly composed of p-cymene (52.26%), m-xylene (9.63%), γ-terpinene (9.07%), o-xylene (7.97%), and limonene (7.23%). (10)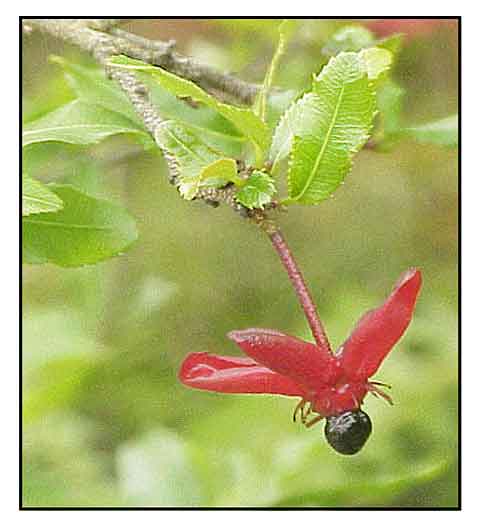 Properties
- Studies have suggested antibacterial, antimalarial, cytotoxic, non-mutagenic, antioxidant properties.
Parts utilized
Bark, roots, fruit.

Uses
Folkloric
- No reported folkloric use in the Philippines.
- Elsewhere, bark or root use for wound treatment; also, applied for pain relief.
- Zulu people of South Africa use the decoction of roots to treat children suffering from bone diseases or gangrenous proctitis. (2)
Others
- Oil: Oil from seeds used for cooking and making soap.

Studies
• Antibacterial: Study evaluated the antibacterial activity and number of antibacterial compounds in acetone leaf extracts of five Ochna species against S. aureus, E. faecalis and P. aeruginosa. The order of activity of the species to the tested organisms was O. pretoriensis > O. pulchra > O. gamostigmata > O. serrulata > O. natalitia. (5)
• Non-Mutagenic: Five Ochna species, including Ochna serrulata, were evaluated for cytotoxicity in monkey kidney (Vero) cells, human hepatocellular carcinoma (C3A) cells and bovine dermis cells using the mitochondrial viability MTT assay. The plant extracts were relatively cytotoxic but not genotoxic.(6)
• Biflavonoids: Phytochemical investigation yielded a number of new biflavonoids. Isolated compounds were evaluated for antimalarial and cytotoxic activities. (7)
• Antioxidant / Cytotoxicity: Screening of extracts and fractions showed significant antioxidant activity on DPPH and reducing assays. Ochna serrulata also demonstrated slight toxic activity against Artemia sauna and potential inhibitory allelopathic activity on Lactuca sativa seed germination test. Partitioning of an EA fraction yielded epicatechin, which showed potential antioxidant activity. (8)
• Antimalarial Biflavonoids / Roots: Study of pulverized roots yielded three new bioflavonoids along with six known compounds. Study evaluated a methanol extract of pulverized roots got antimalarial activity against chloroquine-resistant strains of Plasmodium falcifarum (FCR-3). Study Compound 1 showed antimalarial activity with IC50 11.46 µM. Compounds 2, 3, and 4 showed antimalarial activity with IC50s of 38.43, 26.52, and 40.72 µM, respectively. The compounds showed not cytotoxicity against three different cancer cell lines tested. (see constituents above) (9)

Availability
Ornamental cultivation.