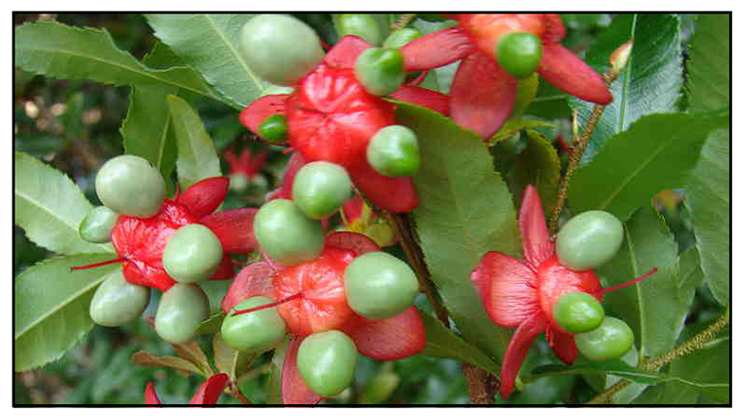 Gen info
- Etymology: Ochna, of Greek origin from the word Ochne means 'wild pear'; serrulata, of Latin origin from the word serrula means 'little saw' referring to the fine-toothed margins of the leaves.
- Taxonomy: Ochna serrulata was first described by German naturalist Christian Ferdinand Friedrich Hochstetter, and Its binomial name was given by Wilhelm Gerhard Walpers.
- Ochna serrulata, from the family Ochnaceae, is one of the 86 species of Ochna shrub and trees. It is similar to Ochna kirkii, also called Mickey Mouse plant, which has larger and rounder leaves and larger flowers.
Botany
Ochna serrulata is a shrub that grows up to 1.5 meters high. Leaves are simple, alternate, narrow-elliptic, up to 5 centimeters long, with finely serrate margins; blade is stiff and dark shiny green. Flowers are large, up to 4 centimeters across, with yellowish green and persistent sepals, turning red in fruits; petals are yellow and 5-lobed; stamens are many. Fruit is an enlarged red receptacle.
Distribution
- Native to South Africa.
- Considered an invasive weed in some parts of Australia and New Zealand.
- In temperate regions, grown as greenhouse ornamental.
- Planted in Philippine gardens; not widespread.
Parts utilized
Bark, roots, fruit.

Uses
Folkloric
- No reported folkloric use in the Philippines.
- Elsewhere, bark or root use for wound treatment; also, applied for pain relief.
- Zulu people of South Africa use the decoction of roots to treat children suffering from bone diseases or gangrenous inflammation of the rectum. (2)

Studies
• Antibacterial: Study evaluated the antibacterial activity and number of antibacterial compounds in acetone leaf extracts of five Ochna species against S. aureus, E. faecalis and P. aeruginosa. The order of activity of the species to the tested organisms was O. pretoriensis > O. pulchra > O. gamostigmata > O. serrulata > O. natalitia. (5)
• Non-Mutagenic: Five Ochna species, including Ochna serrulata, were evaluated for cytotoxicity in monkey kidney (Vero) cells, human hepatocellular carcinoma (C3A) cells and bovine dermis cells using the mitochondrial viability MTT assay. The plant extracts were relatively cytotoxic but not genotoxic.(6)
• Biflavonoids: Phytochemical investigation yielded a number of new biflavonoids. Isolated compounds were evaluated for antimalarial and cytotoxic activities. (7)

Availability
Cultivated.