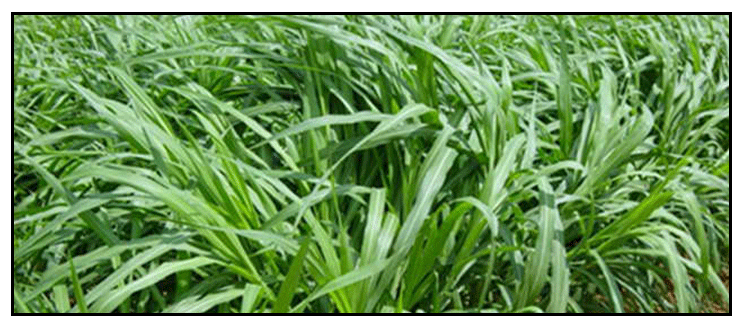 Botany
Pennisetum purpureum is a tall, robust, deep-rooting, erect perennial, with short rhizomes, forming clumps up to 1 meter across. Stems are up to 7 meters tall and 3 centimeters in diameter, up to 20-noded. Leaf-sheath is glabrous to short bristly. Leaf blade is linear with broad base and acute tip, up to 120 centimeters by 5 centimeters, glabrous to hairy at the base, with a prominent midrib along the lower surface. Inflorescence is a dense spike-like panicle, up to 30 centimeters tall and 30 millimeters wide, not includiing the the 16 to 40 millimeters long bristles on the spikelets. Spikelets are 5 to 7 millimeters long, solitary or in clusters of up to five. (1)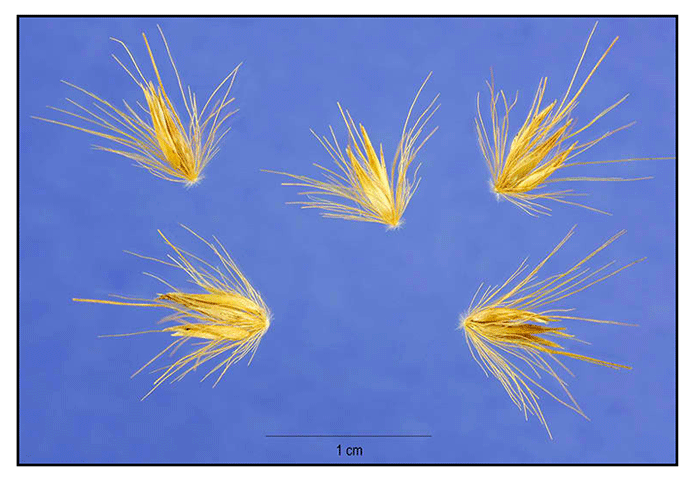 Distribution
- Introduced to the Philippines.
- Cultivated for forage.
- Native to tropical Africa.
- Introduced to South America, Puerto Rico, Hawaii, and the United States.

Constituents
- Plant yields per 100 g of hay: 10.9 g water, 8.2 g protein, 1.8 g fat, 68.6 g total carbohydrate, 34.0 g. fiber, and 20.5 g ash. Silage yields 5.8 g protein, 4.9 g fat, 73.4 g total carbohydrate, and 15.9 g ash. Fresh grass yields 77.8 g water, 1.0 g protein, o.5 g fat, 17.6 g total carbohydrate, 3.1 g ash, 0.12% Ca and 0.07% P. Also a good source of carotene, 182-221 mg/g, tocopherol 195-260 mg/g. (2)
- Proximate analysis of matrices of yound shoots yielded moisture 89.00%, total ash 2.00% WW and 18.18% DW, crude protein 2.97% WW and 27.00% DW, crude fat 1.63% WW and 14.82% DW, total carbohydrate 3.40% WW and 30.91 DW, and total metabolizable energy value 34.48 kcal 100gG WW and 313.45 kcal 100gG DW. (see study below) (5)
- Analysis of young shoots yielded alkaloids, cyanogenic glycosides, flavonoids, oxalates, phytates, saponins, and tannins. Antinutrients composition yielded tannins (28.64%), cyanogenic glycosides (2.830%), oxalates (0.159%), phytates (0.006%) and saponins (0.850%) (see study below) (5)
- Yields 1.5% essential oil and 3.5% fixed oil. The oil is rich in phospholipids and sterols. (9)

Parts used
Leaf, stalk, stems, culms, sap.

Uses
Folkloric
- In Spanish Guinea, infusion of leaf and stalk used as diuretic in anuria or oliguria. In Central Africa, used as a source of medicinal salt. (2)
- In Africa, seeds used for general healing, eye and ear afflictions. Also used as diuretic, laxative and for parasitic infection and venereal diseases.
- In Ivory Coast-Upper Volta, root decoction used for blenorrhea. In the Congo, lightly salted sap expressed from young shoots heated over the fire is instilled in the eyes to treat cataracts; sap is also used for wound healing. In Gabon, stem sap is used for ear problems. In Nigeria, seed is used to cure headaches. (4)
Others
- Forage: One of the highest yielding tropical forage grasses. In the Philippines, it is used to suppress Imperata cylindrica. (2)
- Paper: Said to equal bamboo for paper making. (2) Culms are suitable source for good quality paper.
- Ritual: In Gabon, culms are laid across door thresholds to prevent entry of evil spirits. In Taganyika, sap is a constituent of plant formulations taken by mouth as a tranquilizer for someone possessed by spirits. (4)
- Thick culms used in making fences, screens and mud reinforcements.
Toxicity
• Report of fatal nitrate poisonings in cattle fed solely on a diet of Napier grass. Levels of nitrate averaged 28.3 mg/g, with samples as high as 44 mg, where non-toxic areas showed 3.9 mg/g. (Seiler et al.) (2)
Studies
• Nutritional and Antinutritional Components: Study evaluated the matrices of young shoots of Pennisetum purpureum to proximate and phytochemical analysis. Results showed P. purpureum is relatively safe for consumption, and the nutritional quality may be improved through dehydration. (see constituents above). (5)
• Antibacterial: Study evaluated five Cameroonian medicinal plants ( A. cordifolia, E. speciosa, L. aestuans, Pennisetum purpureum and S. campanulata) against 15 gram-negative bacterial including MDR phenotypes. Against 15 tested bacteria, P. purpureum showed 66.7% antibacterial activity. (6)
• Bioenergy Potential: Study evaluated the productivity and bioenergy potentials of Napier grass. Results showed a biomass productivity of 7-11t/ha. The liquid extract showed pH 5.55-5.98, electrical conductivity 14,610-48,214 µS/cm, specific gravity 1.56-1.60, sugars 2.59-4.47%, and ethanol 1.35-2.85%. The gross calorific heating value of the bagasse ranged from 15.776 - 17.07 Mj/kg. Results suggest a potential for the liquid extracts as alternative feedstock for sugar and ethanol production, while the bagasse has the potential as fuel for power generation through conventional steam turbine cycle. (7)
Availability
Wild-crafted.