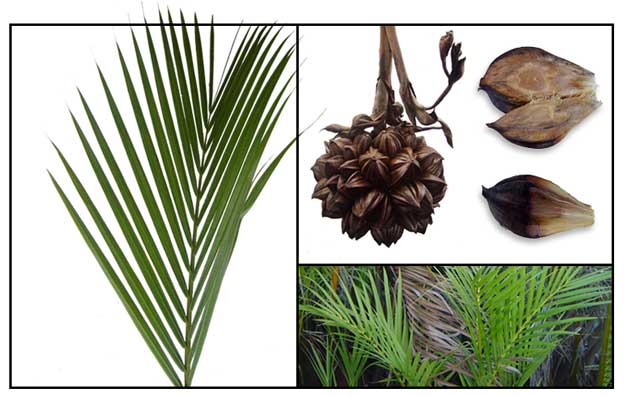 Gen info
The nipa palm is one of the most important economic Philippine crops. It differs from most palm in the lack of an upright stem, trunkless, developing inflorescences at 1 meter height. The leaves are commonly use for thatching. Leaflets are used for making hats, baskets, mats, raincoats, wrappings for suman. The midribs are used for making brooms; the petioles for fuel.
Botany
Nipa is a monoecious palm, with stout, subterranean, trunkless and thornless rootstock. Leaves are at the ends of the rootstocks, large, rosette and compound, 5 to 10 meters long, arising from the stout underground stem (rhizome). Leaflets are numerous, rigid, lanceolate, up to 1 meter long, 2 to 7 cm centimeters wide. Male inflorescence is brown, erect, up to 1 meter high. Female inflorescence is stout, 1 meter high or less. Fruit is globose, nodding, up to 30 centimeters in diameter. Carpels are numerous, dark-brown, striate, smooth, 10 to 14 centimeters long, compressed, obovate. Seeds are hard, white, and as large as a hen's egg.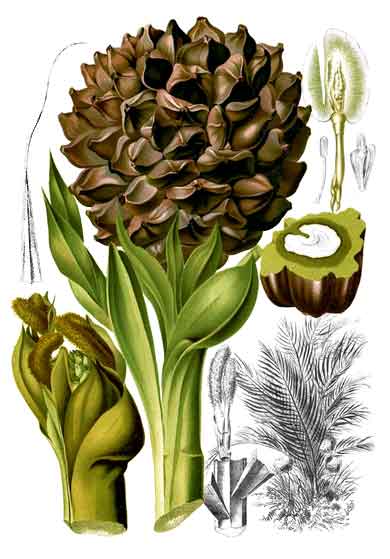 Distribution
- Along tidal streams in brackish swamps and muddy banks throughout the Philippines.
- Gregarious over large areas of favorable habitats.
- Also occurs in India, through Malaya to tropical Australia.
Constituents
- Fermented nipa sap contains high amount of ethanol, together with higher alcohols, esters, diacetyl, and acetoin.
- Proximate analyses of husk showed moisture (65.14 ± 0.04% DM), fat (1.5 ± 0.13% DM), crude protein (2.00 ± 0.64% DM), fiber (2.47 ± 0.09% DM), ash (4.20 ± 0.14% DM), carbohydrate (24.63 ± 0.17% DM). The seeds contained moisture (41.96 ± 0.28% DM), fat (0.94 ± 0.01% DM), crude protein (1.27 ± 0.01% DM), fiber (2.50 ± 0.19% DM), ash (2.7 — 0.11% DM), and carbohydrate (51.0 ± 1.71%DM). (19)
- Toxicant composition of husk yielded (mg/100g DM) hydro cyanide (0.63±0.02), oxalate (6.50±0.025), and phytate contents (4.03±0.09). Seeds yielded 0.08±0.01, 9.90±0.08 and 8.50±0.64mg/100g DM of hydrocyanide, oxalate, and phytate, respectively. (19)
- Mineral analysis yielded potassium of 147.28 ±0.65mg/100g DM for the husk and 128.52±0.6mg/100g DM for the seeds. Vitamin A content was higher in the seeds than the husk.(19)
- Study of ripe and unripe endosperm extracts yielded eight phenolic compounds viz., gallic acid, hydroxybenzoic acid, chlorogenic acid, rutin, cinnamic acid, quercetin, and kaempferol. Chlorogenic acid, protocatechuic acid, and kaempferol were the major compounds. (see study below) (12)
Properties
- Sap is highly fermentable.
- Fresh sap has a sweet and fruit-like odor.

Parts used
Roots, shoots, sap, and leaves.
Uses
Edibility
- Young seeds are edible.
- Young flower stalk and seeds are a good source of water and food.
- Nipa is a source of alcohol, sugar and vinegar.
- The fermented juice, tuba, is extensively used as beverage.
Folkloric
- Decoction of fresh leaves used for indolent ulcers.
- In Malaya, the juice of young shoots, with coconut milk, used as a drink for treating herpes.
- Ash of roots and leaves used for headaches and toothaches.
- Fresh leaves, in cataplasm or lotion form, used for treatment of ulcers.
- The fermented sap diluted with water used as eyewash in eyelid and conjunctival inflammations.
- In traditional Malay medicine, nipa palm vinegar used for diabetes.
- Karo traditional healers of Indonesia use the plant for treatment of diabetes. (32)
- In Bangladesh, used as a tonic and stimulant for debility.
Others
- Thatching: Leaves are one of the most commonly used material for thatching.
- Crafts: Leaflets are used for making hats, raincoats, baskets, bags, mats, suman wrappers. Midribs used for making brooms.
- Petioles used for fuel.
- Nipa is a source of alcohol (sasa lambanog), vinegar and sugar.
- Fuel: Historically, alcohol from Nypa sap was used as fuel before World War II, but the local industry collapsed at the arrival of the oil economy. (27)
Nipa palm sap
- Sap has a very high sugar-rich sap yield (NIRA). Fermented, the palm's large amount of sap may yield 8,480-15,,000 liters per day of ethanol/butanol per hectare. (see: lambanog) (23)
Studies
• Antidiabetic / Glucose Lowering / Stems and Leaves: Study evaluated the effect of methanol extract of stems and leaves on serum glucose lowering ability in glucose-induced hyperglycemic mice. At 120 minutes after glucose loading, the extract demonstrated highly significant glucose lowering activity. At 250 mg/kbw, it exhibited activity comparable to glibenclamide. (1)
• Zinc Corrosion Inhibition: Study showed Nypa fruticans leaves extract and DPC (diphenyl carbazone) inhibit the corrosion of zinc comparatively, possibly through the protonation of the hydrogen evolution process or formation of a soluble complex on zinc surface by molecules of N. fruticans or DPC. (5)
• Antioxidant Capacity: Evaluation for antioxidant capacity showed total phenolic and flavonoid content of immature fruits were higher than mature fruits. The immature fruits showed a high DPPH radical scavenging activity and antioxidant capacity, even higher than BHT and mature fruits. (6)
• Ethanol Production from Sap: Study evaluated the production of ethanol from the sap. With its incredibly high sugar-rich sap yield, researchers estimated 15,000 to 20,000 liters of biofuel yield per hectare (compared with sugar cane at 5000-8000 liters, and corn at 2,000 liter), on a continuing basis, year-round, for up to 50 years.
• Volatile Compounds in Fresh and Fermented Sap / Aroma and Taste: GC-MS study evaluated the volatile compounds (VOCs) responsible for the aroma in fresh and fermented nipa sap. Natural fermentation of fresh nipa sap will lead to changes in aroma and taste, due to its highly fermentable nature. There were differences in VOCs in fresh and fermented sap. Fresh nipa sap, with a sweet and fruit-like odor, does not contain any higher alcohols and acetic acid. Fermented sap contains high amount of ethanol, as well as higher alcohols, esters, diacetyl , and acetoin. (7)
• Biology and Sap Yield Estimate: An April-May 2009 survey done in the Philippines to study the biology of nipa with emphasis on potential for alcohol production showed the estimates of sap yield to be much lower than the ones reported in literature. (10)
• Biofuel Energy: Study evaluated the optimum bacterial concentration for fermentation to produce high concentration of bio-fuel. Results showed the highest yield of bio-ethanol (8.98%) was produced with 7.5% of starter concentration and 6 days of incubation time. (9)
• Phenolics and Flavonoid Content / Antioxidant Capacity: Study evaluated endosperm extracts of ripe and unripe fruits for total phenolics, flavonoid content, and antioxidant capacities. Endosperm extract of unripe fruits (EEU) exhibited the highest phenolics (135.6 ± 4.5 GAE/g), flavonoid content (68.6 ± 3.1 RE/g), and antioxidant capacity. The extract also showed radical scavenging activity by DPPH assay and high antioxidant capacity by phosphomolydenum method and ferric reducing antioxidant power values. Chlorogenic acid, protocatechuic acid, and kaempferol were the major phenolic compounds. (see constituents above) (12)
• Anti-Diabetic / Antioxidant / Nipa Palm Vinegar: Study evaluated the antidiabetic and antioxidant activities of nipa palm vinegar in normal and STZ-induced diabetic rats. Results showed an aqueous extract of NPV to possess antihyperglycemic activities comparable to metformin, while an ethyl acetate extract precipitated significant antioxidant effects attributable to its high phenolic contents. (14) Study evaluated the effect of an aqueous extract of nipa palm vinegar (NPV) on postprandial hyperglycemia. Results showed an antidiabetic effect and with delayed glucose absorption in isolated rat jejunum, suppression of postprandial hyperglycemia, weak inhibitory activity against both a-glucosidase and a-amylase activities. (20)
• Antimicrobial / Midvein, Leaves and Husks: Study evaluated various extracts of Nypa fruticans against E. coli, K. pneumonia, S. aureus, S. epidermis and P. aeruginosa. Aqueous and ethanolic extracts of midveins, leaves, and husks showed good antimicrobial activity against all the test organisms. (16)
• Antihyperglycemic / Antinociceptive / Leaf and Stem: Study evaluated the anti-hyperglycemic and antinociceptive potential of methanolic extract of leaf and stem. Results showed significant oral anti-hyperglycemic activity on glucose loaded mice, with maximum effect observed at 500 mg MENF/kbw, better than that observed with standard drug glibenclamide. Significant antinociceptive activity was demonstrated by MENF in acetic acid induced writhing mice model, at 600 mg/kbw was better than that obtained with aspirin. (18)
• Comparative Phenolic Content and Antioxidant Activity: Study evaluated the total phenolic content and antioxidant activity in matured leaves, young leaves, and husk of mature fruits of Nypa fruticans. The matured leaf showed the highest total phenolic content (299.06±0.02 mg/g dry weight), followed by young leaf (205.97±0.02 mg/g dw) and fruit husk (30.77±0.01 mg/g dw). Both mature and young leaf contained high antioxidant activity with IC50 of 0.42 and 0.32 mg/ml, respectively. (21)
• N. Fruticans Flour / Fruit: Nypa produces considerable amount of fruit with high content of carbohydrate. The mesocarp of the mature fruit is an underutilized potential source of energy. Study reports on the production of flour from the mature fruit mesocarp. Mesocarp processing produced flour with low fat content (1.45%) and high crude fiber content (17.68%). It exhibited low swelling power and solubility. (22)
• Stimulation of Insulin Secretion / Hepatoprotective: Study evaluated an aqueous vinegar extract from Nypa fructans on its effect on postprandial glucose levels in normal normoglycemic rats. Results showed significant reduction (p<0.05) of blood glucose, serum cholesterol and triglyceride levels, with improvement in serum insulin levels. Immunochemical testing suggested no ß-cell regeneration despite the increase in insulin production. Histoarchitecture of STZ-induced liver damage suggested a possible hepatoprotective effect. The pancreatic effect may be through a positive stimulatory release at basal glucose concentration. (24)
• Antibiofilm Activity: Study evaluated the antibiofilm activity of ethanolic extracts from Nypa fructicans and Pleurotus ostreatus against biofilm attached on Polyvinylchloride (PVC) slides. The use of both extracts showed more effectiveness in reducing 65% of biofilm mass. The difference before and after application was significant (p<0.05). Results suggest potential for both plants in the control of biofilms and that utilization of more than a single extract will be more potent. (25)
• Hydrocyanic Content of Components / Husk: Study evaluated the hydrocyanic acid (antinutrition) content in nipa plant components i.e., husk, seed, and sap collected from three sampling locations. Results showed the husk of Nypa fruticans has higher content of hydrocyanic acid all all sampling locations, followed by seed and sap, ranging from 0.03-0.06, 0.03-0.05, and 0.02-0.03 mg/100 g husk, seed, and sap, respectively. (26)
• Potential as Biomass Crop, Fuel Alternative, and Feedstock: In Malaysia, the main biomass source is oil palm (94%). Study explored the potential of Nypa palm (Nypa fruticans) as novel biomass crop to mitigate the over-dependence on oil palm as a source of biomass. Recent studies have suggested Nypa sap has potential to become a bioethanol feedstock. With its high sugar content, it has a potential ethanol yield higher than commercial sugarcane or maize. Nypa also has potential as a lignocellulosic feedstock for conversion into multiple products i.e., industrial (green chemicals) and medicinal applications. (27)
• Antileukemic Activity / Acute Lymphoblastic Leukemia / Sap: Study evaluated antileukemogenesis properties of concentrated Nypa fruticans (nisaan) by focusing on adiponectin expression. Results showed increase concentration of nisaan treatment reduced cell viability and cell proliferation and enhanced the adiponectin level in leukemic cells. Preliminary data suggest that N. fruticans might have anti-leukemogenesis effect on acute lymphoblastic cells by regulating the adiponectin expression. (28)
• Optimization of Vinegar Production / Antioxidant / Sap: Study reports on the optimized vinegar production from nipa sap using a two-step surface culture fermentation process. Good antioxidant activity was reported for the vinegar using DPPH assay. Organoleptic properties scored more than "neither liked nor dislike" in each sensory attribute studied. Results suggest high quality vinegars can be produced from nipa sap using surface culture fermentation process. (29)
• Functional Properties of N. fruticans Flour / Fruit: Nypa produces considerable amount of fruit with high content of carbohydrate. The mesocarp of the mature fruit is an underutilized potential source of energy. The study evaluated the production of flour from the mesocarp of mature nypa fruit and determined its functional properties. Mesocarp processing produced flour with low fat content (1.45%) and high crude fiber content (17.68%. The flour exhibited low swelling power and solubility, with highest swelling power and solubility achieved at 85ªC with value of 4.5g/g and 10.56%, respectively. (30)
• Sustainable Feedstock for Ethanol Production / Sap: Study evaluated the potential of sugar saps from nipa palm as sustainable feedstock for ethanol production. Plantations on four sites with palms 8-100 years of age were chosen. Preliminary batch fermentative assays using Saccharomyces cerevisiae showed nipa sap can be converted to ethanol within 30-48 hours. Analysis of inorganic elements before and after fermentation showed specific elements of Mg, Ca, P, and S were significantly reduc3ed and could have assisted fermentation. Study suggests nipa sap has characteristics which make it a potential feedstock for ethanol production. (31)

Availability
- Wildcrafted.
- Cultivated.