Botany
Nipai is a climbing or spreading, annual, hairy vine reaching a length of several meters. Leaflets are thin, ovate to oblong-ovate, 5 to 12 centimeters long, the lateral ones oblique. Racemes are pendulous, 10 to 25 centimeters long, with many flowers. Calyx is gray-hairy with intermixed brown, stinging hairs. Corolla is dark purple, almost black, about 4 centimeters long. Pods are stout, compressed, slightly curved near the apex, 6 to 11 centimeters long, 2 centimeters wide, densely covered with stiff, somewhat appressed, brown, very irritating, stinging hairs. Seeds are ovoid, about 12 millimeters long, compressed, brownish, and mottled with black.
Distribution
- In dry thickets and secondary forests at low altitudes in the Rizal and Laguna Provinces.
- Also occurs in India to Malaya.

Constituents
- Seeds contain are high in protein, carbohydrates, lipids, fiber and minerals.
- Seeds contain a high concentration of L-dopa; in velvet bean, 7-10%.
- Serotonin has also been found in the pod, leaf and fruit.
- Yields ß-sitosterol, glutathione, lecithin, venolic acid, and gallic acid.
- Bioactive compounds include mucunadine, mucunine, mucunainine, prurienine, purienidine.
- Stinging hairs contain the mucunain, responsible for the skin itch and irritation.
- Plant also yields alkaloids, alkyamines, arachidic acid, behenic acid, beta-sitosterol, dopamine, flavones, mucunain, mucunine, mucunadine, trypsin, tryptamine, among many others.
- Silage yields 11-23% crude protein, 35-40% crude fiber, and dried beans 20-35% crude protein.

Mucuna / L-Dopa
- In 1937 it became known that the seeds of Mucuna contains L-Dopa - about 250 mg per 7.5 gm of seed powder. In the 70s, studies were done to compare the seeds' dopamine activity with other dopamine-like substances. In 1978, the first clinical findings on the use of the plant for Parkinson's disease was reported. Finally, in 2004, a double-blind study reported its efficacy, tolerability and absence of dyskinesias.
- Studies have further suggested that Mucuna contains additional substances which could be neuroprotective against L-Dopa toxicity.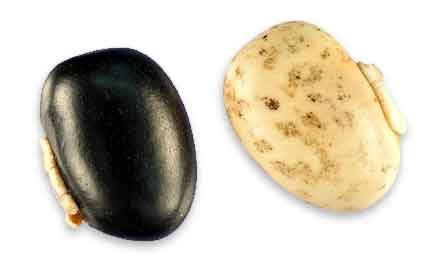 Properties
- Hairs are very irritating; the effect purely mechanical. Irritation is often so intense, it is regarded as poisonous. The hairs produce an intolerable itching, followed by pain, redness, swelling and an eruption. Hairs from dried herbarium specimens are as irritating as the fresh plants.
- Seeds regarded as a nervine tonic, aphrodisiac and astringent.
- Considered diuretic, blood purifier, aphrodisiac, uterine stimulant, tonic.

Parts used
Roots, pod hairs, seeds.

Uses
Edibility
In India, young and tender pods are cooked and eaten.
In Brazil, toasted ground seeds used as coffee substitute.
Folkloric
- Roots used for paralysis and affections of the nervous system.
- In India, roots used as tonic.
- Infusion of root mixed with honey prescribed for cholera.
- In the West Indies, decoction of root used as powerful diuretic and kidney cleanser. Also, an ointment from the roots used for elephantiasis.
- In Suriname traditional medicine, ointment used for swollen glands.
- Vinous infusion of pods used as remedy for dropsy.
- Hairs of the pod used as anthelmintic, for expulsion of intestinal worms, especially Ascaris lumbricoides and A. vermicularis. Also, mixed with syrup or honey to make an electuary. This treatment is deemed dangerous as strong doses of hairs have been reported to cause bowel diseases and even death.
- In Ayurveda, used for worms, dysentery, diarrhea, snakebites, sexual debility, tuberculosis, rheumatic disorders, diabetes, cancer, sterility, gout, parkinsonism.
- In Brazil, seed used internally for Parkinson's disease, edema, impotence, intestinal gas and worms.
- In India and Brazil, used as an aphrodisiac.
- In Nigeria, seeds used as snake bite remedy.
Others
- Fodder: Used as fodder, fallow or manure crop.
- New age: Recently touted for aphrodisiac, testosterone boosting and libido benefits.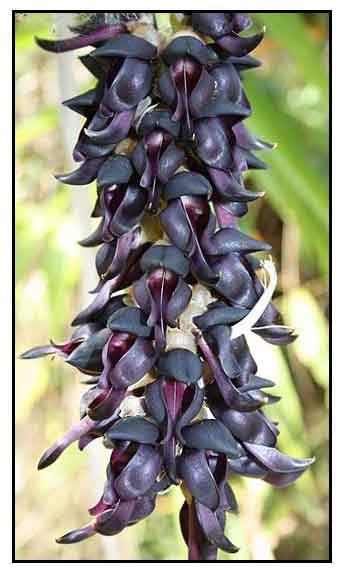 Toxicity concerns
- Although cooked fresh shoots and beans are eaten, there are toxicity concerns. Leaching out of phytochemical compounds such as levodopa is accomplished by soaking for 30 minutes to 48 hours prior to cooking and changing the water several times during cooking. Consumed unprocessed in large quantities, it is toxic to nonruminant mammals including humans.

Studies
• Parkinson's Disease / Natural L-Dopa source: In a double-blind study comparing two different doses of mucuna preparation and the standard L-dopa/carbidopa (LD/CD), the 30 gm mucuna preparation led to a considerably faster onset of effect, with no significant differences in dyskinesias or tolerability. Results suggest this natural source of L-dopa might possess advantages over conventional L-dopa preparations in the long term management of PD. (2)
• Fertility & Semen Benefits / Anxiolytic: Treatment with M. pruriens significantly ameliorated psychological stress, seminal plasma lipid peroxidase levels along with improved sperm count and motility, and restored levels of SOD, catalase, GSH and ascorbic acid in seminal plasma of infertile men. (4)
• Antioxidant: Study of a methanol extract of Mucuna pruriens showed significant antioxidant activity. In addition the MEMP yielded a noticeable amount of total phenols. (5)
• Hypoglycemic / Hypolipidemic: Study showed ethanol extract of leaves of M pruriens has beneficial effects on blood glucose levels as well as improving hyperlipidemia and other metabolic aberrations. (6)
• Anti-Snake Venom: Recent studies have shown pretreatment with M pruriens seed extract in mice conferred protection against the lethal effects of Echis carinatus and cobra venom. Gene expression studies together with pharmacologic studies support the possibility that the protective effect of the extract of MP against snake venom might involve a direct action on the heart. (7)
• Antioxidant / Antimicrobial: Study showed the methanol extract of Mucuna pruriens had significant in vitro lipid peroxidation and antimicrobial activity. It showed broad-spectrum antimicrobial activity against all tested organisms except Staph aureus and Vibrae cholera. (8)
• Improved Male Fertility/ Hypothalaus-Pituitary-Gonadal Axis: Study investigated the mechanism of action of M. pruriens in the treatment of male infertility. Results showed treatment with M. pruriens regulates steroidogenesis and improves semen quality in infertile men. Treatment with MP significantly improved T, LH, dopamine, adrenaline, and noradrenaline levels in infertile men and reduced levels of FSH and PRL, with increase sperm count and motility. (11)
• Anti-Parkinsonism / Antidyskinetic Mechanisms: Chronic levodopa (LD) therapy in Parkinson's disease can cause drug induced dyskinesias. Study in monkeys evaluated if the natural LD in MP endocarp powder does not cause drug-induced dyskinesias. A water extract of Mucuna pruriens ameliorated parkinsonism without causing drug-induced dyskinesias suggesting M. pruriens acts through a novel mechanisms different from that of LD. (12)
• Neuroprotective / Neurorestorative: M. pruriens exhibited significant antiparkinson activity in a 6-OHDA lesioned rat model of Parkinson's disease. Study evaluated the neurorestorative effect of cotyledon powder on the rat model. Results significantly increased the brain mitochondrial complex-l activity, and significantly restored endogenous levodopa, dopamine, norepinephrine and serotonin content in the substantia nigra. (13)
• Antibacterial: Study of methanol extract of roots and seeds yielded alkaloids, anthraquinones, flavonoids, phenols, tannins, terpenoids, and xanthoprotein. The hexane, PE, benzene, methanol and aqueous extracts of root and seeds showed various degrees of significant inhibitory effect against the tested organisms (S aureus, K pneumonia, B subtilis, P aeruginosa, S typhi and E coli). (14)

Availability
Wild-crafted.
Supplements, extract capsules, seed powder, and Mucuna formulations in the cybermarket.