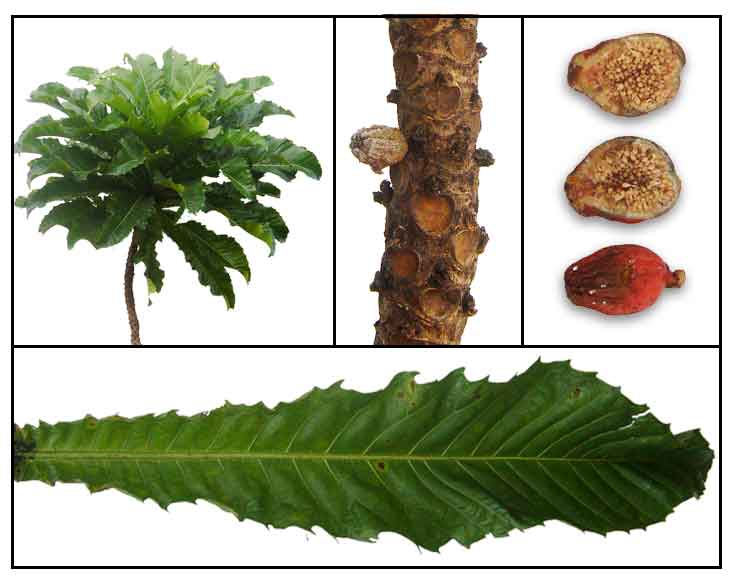 Botany
Niyog-niyogan is an erect, glabrous, unbranched shrub growing to a height of 5 meters. Leaves are crowded at the end of the stems,spreading and short-petioled, oblanceolate with a cordate base and an acute apex. Blade is coriaceous and dark-green, coarsely toothed growing to more than 25 centimeters long. Fruit is ovoid, angular, up to 4 centimeters long, on short peduncles and crowded at the axils of the leaves. The leaves and fruits leave a pattern of scars on the trunk.

Distribution
- Endemic to the Philippines
- Widely distributed in thickets at low altitudes.
- Occasionally planted for its ornamental leaves.
- Sparingly cultivated in Hawaii.

Constituents
- Phytochemical extracts yielded flavonoids, unsaturated sterol and triterpene, steroid glycoside, saponin, tannin and phenol.
Parts utilized
Leaves

Uses
Nutrition
- Young shoots are edible.
- In the Bicol area, leaves are cooked in gata (coconut milk).
Folkloric
- Decoction of leaves used for kidney stones and diabetes.
Studies
• Hypoglycemic: (1) Hydroalcoholic extract of dried leaves of Ficus pseudopalma, P. niruri, and Ipomoea batatas were tested on non-diabetic and diabetic Swiss mice. All five doses of F. pseudopalma exhibited hypoglycemic activity. It also showed slight toxicity orally and intraperitoneally. (2) a-Amyrin acetate may be one of the active constituents in the anti-diabetes property of F. pseudopalma.
• Terpenoids / Sterols: Dichloromethane extracts of air-dried leaves of F. pseudopalma and Ficus umifolia yielded terpenoids and sterols. Compounds were identified by comparison of spectral data as those of a-amyrin fatty acid ester, ß-amyrin fatty acid ester. ß-amyrin acetate, lupeol fatty acid ester, lupeol acetate, squalene, polyprenol, phytol, lutein, ß-carotene, stigmasterol, and sitosterol. Although bioassays were not conducted on the isolated compounds, previous studies have shown a wide range of biologic activities. a-Amyrin, above, for its hypoglycemic effect, and lupeol in the treatment of kidney stones.
• Lubi-lubi in Vegetable Noodles: A study conducted by the Sorsogon State College reports that vegetable noodles enriched with lubi-lubi leaves, used as puree, is highly nutritious, highly acceptable in taste, texture, and color.

Availability
Wild-crafted.
Occasionally planted for ornamental use.