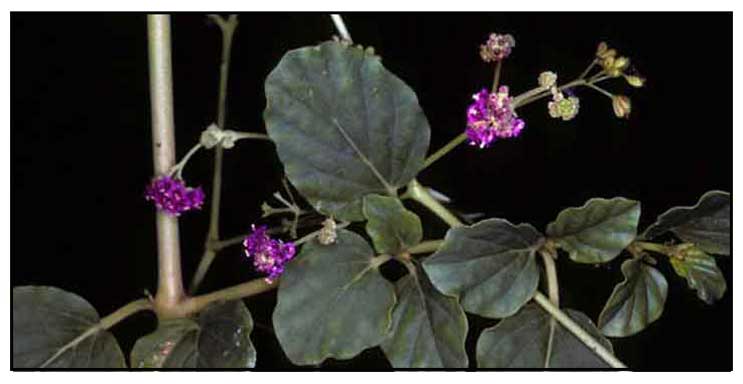 Etymology
- The plant name Boerhavia diffusa was named in honor of Hermann Boerhaave, a famous Dutch physician of the 18th century. (44)
- Punarnava, its Sanskrit name, means "that which becomes fresh again and again," probably referring to the perennial habit of the plant, dry and dormant during summer and regenerating in the rainy season. (44)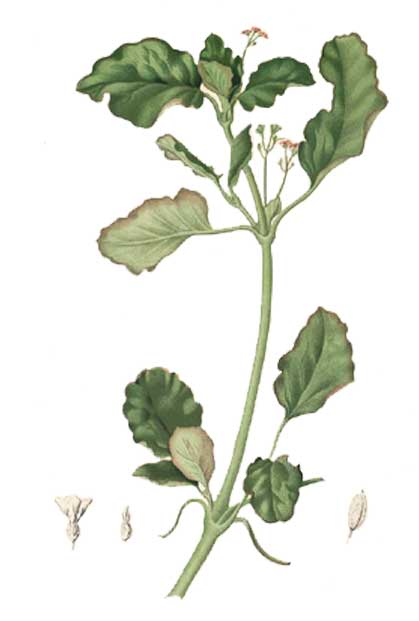 Botany
Paanbalibis is a diffusely spreading, laxly branched, smooth or somewhat hairy herb, with the branches sometimes attaining a length of 2 meters. Leaves are scattered, ovate, elliptic, or oblong, 1 to 4 centimeters long, sometimes wavy, pale beneath, with rounded or pointed apex, and usually rounded base. Cymes are very lax and panicled with slender branches. Flowers are minute. usually fascicled or subumbellate on the ultimate branchlets, pink, and about 1.5 millimeters long. Fruit is glandular, narrowly oblong-obovoid, about 3 millimeters long.
Distribution
- Throughout the Philippines in open places in settled areas at low and medium altitudes.
- A common weed in and about town.
- Native of India and Brazil.
- Pantropic.
Constituents
- Plant has yielded Boerhaavic acid, punarnavine, potassium nitrate, tannins, phlobaphenes.
- Root yields alkaloids (punarnavine), rotenoids (boeravinones A-F), flavonoids, amino acids, lignans (liriodendrons), ß-sitosterols and tetracosanoic, esacosanoic, stearic, and ursolic acids.
- Seeds yield fatty acids and allantoin.
- Ash analysis yielded potassium, magnesium, sodium, calcium, nitrate, phosphates, silica and sulphates.
- Studies have yielded ß-sitosterol, a-2-sitosterol, palmitic acid, tetracosanoic, hexacosonoic, stearic, arachidic acid, urosilic acid, among others.
- Phytochemical screening yielded flavonoids, alkaloids, glycosides and sterols in the alcoholic root.
- Study of methanol extract of roots isolated five new and four known rotenoids. (see study below) (38)
- Study of yielded alkaloids, tannins, flavonoids, saponin, terpenoid and phenols, and absence of cardiac glycoside in ethanol, chloroform, and petroleum ether extracts. Flavonoids (5.61 g/100g) and phenols (2.471 g/100g) were higher than alkaloids (0.232 g/100g). (41)
- Study of ethanolic extract of leaves uridine (uridine triacetate) (1), quercetin 3-O-α-D-rhamnoside (2), eupalitin 3-O-β-D- galactopyranoside (3), 3-O-ß-D-glucopyranosyl sitosterol (4), boeravinone B (5), ß-amyrin (6), ß-amyrin acetate (7), and ß-sitosterol (8). (64)
Properties
- Early studies have reported the diuretic effect of the liquid extract of the dry or fresh plant. The diuretic effect appears prominent on certain types of ascites, i.e., liver cirrhosis. The diuretic effect was attributed to punarnavine, an alkaloid that reported increases blood pressure and urination.
- Considered bitter, cooling, astringent, diuretic, stomachic, laxative, expectorant and emetic.
- Considered abortifacient, analgesic, antibacterial, anti-inflammatory, diaphoretic, rejuvenating, tonic.- Root is considered purgative, anthelmintic, febrifuge.
- Studies have suggested antidiabetic, antitumor, antibacterial, immunomodulatory, adaptogenic, anticonvulsant, analgesic, spasmolytic, renoprotective, antiosteoporotic, radioprotective, antifertility, hepatoprotective, erythropoietic properties.

Parts used
Roots, leaves, seeds.

Uses
Edibility / Nutrition
- A neglected and underutilized vegetable.
- Leaves used as vegetable.
- Good source of vitamins C, B2 and B3.
- In southeastern Nigeria, leaves are cooked and eaten as vegetable.
Folkloric
- Roots in powder, decoction or infusion, used as laxative.
- Root juice used for asthma.
- Used as diuretic, in strangury, gonorrhea and other internal inflammations.
- In moderate doses, used in asthma; in large doses, used as emetic.
- Infusion of whole plants used as mild laxative and febrifuge in children; also used for convulsions.
- Used to regulate menstruation.
- In the Gold Coast, used in the treatment of yaws.
- In the Antilles, used as a stimulant , tonic, vermifuge, emetic, sudorific and as antispasmodic.
- In Martinique, roots used for snake bites.
- In Uruguay, roots considered antidysenteric and emetic.
- In Ayurveda, considered bitter, cooling, astringent to bowels; used for biliousness, leucorrhea, anemia, asthma. Leaves used in dyspepsia, tumors, abdominal pains and splenic enlargements. Roots used as diuretic, expectorant, vermifuge, analgesic and to improve renal and hepatic functions.
- Punarnava is used in many eye disorders. Leaf juice with honey is dropped into the eyes for chronic ophthalmia. Also used for cataract. Fresh root juice used for night blindness and conjunctivitis. (44)
- In Chinese traditional medicine, used to move blood and break up stasis, regulate menses, strengthen the bones and tendons; for pain, malnutrition, dysmenorrhea, vaginal discharge.
- In Nigeria, used for boils, epilepsy, convulsions, guinea worms, asthma, fever, constipation.
- In Nepal, used for snakes bites, headaches, pain, hemorrhoids, jaundice, gout, asthma, round worms, excessive menstruation, cough and hemoptysis.
- In India, used for asthma, cough, urethritis, edema, ascites, nephritis; also used for insomnia.

Studies
• Anti-Diabetic: Study investigating the effect of oral administration of an aqueous solution of B. diffusa leaf extract on normal and alloxan-induced diabetic rats showed a significant decrease in blood glucose, a significant increase in activity of hepatic enzymes, and a significant increase in plasma insulin levels in normal and diabetic rats. The effect was more prominent than glibenclamide. (3)
• Antidiabetic / Chronic Administration of Leaf Extract: Study of leaf extract of Bd produced dose-dependent reduction in blood glucose probably through rejuvenation of pancreatic B-cells or through extrapancreatic action. (5)
• Antidiabetic / Increase Glucose Tolerance: Extracts of Bd showed significant increase in glucose tolerance; the methanolic extract showed more activity.
• Antitumor / Chemopreventive : Study demonstrated the chemopreventive property of topical treatment of Bd extract on DMBA-induced skin papillomagenesis in male Swiss albino mice. (6)
• Anticonvulsant : Study showed the crude methanolic extract of Bd and its liriodendrin-rich fraction showed a dose-dependent protection against PTZ-induced convulsions. (7)
• Antiproliferative / Anti-Estrogenic : Study of methanol extract of Bd showed moderate to very strong inhibition in MCF-7 breast cancer cell lines. Results demonstrated antiproliferative and antiestrogenic properties and suggests a therapeutic potential in estrogen dependent breast cancers. (8)
• Antistress / Adaptogenic / Immunomodulatory : Study of ethanol extracts of roots of Bd showed increased stress tolerance in swim endurance test and cold restrain stress. Immunomodulatory activity was shown by increased carbon clearance, indicating stimulation of the reticuloendothelial system. There was an increase in DTH response to SRBC in mice, corresponding to cell mediated immunity and indicating stimulatory effects on lymphocytes and accessory cell types. (9)
• Spasmolytic / Rotenoid Derivatives : Study showed the methanol extract of roots of Bd exhibited a significant spasmolytic activity in guinea pig ileum, probably through a direct effect on smooth muscle. Phytochemicals isolated one new and 6 known rotenoid derivatives. (10)
• Eupalitin / Anti-Osteoporosis Activity : Invention relates to a process of isolation of bioactive eupalitin from Bh possessing anti-osteoporosis activity by extraction of powdered leaves.
• Antibacterial / Leaves: In a study of the leaves of five different plants belonging to different family, the methanol extracts of Bd, T cardiofolia and E alba leaves showed significant in vitro antimicrobial activity. (11)
• Nutritive Properties : Study showed Bd as vegetable contains saponins, alkaloids, flavonoids. The vitamin constituents were vitamins C, B3, B2; mineral contents, Ca, Na, and Mg. Results suggest that the leaves as cheap sources of vitamins, macro- and micro-nutrients can be incorporated into the human and animal diet. Its flavonoid and vit C contents also suggest a potential source of antioxidants. (12)
• Immunomodulatory: Study of alkaloidal fraction was studied for its effect on cellular and humoral functions in mice. Results showed an in vivo immunostimulatory activity without an in vitro effect. (13)
• Cytological Effects: Study of the mitotic effects of root extracts of B. diffusa on the root tips of Crinum jagus were investigated. Results showed root extracts of Bd can accumulate metaphase and inhibit mitoses and presents an alternative to the rather expensive colchicene for cytological studies. (14)
• Antihyperglycemic / Renoprotective: Study of an ethanolic extract of Bd in alloxanized diabetic rats showed it to be a potent renoprotective and antihyperglycemic agent in diabetic animals. (15)
• Anticonvulsant / Calcium Channel Antagonism: Study results reiterated the anticonvulsant activity of a methanolic extract of Bd roots. It suggests the anti-convulsant activity could be due to calcium-channel antagonistic action. (17)
• Antistress: Study of a hydroethanolic extract (80%) of Boerhavia diffusa (HEBD) and a polyherbal formulation (Punarnava mandur) PHF-09 containing Boerhavia diffusa showed antistress activity in a dose-dependent manner. (18)
• Radioprotective: Study evaluated the radioprotective effect of a hydroalcoholic extract of B. diffusa in an in vivo mice model of sublethally irradiated mice. The most affected tissues -- bone marrow and intestine -- were considerably protected by an intraperitoneal administration of the extract. There was also significant reduction of lipid peroxidation. Results indicated a radioprotective effect of the whole-plant extract. (20)
• Male Anti-Fertility Effects: The oral administration of an aqueous extract of leaves to male Wistar rats for sixty days caused a reduction of sperm count, progressive sperm motility, sperm live-dead ratio and caused degeneration of the germinal epithelia of the testes. (21)
• Hepatoprotective / Ibuprofen-Induced Hepatotoxicity: A methanol extract of root and aerial parts restored nearly normal structure and functions of hepatic cells in ibuprofen-induced hepatotoxicity in Wistar albino rats. Roots showed more hepatoprotective efficacy than the aerial part of the same plant. (24)
• Antimicrobial: Study evaluated the antimicrobial activity of an ethanolic extract of B. diffusa. Results showed significant antimicrobial activity against most of the tested organisms. (25)
• Renoprotective / Acetaminophen-Induced Nephrotoxicity: Study investigated the effects of pre-treatment of aqueous extract of root on acetaminophen-induced nephrotoxicity in rats. Pre-treatment had a nephroprotective effect possibly through improvement of renal function and antioxidant activities. (26)
• DNA Barcode Identifies Plant from Adulterants: In the study, a DNA barcoding technique was applied to distinguish B. diffusa from its closely related species and authenticating its herbal products. (29)
• Anticancer / Vibraphone: Study evaluated phytocompounds in B. diffusa having anticancer potential to effectively inhibit the action of Bcl-2 protein. Molecular analysis showed Boeravinone F had potent anticancer activity and might be considered a lead compound for the developing potentially useful drugs to inhibit the target Bcl2 protein by regulating apoptosis. (30)
• Erythropoietic Effect: Study investigated the erythropoietic effect of some medicinal plants in India. Boerhavia diffusa was one of several plant extracts that boost synthesis of hemoglobin and formation of RBCs which may be due to its richness in iron and vitamin C. (31)
• Hepatoprotective / Carbon Tetrachloride Hepatotoxicity : Stud showed various plant extracts of B. diffusa and A. lanata have significant hepatoprotective activity in albino rats with CCl4 induced hepatotoxicity. (32)
• Antiglycating Property: Review suggest B. diffusa extract might be useful as an antiglycating agent apart from antidiabetic and antioxidant properties. The novel hypothesis of antiglycating properties could help understand and prevent bio-macromoleculte (DNA and protein) damage in hyperglycemic condition, arthritis, and ageing. (33)
• Protection Against Mitochondrial Dysfunction in Cardiac Hypertrophy: Study revealed the protective effects of B. diffusa against mitochondrial dysfunction in hypertrophy in H9c2 cells. Study showed reduction of intracellular calcium overload in Ang II treated cells. (34)
• Antidiabetic / α-Amylase and α-Glucosidase Inhibitory Activity / Leaves and Seeds: Study of ethanol extracts of both leaves and seeds of B. diffusa showed strong inhibitory activity against α-amylase and α-glucosidase and suggests a potential as therapeutic agent for free radical related disorders. (35)
• Antibiofilm Activity against MRSA: Study reports the antibiofilm activity of B. diffusa leaf extracts against methicillin resistant Staphylococcus aureus. (36)
• Anxiolytic-Hypnotic Activity : A methanol extract of whole plant was evaluated for anxiolytic-hypnotic activity in male albino mice. The extract showed significant enhancing effect on pentobarbital induced narcosis with increase in sleeping time. The depressive central effect and hypnotic effect may involve the GABAergic system. (37)
• Rotenoids / Anti-Inflammatory: Study isolated five new and four known rotenoids from a methanol extract of roots. Compound 7 showed the most potent COX-1 and COX-2 inhibition. Compound 6, Boeravinone, exhibited significant anti-inflammatory activity in an in vivo carrageenan-induced paw edema model. (38)
• Antitumor / Leaves: Study evaluated an ethanolic extract of leaves of B. diffusa against Dalton's ascitic lymphoma (DAL) in Swiss albino mice. The extract increased the life span of DAL treated mice and restored hematological parameters in a dose dependent manner. (39)
• Toxicity Studies / Leaves: Study evaluated the acute and subchronic toxicity studies of B. diffusa leaves in albino mice and rats. The lethal dose (LD50) for both mice and rats was found to be greater than 2000 mg/kg p.o. Study showed the leaf extract to be non toxic in albino rats. (40)
• Relief of Galactorrhea: The most common cause of galactorrhea is hyperprolactenemia. This study reports on a patient suffering from galactorrhea for 15 days presumed to be due to mild elevation of serum prolactin level. Treatment consisted of dietary restriction, life style modification, Punarnava capsule, and Trikatu capsule orally. After ten days, the galactorrhea stopped. Paper discusses pathogenesis, treatment details, and mode of action. (42)
• Effect on Experimental Prostatic Hyperplasia / Roots: Study evaluated the effect of a hydroalcoholic extract of Boehavia diffusa roots in experimental benign prostatic hyperplasia (BPH) in various rat models. A 28-day treatment at 100 mg/kg resulted in significant inhibition of prostatic growth (p<0.05). There was no significant change in serum testosterone. In vitro study suggests the extract produced a a beneficial effect on prostatic smooth muscle and relief of urinary symptoms by attenuation of contractile responses of isolated vas deferens and prostate gland to exogenously applied agonists. (43)
• Anti-Inflammatory / Antioxidant / Inhibition of Secretory Phospholipiase A2: Secretory phospholipase A2 (sPLA2) is a key enzyme in the production of pro-inflammatory mediators in chronic inflammatory disorders like RA, CAD, DM, and asthma. Study investigated the anti-inflammatory activity of various extracts of Boerhavia diffusa by inhibition of human sPLA2. An ethanol extract showed highest sPLA2 inhibition with IC50 values from 17.8 to 27.5 µg. The antioxidant activity of the EE was more or less directly proportional to the in vitro sPLA2 inhibition. (45)
• Hepatogenic: Study evaluated the hepatogenic efficacy of Boerhavia diffusa on clinical cases of liver disorders in dogs. Treatment with B. diffusa extract showed hepatogenic activity causing altered histological changes to return to normal. (46)
• Antidiabetic / Antihyperlipidemic / Roots: Study evaluated the anti-diabetic and antihyperlipidemmic potential of B. diffusa roots against STZ-induced diabetes in rats. An ethanolic extract caused reduction in blood sugar. There was significant reduction in total cholesterol, LDL, and VLDL, along with improvement in HDL cholesterol. (47)
• Antioxidant / Leaves: Study of B. diffusa leaf extract exhibited a significant increase in reduce glutathione superoxide dismutase, catalase, glutathione peroxidase and glutathione-S-transferase in liver and kidney of alloxan induced diabetic rats. Results suggest remarkable antidiabetic and antioxidant activities. (48)
• Antidiabetic / Antihyperlipidemic / Leaves: Study investigated the antidiabetic and antihyperlipidemic activity of aqueous extract of leaves in alloxan induced diabetic rats. Results showed significant reduction in serum and tissue cholesterol, free fatty acids, phospholipids and triglycerides. Supplementation was also more effective than glibenclamide in the treatment of diabetic rats. (49)
• Eupatilin-7-O-2,6-Dirhamnosylgalactoside / Leaves: Antioxidant activity-guided fractionation of isolated flavonol positive fraction lead to the isolated and characterization of Eupatilin-7-O-α-rhamnosyl(1→2)α- rhamnosyl(1→6)-β-D-galactopyranoside, a non-catechol group flavone and two flavonol glycosides from active catechol-group flavonoid fractions. The antioxidant activity of the isolates were tested against DPPH free radicals. (50)
• Adverse Semen and Testicular Effects / Leaves: Study evaluated an aqueous leaf extract of Boerhavia diffusa on semen and testicular morphology of male Wistar rats. Results showed significant (p<0.05) decrease in sperm count and sperm motility. Histopathology of the testes showed marked degeneration of germinal epithelia with spermiostasis. (51)
• Antioxidant / Genoprotective / Boeravinone G / Rotenoid / Roots: Study evaluated the antioxidant and genoprotective activity of some rotenoids i.e., boeravinones isolated from the roots of B. diffusa. Among the rotenoids tested, boeravinone G showed the most potent effect. Boeravinone G inhibited both TBARS and ROS formation, increased SOD activity and reduced H2O2-induced DNA damage. Boeravinone G exhibited extraordinary potent antioxidant activity with potential as a lead compound for drug development targeted to ROS-mediated injuries. (52)
• Antifertility / Antiimplantation / Antiestrogenic / Roots: Study evaluated the antiimplantation and antiestrogenic activity of Boerhavia diffusa root extract in female rats. Results showed inhibition of pregnancy. The extract caused significant increase in uterine weight in immature rats compared to control. Results showed significant dose-dependent antifertility activity via potent antiestrogenic and antiimplantation effect. (53)
• Anti-Arthritic / Roots: Study evaluated extract of Boerhavia diffusa roots for anti-rheumatoid activity in Freunds Adjuvant induced arthritis in rats. Results showed 1000 mg petroleum ether extract of roots had an antiarthritic response of 81.58% comparable to standard drug indomethacin. (54)
• Nephroprotective / Cisplatin-Induced Nephrotoxicity / Roots: Study evaluated the antioxidant and nephroprotective role of ethanolic root extract in cisplatin-induced toxicity. Cisplatin increased the apoptotic and necrotic cells and also increased ROS production in treated cells. Co-treatment with the ethanolic root extract decreased apoptotic and necrotic cells and attenuated ROS production. The nephroprotective activity correlated with phytochemicals like polyphenols (4.5 ± 0.02 mg/g), flavonoids (4.2 ± 0.08 mg/g) and tannins (6.5 ± 0.3 mg/g) present in the extract. (55)
• Punarnava in Management of Chronic Kidney Disease: Study evaluated the efficacy of Punarnava in the therapeutic management of chronic kidney disease in dogs. Study showed management strategies are most beneficial when combined with specific therapy. Combination of Punarnava and conservative treatment was effective in the management of chronic kidney disease in dogs. (56)
• Neuroprotective / STZ-Induced Diabetic Neuropathy / Roots: Study evaluated the neuroprotective effect of B. diffusa on STZ-induced diabetic neuropathy in rats. Neuropathic pain was assessed with various painful procedures viz., hot and cold water tail immersion test, pinprick test, cold allodynia, hot plate test, photoactometer and rota-rod tests. Results showed alleviation of hyperglycemia induced mechanical, thermal hyperalgesia and cold allodynia, along with restoration of reduced body weight and improvement in biochemical parameters. Chronic treatment significantly blocked calcium conduction in the nerve tissue and alleviated hyperglycemia induced neuropathy. Liriodendrin in the roots of B. diffusa could play a role. (57)
• Antiurolithiatic / Polyherbal Suspension Formulation: Study evaluated a herbal formulation containing a mixture of alcoholic plant extracts viz., root of Boerhavia diffusa, fruit of Tribulus terrestris, and leaves of Azadirachta indica in an ethylene glycol-induced urolithiasis model. The herbal suspension formulation showed significant antiurolithiatic activity. Histopathology supported the findings. Acute toxicity study showed an LD50 higher than 2000 mg/kg. (58)
• Anticancer / HPV Type 16 Cervical Cancer: Study showed the prevalence of HPV type 16 in women. HPV type 16 is the most common type associated with cervical cancer. Vaccines are useful for women only before exposure to HPV infection. Human papilloma virus type 16 infected SiHa cervical cancer cell line was used to screen B. diffusa extract for anticancer potential. Boerhavia diffusa has shown cytotoxicity inhibition percentage of 96.3% at 1000 µg/ml. The cytotoxic activity may be due to the presence of alkaloids. (59)
• Novel Inhibitors of HCV NS3 Protease / Natural Non-Toxic Anti-HCV Agent: Study evaluated the HCV NS3 protese of genotype 3b inhibitors from Boerhavia diffusa. In vitro analysis of an ethanolic extract of whole plant showed potent inhibitory effect of recombinant NS3 genotype 3b catalytic activity. Study suggests phytochemicals especially flavonoids and triterpenoids present in B. diffusa had a direct inhibitory effect on the HCV NS3 protease. Study suggests B. diffusa has potential as a natural non toxic anti-HCV agent that can reduce viral counts inside hepatocytes through inhibition of NS3 protease. (60)
• Inhibition of Human Cervical Cancer Cell Growth / Root: Study of a root extract of B. diffusa for showed antiproliferative effects on the growth of HeLa cells. There was significant reduction in cell proliferation with visible morphological changes in HeLa cells. The effect could be due to inhibition of DNA synthesis in S-phase of cell cycle in HeLa cells. The fraction cause cell death via apoptosis as evidenced by DNA fragmentation and caspase-9-activation. (61)
• Anti-Inflammatory / Leaves: Study evaluated the in-vitro and in-vivo anti-inflammatory activity of ethanol extract of B. diffusa leaves. Results showed In-vivo anti-inflammatory activity by carrageenan induced hind paw edema and cotton pellet induced granuloma in Wistar rats. In-vitro activity was confirmed by nitric oxide free scavenging activity, protein denaturation and proteinase inhibition assays. (62)
• Antihypertensive Potential / Adrenaline-Induced Hypertensive Mode / Roots: Study evaluated a methanolic extract of B. diffusa roots for antihypertensive potential in adrenaline-induced hypertension in rats. All treatments significantly reduced the pressor response to catecholamines. Results suggest the methanolic extract possess significant antihypertensive activity via reduction in sympathetic activity by inhibition of adrenoreceptors or release of nitric oxide. (63)
Availability
Wild-crafted.