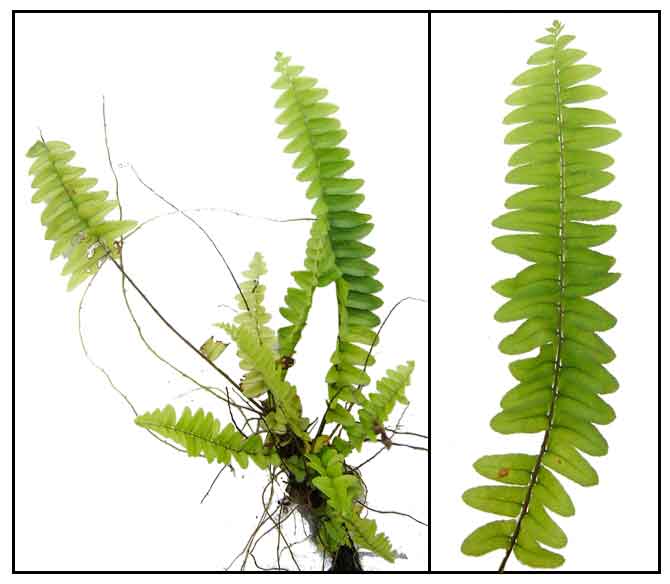 Botany
Pakong-alagdan is a fern, the caudex stout, erect and densely covered with glossy brown scales. Stipes are erect, 10 to 40 centimeters long. Fronds are 20 to 200 centimeters long and 10 to 40 centimeters wide. Pinnae are sessile, 5 to 20 centimeters long and 0.5 to 2 centimeters wide. Sori are arranged in a long continuous line close to the costae.
Distribution
- Widely distributed in the Philippines.
Also found throughout India, Sri Lanka, and the Malay Peninsula, and extends to the Malay Islands, tropical Asia, Polynesia, and Australia.
Constituents
- Phytochemistry showed essential oil, phenolic compounds and triterpenoids.
- Study yielded flavonoids, terpenoids and tannins.
- Phytochemical screening of EA, butanol and water fractions yielded flavonoids, terpenoids, and tannins, with an absence of alkaloids and saponins. (see study below) (2)
- Phytochemical analysis yielded tannins, saponins, quinones, terpenoids, steroids, flavonoids, phenol, alkaloids, glycosides, cardiac glycosides, coumarins and betacyanin. (see study below) (14)
Properties
- Considered anthelmintic, antiviral, contraceptive and tonic.
Uses
Edibility
- Leaves boiled and eaten as vegetable by Malays natives.
- Young fronds used as wild food supplement.
Folkloric
- Used as poultice for boils by Malays.
- Used for urinary complaints.
- In China, the rhizomes are used as anthelmintic.
- In India, used for impotence; boils in infants and older children, diarrhea,
- Used to stop wound bleeding.
- In Malaysia, used for abscesses, blisters and sores; poultice of young leaves for furuncles and boils.
- Plant is pounded with some kerosene and applied to fungal skin infections, especially ringworm.
- In Papua New Guinea, new fronds are eaten to induce sterility in women, new leaves ingested daily for three successive days, then repeating the course after a fortnight.
- In India, paste of young frond and underground rhizome are mixed with the dried powder of Zingiber officinale and applied over fresh cut wounds to cure pain and stop bleeding.
- The Reang tribe of Tripura, northeast India use a hot decoction of pinnae applied externally over abscess once daily until it dries up. (18)
- Used as a poultice in boils; rhizomes used as anthelmintic. (19)
Studies
• Antibacterial: Antibacterial effect could come from the bioactive constituents of essential oil, phenolic compounds and triterpenoids. Study showed antibacterial activity, greatest against P vulgaris and less with B subtilis and S aureus.
• Cytotoxicity / Breast Cancer: In vitro studies evaluated the cytotoxic potential of three plants – Blechnum orientale, Tectaria singaporeana and Tacca integrifolia against human breast cancer cells (MCF-7). Roots showed highest cell mortality. Leaves and stems did not induce any cytotoxic activity. Blechnum orientale showed cytotoxic potential with IC50 32.07 ± 7.85. Results suggest the plant extracts have potential in cancer treatment and prevention. (4)
• Polyphenols / Antioxidative / Antibacterial: Study of the leaf extracts of five medicinal ferns – A aureum, Asplenium nidus, Blechnum orientale, C barometz and D linearis– showed B orientale to possess the highest amount of total polyphenols and strongest potential as antioxidant, tyrosinase inhibition and antibacterial. (6)
• Antioxidant / Anticancer / Antibacterial: Study evaluated the antioxidant, anticancer, and antibacterial activity of five solvent fractions from methanol extract of Blechnum orientale leaves. EA, butanol, and water fractions possessed strong radical scavenging activity with IC50 8.6-13.0 µg/ml) and cytotoxic activity towards human colon cancer cell HT-29 (IC50 27.5-42.8 µg/ml). The three extracts showed antibacterial activity against all gram-positive bacteria tested viz., B. cereus, M. luteus, MSSA and S. epidermis with MIC of 15.6-250 µg/ml and MBC of 15.6250 µg/ml. (2)
• Antioxidant: In a study of ferns for antioxidant activity, Blechnum showed strong DPPH radical scavenging activity, ferric ion reducing power, and inhibition of lipid peroxidation.
• Wound Healing: Study evaluated the wound healing activity of a water extract on Sprague-Dawley rats. Results showed significant reduction in wound size and mean epithelisation time, and higher collagen synthesis, supported by histopathological evidence of greater tissue regeneration, more fibroblasts and angiogenesis. (9)
• Acute Toxicity Study: Acute toxicity study of ethanol water (1:1) extract of entire plant on Swiss albino mice showed an LD50 of 600 mg/kg, i.p. (Bhakuni OS, et al. 1969) (10)
• Absorption of Hazardous Pollutants: Study revealed a significant absorption and accumulation of toxic metals and hazardous PAHs by B. orientale growing at polluted sites and confirmed the nontransportation of heavy metals from roots to fronds. Results imply potential risk of toxicity on human health when ferns are harvested from polluted sites. (11) In this study to determine the accumulation of heavy metals, the concentration of Pb, As, Hg, Cd, and Cu in the leaves in the polluted site were 66, 5.6, 0.4, 7.5 and 21.7 mg/kg, exceeding the limits established for medicinal plants, thus presenting potential hazardous effects on human health. (17)
• Proanthocyanidin / Antioxidative / Antibacterial / Anticancer: Study isolated a polymeric proanthocyanidin from an aqueous extract of B. orientale. Bioactivity studies showed strong radical scavenging activity (IC50 5.6 ± 0.1 µg/mL), antibacterial activity (MIC 31.6-62.5 µg/mL) against five gram positive bacteria and selective cytotoxicity against HT29 colon cancer cells (IC50 7.0 ± 0.3 µg/mL). (12) In a study of five selected edible and medicinal ferns, B. orientale showed the highest proanthocyanidin content. All the fern extracts, except for D. denticulata, exhibited dose dependent cytotoxicity against K562 cells. (12)
• Antioxidative / Tyrosinase Inhibiting / Antibacterial / Leaves: Study evaluated leaf extracts from five medicinal ferns. Results showed Blechnum orientale possessed the highest amount of total polyphenols and strongest potential as a natural antioxidative, tyrosinase inhibiting and antibacterial agent as demonstrated by its strong activities in all related bioassays. (8)
• Eicos-5 enoic Acid (EPA) / Leaves: Study isolated the compound Eicos-3-enoic acid by spectral analysis from dried powder of leaves. Eiscos-5-enoic acid of Eicosapentaenoic acid (EPA) or also icosapentaenoic acid is an omega-3-fatty acid. EPA is a polyunsaturated fatty acid (PUFA) that acts as a precursor for prostaglandin-3 (inhibits platelet aggregation), thromboxane-2, and leukotriene-5 groups (all eicosanoids.) In the human diet, it is found in oily fish or fish oil (cod liver, herring, mackerel, salmon, sardines). It is also found in human breast milk. It is usually not found in higher plants. Study suggests possibilities for industrial application of B. orientale. (14)
• Anti-Trematocidal Against Gastrothylax crumenifer: Study evaluated the in vitro antitrematocidal effect of B. orientale against Gastrothylax crumenifer. The ethanol extracts showed very high terpenoids, total phenolic and total tannin content and are potent antioxidants. Quercetin 7,3',4' trimethoxy, a potent flavonoid, phytol isomer, a potent diterpenoid showed evidences of anthelmintic activity and use as potent antitrematocidal in the study. (see constituents above) (15)
• Treatment of Diabetic Ulcer Wounds / Antioxidative / Antibacterial: Study evaluated the wound healing ability of a concentrated extract of B. orientale leaves in a hydrogel formulation in ulcer wounds in STZ induced diabetic rats. Fraction W5-1 exhibited stronger antioxidant and antibacterial activity. Extract treated wounds exhibited re-epithelisation, higher fibroblast proliferation, collagen synthesis, and angiogenesis. Results suggest B. orientale extract hydrogel has a potential for treatment of diabetic ulcer wounds. (16)

Availability
Wild-crafted.