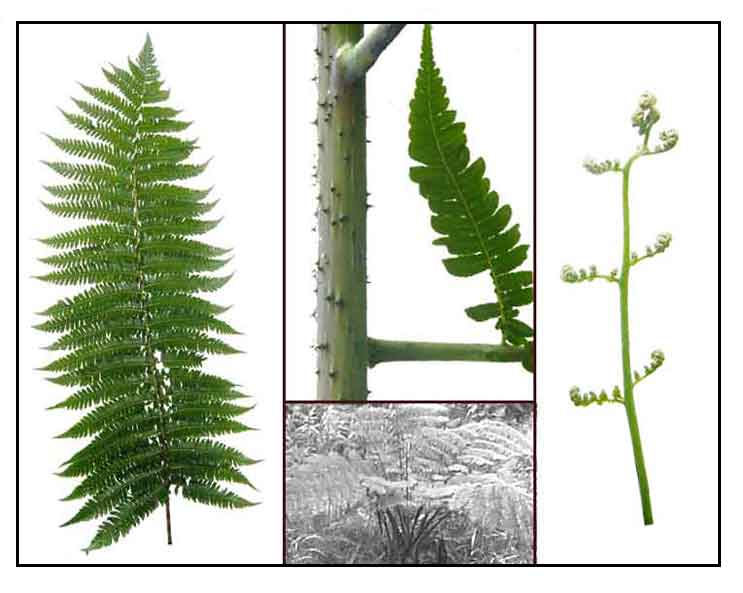 Botany
Pakong-buwaya is a tree fern that grows to 7 meters. Trunk is covered with black and still interlacing roots. Leaves are bipinnate up to 2.5 meters long. Leaf stalk is stout, spiny, and purplish, up to 90 centimeters long, covered with dense scales when young.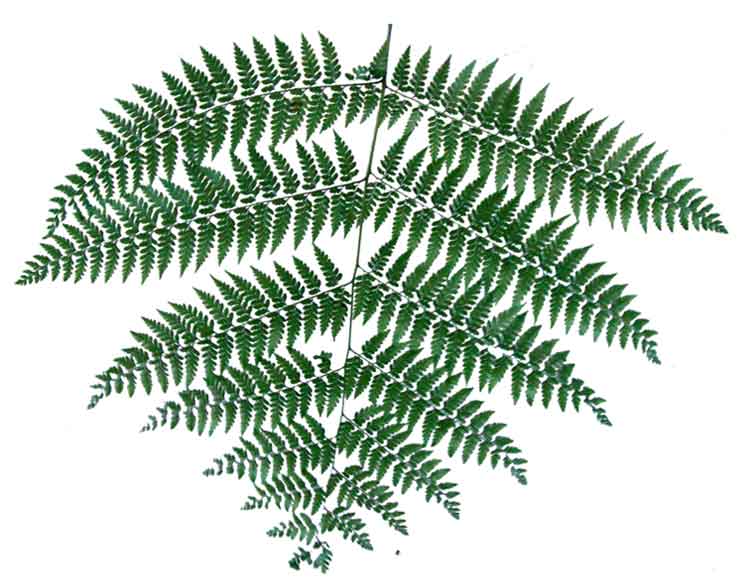 Distribution
- Occasionally planted in Manila gardens, but grows poorly in low altitudes. Thrives well in the Baguio area.
-There are 26 endemic species of Cyathea in the Philippines.
Constituents
- Study isolated a new acylated flavonol glycoside from the fronds of Cyathea contaminans and was chemically characterized as kaempferol-7-(6"-succinyl)- glucoside. (Yamane et al 1985) (6)
Uses
Edibility
- Young fronds boiled and eaten as vegetable.
Folkloric
- In Davao, Mindanao, pounded leaves rubbed i forehead to use for headaches. (5)
- In Chinese medicine, rhizome hairs are considered styptic for coagulating blood.
- Used for rheumatic problems.
- Old man's tonic.
- Rhizomes used topically for wounds and ulcers.
- In India, used for wound healing: soft apical portion of caudex is cut into small pieces, crushed in a mortar and made into paste, then applied daily to major cuts and wounds until healed. (3)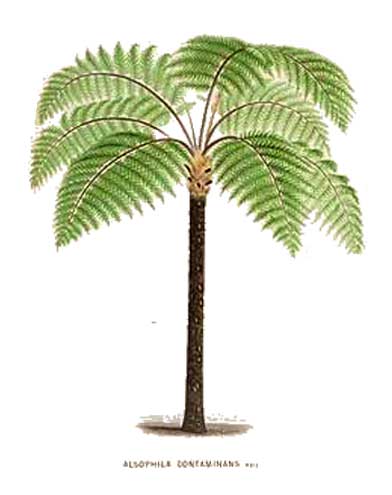 Others
- Handicraft: Handicraft and construction material (fencing posts).
- Fiber: Fiber and lathe material.
- Ornamental.
- Wood: Trunks carved into vases and statues.
- Fibrous trunk used as orchid media.
- Ceremonial: Charred stem rubbed on forehead of afflicted child to protect against evils. (5)
Studies
• Flavonol Glucoside: Study isolated a new acylated flavonol glucoside from the fronds, chemically characterized as kaempferol-7-(6"-succinyl)-glucoside and named pteroflavonoloside. (1)
• Phytoindicator / Forecasting Microclimate Changes: Study explored the potential of fern species in landscape ecology, as natural indicators to forecast microclimate changes in the urban area and for application in landscape design. Microclimate and altitude have a strong relationship with the distribution of the fern species. Findings suggest fern species are excellent phytoindicator for unhealthy environment such as harsh urban environment. (2)

Availability
- Wild-crafted.