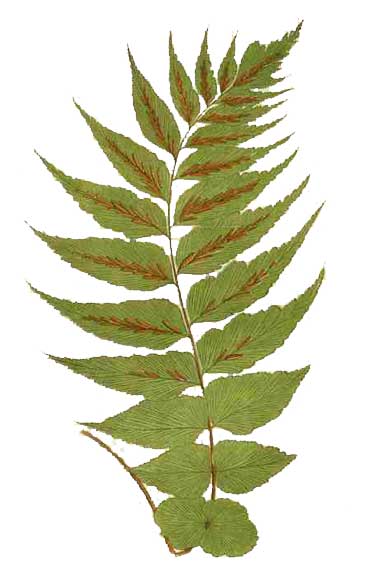 Botany
Pakpak-lawin na babae is an epiphytic, lithophytic or terrestrial fern. Rootstock is short and covered with linear-lanceolate, acuminate scales. Stipes are tufted, rigid, erect, brown, glabrous or nearly so, 3 to 30 centimeters long. Fronds are simply pinnate, oblong in outline, 7 to 40 centimeters long; pinnate opposite or alternate, 2 to 12 centimeters on each side, 2 to 15 centimeters long, 1 to 3 centimeters wide, lanceolate. Sori are in close, long, parallel, oblique lines reaching from the midrib nearly to the margin.
Distribution
- Widely distributed in dry thickets in the Philippines, from northern Luzon to Mindanao.
- Also in tropical Asia to Polynesia.
Properties
Diuretic.

Parts utilized
Leaves.

Uses
Folkloric
• Decoction of the fronds is a diuretic. Also used for the treatment of dysuria and bladder complaints associated with beri-beri.
• In India, fronds used as diuretic for conditions with defective urination.
• In India, leaf decoction used as laxative, emetic, diuretic, anthelmintic, and for treatment of ophthalmia, jaundice, and splenic diseases. (4)

Studies
• No studies found.

Availability
- Wild-crafted.