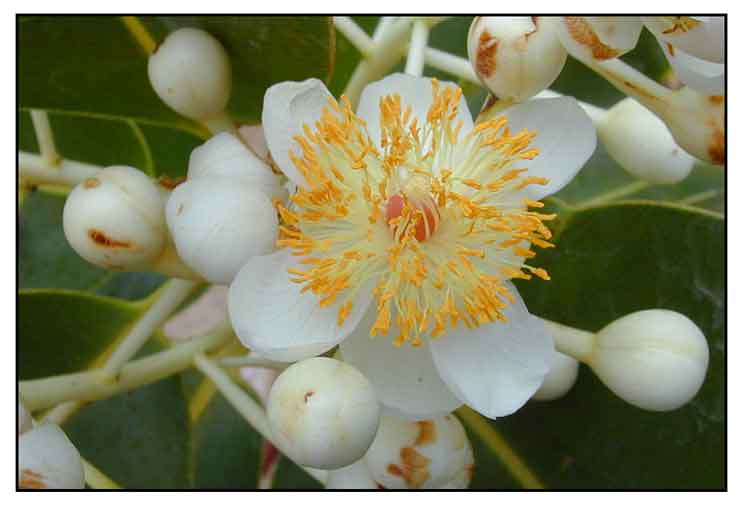 Gen info
- Calophyllum is a very large genus of about 190 species.
- Calophyllum inophyllum is a large evergreen plant . It was an important source of timber for traditional shipbuilding, and has been spread in prehistoric times by migrations of the Austronesian peoples to the islands of Oceania and Madagascar. It is source of the tamanu oil. (57)
- Etymology: Genus Calophyllum derives from Greek, meaning 'beautiful leaf'; specific epithet 'inophyllum' in Greek refers to the closely nerved leaves.
Botany
Palo-maria is a medium-sized or large tree, reaching a height of 20 meters. Leaves are leathery, shiny, elliptic to obovate-elliptic, 9 to 18 centimeters long, narrowed to a pointed base and somewhat rounded tip. Flowers are fragrant, white, 2 to 2.5 centimeters diameter, borne on axillary racemes 5 to 10 centimeters long. Fruit is round, yellow, smooth, pulpy, 3 to 4 centimeters in diameter.
Calophyllum inophyllum is a medium-sized tree up to 25(–35) m tall, with sticky yellowish latex, usually with twisted or leaning bole up to 150 cm in diameter, without buttresses; bark shallowly longitudinally fissured, pale gray and fawn, inner bark usually thick, soft, fibrous and laminated, pink to red, darkening to brownish on exposure; twigs 4-angled or rounded, terminal bud plump, 4–9 mm long. Leaves decussately opposite, simple and entire; stipules absent; petiole 1–2 cm long; blade elliptical, ovate, obovate or oblong, (5.5–)8–20(–23) cm long, rounded to cuneate at base, retuse to obtuse at apex, leathery, with closely parallel secondary venation alternating with latex canals. Inflorescence an axillary false raceme 7–15 cm long, sometimes branched, 5–15(–30)-flowered. Flowers bisexual, regular, sweetly scented; pedicel 1.5–4 cm long; tepals 8(–13), obovate, c. 1 cm long, white; stamens numerous, in 4 bundles, slightly connate at base, orange-yellow; ovary superior, globose, 1-celled, style long and slender, flexuous, stigma peltate. Fruit a globose to obovoid drupe 2.5–5 cm long, smooth, greyish green, 1-seeded. Seed globose to ovoid, 1.5–2 cm long, brown, very oily. Seedling with hypogeal germination; cotyledons remaining enclosed in stone. (PROTA) (52)
Distribution
- Native to the Philippines.
- Throughout the Philippines, along the seashore, where it forms a characteristic strand.
- Cultivated in Manila and large towns, used as shade tree on lawns, avenues and boulevards, particularly along the beach.
- Also native to Andaman Is., Bangladesh, Bismark Archipelago, Borneo, Cambodia, Caroline Is., Fiji, Hainan, Hawaii, India, Jawa, Laos, Malaya, Myanmar, Nansei-shoto, New Guinea, Queensland, Samoa, Sri Lanka, Sulawesi, Taiwan, Thaiiland, Vietnam, etc. (15)
- Grows primarily in wet tropical biome.


Constituents
- Plant yields coumarins, xanthones, triterpenes, and steroids. Methanol extract of leaves yield flavanoidal glycosides and steroidal glycosides.
(13)
- Kernels reported to contain 70-75% bitaog oil.
- Oil is reported to contain a poisonous resin to which its color and odor are due.
- Bark yields 11.9 % tannin; exudes oleoresin when cut.
- Resin reported to contain benzoic acids.
- Seeds contain coumarins: calanolide A and B.
- Various heartwood extracts yielded constituents: abietadiene, β- funebrene, coniferyl alcohol, agarospirol,
presilphiperfolan-8-ol, incensole acetate, hexenyl cinnamate, hydroxy citronellol, indipone, larixol, tetradectene, stilbene, isobornyl isobutanoate, occidenol, thujaplicinol, carvacrol, methyl ether, thymol,
rosifoliol, isoprenyl cinnamate-(E)-methyl, methyl p-tert butylphenyl acetate, hexadecanoic acid, thujic acid, allo-hedycaryol, isovalencenol<(E). (see study below) (18)
- Phytochemical analysis of leaves yielded nine different compounds: linoleic acid (32.25%), methyl oleate (32.25%), phytol (17.82%), methylisostearate (11.96%), diphenylmethane (8%), 2-phenazinamine (8%), adenanthin (1.47%), carbazole (1.45%), 5-aminomethyl- dibenzosuberane (0.28%). (20)
- Phytochemical analysis of various leaf extracts (methanol, petroleum ether, and chloroform) yielded alkaloids, carbohydrates, glycosides, saponins, phenols, and tannins. (21)
- GC-MS analysis of ethanolic leaf extract yielded 11 bioactive compounds: (1) caryophyllene,
(2) Z,Z,Z-1,4,6,9-nonadecatetraene, (3) 1,4-Methanoazalen-3-ol, decahydro-1, 5,5,8a-tetramethyl (15-(1a,3a,3aa,4a,8aa), (4) Z,E-2-Methyl-3, 13,Octadecadein-1-ol, (5) E,E,Z-1,3,12-Nonadecatriene-5,14-diol, (6) Hexadecanoic acid, ethyl ester, (7) Phytol, (8) Dasycarpidan-1-methanol,acetate(ester), (9) Benzo(b,t)-1,2,4- triazolo(4,3,-d)-1,4-Oxazepine-6, 7-dicarbonitrile, 3-phenyl, (10) 2H-Benzo(cd)pyrene-2,6(1,H)-dione, 3,5,7,10-tetrahydroxy-1, and (11) n-Heptane, 1,1-bi(4,4-dimethylhexan-2,6-dione-1-yl). (see study below) (25)
- Study of crude extract of leaves isolated chlolestane, along with new compounds (trans-2-[2-(trifluoromethyl)phenyl]-10b,10c-dimethyl-10b,10c-dihydropyrene and anti-4-aza-B-homo-5.alpha-cholestane-3-one). (39)
- Study investigating proximate composition of leaves yielded 11.24% moisture, 4.75% ash, 6.43% crude protein, 23.96% crude fiber, 9.91% carbohydrate, and 79.17 kcal/100g energy. Leaves yielded 0.007% iron, 1.240% calcium, 0.075% sodium, 0.195% magnesium, 0.100% ppm potassium, and 0.040% phosphorus. (43)
- Methanolic crude extract of leaves yielded 11.51% alkaloid, 2.48% triterpenoid, 2.37% flavonoid, 7.68% tannin, 2.16% saponin, 2.5r3% polyphenol. Trans-2-[2-(trifluoromethyl)phenyl]-10b-10c-dimethyl-10b,10c-dihydropyrene was obtained at purity of 79.18% (22.17% yield) from leaves. (43)
- Study of dichloromethane extracts of C. inophyllum yielded friedelin (1), squalene (2), canophyllic acid (3), and a mixture of canophyllalic acid (4a) and canophyllol (4b) from the leaves; and 1 and taraxasterol (5) from twigs. (45)
Properties
- Considered anti-inflammatory, antiviral, anticancer, antibacterial, anti-platelet aggregation, diuretic.
- Oil is considered vulnerary, cicatrizing, rubefacient and irritant.
- Resin considered sudorific.
- Fruit infusion is considered pectoral.
- Bark is considered astringent, emetic, purgative, demulcent.
- Milky juice is irritant and blinding to the eye.

Parts used
Kernels, bark, resin, oil, leaves.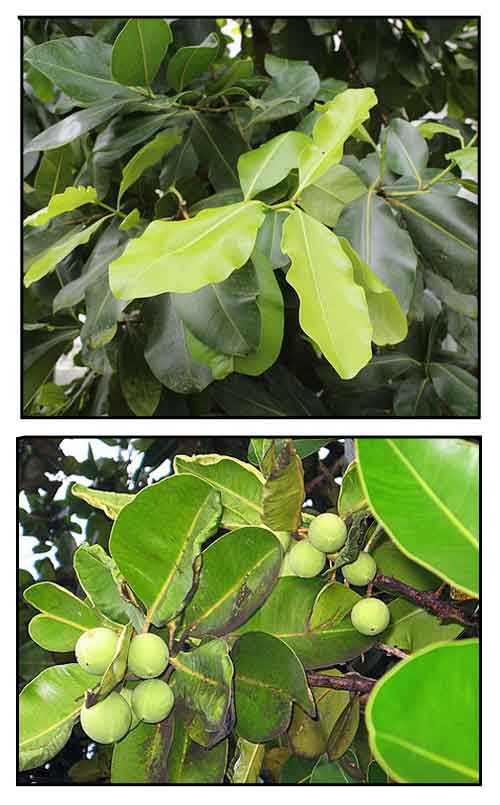 Uses
Edibility
- Pulp of immature fruit reportedly edible; caution is advised because of toxic compounds that might be present in mature fruits. (17)
- Seed oil edible after being refined. (17)
Folkloric
- For gas pains, indigestion, and colic, kernels are crushed and applied to abdomen.
- Infusion or decoction of leaves used for disorders of the eye.
- Balsam (oleoresin) from the bark used as cicatrizant.
- Oleoresin sometimes taken internally for lung ailments.
- Gum resin from the bark applied to wounds and old sores.
- Gum is emetic and purgative.
- Oil used as external application for indigestion and colic.
- Oil used as topical application for healing burns and skin diseases. (12)
- Poultice of leaves or water from pressed leaves used as astringent for hemorrhoids.
- In Indo-China, pounded bark applied to orchitis.
- Infusion of leaves taken for heatstroke.
- Oil used externally as an anti-inflammatory, for rheumatism and gout.
- Crushed kernels on affected joints in rheumatism.
- In Hawaii, bark resin used for ulcers.
- In the Netherland Indies, decoction of bark taken internally after childbirth.
- In Java, used for its diuretic properties.
- In Fiji, leaves used as lotion for sore eyes.
- In Indo-China, pounded bark used used for orchitis; bark also used for dysentery and intestinal colds.
- Astringent juice from the bark used as purgative; decoction used for internal hemorrhages.
- In Samoa, leaves used for skin inflammation, leg ulcers and wounds.
- In India, the gum from wounded branches, mixed with strips of bark and leaves, is steeped in water, and the oil that separates and surfaces is used for application to sore eyes. Also, oil is used as external applications for rheumatism and gout.
- Tamanu oil used externally for acne, psoriasis, eczema, dermatitis.
- Infusion of leaves in water yield a bluish color; applied to inflamed eyes.
- In the Netherland Indies, compound decoction of the bark with other barks, used internally after childbirth, for vaginal discharges, passing of blood and gonorrhea.
- In India, leaves are used for migraines, vertigo, ophthalmia; the seed oil, for gout, leprosy, scabies and dysuria. source.
- In India, oil from seed applied to scabies and eczema. (26)
- In Fiji, tamanu oil used for relieving sciatica pain, shingles, neuralgia, rheumatism and leprous neuritis. (11)
- In Cambodia, leaves used as inhalation for migraine and vertigo. Oil used for scabies. (12)
Others
- Flowers: In the Philippines, fragrant flowers used for bouquets and wreaths. Also, used to decorate Filipino women's hair.
- The thin, rounded seed shells used as containers for "buri" sugar which are sold as confection.
- Illuminant: Oil used as illuminant; for making soap.
- Used as varnish. Also, used to finish wooden bowls.
- Wood: Heartwood is pinkish to reddish brown, demarcated from pale sapwood. Planed surface lustrous. Medium-weight to moderately heavy and moderately hard. Wood seasons slowly with moderate defects like end checking, splitting, cupping, and springing. Rather difficult to saw, and sawn surfaces tend to be woolly. Wood is resistant to termites. (52) Used for making food platters and various handicrafts. Tree used for boat building. Bark used for making shingles. In Hawaii, traditionally used as food vessels; in Palau, for storyboards. (12)
- Tannery: Bark may be suitable for direct use in tannery.
- Cosmetics: Oil used in many cosmetic products. Oil also ideal for use in lotions, creams, and ointments. (12)
- Fuel: Considered a biodiesel potential. (see study below) (14)
- Arrow poison: In Samoa, the plant is used for production of arrow poison.
- Tamanu oil: Nut considered an oddity. When fruits are collected and cracked open, the blond kernel inside yields no apparent oil. However, after a month of rack drying, it turns into a deep, chocolate brown, with a sticky, rich, pleasant smelling oil, easily expressed into the dark green and luxurious tamanu oil. (11)
- Insect repellent: The mature fruit burned as mosquito repellent. (12)
- Agroforestry: Used as hedge plant or as wind breaker; sometimes used in reforestration schemes.   (17)
Studies
• Anti-tumor / Chemopreventive / Phenylcoumarins / Calocoumarin: Study evaluated ten 4-phenylcoumarins isolated from C inophyllum for anti-tumor promoting activity by examining their inhibitory effects on Epstein-Barr virus early antigen (EBV-EA) activation induced by 12-O-tetradecanoylphobol-13-acetate in Raji cells. All the compounds showed inhibitory activity against EBV, without any cytotoxicity. Calocoumarin-A, compound 5, showed most potent activity compared to the other compounds. The compound also showed marked inhibitory effect on mouse skin tumor promotion in an in-vivo two-stage carcinogenesis test. (1)
• Caloxanthone N / Cytotoxicity / Myelogenous Leukemia Cell Line: Cytotoxic prenylated xanthones from Calophyllum inophyllum: Study yielded a new prenylated xanthone, caloxanthone N, with two other known constituents. Study showed compounds with cytotoxicity against chronic myelogenous leukemia cell lines. (2)
• Inophylline A / Larvicidal: Study of roots yielded a new prenylated pyranoxanthone, Inophyllin A, with triterpenes friedelin and stigmasterol and suggests a potential for a natural larvicide. (4)
• Antitumor: Study of ten 4-phenylcoumarins of Calophyllum inophyllum showed some of them with a potential as cancer chemoprotective agents. (5)
• Xanthones: Study of the leaves of C inophyllum isolated a new xanthone named inophyxanthone A and four known compounds: pancixanthone A, gerontoxanthone b, jacareubin and pyranojacareubin. (6)
• Flavonoids: Study of stems and leaves yielded nine compounds: 2-hydroxyxanthone, 4-hydroxyxanthone , 1, 5-dihydroxyxanthone, 1, 7-dihydroxyxanthone, 1, 3, 5-trihydroxy-2-methoxyxanthone, 6-deoxyjacareubin, amentoflavone, kaempferol-3-O-alpha-L-rhamnoside and quercetin-3-O-alpha-L-rhamnoside. (7)
• Antimicrobial: Study of the antimicrobial activity of C. inophyllum the extracts showed both ethanolic and ethyl acetate extracts were more active against both gram positive and negative bacterial and fungal organisms. Results suggest the extracts possess compounds with antimicrobial properties. (8)
• Biodiesel Potential: Study evaluated crude C. inophyllum oil and methyl ester for fatty acid composition, blending and engine performance and emissions. Overall, CI appears to be an acceptable feedstock for future biodiesel production. (14)
• Wound Healing / Antibacterial / Oil from Seeds: Study evaluated seed oil from five sources for antibacterial, cytotoxic, and wound healing properties. All tested oils accelerated in vitro wound closure. The CIO also exhibited antibacterial effects by inhibition of mitotic growth in Gram-positive bacteria and increased release of ß-defensin 2 peptide by macrophages in Gram-negative bacteria. The concentration of CI oil needed for therapeutic effects are lower than concentrations exhibiting cytotoxic effects in vitro. (16)
• Wound Healing / Bark: Study evaluated the wound healing potential of methanol extract of bark in different wound models. Treatment with 10% topical ointment exhibited significant (p<0.001) wound healing activity in excision and incision would models, whereas 400 mg/kbw extract exhibited significant (p<0.001) activity in dead space wound model. MECI extract stimulated wound contraction, decreased epithelization period, and increased tensile strength and hydroxyproline content. (22)
• Termiticidal / Heartwood: Study evaluated heartwood extractives for antitermitic activity. Strong antitermitic activity was extracted using MeOH followed by EtOH and lastly PETETHR. The antitermitic activity showed differences depending on solvents and level of concentration. The strong antitermitic activity by the MeOH solvent was attributed to the presence of hydroxy citronellol and stilbene which can't be extracted by other solvents. (see constituents above) (18)
• Calophyllide / Osteogenic Activity: Study of ethanol extract of fruit yielded a major compound, calophyllide. Calophyllolide dose-dependently enhanced alkaline phosphatase (AP) activity in murine osteoblastic MC3T3-E1 cells, without significant cytotoxicity. Calophyllolide also increased the expression of osteoblastic genes, ALP, and osteocalcin. Calophyllolide induced osteoblasts differentiation as evidenced by increasing mineralization and ALP staining. (19)
• Anti-Inflammatory Effects on COX-2 and iNOS of RAW 264.7 Cells: Study evaluated the anti-inflammatory activities of an acetone extract of C. inophyllum leaves on liposaccharide (LPS)-induced RAW 264.7 cells. Results showed the CIL extract markedly suppressed LPS-induced production of nitric oxide, as well as expression of iNOS, COX-2 and nuclear factor-kappaB (NF-kB) in a dose-dependent manner. (23)
• Antiproliferative Activity / Human Breast Cancer Cells MCF-7 / Fruit: Study evaluated the antiproliferative activity of CI fruit extract against human breast cancer cells MCF-7. Results showed inhibition of proliferation by the fruit extract through induction of apoptosis in MCF-7 cells. (24)
• Anticancer / Human Cancer Breast Line / Leaves: Study evaluated the in vitro anticancer activity of CI ethanolic leaf extract against MCF-7 breast cancer cell line. Results showed concentration dependent cytotoxic effect with an IC50 value of 120 µg/ml. GC-MS analysis yielded 11 different bioactive compounds. (see constituents above) (25)
• Antidiabetic / Antioxidant / Leaves: Study evaluated a leaves extract of C. inophyllum on streptozotocin-induced oxidative stress complications in mice. The leaves extract significantly reduced glucose, cholesterol, triglycerides and enzymatic antioxidant levels. On DPPH assay, there was dose-dependent increase in antioxidant activity. Results showed antidiabetic activity and efficacy in curbing oxidative stress complications. (27)
• Antibacterial / Effect on Anaerobes from Respiratory Tract / Tamanu Oil: Study evaluated the effect of cold-pressed oil from Tamanu on 30 strains of anaerobic bacteria (18 gram negative, 12 gram positive) isolated from the respiratory tract of 12 patients. Gram-positive anaerobic bacteria showed the highest sensitivity (Propionibacterium and Peptostreptococcus, MIC between 1.2-5 mg/ml). Other than use for topical use, results suggest potential as antimicrobial preparations for oral hygiene i.e., toothpastes, gargles, mouthwashes, etc. (28)
• Antibacterial / Analgesic / Toxicity Study / Stem Bark: Study evaluated methanol and chloroform extracts of dried stem barks of Calophyllum inophyllum for antibacterial and analgesic activities using Swiss albino mice. On acute toxicity study, the oral LD50 was greater than 2000 mg/kg. On analgesic testing using hot plate method, the extract showed dose-dependent protection of the mice against thermally induced pain stimulus. A methanol extract showed significant antibacterial properties against Gram+ and Gram- bacteria by agar dilution technique. (29)
• Biodiesel Potential / Kernel Oil: Study characterized kernel oils of Jatropha curcas and da'ok (Calophyllum inophyllum) for physiochemical properties as potential biodiesels including measures of calorific content, iodine value, peroxide value, saponification value, acid value and moisture content. Fatty acid methyl esters (FAMEs) composition showed both crude oils and converted biodiesels contained palmitate (11.8-16.8% by weight), stearate (6.5-8.6%), oleate (40.5-52.6%), and linoleate (22.0-34.2%). Results suggest both kernel oils were good sources of feedstock to produce high quality biodiesel. (30)
• Cytochrome P450 Inhibition: Study evaluated fresh juices expressed from Papua New Guinea medicinal plants and its inhibitory activity on human Cytochrome P450s (CYPs). Fresh material was compared to methanol extracts of dried material. Calophyllum inophyllum was found to inhibited CYP 1A2, CYP 3A4. Results suggest fresh juice from Papua New Guinea medicinal plants exhibit potential to complicate drug therapy in at risk populations. Traditional medicines have the potential to exacerbate adverse drug effects through plant-drug interactions. It is important to identify those herb-drug interactions, especially in countries where herbal medications are widely used. Study suggests methanol extraction of dried material is a reasonable surrogate preparation method for fresh plant samples. (31)
• Anti-Ulcer Activity / Leaves: Study evaluated the anti-ulcer activity of 80% ethanol leaf extract of Calophyllum inophyllum in pylorus ligation-induced and ethanol-induced ulcer models in rats. Ranitidine and sucralfate were used as standard drugs. Outcome measures were volume and pH of gastric fluid, total acidity, ulcer score, % inhibition of ulcer score, ulcer index and % inhibition of ulcer index. Results showed both dose-dependent and time-dependent anti-ulcer effect in the two models. Study for secondary metabolites yielded flavonoids, terpenoids, tannins, and saponins. (32)
• CNS Depressant / Antidiarrheal / Antipyretic / Leaves: Study of an ethanolic leaf extract showed CNS depressant activities using hole cross, hole board, open field models; antidiarrheal activity using castor oil-induc3d diarrhea; and antipyretic activity using Brewer's yeast induced hyperthermia in Swiss albino mice. (33)
• Antioxidant / Lipid Lowering / Leaves: Bioactive compounds (1-5) isolated from the leaves of C. inophyllum were evaluated for antidyslipidemic activity in triton induced hyperlipidemia model. Calophyllic acid (1A) and isocalophyllic acid (1B) mixture, canophyllic acid (4) and amentoflavone (5) showed dose dependent lipid lowering in in vivo experiments. Compounds 1A and 1B mixture and compound 3 showed good antioxidant activity. (34)
• Caloxanthones O and P / Cytotoxicity / Human Gastric Cancer Cell Line / Twigs: Study of an EtOH extract of twigs of Calophyllum inophyllum isolated two new prenylated xanthones, caloxanthone O (1) and caloxanthone P (2). Compound 1 exhibited cytotoxicity against human gastric cancer cell line (SGC-7901), with an IC50 of 22.4 µg/ml. (35)
• Separation of Xanthone and Vitamin E / Nyamplung Leaves: Study isolated and quantified the content of xanthone and vitamin E from a crude extract of nymaplung leaves. Xanthones were detected in the methanol fraction with quality of 94% and vitamin E was detected in the petroleum ether fraction with a quality of 99%. (36)
• Oil for Atopic Dermatitis: Review examines previous in vitro and in vivo studies on atopic dermatitis (AD)-relevant pharmacological properties of tamanu oil as novel treatment option for AD. There is a lot of evidence supporting the possible use of tamanu oil for AD treatment. Active compounds need to be identified and mechanism of action elucidated. In vitro studies using keratinocytes induced with TNF-α and IFN-γ to model AD can be used to study anti-inflammatory and skin barrier repair abilities of tamanu oil. In vivo models in transgenic mice could also be employed. The inexpensive extraction process and natural origin makes it an attractive remedy for AD treatment. (37)
• Improved Antioxidant Properties of Seed Oil: Ethanol extraction from resin part of Tamanu oil yielded two neutral and acidic resins fractions with high phenolics, flavonoids, and pyranocoumarins concentrations. LPLC/HPLC separation identified 15 metabolites, among then calanolide D and 12-oxocalanolide A (both in neutral fraction). All extracts and metabolites demonstrated increased free radical scavenging, antioxidant, anti-inflammatory, antimicrobial, and antimycobacterial activity compared to Tamanu oil and its de-resinated lipid phase. Results promote resinous ethanol-soluble Tamanu oil extracts as a useful multifaceted and renewable medicinal resource. (38)
• Biological Activity of Polynesian Calophyllum inophyllum Oil Extract on Human Skin Cells: Skin-active effect of Tamanu-oil emulsion was evaluated on human skin cells (keratinocytes and dermal fibroblasts) and showed cell proliferation, glycosaminoglycan and collagen production, and wound healing activity. Transcription analysis of treated cells revealed gene expression modulation, cell adhesion, and cell proliferation. The presence of bioactive neoflavonoids in the oil emulsion may contribute to the biological activities. (40)
• Antiarthritic / Bark and Seeds: Study evaluated the antiarthritic activity of ethanol extract of stem bark and seeds of C. inophyllum in Freund's adjuvant induced arthritic Wistar albino rat model. Extracts of seeds and bark showed maximum inhibition at 250 µg/mL in proteinase inhibition and hemolysis assays. LD50s of bark and seed extracts were greater than 5000 and 2000 mg/kg p.o., respectively. In Freund's adjuvant induced arthritic rat model, bark, seed, and diclofenac treatment showed 28.57, 36.36, and 43.51% maximum reduction in rat paw edema volume, respectively. Histological and radiological evaluation confirmed the antiarthritic effects. (41)
• Seed Oil Nanoemulsion as Wound Healing Agent: Efficient delivery systems of C. inophyllum in the form of nanoemulsion were optimized to enhance stability and ensure therapeutic efficiency as a potential agent for various biomedical applications. In vitro wound healing results demonstrated that the CSO in nanoemulsion form can promote wound healing by enhancing the proliferation and migration of epidermal cells. (42)
• Antiaging / Fruit: Study evaluated the in vitro antiaging property of C. inophyllum fruit extract in Saccharomyces cerevisiae BY611 strain using chronological lifespan study, anti-oxidative stress assays, real-time quantitative polymerase chain reaction (RT-qPCR) to study regulation of superoxide dismutase (SOD) and Sirtuin 1 (SIRT1) genes and SOD enzyme and SIRT1 protein activity assays. Results showed CI fruit extract exhibited antiaging properties by upregulating the SOD and SIRT1 genes and reducing oxidative stress in S. cerevisiae BY6611 treated with CIFE extract. (44)
• Extraction of Coumarin Mixture from Tamanu Oil / Antioxidant: Tamanu seed oil is used for traditional remedies and cosmetic ingredients. Dried seeds produces an oil with 50-75% yield. The seed oil is a source of coumarins, one the eminent groups of phenolics, which have anticancer, antimicrobial, anti-inflammatory, anticoagulant, antiviral, wound healing, anti-HIV properties. Study reports on the multi-stage extraction of coumarin mixture from tamanu oil. At 400 ppm, the 90% ethanol showed highest DPPH inhibition (57.72%) with IC50 of 305ppm. (46)
• Anti-Inflammatory / Anti-Arthritis / Leaves: Study evaluated active constituents from various extracts of leaves for anti-inflammatory and anti-arthritis activity. Maximum phytoconstituents along with flavonoids were observed in ethanol extracts of leaves of C. inophyllum. Fractions 6 and 7 from leaves exhibited moderate to highly anti-inflammatory and anti-arthritis activity, which was attributed to the presence of polyphenols and flavonoids. (47)
• Silver Nanoparticles / Antimicrobial / Leaves: Study reports on the rapid, easy, eco-friendly green synthesis of silver nanoparticles using C. inophyllum leaf extract. The AgNPs exhibited good antimicrobial potential against tested bacterial and fungal pathogens. (48)
• Anti-Inflammatory / Analgesic / Seeds: C. inophyllum seeds are used to treat scabies and alleviate inflammation associated with dental caries. Study evaluated the analgesic and anti-inflammatory activities of various extracts and fractions of seeds of C. inophyllum using invivo models in mice. Flavonoids, anthocyanins, phenolic compounds, and tannins were detected in the seeds. Ethanol extract inhibited inflammation induced by carrageenan in a dose-dependent manner (p<0.001); the aqueous fraction and ethanol extract at 100 mg/kg showed similar anti-inflammatory activity (p<0.05). The EE at 100 mg/kg showed comparable activity to indomethacin (10 mg/kg). The EE did not exhibit toxicity at active doses of 100 and 200 mg/kg. (49)
• α-Amylase and α-Glucosidase Antidiabetic Potential / Essential Oils: Study evaluated the α-amylase and α-glucosidase activities of ten essential oils from ten parts (leaf, leaf stalk, flower, seed, pod, peel, stem wood, stem bark, root wood, root bark) of C. inophyllum by hydro-distillation. Percentage yields (w/v) were between 0.219 and 0.506 %. Acarbose was used as standard anti-diabetic drug. The high α-amylase and α-glucosidase inhibitory activity of pod essential oil (IC50 0.038±0.04 mg/ml) in comparison with the reference drug acarbose (0.032±0.04) may be due to the presence of some bioactive phytoconstituents. Results suggest a potential source of antidiabetic drugs for the management of postprandial hyperglycemia. (50)
• Vaginitis Treatment / Anti-Inflammatory / Analgesic / Seeds: Study evaluated the effect of tamanu oil applied to human fibroblast cell line (normal human dermal fibroblasts-NHDFs) and to isolated human fibroblasts from the vagina (human vaginal fibroblasts-HVFs) in vitro. Viability of cells was evaluated by MTT assay after incubation with tamanu oil and with electroporation. Tamanu oil increased the proliferation of cells and the amount of collagen III. The CI extract stimulated proliferation of commercial fibroblasts. Results showed the extract stimulates the healing process via increased expression of collagen type III, along with anti-inflammatory, analgesic, and antiseptic qualities. (51)
• Potential of Nut Oil in Cosmeceutical Products: Study investigated the composition and antioxidant activity of C. inophyllum nut oil and formulation of the oil as a cosmeceutical product. GC-MS study showed calophyllolide (4.35%) as a major component, along with calanolide A, inophyllum D, and inophyllum B. TPC was 25.9 ± 1.2 mg GE/g oil. Free radical scavenging activity approximated that of synthetic Trolox. Thermodynamic stability tests showed the emulsions and microemulsions remained stable. Results suggest the nut oil has potential for use as a cosmeceutical product, and the emulgels and microemulsions exhibited good characteristics as a potential skin antioxidant. (53)
• Potential UV-Protection / Natural Ultraviolet Screening Agent / Seeds: Due to harsh environment of its natural habitat, C. inophyllym has developed UV-absorbing secondary metabolites. Study evaluated seed extracts of C. inophyllum subjected to in vitro UV, Fourier-transform infrared (FTIR) spectroscopy, and cytotoxicity analysis. An n-hexane seed extract showed highest UVA and UVB absorption efficiencies. On Invitro cytotoxicity test on human skin fibroblast, the seed oil showed low cytotoxicity. Results suggest the seed extracts has potential as material for a natural high-efficiency screening agent. (54)
• Antibacterial / Antifungal / Anti-HIV / Leaves: Study evaluated the pharmacologic effects of C. inophyllum leaf extract on HIV, bacteria, and fungi causative of many human diseases. Among purified compounds, inophyllum C and E exhibited significant antibacterial and antifungal properties. Inophyllum E was more potent than Inophyllum C in antimicrobial activity while Inophyllum B showed highest antiretroviral activity using HIV-RT inhibition assay (RT assay kit [Roche]). (55)
• Oil as Alternative Cutting Fluid: C. inophyllum seed is rich in oil (65-75% oil content) with potential as non-edible oil. It has been studied as ingredient for soap, beauty products, and medicines. Study evaluated the feasibility of C. inophyllum oil for cutting fluid. The oil from seed is made in several steps: drying, milling, oven drying, pressing, mechanical extraction and separation by washing. Compared to other mineral cutting fluids, the physical characteristics of CI are not much different. Results suggest CI oil can be used as a new environmentally friendly cutting fluid. (Cutting fluids are used to reduce friction through lubrication, which is a tribological phenomenon characteristic of machining processes, occurring at the contact between workpiece and tool (Pawlak et al, 2004) (56)
Availability
- Wild-crafted.
- Tamanu oil in the cybermarket.