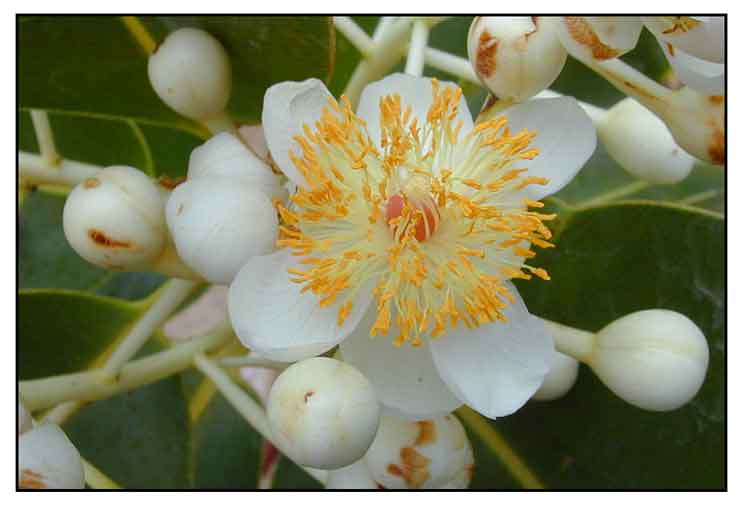 Botany
Palo-maria is a medium-sized or large tree, reaching a height of 20 meters. Leaves are leathery, shiny, elliptic to obovate-elliptic, 9 to 18 centimeters long, narrowed to a pointed base and somewhat rounded tip. Flowers are fragrant, white, 2 to 2.5 centimeters diameter, borne on axillary racemes 5 to 10 centimeters long. Fruit is round, yellow, smooth, pulpy, 3 to 4 centimeters in diameter.
Distribution
-Throughout the Philippines, along the seashore, where it forms a characteristic strand.
- Cultivated for in Manila and large towns use as shade tree on lawns, avenues and boulevards, particularly along the beach.
- Also found in India to tropical East Africa and through Malaya to Polynesia.

Constituents
- Plant yields coumarins, xanthones, triterpenes, and steroids. Methanol extract of leaves yield flavanoidal glycosides and steroidal glycosides.
(13)
- Kernels reported to contain 70-75% bitaog oil.
- Oil is reported to contain a poisonous resin to which its color and odor are due.
- Bark yields 11.9 % tannin; exudes oleoresin when cut.
- Resin reported to contain benzoic acids.
- Seeds contain coumarins: calanolide A and B.
- Various heartwood extracts yielded constituents: abietadiene, β- funebrene, coniferyl alcohol, agarospirol,
presilphiperfolan-8-ol, incensole acetate, hexenyl cinnamate, hydroxy citronellol, indipone, larixol, tetradectene, stilbene, isobornyl isobutanoate, occidenol, thujaplicinol, carvacrol, methyl ether, thymol,
rosifoliol, isoprenyl cinnamate-(E)-methyl, methyl p-tert butylphenyl acetate, hexadecanoic acid, thujic acid, allo-hedycaryol, isovalencenol<(E). (see study below) (18)
- Phytochemical analysis of leaves yielded nine different compounds: linoleic acid (32.25%), methyl oleate (32.25%), phytol (17.82%), methylisostearate (11.96%), diphenylmethane (8%), 2-phenazinamine (8%), adenanthin (1.47%), carbazole (1.45%), 5-aminomethyl- dibenzosuberane (0.28%). (20)
- Phytochemical analysis of various leaf extracts (methanol, petroleum ether, and chloroform) yielded alkaloids, carbohydrates, glycosides, saponins, phenols, and tannins. (21)
- GC-MS analysis of ethanolic leaf extract yielded 11 bioacitve compounds: (1) caryophyllene,
(2) Z,Z,Z-1,4,6,9-nonadecatetraene, (3) 1,4-Methanoazalen-3-ol, decahydro-1, 5,5,8a-tetramethyl (15-(1a,3a,3aa,4a,8aa), (4) Z,E-2-Methyl-3, 13,Octadecadein-1-ol, (5) E,E,Z-1,3,12-Nonadecatriene-5,14-diol, (6) Hexadecanoic acid, ethyl ester, (7) Phytol, (8) Dasycarpidan-1-methanol,acetate(ester), (9) Benzo(b,t)-1,2,4- triazolo(4,3,-d)=1,4-Oxazepine-6, 7-dicarbonitrile, 3-phenyl, (10) 2H-Benzo(cd)pyrene-2,6(1,H)-dione, 3,5,7,10-tetrahydroxy-1, and (11) n-Heptane, 1,1-bi(4,4-dimethylhexan-2,6-dione-1-yl). (see study below) (25)
Properties
- Considered anti-inflammatory, antiviral, anticancer, antibacterial, anti-platelet aggregation, diuretic.
- Oil is considered vulnerary, cicatrizing, rubefacient and irritant.
- Resin considered sudorific.
- Fruit infusion is considered pectoral.
- Bark is considered astringent, emetic, purgative, demulcent.
- Milky juice is irritant and blinding to the eye.

Parts used
Kernels, bark, resin, oil, leaves.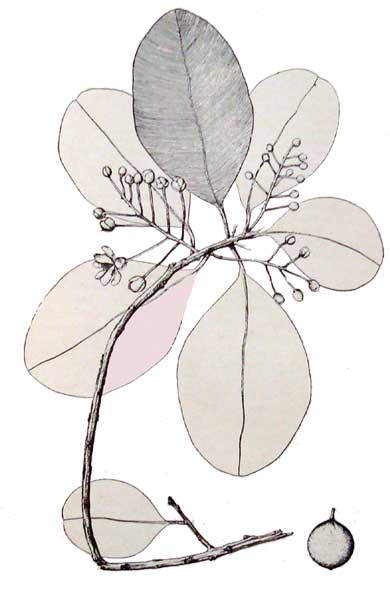 Uses
Edibility
- Pulp of immature fruit reportedly edible; caution is advised because of toxic compounds that might be present in mature fruits. (17)
- Seed oil edible after being refined. (17)
Folkloric
- For gas pains, indigestion, and colic, kernels are crushed and applied to abdomen.
- Infusion or decoction of leaves used for disorders of the eye.
- Balsam (oleoresin) from the bark used as cicatrizant.
- Oleoresin sometimes taken internally for lung ailments.
- Gum resin from the bark applied to wounds and old sores.
- Gum is emetic and purgative.
- Oil used as external application for indigestion and colic.
- Oil used as topical application for healing burns and skin diseases. (12)
- Poultice of leaves or water from pressed leaves used as astringent for hemorrhoids.
- In Indo-China, pounded bark applied to orchitis.
- Infusion of leaves taken for heatstroke.
- Oil used externally as an anti-inflammatory, for rheumatism and gout.
- Crushed kernels on affected joints in rheumatism.
- In Hawaii, bark resin used for ulcers.
- In the Netherland Indies, decoction of bark taken internally after childbirth.
- In Java, used for its diuretic properties.
- In Fiji, leaves used as lotion for sore eyes.
- In Indo-China, pounded bark used used for orchitis; bark also used for dysentery and intestinal colds.
- Astringent juice from the bark used as purgative; decoction used for internal hemorrhages.
- In Samoa, leaves used for skin inflammation, leg ulcers and wounds.
- In India, the gum from wounded branches, mixed with strips of bark and leaves, is steeped in water, and the oil that separates and surfaces is used for application to sore eyes. Also, oil is used as external applications for rheumatism and gout.
- Tamanu oil used externally for acne, psoriasis, eczema, dermatitis.
- Infusion of leaves in water yield a bluish color; applied to inflamed eyes.
- In the Netherland Indies, compound decoction of the bark with other barks, used internally after childbirth, for vaginal discharges, passing of blood and gonorrhea.
- In India, leaves are used for migraines, vertigo, ophthalmia; the seed oil, for gout, leprosy, scabies and dysuria. source.
- In India, oil from seed applied to scabies and eczema. (26)
- In Fiji, tamanu oil used for relieving sciatica pain, shingles, neuralgia, rheumatism and leprous neuritis. (11)
- In Cambodia, leaves used as inhalation for migraine and vertigo. Oil used for scabies. (12)
Others
- Flowers: In the Philippines, fragrant flowers used for bouquets and wreaths. Also, used to decorate Filipino women's hair.
- The thin, rounded seed shells used as containers for "buri" sugar which are sold as confection.
- Illuminant: Oil used as illuminant; for making soap.
- Used as varnish. Also, used to finish wooden bowls.
- Wood: Used for making food platters and various handicrafts. Tree used for boat building. Bark used for making shingles. In Hawaii, traditionally used as food vessels; in Palau, for storyboards. (12)
- Tannery: Bark may be suitable for direct use in tannery.
- Cosmetics: Oil used in many cosmetic products. Oil also ideal for use in lotions, creams, and ointments. (12)
- Fuel: Considered a biodiesel potential. (see study below) (14)
- Arrow poison: In Samoa, the plant is used for production of arrow poison.
- Tamanu oil: Nut considered an oddity. When fruits are collected and cracked open, the blond kernel inside yields no apparent oil. However, after a month of rack drying, it turns into a deep, chocolate brown, with a sticky, rich, pleasant smelling oil, easily expressed into the dark green and luxurious tamanu oil. (11)
- Insect repellent: The mature fruit burned as mosquito repellent. (12)
- Agroforestry: Used as hedge plant or as wind breaker; sometimes used in reforestration schemes.   (17)
Studies
•Anti-tumor / Chemopreventive: Cancer chemopreventive agents, 4-phenylcoumarins from Calophyllum inophyllum: A screening of ten 4-phenylcoumarins isolated from C inophyllum showed some of them might have a potential for cancer chemoprevention. (1)
• Cytotoxicity: Cytotoxic prenylated xanthones from Calophyllum inophyllum: Study yielded a new prenylated xanthone, caloxanthone N, with two other known constituents. Study showed compounds with cytotoxicity against chronic myelogenous leukemia cell lines. (2)
• Inophylline A / Larvicidal: Study of roots yielded a new prenylated pyranoxanthone, Inophyllin A, with triterpenes friedelin and stigmasterol and suggests a potential for a natural larvicide. (4)
• Antitumor: Study of ten 4-phenylcoumarins of Calophyllum inophyllum showed some of them with a potential as cancer chemoprotective agents. (5)
• Xanthones: Study of the leaves of C inophyllum isolated a new xanthone named inophyxanthone A and four known compounds: pancixanthone A, gerontoxanthone b, jacareubin and pyranojacareubin. (6)
• Flavonoids: Study of stems and leaves yielded nine compounds: 2-hydroxyxanthone, 4-hydroxyxanthone , 1, 5-dihydroxyxanthone, 1, 7-dihydroxyxanthone, 1, 3, 5-trihydroxy-2-methoxyxanthone, 6-deoxyjacareubin, amentoflavone, kaempferol-3-O-alpha-L-rhamnoside and quercetin-3-O-alpha-L-rhamnoside. (7)
• Antimicrobial: Study of the antimicrobial activity of C. inophyllum the extracts showed both ethanolic and ethyl acetate extracts were more active against both gram positive and negative bacterial and fungal organisms. Results suggest the extracts possess compounds with antimicrobial properties. (8)
• Biodiesel Potential: Study evaluated crude C. inophyllum oil and methyl ester for fatty acid composition, blending and engine performance and emissions. Overall, CI appears to be an acceptable feedstock for future biodiesel production. (14)
• Wound Healing / Antibacterial / Oil from Seeds: Study evaluated seed oil from five sources for antibacterial, cytotoxic, and wound healing properties. All tested oils accelerated in vitro wound closure. The CIO also exhibited antibacterial effects by inhibition of mitotic growth in Gram-positive bacteria and increased release of ß-defensin 2 peptide by macrophages in Gram-negative bacteria. The concentration of CI oil needed for therapeutic effects are lower than concentrations exhibiting cytotoxic effects in vitro. (16)
• Wound Healing / Bark: Study evaluated the wound healing potential of methanol extract of bark in different wound models. Treatment with 10% topical ointment exhibited significant (p<0.001) wound healing activity in excision and incision would models, whereas 400 mg/kbw extract exhibited significant (p<0.001) activity in dead space wound model. MECI extract stimulated wound contraction, decreased epithelization period, and increased tensile strength and hydroxyproline content. (22)
• Termiticidal: Study evaluated heartwood extractives for antitermitic activity. Strong antitermitic activity was extracted using MeOH followed by EtOH and lastly PETETHR. The antitermitic activity showed differences depending on solvents and level of concentration. The strong antitermitic activity by the MeOH solvent was attributed to the presence of hydroxy citronellol and stilbene which can't be extracted by other solvents. (see constituents above) (18)
• Calophyllide / Osteogenic Activity: Study of ethanol extract of fruit yielded a major compound, calophyllide. Calophyllolide dose-dependently enhanced alkaline phosphatase (AP) activity in murine osteoblastic MC3T3-E1 cells, without significant cytotoxicity. Calophyllolide also increased the expression of osteoblastic genes, ALP, and osteocalcin. Calophyllolide induced osteoblasts differentiation as evidenced by increasing mineralization and ALP staining. (19)
• Anti-Inflammatory Effects on COX-2 and iNOS of RAW 264.7 Cells: Study evaluated the anti-inflammatory activities of an acetone extract of C. inophyllum leaves on liposaccharide (LPS)-induced RAW 264.7 cells. Results showed the CIL extract markedly suppressed LPS-induced production of nitric oxide, as well as expression of iNOS, COX-2 and nuclear factor-kappaB (NF-kB) in a dose-dependent manner. (23)
• Antiproliferative Activity / Human Breast Cancer Cells MCF-7 / Fruit: Study evaluated the antiproliferative activity of CI fruit extract against human breast cancer cells MCF-7. Results showed inhibition of proliferation by the fruit extract through induction of apoptosis in MCF-7 cells. (24)
• Anticancer / Human Cancer Breast Line / Leaves: Study evaluated the in vitro anticancer activity of CI ethanolic leaf extract against MCF-7 breast cancer cell line. Results showed concentration dependent cytotoxic effect with an IC50 value of 120 µg/ml. GC-MS analysis yielded 11 different bioactive compounds. (see constituents above) (25)
• Antidiabetic / Antioxidant / Leaves: Study evaluated a leaves extract of C. inophyllum on streptozotocin-induced oxidative stress complications in mice. The leaves extract significantly reduced glucose, cholesterol, triglycerides and enzymatic antioxidant levels. On DPPH assay, there was dose-dependent increase in antioxidant activity. Results showed antidiabetic activity and efficacy in curbing oxidative stress complications. (27)

Availability
- Wild-crafted.
- Tamanu oil in the cybermarket.