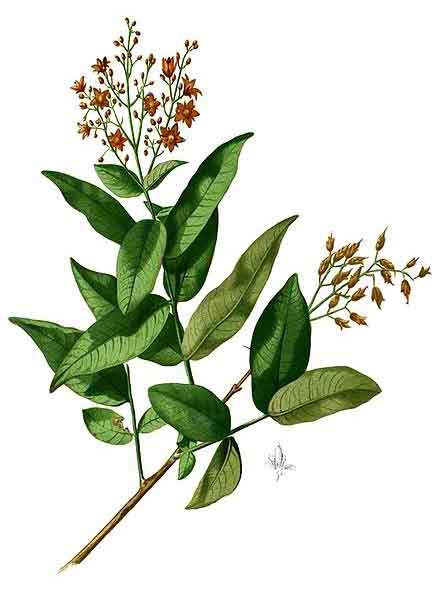 Botany
Panagulingon is a small tree or an erect shrub. Bark is longitudinally checked, brownish with occasional whitish spots. Branchlets are smooth and very slender. Leaves are opposite, well scattered, narrowly oblong to broadly oblong, paler beneath, 10 to 14 centimeters long, 3 to 4 centimeters wide, entire, slenderly pointed at the apex, blunt at the base, and borne upon petioles 5 to 8 millimeters long. Flowers are deep-red, borne on terminal panicles which are sometimes elongated. Capsules are brown, fusiform, and about 1 centimeter long, opening from the apex toward the base, and containing flat seeds with short wings.
Distribution
- Common in thickets and secondary forests, at low and medium altitudes from Cagayan to Sorsogon Provinces in Luzon; and in Mindoro, Masbate, Leyte, Bucas Grande, and Mindanao.
- Also occurs in Celebes, Indonesia.
Constituents
- Study of rot bark yielded isolated a new xanthone, sumatranaxanthone A. (1)
- Study of leaves, twigs and stem bark yielded six new xanthones, cratoxyarborenones A-F, along with known compound, vismione B, and two novel anthraquinobenzophenones, cratoxyarborequinones A and B, and known compounds, 2,4,6-trihydroxybenzophenone 4-O-geranyl ether and delta-tocotrienol. (2)

Parts used
Roots, leaves, bark.

Uses
Folkloric
- In the Philippines, a decoction of roots, leaves, and bark is given to women after childbirth as protective medicine.
- Young leaves are chewed for relief of coughs.
- In Indonesia, used for infections, dysentery, cold and toothache. (1)
Others
- Wood: Use as firewood or charcoal.

Studies
• No studies found.

Availability
Wild-crafted.