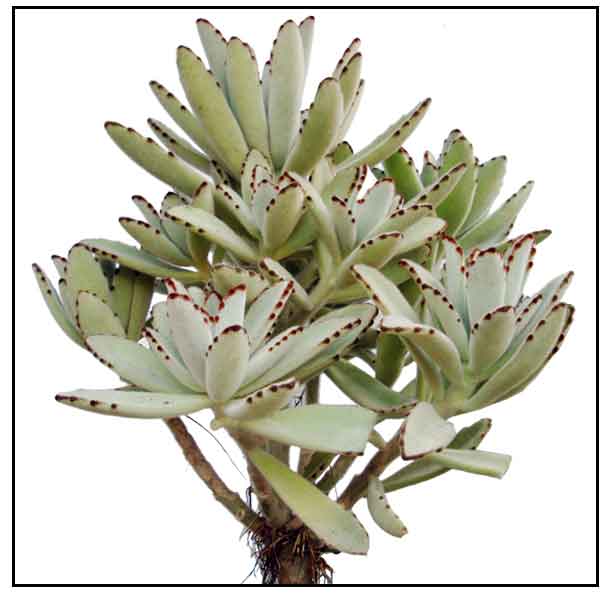 Botany
Panda is a perennial and succulent, low-growing herb with stems and leaves densely covered with velvety white hairy covering. Loose rosette of oval leaves are borne on woody stems. Leaves are soft, fleshy, grayish or silvery, oblong-obovate and up to 7 centimeters long; margins have patches of orange on young leaves and dark brown on mature ones, and shallowly crenate towards the upper portion.
Distribution
- Native to Madagascar.
- Introduced to the Philippines after WWII.
- Grows well in the Baguio area; cultivated as ornamental plant.
Constituents
- Study of ethanolic extract for secondary metabolites isolated 14 compounds: α-amyrin acetate (1), friedelin (2), glutinol (3), 1-dotriacontanol (4), phytol (5),Stigmasta-7,25-dien-3β-ol (6), β-sitosterol (7), Isorhamnetin (8), 2,3-dihydroxypropyl tetradecanoate (9), Eriodictyol (10), Gallic acid (11), quercetin (12), kampferol-3-O-Rutinoside (13) and isovitexin (14). (see study below) (3)
Uses
Folkloric
• No reported folkloric medicinal use in the Philippines.
Studies
• Antioxidant / Cytotoxic / Antimicrobial: An ethyl acetate fraction showed the most potent radical scavenging on DPPH assay. The n-butanol fraction exhibited the highest cytotoxic activity against tested cell lines. Different crude extracts showed varying antimicrobial activity against most of the specific organisms tested. (see constituents above) (3)
Toxicity
• A blog reports all plant parts are poisonous if ingested.
• When tested for toxicity on 2-week old Leghorn chicks, Kalanchoe tomentosa, K tomentosa X K beharensis, and 4 cultivars of K blossfeldiana were nontoxic at the highest dosage levels tested. (1)

Availability
Ornamental cultivation.