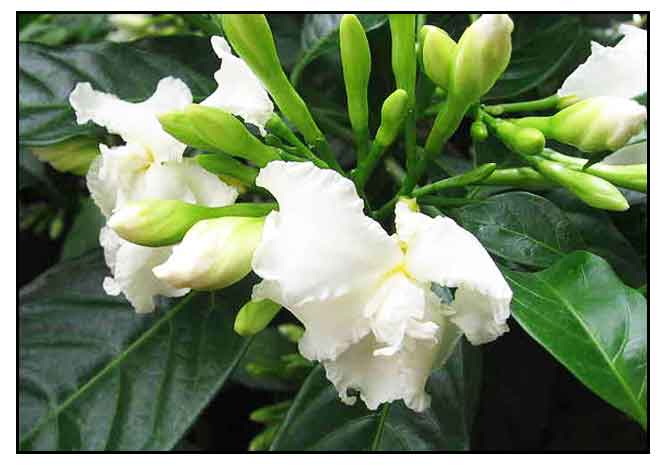 Botany
Pandakaking-Tsina is an erect, smooth, much-branched shrub 2 to 3 meters in height, with abundant, milky sap. Leaves are opposite, each pair unequal, glossy, elliptic-ovate to elliptic-oblong, 6 to 15 centimeters long, pointed at both ends. Flowers are usually double, white, fragrant, and borne singly or in pairs on peduncles at the axils of the leaves. Corolla-tube is about 2 centimeters long and the limb is spreading, about 5 centimeters in diameter, and yellow at the center.
Distribution
- Of recent introduction in the Philippines.
- Cultivated in Manila and large towns for its flowers.
- Origin is unknown, but now cultivated in most tropical countries.
Constituents
- Roots contain resin, extractive matter and a bitter alkaloid.
- The milky juice contains caoutchouc and resin.
- Studies have yielded alkaloids and non-alkaloid constituents, flavonoids, phenyl propanoids, phenolic acids and enzymes.
- Phytochemical screening of an ethanol extract yielded steroids, tannins, saponins, gums and reducing sugar.
- Phytochemical screening of hydroalcoholic and aqueous extracts of leaves yielded the presence of alkaloids, tannins, resins, proteins, amino acids, flavonoids, saponins, phenols, glycosides, steroids, triterpenoids, fixed oils, and fats. (see study below) (30)
- Study of ethanol, acetone, and water extracts for amino acids yielded 2-aminobutyric acid (E,W), proline (A,W), cysteine hydrochloride (W), leucine and iso-leucine (W). (31)
Properties
- Considered antioxidant, anti-infection, anti-inflammatory, anti-tumor, analgesic.

Parts used
Root, bark, leaves, sap, flowers.

Uses
Folkloric
- Root or root-bark chewed for relief of toothache.
- Root-bark used as anthelminthic.
- Root, rubbed with water into a thin paste, used as vermicide; also, mixed with lime juice, applied to remove opacities of the cornea and other eye diseases.
- Milky juice, mixed with oil, rubbed into the head to relieve eye pains.
- Juice of flowers mixed with oil used to relieve burning sensation of sore eyes; also used for skin diseases.
- Milky juice of leaves used as drops for ophthalmia; also used as cooling application to irritable surfaces and wounds to prevent inflammation.
- Decoction of leaves used for coughs.
- In India, root used as local anodyne.
- In Ayurveda, Chinese and Thai traditional medicine, used for fever, pain and dysentery.

Studies
• Phytochemicals: Study of roots and stems of Tabernaemontana divaricata isolated six compounds: bis
(2, 3-dihydroxypropyl) octacosanedioate, tetratriacontanol, palmitic acid, glycerol monopalmitate, ß-sitosterol and ß-daucosterol. (1)
• Acethylcholinesterase Inhibitory Effect / Alzheimer Disease: Study demonstrated the T. divaricata extract could be beneficial in slowing the process of memory loss with additional benefits on learning and memory process. Results suggest TDE could be used to develop a new acetylcholinesterase inhibitor for the treatment of Alzheimer's disease.
• Reversible Acethylcholinesterase Inhibitory Effect: Study showed T. divaricata extract is a reversible AChE-inhibitor and could be beneficial as a novel therapeutic agent for AD. (2)
• Decreased Acethylcholinesterase Activity / Alzheimers: Study suggests subchronic administration of TDE might prevent beta 25-35 peptides-induced memory deficits by decreasing the AChE activity level. It presents a potential nootropic supplement for elderly people with Alzheimer's dementia. (4)
• Cholinergic Alkaloids: At least 66 alkaloids have been isolated from T. divaricata. Possible cholinergic candidate alkaloids are: coronaridine, voacangine, isovoacristine, (19,20) dihydrotabemamine, and (19,20) dihydroervahanine A. (5)
• Anti-Fertility / Estrogenic Activity: Study of ethanolic extracts of TD leaves on immature female rats exhibited oestrogenic activity. Enhanced uterine weight and increase in luminal epithelium height and histological changes suggest the TDE may be useful in anti-fertility therapy. (6)
• Antioxidant / Anti-Inflammatory / Flowers: Study of the ethanol extract of T. coronaria flowers showed anti-inflammatory activity attributed to its free radical scavenging properties. (7)
• Gastroprotective: Study investigated the anti-ulcer property of T. divaricata flower methanolic extract. Results showed remarkable gastroprotective effect with significant decrease in volume of gastric juice, free and total acidities and ulcer index. (8)
• Antidiabetic / Cytotoxic: Study investigated the antidiabetic activity of a methanol extract of flowers on alloxan-induced diabetic mouse model. Results showed antihyperglycemic effect and low cytotoxicity may provide new molecules for the treatment of diabetes. (9)
• Antimicrobial / Antioxidant / Stems: Study investigated the biologic activities of stem extracts. Results showed antimicrobial, anti-inflammatory and antioxidant effects. A crude ethanol extract exhibited inhibition of gram positive and gram negative bacteria, especially Staphylococcus aureus. An ethyl acetate fraction showed the highest antioxidant activities. (10)
• Antinociceptive: Crude ethanol extract of leaves of T. divaricata produced significant writhing inhibition i acetic acid-induced mice model. (11)
• Antioxidant / Flowers and Leaves: Study evaluated the antioxidant activity of flower and leaves of Td. Results showed significant antioxidant activity. (12)
• Anticonvulsant: An alcoholic extract of flowers of Td tested in animal models showed anticonvulsant property with decreased duration of tonic extensor phase. Results lend pharmacologic credence to the plant's folkloric and ethnomedical use in the treatment of epilepsy. (13)
• Cytotoxic / Antioxidant: A methanolic extract of leaves showed potent dose-dependent antioxidant property in all antioxidant assays. The extract also showed significant cytotoxic effect suggesting the presence of potent bioactive principles with a potential for antiproliferative, antitumor, and pesticidal applications. (14)
• Anxiolytic: Study evaluated the anxiolytic activity of alcoholic extract of Tabernaemontana divaricata on mice models using EPM (Elevated Plus Maze), OFT (Open-Field Test) and LDT (Light-Dark Transition) tests. Results showed significant anxiolytic activity attributed to the presence of alkaloids, flavonoids and other constituents. (16)
• Antidiabetic / Cytotoxic: Study evaluated the antidiabetic activity of a methanol extract of leaves of T. divaricata leaves on alloxan induced diabetic mouse model. The extract was also subjected to Brine shrimp lethality assay. Results showed T. divaricata has potential antidiabetic activity and low toxicity. (17)
• Antibacterial / Bovine Mastitis: Study of dried leaves yielded steroids, tannins, saponins, gums, and reducing sugar. It was evaluated for antibacterial activity against causative organisms of Bovine Mastitis. Ethanol, methanol and aqueous extracts showed maximum potency against infectious pathogens S. aureus, Coagulase negative Staph aureus Streptococcus agalactae, Strep uberis and E. coli. (18)
• Analgesic / Anti-Inflammatory / Flowers: Study of an ethanolic extract of T. divaricata flowers showed analgesic and anti-inflammatory effects on a Wistar rat model evaluated by acetic acid-induced writhing, hot plate reaction time and carrageenan-induced hind paw edema.(19)
• Antiulcerogenic / Prostaglandin Analogous and Antioxidant / Flowers: Study evaluated the antiulcerogenic effect of a methanolic extract of T. divaricata flowers in aspirin and ethanol induced gastric ulcers. All three test doses exhibited gastroprotective function, with the higher doses being more effective, probably through antioxidant mechanism and enhancement of gastric mucus production. (20)
• Antibacterial / Leaves: Study of various extracts of dried leaves showed maximum potency against infectious pathogens viz Staphylococcus saprophyticus, S. aureus, S. pyogenes, Enterococcus faecalis, Salmonella typhi, E coli, Shigella boydii, S. dysenteriae, and Pseudomonas aeruginosa. (21)
• Anthelmintic / Leaves: Study evaluated fresh and dried flower extracts for anthelmintic activity using Indian earth worms. Results showed anthelmintic activity at various concentrations compared with standard drug Metronidazole. (22) Study of varous extracts of Tabernaemontana coronaria leaves showed potent anthelmintic activity against Pheretima posthuma. Albendazole was as standard. (35)
• Anti-Obesity / Leaves: Study evaluated the potential effect of a methanol extract of aerial parts of T. divaricata on obesity and hyperlipidemia on atherogenic diet induced obese rats. Results showed Td exerted significant anti-obesity and anti-hyperlipidemic effects in rats fed an atherogenic diet. (23)
• Hemostatic Potential / Latex Proteases: Study evaluated the hemostatic potential of T. divaricata and Artocarpus altilis. Caseinolytic activity by both plants was higher than standard proteases. Crude enzymes exhibited coagulant activity on human platelet poor plasma. T. divaricata exhibited significant reduction in clotting time. Results reveal hemostatic potential that validates use of the latex in the management of fresh cuts and wounds. (25)
• Anti-Inflammatory / Leaves: Study evaluated the in vivo anti-inflammatory of T. divaricata aqueous decoction and methanol leaf extract on male albino mice. The methanol leaf extract dose-dependently inhibited croton oil-induced ear edema in mice. A hexane fraction of the ME showed very high activity of inhibition. (26)
• Bioactive Compounds / Antibacterial / Antioxidant: Study isolated three novel compounds: ethyl-4-n-octyl benzoate (1) and ethyl-4- n-decyl benzoate (2) from the flowers and digalactosyl deconate (3) from the latex of T. divaricata. All compounds showed significant antibacterial activity against S. aureus, S. faecalis, Bacillus species, E. coli and P. mirabilis. Compound 1 and 2 showed better radical scavenging activity on DPPH assay. (27)
• Hepatoprotective / DEN and Fe NTA Induced Liver Necrosis: Study of ethanolic extract of whole plant ot T. divaricata against DEN and Fe NTA induced liver necrosis in rat showed a hepatoprotective effect confirmed by histopathological studies. Results suggest a potential use of the extract in the treatment of carcinogen induced hepatic necrosis. (28)
• Anticancer / Flowers: Study evaluated the hydroalcoholic extract of flowers for in-vitro anticancer activity against human cancer cell line (HeLa) by MTT assay on cell growth inhibition. Results showed the flower extract possess moderate anticancer activity with an IC50 vaute greater than 100 µg/ml. (29)
• Antidiarrheal / Leaves: Study evaluated the antidiarrheal activity of hydroalcoholic and aqueous extracts of T. divaricata leaves in rats. Results showed dose dependent protection against castor oil induced diarrhea and marked decrease of gastrointestinal motility. (see constituents above) (30)
• Cardiovascular Effects / Roots: Study evaluated the effect of crude extract of root on cardiovascular activity in anesthetized rats and its possible mechanisms. Results showed dose dependent decrease in systolic pressure, diastolic pressure, and mean arterial blood pressure. In higher doses, there was reduction in heart rate. Results suggest the hypotensive action of the root extract could be through muscarinic cholinergic receptors, in addition to nitric oxide induction. (32)
• Anti-Cataleptic Effects / Leaves: Study evaluated aqueous and ethanolic extracts of leaves on haloperidol induced catalepsy in rats. Both extracts significantly reduced catalepsy (P<0.001) with greater effect at the 150 mg/kg dose. (33)
• Inhibition of Obsessive Compulsive Behavior / Leaves: Study evaluated the effect of ethanolic extract of leaves on obsessive compulsive behavior using marbole-burying apparatus in mice. Results showed dose dependent inhibition of obsessive and compulsive behavior. Fluoxetine, an SSRI, was used as reference drug. (34)
• Biodiesel / Seed Oil: Study reports on the synthesis of T. divaricata seed oil biodiesel. Four fatty acid methyl esters were identified, viz., 27.0 wt.% methyl palmitate (C16:0), 10.54 et.% methyl linoleate (C18:2), 56.23 wt.% methyl oleate (C18:1), and 6.20 wt.% methyl stearate (C18:0). The major fatty acid was oleic acid followed by palmitic acid. Results suggest the oil potential as source of biodiesel and other uses. (36)
• Antifertility Effects on Male Reproduction: Study evaluated the antifertility effect of chronically administered 50% ethanol extract of leaves of TD on male rats. Results showed significant decrease in weight of testes, epididymis, seminal vesicle and ventral prostate. There was dose related reduction in testicular and epididymal sperm count and motility. Results showed dose related effects on male reproduction without alteration of general body metabolism. (37)
• Antiproliferative / Human Laryngeal Carcinoma (HEP2): Study evaluated extracts of aerial parts (leaves, stems, flowers) for inhibitory effects against HEP2 cell line. Results showed the anticancer property of T. divaricata against the human laryngeal carcinoma cell line (Hep 2 cell line). (38)
• Effect on Induced Cognitive Deficits / Decreasefd AChE Activity: Study investigated the effect of T. divaricata on Abeta25-35 peptides-induced cognitive deficits and acetylcholinesterase activity in mice. Findings showed subchronic administration of TD extract might prevent Abeta25-35 peptides induced memory deficits by decreasing the AChE activity level. Results suggest a potential nootropic supplement for the elderly suffering from dementia such as Alzheimer's disease. (39)

Availability
Wild-crafted.