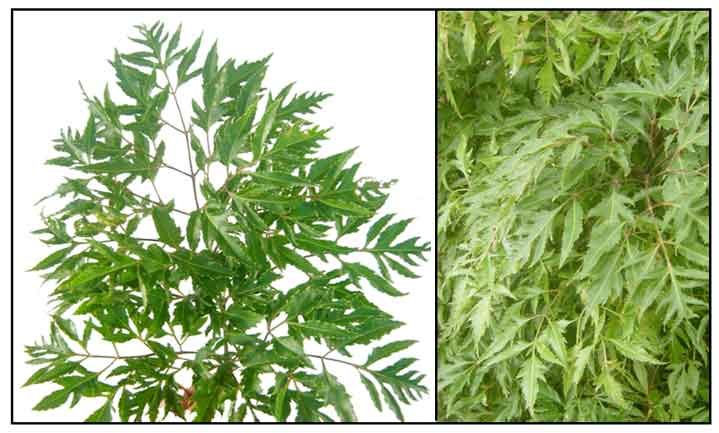 Botany
Papua is an erect shrub, growing growing 1 to 2.5 meters high. Leaves are decompound, 3-pinnate, and up to 30 centimeters long. The pinnae are 6 to 10, the upper ones are shorter. Leaflets and ultimate segments are very diverse, mostly lanceolate, 5 to 10 centimeters long; the terminal segments are usually larger than the others and more often lobed, pointed at the tip, sharply and irregularly toothed. Flowers are numerous, umbellately arranged, shortly stalked, borne on terminal inflorescences in the upper axils of the leaves, up to 15 centimeters long. Fruit is broadly ovoid, compressed and about 4 centimeters long.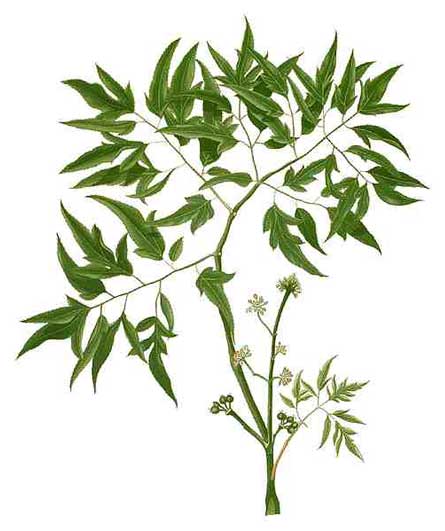 Distribution
- Commonly planted in hedges and about houses, but is nowhere spontaneous.
- Cultivated for its hedge and its leaves, the latter for providing body to florists' wreaths.
- Of prehistoric introduction.
- Probably of Malayan origin.
- Reported from India, Malaysia, and Polynesia.
- Now planted in all tropical countries.
Constituents
- Yields saponins.
- Study of roots and leaves yielded eight new oleanolic acid saponins names polysciosides A to H together with three known saponins. (8)
Properties
- Astringent, febrifuge, sudorific, vulnerary.
- Root is aromatic in taste and smell, parsley-like.
- Root considered diuretic.
Parts utilized
Leaves, roots.

Uses
Culinary
- In Java, used as food and condiment in lieu of celery and parsley.
- The root has an agreeable, strongly aromatic, parsley-like.
Folkloric
- Leaves are powdered, mixed with salt for wound healing.
- In India, used as astringent and febrifuge.
- Root used as diuretic.
- In Cambodia, considered a sudorific inhalant; also used for neuralgia and rheumatic pains.
Others
- Wreaths: Leaves used by florists to give body to wreaths.
Studies
• Leaf Volatile Oil: Study of fresh leaves yielded 0.32% volatile oil, slightly yellow in color, with a grassy scent. It was highly positive for sesquiterpene. Mass spectroscopy showed bergamotene, oxygenated sesquiterpene, -elemene, ß-bourbonene, ß-cubebene, ß-bisabolene, farnesene, elemene among others. (1)
• Antipyretic / Analgesic: Study of n-butanol extract of leaves of Polyscias fruticosa in egg white-induced paw edema in rats showed antipyretic and analgesic activities. (2)
• Molluscicidal: The NBES (n-butanol extract containing saponins) showed a potential as an effective plant molluscicidal, an effect attributed to the saponins. It is of added interest because fresh water snails act as intermediate host to schistosomes, the causative agents of schistosomiasis. (2)
• Adaptogenic / Anti-Inflammatory: Adaptogenic activity studies showed Polyscias fruticosa leaf and root saponins possess effective anti-stress activity as compared with white panax ginseng root saponins. The polyscias saponins were effective in acute models of inflammations. Its immunostimulant activity revealed it can be a good substitute for white panax ginseng. (4)
• Anti-Inflammatory / Ovalbumin Induced-Asthma / Toxicity Study / Leaves: Study evaluated the anti-inflammatory property of an ethanolic extract of Polyscias fruticosa in ovalbumin-induced asthma. There was no significant toxic effect at lower doses (NOAEL: <1000 mgkg). Treatment with extracts showed an anti-inflammatory effect with significant reduction of elevated WBCs and its differential, and significant decrease in erythrocyte sedinentation rate. (6)
• Antitussive/ Mucosuppressant in Asthma Management: Study evaluated the muco-suppressant, anti-tussive and safety profile of an ethanolic leaf extract in its use as an anti-asthmatic. Results showed significant inhibition (P≤ 0.01-0,001) of tracheal mucus phenol and secretion, and suppression of citric acid-induced cough. Subchronic toxicity study showed no significant changes in body weight, hematologic profile, liver and kidney functions. (7)
• Removal of VOCs: A University of Georgia study evaluated the ability of various species of house plants in removing volatile organic compounds (VOCs) from the air. Polyscias fruticosa (ming aralia) was one of seven plants judged to have intermediate removal efficiency. (9)

Availability
- Cultivated.
- Extracts in the cybermarket.