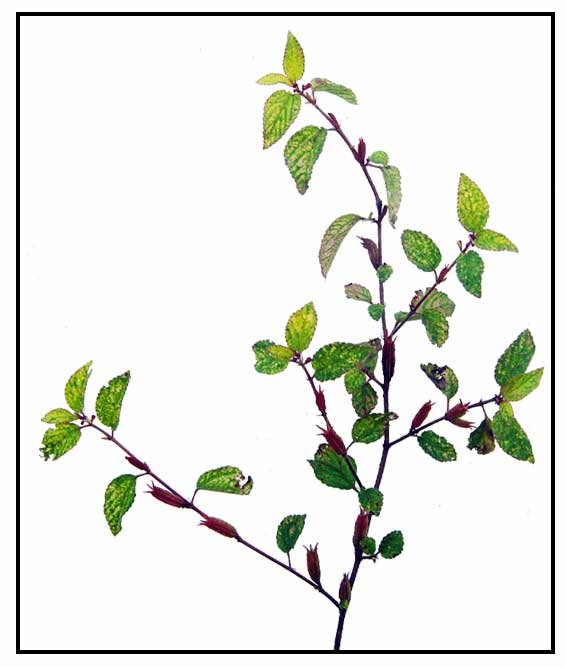 Botany
Pasau-na-hapai is an erect, branched, smooth annual, 20 to 60 centimeters high, with green or purplish, 3- or 4-angled or winged stems, and spreading 3-angled branches. Leaves are narrowly elliptic-lanceolate or oblong lanceolate, 4 to 10 centimeters long. Flowers occur singly and without stalk in the axils of leaves. Calyx-tube is slender and about 8 millimeters long, with 4 green, lanceolate, nearly 4 millimeter long calyx-lobes. Petals are 4, yellow, narrowly oblong-elliptic, and as long as the sepals. Stamens are 8, ovary 4-celled, ovules many in several axil rows in each cell. Fruits are capsules, green or purplish, about 3 centimeters long, and 1 to 2 millimeters in diameter. Seeds sometimes faintly visible through the walls.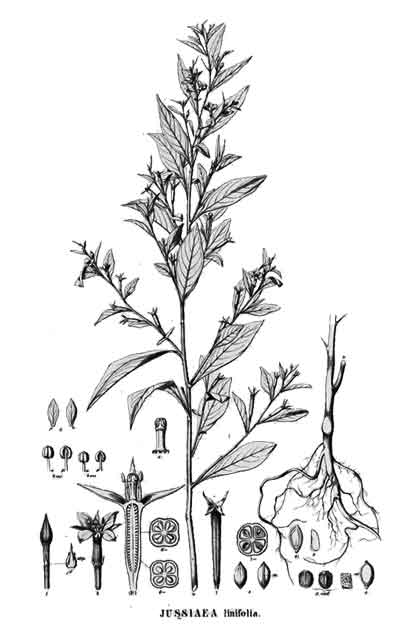 Distribution
- Throughout the Philippines, in open, damp places, old rice paddies, margins of streams, etc. at low and medium altitudes.
- Considered an extremely widespread weed of rice and wetlands across three continents. (8)
- Probably of American origin.
- Now pantropic.
Parts utilized
Whole plant.
Constituents
- Phytochemical studies yielded vitexin, isovitexin, orientin and isoorientin.
- Ethanol extract yielded one new compound, 6β, 24 hydroxy tormnetic acid [2α, 3β, 19α, 6β, 24- penta hydroxylurs-12-en-18-oic acid (1) together with seven known compounds, viz. xanthyletin (2), (+) trans-decursidinol (3), β-sitosterol (4), β-sitosterol-β-D- glucopyranoside (5), 6β, 23-hydroxy tormentic acid (6), 23-hydroxy tormentic acid (7) and 6β, 23-hydroxy tormentic acid (8). (9)
Properties
- Considered astringent, anthelmintic, carminative and diuretic.
- Studies have suggested analgesic, anti-inflammatory, antidiarrheal, antibacterial, anthelmintic, antitumor properties.
Uses
Folkloric
- Used for cold-fever, swelling pain in the throat, inflammation of the mouth cavity.
- Used for enteritis-diarrhea, eczema, and furuncle.
- The decoction of dried materials used as gargle for mouth ulcer.
- Pounded fresh material may be applied as poultice to area afflicted by eczema.
- In Bangladesh and India, decoction used for diarrhea and dysentery, flatulence, leucorrhea and hemoptysis. Leaves used for poulticing in orchitis and neck gland enlargement. Decoction used as vermifuge and purgative.
- Infusion of root is swallowed by the Malays for syphilis.
- In Celebes, infusion of roots used for poulticing pimples.
- In Nigeria, decoction of leaves use for treatment of malaria. (13)
Others
- Dye: In the Philippines, plant used in making a black dye.
Studies
• Piperine / Anti-tumor / Antibacterial: Study isolated an alkaloidal constituent, piperine, which showed antitumor and antibacterial activity. Its inhibitory effect on crown-gall tumor suggests potential for exploitation of the plant species for cancer prevention and treatment. On antibacterial study, it showed good activity against Shigella dysenteriae, S aureus and B subtilis. (1)
• Antidiarrheal: Study of methanol extract of Ludwigia hyssopifolia showed significant antidiarrheal property by reducing diarrheal episodes in castor oil and serotonin induced diarrhea in laboratory mice. The extract reduced gastrointestinal motility by 53.8% at dose of 100 mg/kbw. Standard drug was loperamide. (2)
• Analgesic: Study evaluated the analgesic activity of a methanolic extract of Jussiaea hyssopifolia plant in Swiss albino mice using a hot plate method. Results showed significant analgesic effect compared to standard drug diclofenac. (4)
• Anhelmintic: Study evaluated the methanolic extract of the entire plant of Jussiaea hyssopifolia for anthelmintic activity against earthworm Pheretima posthuma. Results showed significant anthelmintic effect in comparison to standard drug. (5)
• Anti-Inflammatory / Analgesic / Diuretic / Whole Plant: Study evaluated hexane, ethylacetate, and methanol extracts of whole plant parts of Ludwigia hyssopifolia for anti-inflammatory, analgesic, diuretic activities. Hexane and EA showed maximal inhibition of carrageenan-induced paw edema. All extracts showed significant inhibition of writhing reflex. All extracts exhibited good diuretic action. (7)
• Analgesic / Anti-Inflammatory / Bark: Study evaluated the analgesic and anti-inflammatory effects of ethanolic bark extract on experimental animal models. Results showed central and peripheral analgesic activity, as well as anti-inflammatory effect, which may be due to various chemical constituents, specially flavonoids, tannins, alkaloids, or terpenoids. (10)
• Hepatoprotective / Aerial Parts: Study evaluated the methanolic extract of aerial parts for in vitro method by measures of ALT, AST, and LDH and in vivo methods by measures of serum biochemical parameters and histological liver changes. The LHME exhibited significant (p<0.01) hepatoprotective activity in both in vivo and in vitro models, which may be attributed to its antioxidant property. (11)
ª Anti-Inflammatory / LD50 / Leaves: Study evaluated various extracts of leaves for phytochemical profile, acute toxicity, and anti-inflammatory properties. Phytochemical analysis of leaf extract yielded alkaloids, tannins, flavonoids, cardiac glycosides, saponins (steroids / triterpenes) and carbohydrates. The median lethal dose (LD50) of extracts by oral route was greater than 5000 mg/kg. Results showed significant decrease (p<0.05) of carrageenan induced paw edema in rats, with the hexane extract showing highest activity compared to other extracts. (12)

Availability
Wild-crafted.