Gen info
- Decaspermum is a genus of the botanical family Myrtaceae, first described as a genus in 1776. It is native to China, Southeast Asia, and various islands in the Pacific Ocean. (6)
- Etymology: The genus name Decaspermum refers to "ten seeds", which is often seen with the plant.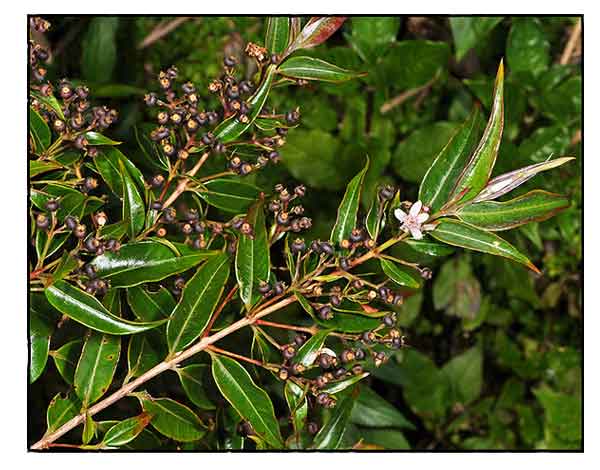 Botany
Decaspermum parviflorum is a shrub or tree, to 20 m tall. Branchlets terete, grayish tomentose or sericeous. Petiole 3-7 mm, pubescent or glabrous; leaf blade elliptic, ovate, oblong, or lanceolate, 4-13 × 1.2-6 cm, glabrous or sparsely pubescent, midvein abaxially slightly raised, secondary veins inconspicuous, intramarginal veins 1-2 mm from margin, base cuneate to obtuse, apex usually acuminate with a 0.5-2 cm acumen. Inflorescences axillary or terminal, when axillary then thyrses or rarely some flowers in racemes in more basal axils, when terminal then paniculately arranged and to 9 cm; bracts ovate-lanceolate, 0.5-2 cm, usually caducous. Flowers bisexual or staminate, (4 or)5-merous; bracteoles lanceolate, 1-1.5 mm, caducous. Hypanthium sericeous, 1-1.5 mm. Calyx lobes to 1-2 × 1-2 mm, unequal, ± glabrous, margin ciliate, apex obtuse to sometimes truncate or acute. Petals white or pink, orbicular, 3-4 mm, margin ciliate. Stamens 3-4 mm; filaments pink or white. Ovary 4-6-loculed. Style 3-6 mm; stigma peltate. Fruit 3-5 mm in diam., sparsely pubescent. Seeds 3-12 per fruit. (Flora of China)
Distribution
- Native to the Philippines.
- Also native to Andaman Is., Assam, Bangladesh, Borneo, Cambodia, Caroline Is., China, Fiji, Hainan, Jawa, Malaya, Maluku, Marianas, Myanmar, New Guinea, Samoa, Sulawesi, Sumatera, Thailand, Tibet, Vietnam.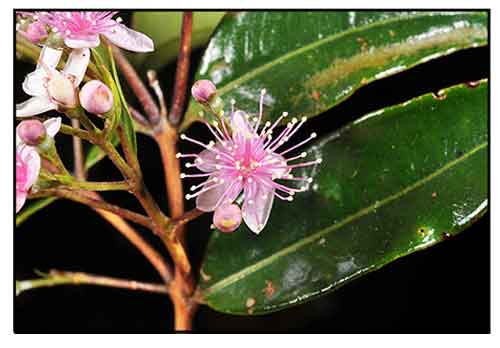 Constituents
- GC-FID and GC-MS study for essential oil yielded 35 components. accounting for 97.3% and comprising mainy of monoterpene hydrocarbons (52.5%), with major components of α-pinene (40.5%), ß-pinene (9.2%), ß-eudesmol (8.0%), globulol (7.5%), and ß-caryophyllene (5.1%). (see study below) (4)
- Hydrodistillation study and GC-FID and GC-MS of various parts of D. parviflorumm for essential oils yielded main constituents of β-elemene (1.68–4.14%), caryophyllene (14.53–43.98%), humulene (3.99–10.74%), eudesma-4(14),(11)-diene (4.83–17.46%), α-selinene (3.65–13.60%), cadina1(10),4-diene (1.0–3.17%), and seline-3,7(11)-diene (1.13–3.20%). Caryophyllene oxide (2.38–3.63%), ylangene (1.22–3.20%), guaia-3,9- diene(1.46–4.50%), eudesma-4(14)-en-11-ol (2.07–2.24%), neointermedeol (1.39–3.25%), aromadendrene oxide-(2) (1.05–1.65%), and naphthalene, 1,2,3,4,4a,5,6,7-octahydro-4a,8-dimethyl-2-(1-methylethenyl)- (0.73–2.47%) were identified only in the flower and fruit. Ocimene (11.87%) and γ-elemene (37.02%) were identified only in the flower. Copaene (8.27%) was identified only in the leaf. (5)
Properties
- Studies suggest cytotoxicity and anticancer properties.

Parts used
Leaves, roots.

Uses
Edibility
- Fruit is edible, raw or ripe. Ripe fruit has a sweet flavor.
- Terminal shoots used as seasoning.
Folkloric
- Decoction of roots mixed with leaves and root of Ixora ellipitica taken to treat fever and fatigue.

Studies
• Cytotoxicity / Three Cancer Cell Lines / Essential Oil: Study for essetia oil yielded 35 components. accounting for 97.3% and comprising mainy of monoterpene hydrocarbons (52.5%). The oil exhibited potent cytotoxicity with IC50s of 68.5-70.2 µg/mL against three human cancer cell lines viz., HepG2 (liver), MCF-7 (breast), and A549 (lung). Results suggest potential for development of anticancer chemotherapeutic agents. (see constituents above) (4)
Availability
Wild-crafted.