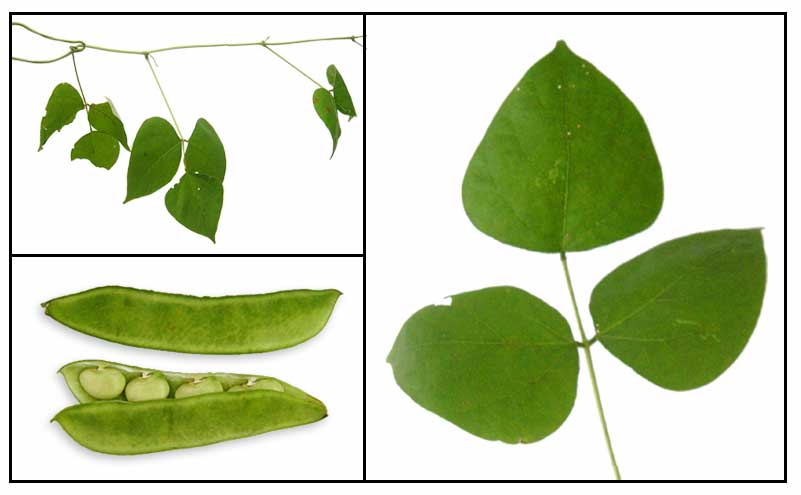 Botany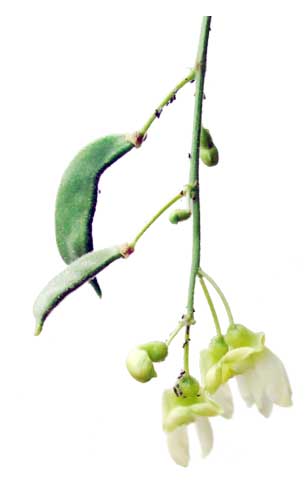 Patani is a climbing, slender, annual, smooth, sparingly hairy, herbaceous vine reaching a length of 4 or more meters. Leaves are thin, compound with three leaflets which are ovate, 6 to 12 centimeters long, rounded at the base and pointed at the tip. Flowers are greenish or pale yellow, about 10 to 13 millimeters long, on axillary and solitary racemes 8 to 20 centimeters long. Pods are oblong and slightly curved, 6 to 12 centimeters long, about 2 centimeters wide, containing 1 to 4 large, variously colored, white, greenish or purplish seeds.
Distribution
- Thoroughly naturalized.
- A wild variety is common in thickets at low and medium altitudes, ascending to 2,000 meters.
- Extensively cultivated for its edible seeds.
- Introduced from tropical America.
- Now pantropic.

Constituents
• The seeds of the wild lima variety, especially the dark purple beans, yield phaseolunatin, C10H17O6N, a cyanogenetic glucoside, in dangerous amounts; very minimal in the cultivated variety.
• The leaves and stems also contain phaseolunatin, but not in the roots.
• Study of hydrocyanic acid content of patani varieties grown in Philippines showed: Wild variety, 0.060-0.240; semi-wild, 0.049-0.055; cultivated variety, 0.030; green beans, wild variety, 0.030; and green beans, cultivated, 0.011 percent HCN.
• High in carbohydrate and protein, fair in iron, and deficient in calcium.
• In isolates, protein content was found to be 71%.
• Contains a number of anti-nutrients. Raw lima beans contain cyanide, trypsin-inhibitor, lectin, phytin and tannin. Autoclaving removes all of the antinutrients except tannin. Soaking removes trypsin inhibitors and lectin.
• Contains linamarin, a cyanogenic glucoside; safe when cooked.
• Comparative nutrient analysis of wild and cultivated seeds yielded: protein 22.84% vs 20.05%, ash 3.42% vs 2.91%, crude fiber 5.48% vs 4.54%, crude lipid 2.63% vs 2.55%, carbohydrates (NFE) 65.63% vs 69.95%, energy 1570.60 vs 1599.14 kJ100g DM. (see study below) (18)
• Nutrient analysis of lima bean yielded per 1 cup/156g: calories 176 Kcal, calories from fat 12.06 Kcal; (Proximates) water 109.57g, energy 176 Kcal, energy 738 kJ, protein 10.67g, total fat (lipid) 1.34g, ash 2.95g, carbohydrate 31.47g, total dietary fiber 7.6g, total sugars 2.31g; (Minerals) manganese 1.895mg, iron 4.9 mg, copper 0.496mg, phosphorus 212mg, magnesium 90mg, potassium 729mg, zinc 1.22mg, calcium 53mg, selenium 2.8mg, sodium 12mg; (Vitamins) vitamin C (ascorbic acid) 36.5mg, vitamin B1 (thiamin) 0.339mg, vitamin B6 (pyridoxine) 0.318, vitamin B3 (niacin) 2.999mg, vitamin B9 (folate) 53µg, vitamin B2 (riboflavin) 0.161mg, choline 62.4mg, vitamin B5 (pantothenic acid) 0.385mg, vitamin K (phylloquinone) 8.7 µg, vitamin E (alpha-tocopherol) 0.5mg, vitamin A 16 µg, beta-carotene 197 µg.(19) (20)
• Nutrient analysis for amino acids yielded: isoleucine, tryptophan, valine, histidine, threonine, leucine, lysine, phenylalanine, methionine, cystine, tyrosine, arginine, alanine, aspartic acid, glutamic acid, glycine, proline, and serine. (19) (20)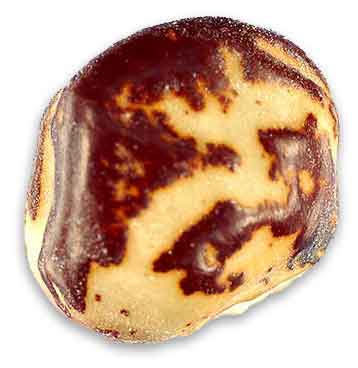 Properties
• The seeds of the wild lima variety may be poisonous.
• Studies have suggested hypolipidemic, hypoglycemic, antibacterial, antifungal, antiproliferative, estrogenic, hepatoprotective, nephroprotective, antihypertensive, herbicidal, antioxidant properties.

Uses
Edibility / Nutritional
• Edible: Leaves, seeds, seedpods.
• Usually eaten as a green bean or before it becomes dry and hard.
• The cultivated patani is a popular vegetable; the white variety considered the best. The colored variety should be boiled in several changes of water.
Folkloric
• In the Guianas, bark rasped is cold water infusion used to treat fevers. (23)
Toxicity concerns
• A form of patani with dark-colored seeds is common in thickets in parts of the Philippines. Seeds are edible, but sometimes may be poisonous, and deaths have been reported.
• A wild lima bean or dark-colored variety may be poisonous with dangerous amounts of phaseolunatin. The cultivated bean is free or contains very small quantities of this glucoside.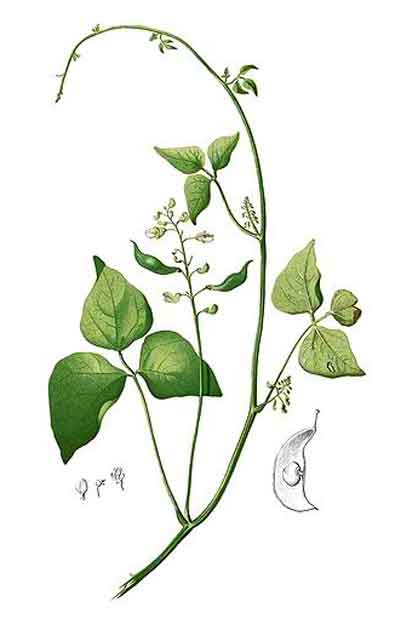 Studies
• Hypolipidemic: In dietary-induced hypercholesterolemic rats, there was a significant reduction of serum lipids in rats fed the lima beans Legume Diet and Saponin diet which was attributed to the saponin in the legume. The results suggest the consumption of lima beans can be recommended to lower cholesterol and promote cardiovascular health. (1)
• Lunatusin / Antibacterial / Antifungal / Antiproliferative: Lunatusin, an anti-fungal peptide was purified from the seeds of Chinese lima bean. It exhibited anti-fungal and antibacterial activities, anti-proliferative activity in a breast cancer line among other effects. (3)
• Estrogen-like Activity: Study suggested molecular mechanisms and different pathways in the estrogen-like activities of the ethanol extracts of Adzuki bean and Lima bean. (4)
• Trypsin Inhibitors / Reverse Transcriptase Inhibition: Study showed the trypsin inhibitor from P lunatus was able to inhibit HIV-1 reverse-transcriptase. (5)
• Lectin: Lectin-related polypeptides are a class of defense proteins found in the seeds of Phaseolus species. Such proteins and their genes have been characterized in lima bean.   (7)
• Toxicity / Raw Lima Beans: Raw lima beans in a feeding broiler starter diet trial hindered growth in chicks and produced serious histopathological changes in the liver, kidneys, pancreas, spleen and lungs. (8)
• Hypoglycemic / Hypolipidemic / Hepato-Nephroprotective: Study evaluated the effect of heat-treated lima beans on serum glucose and some biochemical parameters in alloxan-induced diabetic rats. Results showed heat-treated lima beans has a significant hypoglycemic and hypolipidemic effects in diabetic rats. In addition, study showed a protective effect on liver and kidney functions. (10)
• Hypoglycemic / Alpha-Amylase Inhibiting Activity: The common white bean (Phaseolus vulgaris) produces an alpha-amylase inhibitor. A specific proprietary product, Phase 2 Carb Controller, has the potential to induce weight loss and reduce sugar spikes in blood sugar caused by carbohydrates through it alpha-amylase inhibiting activity. (11)
• Weight Loss / Alpha-Amylase Inhibiting Activity / Carbohydrate Blockers: The mechanism of weight loss from taking bean extract was attributed to alpha-amylase inhibiting activity. In vitro study of the extract has shown inhibition of alpha-amylase, promoting weight loss by interfering with digestion of complex carbohydrates to simple absorbable sugars, with potential reduction of carbohydrate-derived calories. (12)
• Lima Bean Protein Hydolysates / Antihypertensive / ACE-1 Inhibitory Activity: Lima bean protein hydrolysates prepared with Alcalase or pepsin-pancreatin are a potential ingredient in the production of physiologically functional foods with antihypertensive activity. In the study, pepsin-pancreatin hydrolysates exhibited the highest ACE inhibitory activity. (13)
• Ointment Against Dog Mange: A lima bean ointment formulation was shown to be effective against Sarcoptes and Demodex species of mites in dogs. (14)
• Ointment Against Dog Mange: Study of a dietary supplement containing 445 mg. of Phaseolus vulgaris extract derived from white kidney bean produced significant decrements of body weight and suggest decrements in fat mass with maintained lean body mass. (15)
• Anti-Nutrient Components and Metabolites / Health Implications: Phaseolus vulgaris provides inexpensive food rich macronutrients such as starch and protein, important micronutrients such as iron, plus a number of other bioactive compounds (phytates, polyphenols, tannins, raffinosaccharides, lectins, protease, and a-amylase inhibitors, saponins, etc.) with their potential antioxidant, antitumor or phytoestrogenic activity. In a study of 10 bean populations, "Poverello di Rotonda AF"showed an accumulation of remarkable levels of quercetin (24.2 µg/g), genistein (21.6 µg/g), soysapogenin B (433 µg/g) and oleanolic acid (11.9 µg/g). "Tabacchino" yielded high amounts of iron (131 µg/g) and three health-promoting components: kaempferol, oleanolic acid and condensed tannins. (16)
• Herbicidal Potential: Study evaluated the photosynthetic effects of leaves extracts from I. cairica on Parthenium hysterphus L. Results showed the extract adversely affected the chlorophyll a and b, total chlorophyll and carotenoid contents of Parthenium as the duration increased. Results suggest potential as an herbicide to control the noxious weed P. hysterophorus. (17)
• Comparative Nutrient Analysis / Wild and Cultivated Lima Beans: Study compared wild lima beans to cultivated seeds in proximate composition, seed protein fractions, amino acid profiles, mineral composition, in vitro protein digestibility and anti-nutritional factors. The wild variety showed more protein, ash, crude fiber and crude lipid, less carbohydrate and energy level than cultivated seeds. Wild seeds showed to be a rich source of potassium, calcium, magnesium, and phosphorus, higher L-DOPA content, with less free phenolics, tannins, less trypsin inhibitor activity. (18)
• Effect of Essential Oils on Quality of Lima Bean Seeds: Study evaluated the effectiveness of essential oils of copaiba, clove, and basil in reducing the incidence of fungi associated with lima bean seeds and their effect on physiological quality. Results showed the essential oils of copaiba and basil significantly reduced the percentage of fungi incidence. Clove reduced the physiological quality of lima bean seeds. (21)
• Antioxidant: Study evaluated selected underutilized bean seeds (Cajanus cajan, Sphenostylis stenocarpa, Phaseolus lunatus 1, and Phaseolus lunatus 2) for nutritional potential and antioxidant capacity. The antioxidant activity of P. lunatus beans (1 and 2) was found to be significantly higher (p<0.001) than other varieties, with mean AA of 1298.7 and 1056.0 mg GAE/100g, respectively. (22)
• Total Phenolics / Antioxidant: Study sought to characterize for the first time polyphenols and DPPH antioxidant activity in commonly cultivated accessions of P. lunatus. Lima beans accession with the highest polyphenols and antioxidant activity were those of colored seeds. The polyphenols correlated with antioxidant activity with possible benefit to human health. It has potential for use as functional food crop and/or new ingredient in gastronomy. (24)

Availability
- Wildcrafted and cultivated.
- Seeds in the cybermarket.