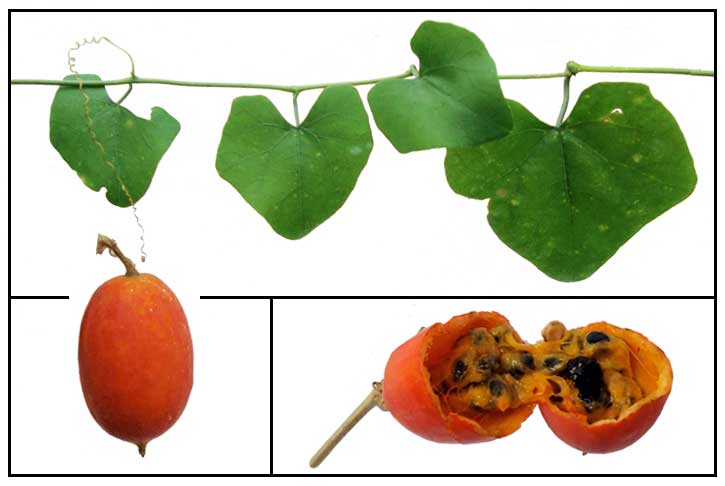 Etymology
Trichosanthes quinquangulata derives from the Greek words 'trichos' meaning hairy and 'anthos' meaning flowers. Quinquangulata means "five-angled" referring to the 5-pointed lobes of the leaves. (4)
Botany
Patolang-gubat is a coarse, smooth vine with angled or grooved stems. Leaves are somewhat rounded in outline, 10 to 20 centimeters long, heart-shaped at the base, 5- or 7-angled or lobed. Male racemes have long peduncles with many flowers, with large bracts, one or two are open at a time. Flowers are white and large. Calyx-lobes are 2 to 2.5 centimeters long and irregularly toothed. Fruit is rounded, 10 centimeters across, smooth, red or crimson.


Distribution
- Found in thickets and old clearings, at low and medium ascending to 1,500 meters, in the Babuyan Islands; in Cagayan, Benguet, Bontoc, Nueva Viscaya, Pangasinan, Zambales, Bulacan, Bataan, Rizal and Laguna Provinces in Luzon; in Masbate, Panay, Mangsi; and in Mindanao.
- Widely distributed from Indo-China throughout Malaysia.
- Reported in Java, Sumatra, Borneo, Laos, Vietnam, Thailand.

Constituents
• Seed yields trichosanthin, a ribosome-inhibiting protein and trichomislin, which induces apoptosis. source
Properties
• Considered febrifuge.
• Seeds considered abortifacient.
Parts used
Seeds, fruits.
Uses
Folkloric
• Mature seeds are finely powdered and cooked with coconut oil and applied externally to itchy skin lesions.
• Powdered seeds mixed with wine and drank for stomach aches.
• The Mangyans of Mindoro squeeze the ripe fruits in water and drunk as tea for fever and malaria. (3)
• Seeds reportedly used as abortifacient.
Studies
• Trichosanthin / Trichomislin: Trichosanthin is a ribosome-inactivating protein from the root tuber of Chinese medicinal herb, Trichosanthes kirilowi Maxim. Its various pharmacological attributions included anti-HIV, anti-tumor, and abortifacient properties. Trichomislin has been shown to induce apoptosis. (4) (5) (This study and many others are attributed to T. kirilowii. I have yet to find studies done on T. quinquangulata. G.Stuart)

Availability
- Wildcrafted