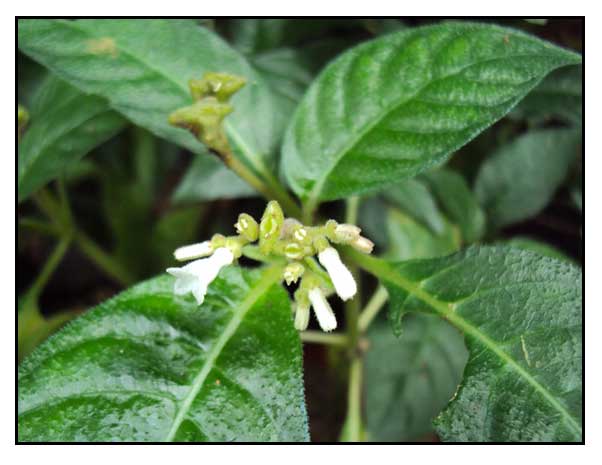 Botany
Payang-payang-gubat is a half-woody, erect, smooth plant growing to a height of 30 centimeters. Leaves are very thin, elliptic to elliptic-lanceolate, 4 to 12 centimeters long, 2 to 6 centimeters wide, pointed at both ends. Cymes are flat-topped, smooth or hairy, 2 to 7 centimeters in diameter, with subumbellate spreading branches. Calyx-teeth are very short. Corolla is white and smooth, with very short, obtuse lobes that are keeled at the back. Capsules are pedicelled, 2 to 5 millimeters in diameter. Seeds are many, minute and angled.
Distribution
- In thickets and forests at low altitudes, from the Batan and Babuyan Islands and northern Luzon to Palawan and Mindanao.
- Also occurs in India to Malaya.

Constituents
- Contains starch, chlorophyll, and a light-brown resin soluble in chloroform.
- Comparative studies on camptothecin content showed low levels of alkaloids.
- Main chemical constituent is a monoterpenoid quinoline alkaloid called camptothecin.
- Alcohol extract of leaves yielded alkaloids, carbohydrates and glycosides, phenolic compounds, tannins, flavonoids, gums and mucilage. Petroleum ether extract yielded phytosterols, fixed oils, and fats. (13)
- Phytochemical screening of flower extract yielded carbohydrates, tannin, terpenoids, saponins, flavonoids, alkaloids, and glycosides, with absence of steroids and essential oil. (18)
- Study of ethyl acetate soluble fraction of concentrated ethanolic extract of defatted seed yielded a compound, oleandrigenin-3-O-α-L-rhamnopyranoside. (24)
- Study of roots for essential oil yielded 0.7% with the following percentage composition: aromandendrene (4.6%), p-cymene (5.17%), d-limonene (7.25%), ß-myrcene (6.15%), α-pinene (0.75%), linalool (53.9%), α-santalol (6%), safrole (0.48%), pulegone (2.4%), citral (0.63%), geraniol (1.95%), and methyl n-nonyl ketone (6.05%). (26)
-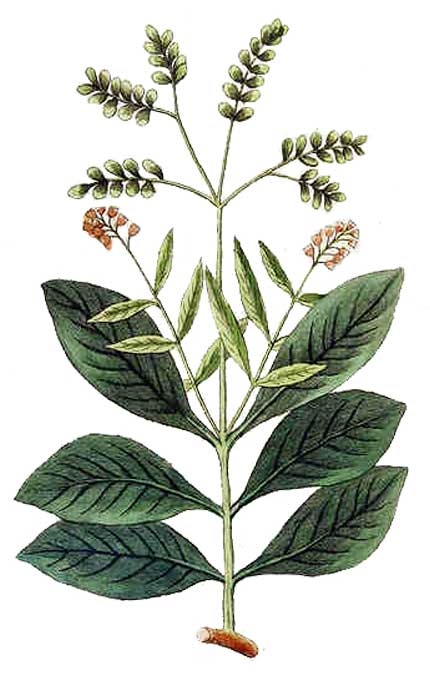 Properties
- Considered antibacterial, laxative, tonic, sedative.
- Bark of root considered laxative and sedative.
- Studies have shown antioxidant, antivenom, antiproliferative, cancer chemopreventive, membrane stabilizing, thrombolytic activities.
Parts utilized
Roots, bark and leaves.
Uses
· An agreeable bitter tonic.
· Decoction of leaves, roots and bark (one part in 10) in half-ounce doses are stomachic.
· Bark of root is sedative and laxative.
· Decoction of leaves used for cleaning ulcers.
· In Malaysia, used for wound healing, enlarged spleens and to alleviate cough.
· In India, the bitter root of O mungos used as an antidote for snake bites. Also, the root extract, mixed with powder of white gulaganji to make a paste, applied locally or given orally. For wound healing, whole plant is ground into a paste with coconut oil, applied topically on affected areas to heal wounds. In Tamil Nadu, leaves and roots used for poisonous bites and external tumors. Roots extensively used by local medicine men. Decoction of root, bark, and leaves used as stomachic.
· In Ayurveda plant pacifies vitiated kapha, wounds, ulcers, worm infestation, snake poison, skin diseases, and cancer.
· In Bangladesh, powdered leaf applied to treat burns. Mixture of paste of leaves of O. mungos, I. nigricans, and P. acerifolim applied for treatment of paralysis. (16)

Studies
• Camptothecin / Anti-Cancer: Camptothecin is an anticancer quinoline alkaloid effective against colon cancer, acting through inhibition of the enzyme DNA topoisomerase. Comparative study showed the highest yields in N foetida, with low levels of the alkaloid with O mungos and O rugosa. (1) A search for new plant-based sources of CPT (camptothecin) evaluated CPT contents in 38 Ophiorrhiza accessions belong to 11 species and 3 varieties collected from the southern Western Ghats region in India. Ophiorrhiza mungos yielded the best CPT source (396.54 µg/g, dr. wt.) followed by O. mungos var. angustifolia (373.19 µg/g, dr. wt.). (17)
• Antivenom Activity / Root: Study showed inhibition of the effects of Naja nigricollis venom by aqueous extract of O mungos root. The extract also showed dose-related inhibition of blood clotting induced by Echis carinatus venom.
• Cancer Chemopreventive / Luteolin-7-O-glucoside: Study isolated phytocompound Luteolin-7-O-glucoside (LUT7G) from the leaves. LUT7G induced apoptosis by scavenging ROS and suppressing the expression of ß-catenin. Results suggest a potent anticancer drug for colon carcinogenesis. (67=)
• Antioxidant Activity / Preliminary Cytotoxicity: Study of a methanolic extract of the whole plant showed the dichlormethane soluble fraction with the highest amount of phenolic compounds and also revealed significant antioxidant activity. Brine shrimp lethality bioassay showed a crude extract to possess cytotoxic principles. (8)
• Antioxidant / Antiproliferative: Study evaluated the antioxidant and antiproliferative activities of 10 traditional medicinal plants, including O. mungos. All tested extracts showed significant concentration- and time-dependent antioxidant and antiproliferative activities, with O. mungos sixth in descending order. (9)
• Neutralizing Effect / Roots / Daboia russelii Venom: Study in a chick embryo model showed a root extract of O. mungos to possess potent anti-snake venom neutralizing compounds which inhibit the viper venom activity. (12)
• Membrane Stabilizing / Thrombolytic Effects: Study evaluated methanol extracts and partitionates of O. mungos, M. macrophylla, G. philippensis and S. nodiflora for membrane stabilizing and thrombolytic activities. The petroleum ether soluble fraction of O. mungos showed 61.16% and 24.75% inhibition of RBC hemolysis caused by hypotonic solution and heat. The carbon tetrachloride soluble fraction of O. mungos showed the highest thrombolytic activity with clot lysis value of 50.09%. (14)
• Anticancer / Dalton's Ascitic Lymphoma / Leaves: Study evaluated the anticancer potential of alcohol and aqueous extracts of leaf of O. mungos on DAL in mice. Results showed significant normalization of profound proliferation of tumor cells in the peritoneal cavity of animals. Significant changes (p<0.001) were observed in tumor and hematological parameters. (15)
• Antimicrobial / Flower: Ethanolic extract of O. mungos was among the wild flowers that showed activity against six microbial viz., B. subtilis, K. pneumoniae, P. aeruginosa, S. aureus, S. mutans, and C. albicans. Zones of inhibition ranged from 11 ± 0.05 to 20 ± 0.10 mm. Zone of inhibition increased with concentration of the extract. The flower extract showed maximum zone of inhibition of 19mm compared to other extracts. (see constituents above) (18)
• Photoprotective / Potential for Topical Sunscreen: Study evaluated the photoprotective activity of aqueous extracts of eleven medicinal plants in Sri Lanka that have been used in traditional medicine for various skin diseases and to improve complexion. Study evaluated SPF (sun protective factor) by Mansur equation and antioxidant activity by DPPH and ABTS assays. Ophiorrhiza mungos was one of six extracts that displayed SPF values ≥ 25, which are even higher than two commercial photoprotective creams used as reference compounds. O. mungos was also found photostable, without significant reduction in SPF after direct solar radiation for 21 days. Results suggest O. mungos has great promise for development of a potent topical sunscreen. (20)
• Production of Anticancer Compound, Camptothecin: Camptothecin (CPT), a modified monoterpene indole alkaloid, is a well-known antineoplastic agent. Study of 25 different transformed culture lines of P. mungos hairy roots showed a total CPT content of 890-3200 µg/g dw. Untransformed root cultures yielded about 2000 µg CPT/g root tissue or 2,500 µg CPT dw. Both transformed and untransformed root cultures showed high yields of CPT. Ammonium was preferred as niitrogen source. (21)
• Gastroprotective / Antiulcer / Luteolin Glucoside: Study evaluated the gastroprotective effect of luteolin-7-O-glucoside (LUT7G) on different ulcer models viz. indomethacin, ethanol-induced ulcer and Shay ulcer model. The ethanol induced ulcer group showed significant increase in biomarkers viz. MPO, NO, iNOS, MMP-2, MMP-9, casoase-3, apoptosis, IL-6, among others and declines in PGE2, arginase, SOD, GSH, mucin, eNOS, COX-1 among others. Pretreatment with LUT7G significantly reverted the pathophysiological levels of these biomarkers to near normal levels. LUT7G gastroprotective effect was abolished by pretreatment with SC560, rofecoxib, and L-NAME, demonstrating the involvement of COX and NOX in LUT7G-facilitated gastroprotection. The gastroprotective effects in rat gastric mucosa was attributed at least in part to antisecretory, anti-inflammatory, antioxidative, and antiapoptotic activity, and augmentation of PGE2, mucin, and HSP-70 eynthesis. (22)
• Enhanced Camptothecin Productiion Induced by Elicitors: Study reports on the production of camptothecin (CPT) enhanced in cell suspension cultures of O. mungos through elicitor treatment. Results showed elicitors like yeast (YE) and silver nitrate (AgNO3) caused a significant increase in biomass and CPT yield according to concentratiion, incubation time and feeding time. Study suggests elicitation is a promising alt3ernative method to increase CPT production and cell growth in cell suspension cultures of O. mungos. (23)
• Sunscreen Cream Formulations of Neem Oil and VCO / L. aspera and O. mungos Leaves: O. mungos and Leucas zeylanica have been identified as plants with high Sun Protection Factor ( SPF) value. Study evaluated the SPF activity and stability in Neem oil and VCO based cream formulations with methanol extracts of OM and LZ. The SPF values of the creams were above 30, with higher SPF values than pure leaf extracts. Creams were o/w type in acceptable pH range for topical use, with skin retention for longer periods. (25)

Availability
Wild-crafted.