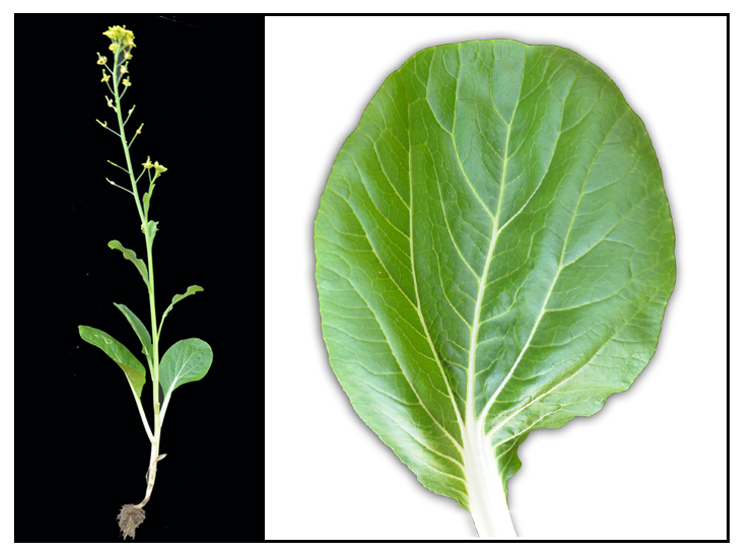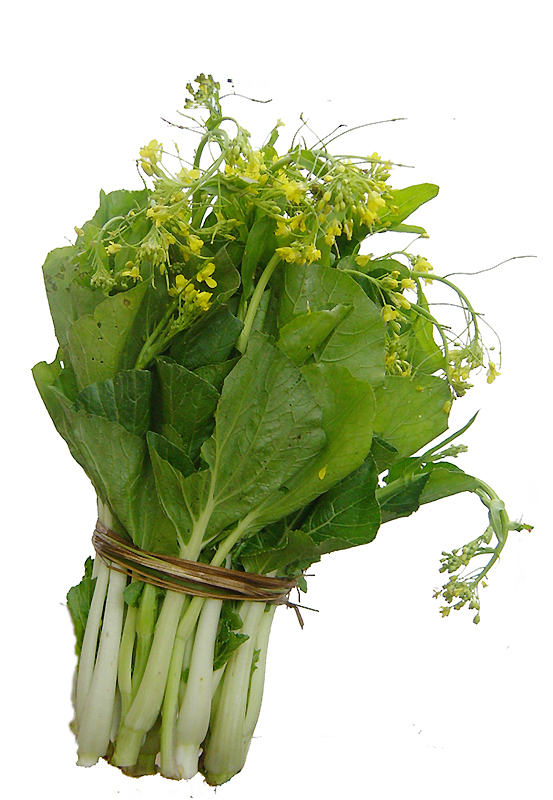 Gen info
- Brassica is a genus of plants in the cabbage and mustard family, Brassicaceae. Crops from the genus are sometimes called cole crops, from Latin caulis, referring to the stem or stalk of the plant. Over 30 wild species and hybrids are in cultivation, plus numerous cultivars and hybrids of cultivated origin. (24)
- Brassica rapa is a plant species growing in various widely cultivated forms including turnip, komatsuna, napa cabbage, bomdong, bok choy and rapini.
- Study of genetic sequences indicated that ancestral B. rapa probably originated 4000 to 6000 years ago in Hindu Kush area of Central Asia, with three sets of chromosomes that provided genetic potential for diversity of form, flavor, and growth. (22)
Botany
Pechay is an erect, biennial herb, growing about 15 to 30 centimeters tall in vegetative state. Leaves are ovate, spreading, and arranged spirally. Petioles are enlarged, growing upright forming a subcylindrical bundle. Inflorescence is a raceme with pale yellow flowers. Seeds are 1 millimeter in diameter, reddish to blackish brown in color.
Distribution
- An ancient vegetable, cultivated over 4000 years.
- Cultivated in the Philippines, grown from low to mid elevations throughout the year.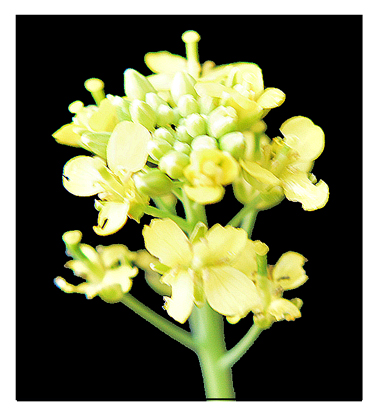 Constituents
- Each 100 g of fresh edible portion yields: water, 93.0 g; protein, 1.7 g; fat, 0.2 g; carbohydrates, 3.1 g; fiber, 0.7 g; ash, 0.8 g; beta-carotene, 2.3 g; vitamin C, 53.0 mg; calcium 102.0 mg; phosphorus, 46.0 mg; iron, 2.6 mg; energy value 86.0 kJ. (2)
- Vitamin content of a cup of shredded pechay: vitamin C, 20.5 mg; folate, 60 mcg; vitamin K, 32.6 mcg; with small amounts of vitamins A, niacin and B6. (4)
- Nutrient value per 100 g yielded:
(Principle) energy 16 kcal, carbohydrates 3.23 g, protein 1.2 g, total fat 0.2 g, cholesterol 0, dietary fiber 1.2 mg; (Vitamins) folates 79 µg, niacin 0.4 mg, pantothenic acid 0.105 mg, pyridoxine 0.05 mg, thiamin 0.04 mg, vitamin A 318 IU, vitamin C 27 mg, vitamin K 42.9 µg; (Electrolytes) sodium 8 mg, potassium 238 mg; (Minerals) calcium 77 mg, iron 0.31 mg, magnesium 13 mg, manganese 0.19 mg, phosphorus 29 mg, zinc 0.23 mg. (USDA National Nutrient Database) (15)
- Chromatographic and spectral analysis of 70% aqueous ethanolic extract of Brassica rapa detected a new natural isorhamnetin glycoside, isorhamnetin 3-O-β-D-glucopyranosyl(1→2)-α-L-rhamnopyranosyl(1→2)-β-D-glucopyranoside (L2) together with fifteen known flavonoid compounds; five of the type kaempferol glycosides, four of quercetin glycosides, three of isorhamnetin glycosides and three aglycones. (see study below) (22)
Properties
- Studies have suggested anti-tumor, immunomodulating, antioxidant, phytoremediating, anti-fatigue, antimicrobial, anti-inflammatory, antidepressant, analgesic, thrombolytic, membrane stabilizing, chemopreventive, antiproliferative, hypoglycemic, antihypertensive properties.

Parts used
Leaves, stems, flowers, seeds.

Uses
Edibility
- Used primarily for its immature, fully expanded and tender leaves. Succulent petioles are preferred parts.
- Ingredient for soups and stir-fried dishes.
- In Chinese cuisine, green leaves are used as garnish. (2)
- Roots eaten raw or cooked as vegetable.
- Tops used as potherb like spinach.
Folkloric
- No reported folkloric use in the Philippines.
- Elsewhere, stems, leaves, and powdered seed used as cancer remedy. Boiled roots used for breast tumors. (9)
Others
- Livestock: Roots used as livestock feed.
- Occasionally suspected of poisoning bovines, sheep, and pigs. (9)
Studies
• Phytoremedition of Arsenic and Lead: Phytoremediation is a process of absorption of contamination, such as heavy metals, from the soil. Study evaluated B. rapa;s ability to absorb arsenic and lead from the soil. Results showed all plants contaminated with arsenic absorbed some of it. Only two of nine samples absorbed any lead. Under specific conditions, Brassica rapa is able to absorb arsenic but not lead. (3)
• Immunomodulating: Study evaluated the effects of various extracts of Brassica rapa on cell mediated immune response in mice. In both innate and acquired immunity models, chloroform, ethyl acetate and methanolic extracts of B. rapa glands significantly and dose-dependently reduced paw thickness. Study assumes glucosinolates contributed in the more pronounced effects of the ethyl acetate extract and suggests further studies to identify the constituents and immunomodulating mechanisms. (5)
• Glucosinolates / Anti-Cancer: Glucosinolates are S- and N-containing secondary metabolites found in abundance in plants belonging to the Brassicaceae genus. Study evaluated the mutagenic and/or anti-mutagenic properties of crude B. rapa chinensis extracts by comparing it against Mitomycin-C, a known mutagenic drug. Results showed glucosinates in the crude Petchay extract are potential antimutagenic compounds in human lymphocytes, and suggests glucosinates may potentially prevent cancer from proliferating in the human body. (6)
• Effects on Fructose-Induced Metabolic Syndrome: Study evaluated the role of Brassica rapa on fructose-induced metabolic syndrome in rats. Results showed BR attenuated most of the changes associated with metabolic syndrome: reduced weight gain and blood glucose, MDA, nitric oxide, total triglycerides and total cholesterol, also elevating blood GSH and liver glycogen. (7)
• Antioxidant: Study evaluated the antioxidant potential of crude extract and fractions from Brassica rapa for glutathione peroxidase (GPx), superoxide dismutase (SOD) enzymes and total antioxidant status in blood samples. Results showed concentration dependent effects of GPx, SOD, and TAS, suggesting potential applications for pharmaceutical usage due to its antioxidant properties. (8)
• Thrombolytic / Membrane Stabilizing: Study evaluated the in vitro thrombolytic and membrane stabilizing properties of B. rapa subsp. chinensis. The carbon tetrachloride soluble fraction exhibited the highest clot lysis. A crude methanol extract along with other extractives showed inhibition of hemolysis of erythrocyte membrane in hypotonic solution and heat-induced conditions. (11)
• Chemopreventive / Antiproliferative: Study evaluated the mutagenic and/or antimutagenic properties of crude Brassica rapa chinensis extracts for possible cancer chemopreventive potentials. Glucosinates in crude Petchay extracts are potential antimutagenic compounds in human lymphocytes and may potentially prevent proliferation of cancer in the human body. (12)
• Effect of Blanching on Vitamin C in Leafy Vegetables: Study evaluated the percentage (%) loss of vitamin C due to effects of different blanching times and physical forms. The effect of the vegetable's physical form on vitamin C loss was significant (p<0.05)—cut leaves lose more vitamin C than intact ones. While blanching vegetables makes leafy vegetables more palatable, it reduces their antioxidant properties drastically. Results suggest shorter blanching times of vegetables may reduce the loss of vitamin C. (13)
• Hypoglycemic Effect / Hypolipidemic / Leaves:Study showed an AETL has dose-dependent decrease in blood glucose of alloxan induced diabetic rats. There was also a decrease (p<0.05) in total plasma cholesterol and LDL-c, while also significantly decreasing (p<0.05) HDL-c and increased triglycerides and AST in a dose dependent manner. (14)
• Nanoparticles / Ant-Tumor Effect / Dalton's Lymphoma Ascites (DLA) / Leaves: Krishnaswamy studied the anti-tumor effect of methanolic extract and nanoparticles of of Brassica rapa chinensis. Results showed strong effect against Dalton's ascites lymphoma (DLA) cells in a mice model. The DLA tumor induced mice might have survived longer because of important secondary metabolites. The extract also enhanced in a dose dependent manner (16)(17)
• Effect of Moist Cooking Blanching on Phenolic and Glucosinolate Contents: Study evaluated the effects of traditional blanching methods on changes of color properties, phenolic metabolites, glucosinolates and antioxidant properties on Brassica rapa chinensis leaves. Blanching at 95°C in 10% lemon solution significantly increased the glucosinolate sinigrin content. Overall blanching at 95°C in 5% lemon juice solution can be recommended to preserve the functional compounds in Nightshade leaves. (18)
• Antihypertensive / Leaves: Study evaluated the antihypertensive potential of Brassica rapa leaves. Methanol extract showed highest antihypertensive potential among all extracts with ACE (angiotensive converting enzyme) inhibition of 79.39%, compared to standard drug captopril which showed 85.81% inhibition. GC-MS analysis revealed potent phytoconstituents, and molecular docking study showed oleic acid as the main antihypertensive metabolite. (19)
• Antimicrobial / Antiulcer / Anti-Inflammatory / Flowers: Study evaluated Brassica rapa flower extract (BRFE) for antibacterial, immunomodulatory, anti-inflammatory effects on indomethacin-induced gastric ulcers in rats. LC-ESI-MS/MS phytochemically identified 57 compounds. BRFE exhibited antibacterial activity against bacterial causing GIT infections, increasing outer and inner membrane permeability. BRFE exhibited immunomodulatory activity in LPS-stimulated PBMCs by attenuating upregulation of COX-2, iNOS, IL-6, TNF-α, and NF-kB gene expression. BRFE also exhibited anti-inflammatory activity required for maintaining gastric mucosa homeostasis by decreasing neutrophil infiltration with subsequent myeloperoxidase production, in addition to increase in GPx activity. Histopathologic revealed relatively normal stomach mucosa in treated rats. BRFE also modulated expression of genes encoding IL-10, NF-kB, GPx and MPO. Results suggest a promising treatment for GIT diseases. (20)
• Antidepressant / Analgesic / Whole Plant: Study evaluated whole plant extracts in Swiss albino mice model using acetic acid writhing and tail immersion methods for analgesic action and thiopental sodium induced sleeping time test, tail suspension test, and forced swim test for antidepressant activity. At doses of 200 and 400 mg/kbw, results showed significant analgesic and antidepressant activities. (21)
• Antioxidant / Cytotoxic Activities / Silver Nanoparticles / Leaves: Study evaluated the chemical constituents, antioxidant activities, and cytotoxic effects of 70% aqueous ethanolic extract of B. rapa and six fractions (F1-6). Two extracts (ethanolic extract and its nanoparticles) were evaluated for cytotoxicity and antioxidant activity. Highest antioxidant activity was with NBRE followed by BRE. NBRE also exhibited high activity against HELA cells (human cervical cancer cell line) and M-NFS-60 cells (human Mouse Myelogenous Leukemia Carcinoma) with doxorubicin as standard drug. (see constituents above) (22)


Availability
- Cultivated.