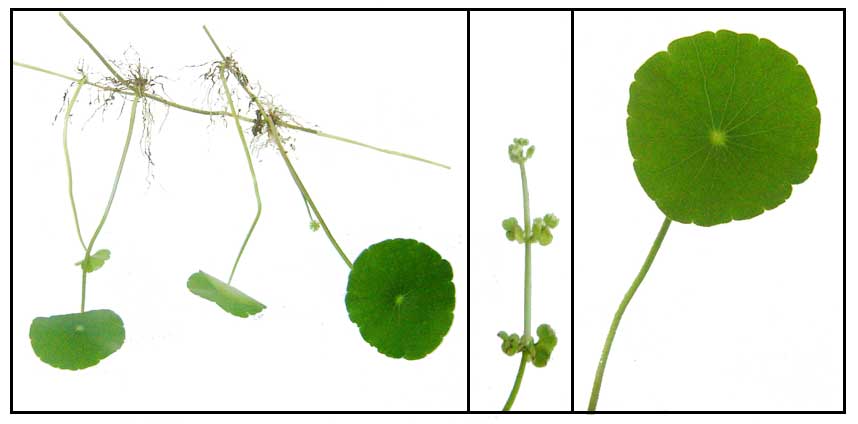 General info :
Genus hydrocotyle is an extensive family of almost 100 species of small, inconspicuous marsh herbs. The name "sheep rot" came from a false belief that it causes the "liver rot" when eaten by sheep; the real culprit proving to be liver fluke which lives in the plant. It has more than a century of recorded folkloric medicinal use.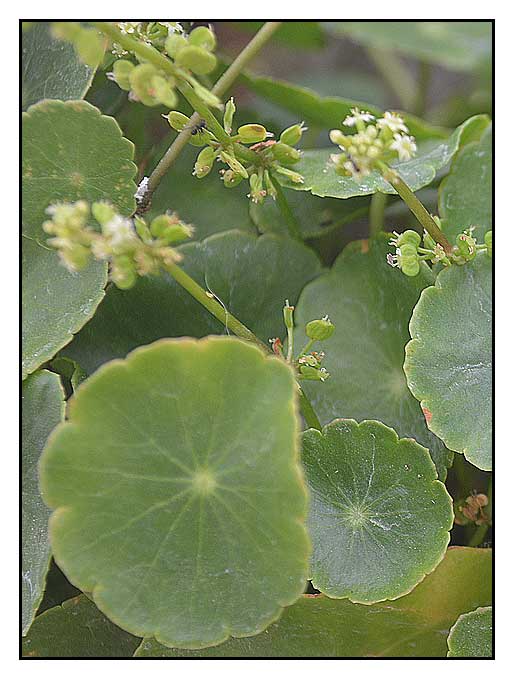 Botany
Pennyworth is a creeping or floating perennial herb. Stems are slender, creeping, rooting at the nodes. Leaf stalk is attached to the leaf blade in the center of the under-surface. Leaves have long and slender petioles, glossy, dark green, crenate, peltate to orbicular, 6 to 9 veined, up to 4 cm across. Flowers are white, tinged with pink to purplish green, 1 millimeter, subsessile, 3 to 6 in a simple head-like umbel, 3 millimeters across, sometimes with 1 to 3 whorls of flowers below..
Distribution
- Recently introduced to the Philippines.
- Grows well in marshy and acidic soil.
- Provides good ground cover.
- Propagated by cuttings and seeds.
Constituents
• Study isolated an amorphous saponin designated as hydrocotyle-saponin B. (6)
• GC-MS analysis of stem, flowers and leaves (S, F, L) for essential oil yielded 15 components viz., hexenal, (2E)-hexenal, 3-hexen-1-ol, santalene, ß-farnesene, ß cubebene, y-muurolene, ß-bisabolene, y-sesquiphellandrene, nerolidol, caryophyllene oxide, ledol, Z-α-bisabolene epoxide, glubulol, epi-globulool, 5,5-dimethyl-4-(3-methyl-1,3,butadienyl)-1-oxapirol[2.5]octane. (see study below) (10)
• Study for secondary metabolites yielded flavonoids, reducing sugar, saponins, steroids, tannins, and terpenoids. No alkaloids, anthraquinones, and cyanogenic glycosides were detected. (11)
• Vitamin analysis yielded ß-carotene 10.4 mg/kg, riboflavin 4.08 mg/kg, vitamin C 70.2 mg/kg, and vitamin E 26.9 mg/kg, with non irritating pH levels of 5.7 and 7.14 for 50% and 75% extract concentrations. (see study below) (12)
Properties
- Considered vulnerary.
- Studies have shown cytotoxic and phytoremediative properties.
Parts utilized
Leaves and roots.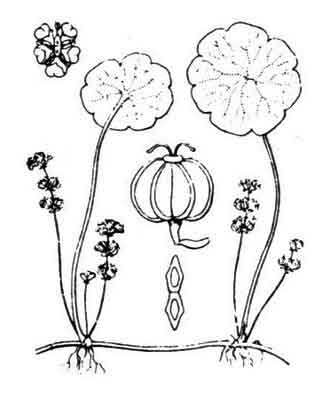 Uses
Edibility
- Leaves are cooked; eaten in limited amounts. Has a strong carrot taste,
Folkloric
- In Samar, used for diarrhea.
- Subanens of Zamboanga del Sur use decoction of whole plants for cough and kidney stones. (9)
- The Ilongot-Egongot community of Maria Aurora, Aurora, Philippines, use the leaves for treatment of abdominal pain, cough, and kidney disease. (13)
- Elsewhere has a long recorded history of folkloric medicinal use.
- In 1850s, used in India for treatment of leprosy.
- Used for eczema and other dermatologic maladies such as scrofula, ulcers.
- Also used for rheumatism, headaches, dizziness, bloody stools.
- Leaves used to dress burns or applied to skin diseases.
- In Malaya, traditionally used for treating wounds and as a diuretic.
- In Danish folk medicine, used for whooping cough.
- Preferred infusion use, 1 ounce of root in 1 pint of fluid, used as 1/2 - 1 fluid ounce 3 - 4 times daily.
Studies
• Cytotoxicity / Stem and Roots: Study showed cytotoxic activity of compounds (C1 and L1) isolated from the stem and root of H vulgaris. L1 was deduced to be panaxynol. C1 and L1 were cytotoxic toward human erythromyeloblasted leukemia cells, K-562 with IC50 of 13.9 µM and 34.2 µM, respectively, using MTT cell viability assay. (2)
• Waste Water Purifying Effect: Study was done to evaluate the removal effects of H. vulgaris on CODCr, nitrogen and phosphorus in municipal domestic wastewater. Results indicated H. vulgaris was adaptable to grow in municipal domestic waste water with good purifying effect and is recommended as a specific aquatic vegetation in phytoremediation of municipal waste water. (3)
• Phytoremediation Potential for Textile Dye: Study evaluated the potential of H. vulgaris as an aquatic plant for phytoremediation of C.I. Basic Red 46. Overall, the increase in activity of antioxidant enzymes was much higher in the roots than in the leaves. No significant increase in malondialdehyde (MDA) content was detected in both roots and leaves suggesting high efficiency of the antioxidant system in the elimination of reactive oxygen species. (7)
• Essential Oil / Antimicrobial Activity / Cytotoxicity: Study of leaves, stems, and flowers for essential oil yielded 16 components. The essential oil was evaluated for antimicrobial activity on E. coli, P. aeruginosa, S. aureus, F- oxysporum and for cytotoxicity on RD, Hep-G2, LU cancer cells. The essential oil of H. vulgaris had weaker bioactivity than H. bonariensis. (see constituents above) (10)
• Free Radical Scavenging / Antioxidants / Biocosmetic Antidote for Aging: Study the free radical scavenging activity, antioxidants, and physiological properties of H. vulgaris which could serve as basis for development of a biocosmetic antidote for pathological aging. Results showed H. vulgaris has abundant flavonoids and alkaloids with trace amounts of tannin. It has good scavenging activity for free radicals with IC50 of 29.75 and antioxidant activity of 158.13 (total phenolics as gallic acid in % w/w).  (12)

Availability
Wild-crafted.