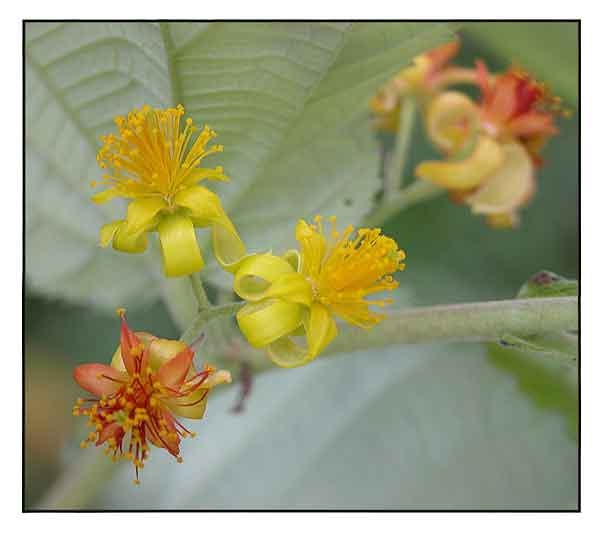 Gen info
- Grewia asiatica is a species of flowering plant in the mallow family Malvaceae. It was first found in Varanasi, India, and introduced by Buddhist scholars to other Asian countries and the rest of the world. . (35)
- The genus Grewia was named after Nehemiah Grew (1641-1712), one of the founders of plant physiology.
Botany
Phalsa is a small tree, with young stems and inflorescences densely covered with hairs. Leaves are obliquely ovate, sometimes obscurely 3-lobed, 7.5 centimeters to 20 centimeters long, 5 to 16 centimeters wide, with pointed tip and obliquely heart-shaped base. Leaves are sometimes obscurely 3-lobed. Flowers are yellow, about 2 centimeters in length, borne in densely crowded, rarely solitary, axillary cymes. Fruit is edible, small and round, purple to almost black when ripe, sweetish and somewhat acid; each drupe containing a large seed.
Distribution
- Native to the Philippines.
- Found in the Cagayan, Bataan and Ilocos Sur provinces of Luzon.
- In dry slopes at low altitudes.
- Also native to Assam, Bangladesh, Cambodia, Himalaya, India, Iran, Laos, Mauritius, Myanmar, Nepal, Pakistan, Queensland, Reunion, Sri Lanka, Thailand, Vietnam. (34)
C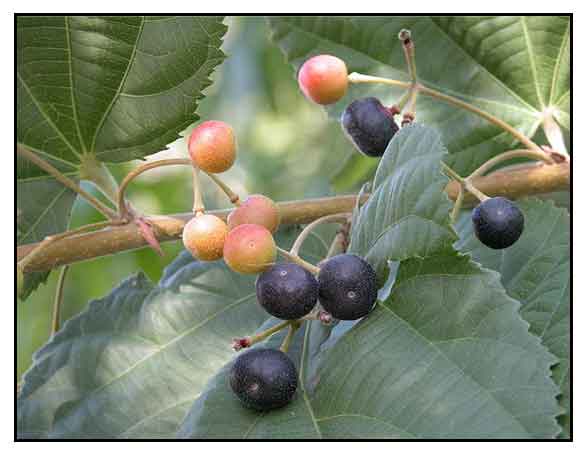 onstituents
- Fruits are a rich source of nutrients: proteins, amino acids, vitamins, and minerals, and bioactive compounds, like anthocyanins, tannins, phenolics, and flavonoids. (21)
- Edible portion of the fruit is 81.13% water, 1.24 % ash, 1.77 % fat, 10.27% sugar, and about 724 calories per kilo.
- Phytochemical study shows the fruit to contain anthocyanin-type cyanidin 3-glucoside, vitamins A and C, minerals, carotenes and dietary fiber.
- Nutritional analysis of fruit yielded per 100 g: protein, 1.57 g; total lipid (fat), <0.1 g; carbohydrate 21.1 g; ash 1.1 g; fiber 5.53 g; calcium 136 mg; iron 1.08 mg; phosphorus 24.2 mg; potassium 372 mg; sodium 17.3 mg; vitamin B1 0.02 mg; vitamin B2 0.264 mg; vitamin B3 0.825 mg; vitamin C 4.825 mg; vitamin A 16.11 mg. (21)
- Mineral analysis of fruit yielded cobalt 0.99 mg/100 g (FW/fresh fruit), 33 µg/100 g (DW/dry weight); chromium 1.08 FW, 36 DW; copper 0.48 FW, 16 DW; nickel 2.61 FW, 87 DW; zinc 144 FW, 48 DW; iron 140.8 FW, 1695 DW. (21)
-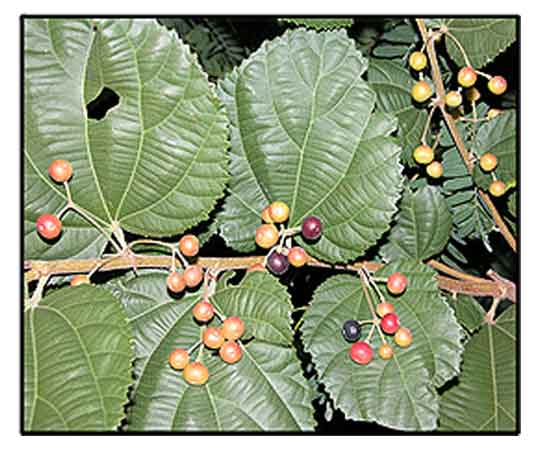 Flowers yield a lactone, 3, 21, 24 trimethyl-5,7-dihydroxyhentriacontanoic acid δ-lactone.
- Study on secondary metabolites yielded pelargonidin 3,5-diglucoside (1), Naringenin-7-O-β-D-glucoside (2), Quercetin (3), Quercetin 3-O-β-D-glucoside (4), Catechins (5), Cyanidin-3-glucoside (6), Grewinol (7), Naringenin (8), 3,21,24-trimethyl- 5,7-dihydroxy-hentriacontanoic acid δ lactone (9), Betulin (10), Lupeol (11), lupenone (12), Friedelin (13), α-Amyrin (14), β-amyrin (15), β-sitosterol (16), Lanost-9(11)-en-12-one (17), Docosanol (18), Nonacosanol (19), Stigmast-7-en-3-ol (20), Citric acid trimethyl ester (21), α-methyl-l-sorboside (22), stigmasterol (23) Campesterol (24), 9,12-octadecadienoic acid methyl ester (25). (21)
- Study of tall and dwarf types of Grewia asiatica showed (content %, tall and dwarf, respectively) edible portion 91.30, 90.79; seed 8.70, 9.21; juice yield 67.50, 65.90; pomace 32.50, 34.10; moisture 76.80, 74.83; total sugars 5.73, 7.95; reducing sugars 1.24, 0.99; non-reducing sugars 4.49, 6.96; titrable acidity 1.48, 1.12; fruit protein 3.13, 1.89; seed protein 8.75, 7.00; pulp protein 1.40, 7.00. (24)
- Nutritive analysis of fruit (values/100g) yielded protein 1.57/g, total lipid (fat) <0.1 g, carbohydrate 21.1 g, ash 1.1 g, fiber 5.53 g, calcium 136 mg, iron 1.08mg, phosphorus 24.2mg, potassium 372mg, sodium 17.3 mg, vitamin B1 0.02 mg, vitamin B3 0.825 mg, vitamin C 4.385 mg, vitamin B2 0.264 mg, vitamin A 16.11 g. (Yadav 1999) (24)
- Mineral content of fruit (mg/100 g fresh fruit-FF and µg/100g dry weight-DW respectively) yielded cobalt 0.99, 33; chromium 1.08, 36; copper 0.48, 16; nickel 2.61, 87; zinc 144, 48; iron 140.8, 1695. (24)
- Study yielded a total of seven anthocyanins, including non-acylated (delphinidin-3-O-glucoside, peonidin-3-O-glucoside, pelargonidin-3-O-malonyl glucoside), acylated (cyanidin-peonidin-and pelargonidin-3-O-6"-acetylglucoside) and pyranoanthocyanin (Malvidin-3-O-glucoside pyruvic acid).  The major ACN was cyanidin-3-O-(6"acetylglucoside) comprising 44-63% (695 µg/b) of total ACNs composition, followed by peonidin-3-O-glucoside consisting of 3-30% (163.6 µg/g) and pelargonidin-3-O-(6"-acetyl glucoside) 8-14% (140.4 µg/g). (see study below) (30)
- ESI-MS/MS and HPLC analysis identified catechin, chlorogenic acid, caffeic acid, and morin as potential bioactive compounds in the GAHAF5 fraction with concentrations of 1230, 491, 957, and 130 μg/g, respectively.  (see study below) (38)
- Phytochemical screening of ethanol extract of stem bark yielded flavonoid, steroid, tannin and phenolic compounds. Total phenolic content was 44.65 ± 3.17 mg of gallic acid equivalent per gm of GAE extract and the total flavonoid content was 39.11 ± 4.65 mg of quercetin equivalent per gm of GAE extract. (see study below) (40)
- Study of flowers isolated grewinol, a long chain keto-alcohol, shown to be tetratricontane-22-ol-13-one. (44)
Properties
- In folklore, fruit considered astringent, cooling, stomachic.
- Bark is demulcent, anti-rheumatic.
- Juice considered to have a low glycemic index.
- Studies have suggested antimicrobial, anti-platelet, antiemetic, anti-cancer properties for leaves; anticancer, antioxidant, radioprotective and antihyperglycemic properties for fruit; and analgesic and anti-inflammatory properties for the stem bark.

Parts used
Leaves, roots, bark.

Uses
Edibility
• Fruit is edible; sherbet is made from it.
• Fruit used for making juice and squash.
• A refreshing drink from the juice, phalsa syrup, is a delicacy in northern India. A mucilaginous extract of the bark, obtained after pounding in water is used to clarify sugar cane juice during the preparation of 'gur', the traditional brown sugar in India. (37)
• Spirit is distilled from the fruit.
Folkloric
• In Sind, Infusion of the bark used as demulcent.
• Santals used the root-bark used for rheumatism.
• Leaves used as application for pustular eruptions.
• Used in treatment of diabetes and heart conditions.
• In Ayurveda, fruits considered cooling tonic and aphrodisiac; allays thirst and burning sensations, inflammation, heart and blood disorders and fevers; removes biliousness. Bark is demulcent. It cures urinary troubles and relieves vaginal burning. (37)
- In Pakistan,m fruit traditionally used as a smooth muscle relaxant in gastrointestinal and cardiovacular diseases. (39)
Others
• Ethnoveterinary: In Pakistan, decoction of stem bark given for prompt release of afterbirth in cattle. Pounded roots applied externally to hasten suppuration and as dressing for wounds and broken bones. (31)
• Fiber: Bark yield a fiber, used for making ropes.
• Timber: Medium-weight to heavy hardwood. Heartwood is pale gray to pale brown; moderately resistant to dry-wood termites. Easy to work with hand or machine tools. Non-durable when exposed to weather or in contact with the ground. Used for making tool handles, spades, shoulder poles, shafts of golf sticks, billiard cues, shingles, etc. In the Philippines, considered a good substitute of 'lanutan' (Hibiscus campylosiphon). (37)
• Crafts: Shoots obtained after annual pruning used for making baskets. (37)

Studies
• Radioprotective / Free Radical Scavenging / Fruit: Study evaluated the radioprotective effect of G. asiatica fruit extract in a model of irradiated Swiss albino mice. Treatment of mice before and after irradiation caused a significant depletion in TBARS followed by significant elevation in GSH and protein concentration in the intestine and testis of mice. The GAE showed strong radical scavenging activity in DPPH and O2- assays and invitro radioprotective activity in protein carbonyl assay in a dose dependent manner. (1)
• Radioprotective: Study showed Grewia asiatica extract provides protection against radiation-induced alterations in blood of mice. (3)
• Anti-diabetic: Study of aqueous extract of G asiatica in diabetic cats and rabbits showed lowering of blood sugar levels to normal. (4)
• Antiemetic / Fruits: Study of fruits of G asiatica extracts showed an antiemetic effect in dogs and controlled emesis centrally induced by Apomorphine. The activity was comparable to commercial anti-emetic drugs - metoclopramide and chlorpromazine. (5)
• Neuroprotective / Radioprotective: (1) Study showed that prior/post-supplementation of Grewia asiatica has radioprotective potential as well as neuroprotective properties against radiation. (2) Study showed GA fruit extract was able to protect the brain of Swiss albino mice against radiation induced biochemical alterations. (6)
• Antifungal / Antiviral: Study of methanolic extract of leaves for antiviral and antifungal activity showed maximum activity against Candida albicans. Maximum antiviral activity was seen against Urdbean leaf crinkle virus. (7)
• Brain / Radioprotective: Study in Swiss albino mice showed that Grewia asiatica fruit extract. (9)
• Antibacterial / Radioprotective: Crude methanolic extracts of G asiatica, E jambolana and C carandas yield four major fractions viz. phenolic acids, flavonols and anthocyanins. Except for anthocyanins, all fractions showed significant antibacterial activity. GA substantially inhibited all tested fungal species. (10)
• Hepatoprotective / Radioprotective / Fruit: Study evaluated the radioprotective effect of G. asiatic fruit extract against oxidative stress in Swiss albino mice. Biochemical and histopathological results showed the extract has potential against radiation. (8)
• Effect on Glycemic Index / Fruit: Study evaluated the glycemic index of fruits of Grewia asiatica. Gi value was low (5.34) with modest hypoglycemic activity. The methanolic, aqueous, and butanolic extracts of fruits produced a stimulatory effect on reactive oxygen species (ROS) while the chloroform, hexane, and ethanol-acetate exerted a significant inhibitory effect. Results suggest a beneficial effect on blood glucose metabolism and modulation of ROS production. (13)
• Antioxidant / Leaves: Study of successive extracts of leaves showed antioxidant activities comparable with standards such as ascorbic acid and quercetin. (14)
• Antihyperglycemic / Fruit, Stem Bark and Leaves: Study of crude ethanolic extracts of fruit, stem bark and leaves and their fractions were tested for anti-hyperglycemic effects in alloxan-induced hyperglycemic rabbits. Results showed significant antihyperglycemic activity. (15)
• Antidiabetic / Leaves: Study evaluated the antidiabetic activity of dried leaves of Grewia asiatica and Ipomoea carnea. Results showed significant reduction of blood glucose in STZ-induced diabetic rats. Glibenclamide was used as the reference drug. (16)
• Anti-Platelet Activity / Leaves: Study evaluated crude methanolic extracts of leaves of Grewia asiatica and Terminalia chebula for anti-platelet activity. Results showed potent dose-dependent inhibition of platelet aggregation. Results suggest a potential herbal treatment for patients with diseases associated with blood clotting. (17)
• Anti-Inflammatory Activity / Bark: Study evaluated aqueous and ethanolic extracts of bark of G. asiatica for anti-inflammatory activity in a brewer yeast-induced paw edema model. Results showed significant decrease in inflammation. (18)
• Anti-Inflammatory / Analgesic / Root Bark: Study of methanolic and aqueous extracts of bark showed analgesic effect using an acetic acid-induced writhing and hot plate analgesic in mice and anti-inflammatory effect using carrageenan-induced paw edema in rats. (19)
• Cerebrum Radioprotective / Fruit: Study evaluated the radioprotective effect of Grewia asiatica fruit pulp extract on Swiss albino mice against radiation induced biochemical alterations in mice cerebrum. Results showed a radioprotective effect with significant amelioration of radiation-induced augmentation in the levels of LPO. Also, radiation induced depletion in levels of GSH protein was significantly checked. (20)
• Immunomodulatory / Fruit: Study of Grewia asiatica extract showed immunomodulatory activity on cyclophosphamide induced myelosuppression, forced swimming test and carbon clearance test in Swiss albino mice. (22)
• Radioprotective / Testes / Fruit: Study showed G. asiatica extract possess potential to ameliorate the damaging effect of radiation to the testes. (23)
• Antihyperglycemic / Anti-Inflammatory / Antioxidant / Fruit: Study evaluated the effect of ethanolic fruit extract against STZ-induced hyperglycemia in rats. The fruit extract reduced blood glucose and pancreatic malondialdehyde (MDA) levels, increased liver glycogen, pancreatic GSH and SOD enzyme activity, and decreased serum IL-1ß and TNF-α. The improvement in pancreatic ß-cells and antioxidant and anti-inflammatory effects of the fruit extract may explain the antihyperglycemic effect. (26)
• Lack of Brine Shrimp Lethality and Hemagglutination Activity: Study of crude ethanolic extracts and fractions of fruit, stem bark and leaves of G. asiatica showed insignificant brine shrimp lethality and no hemagglutination activity. (27)
• Antibacterial / Flowers: Study of various extracts of flowers showed the methanol extract to exhibit significant zone of inhibition against Pseudomonas aeruginosa (3.3 ± 0,04 cm), Vibrio cholera (3.0 ± 0.08 cm) and Salmonella abony (3.0 ± 0.05 cm) at concentration of 20 mg/ml and best MIC against Escherichia coli (0.5 ± 0.03 mg/ml). (28)
• Radioprotective in Hematologic and Biologic Alterations / Fruit: Study evaluated the radioprotective effect of Grewia asiatica fruit pulp extract on Swiss albino mice against radiation induced hematological and biochemical alterations. Results showed significant increase in radiation induced deficit blood constituents and decrease in radiation induced elevation of lipid peroxidation and cholesterol levels. (29)
• Anthocyanins / Fruit: Study of various solvent extracts yielded a total of seven ACNs. Results showed G. asiatica is a fruit rich in anthocyanins with potential use as food colorant and in nutraceuticals. (see constituents above) (30)
• Antiarthritic / Antimicrobial / Fruit: Study evaluated the invitro antiarthritic and antimicrobial activity of fruit extracts of Grewia subinaequalis. Using protein denaturation method, the fruit extract exhibited remarkable antiarthritic activity comparable to acetylsalicylic acid. The extract showed antimicrobial activity against Escherichia coli and Lactobacillus acidophilus by agar well diffusion method. (32)
• Nutritional / Toxicological Study / Fruit: Nutritional analysis of dried powder showed nutritional contents of carbohydrates, protein, fat, fiber, minerals and energy that was four times that of phalsa fruit. On oral acute toxicity testing on healthy laboratory animals, a dose of 0.45 g/kbw and 0.90 g/kbw, compared to standard Tang orange, showed no signs of toxicity, mortality, or histopathological changes within 72 hours. (33)
• Neuromodulatory Effects / Anxiolytic / Antidepressant / Berry Juice: Study evaluated the effects of methanol extracts prepared from different dilutions (5-30%) of fruit juice on learning, anxiety, and depression-like behavior by employing different animal behavioral models: Anxiolytic activity using Open Field test, Elevated Plus Maze test; Antidepressant Effect using Forced Swimming test; Effect on memory and spatial learning using Passive Avoidance test, Y-Maze test, Novel Object Recognition test, Morris Water Maze test). Results established the antioxidant, anti-cholinesterase, and neuromodulatory role of phenols, flavonoids, and anthocyanins present in the fruit of G. asiatica. Chronic administration led to reduction in anxiety and depression-like behavior and reversal of scopolamine-induced cognitive impairment in rats. Effects were more pronounced at higher concentrations of the fruit exudate. Results support the benefits of phytoconstituents of G. asiatica fruit in the amelioration of neurological disorders that could be attributed to their antioxidative capacity or due to interaction with GABAergic, serotonergic and cholinergic systems in the brain. (36)
• Anti-Inflammatory / Anticancer / Fruit: Study evaluated the anti-inflammatory and anticancer properties of G. asiatica fruit crude extract and fractions. Dried fruit powder was sequentially fractionated with 100% dichloromethane, 100% methanol (MeOH), and 50% MeOH. MeOH 50% extract derived fraction C and hydroalcoholic fraction 5 (GAHAF5) exhibited higher antioxidant, anti-inflammatory, and in vitro anticancer activity. GAHAF5 showed IC50s of 26.2, 51.4, and 63 µg/mL against MCF-7, HEp-2, and NCI-H522 cancer cells, respectively. Results suggest G. asiatica bioactive fractions possessed anti-inflammatory activity in vitro and cytotoxicity against breast cancer, lung cancer, and laryngeal cancer cell lines. (see constituents above) (38)
• Spasmolytic / Vasorelaxant / Fruit: Study evaluated the antispasmodic and vasorelaxant actions of 70% methanolic crude extract of G. asiatica fruit using different isolated GI tissue preparations and endothelium-intact aortas from rats. Results showed spasmolytic activity in isolated small intestinal GI smooth muscle mediated through a mixture of KCO (opening of K+ channels) and CCB (Ca2+ blockade) mechanisms. The extract also showed vasodilator activity in endothelium-intact aorta tissue preparations possibly via NO release from vascular endothelium. (39)
• Antidiabetic / Antihyperlipidemic / Antioxidant / Stem Bark: Study of ethanol extract of G. asiatica stem bark showed glucose and lipid lowering efficacy, restored liver glycogen and protected pancreas from oxidative damage in alloxan induced diabetic rats. The effects of the extract on SGOT, CK-MB, and liver glycogen content were dose dependent. The treated diabetic rats showed significant improvement in normal cellular population size of islets. In DPPH scavenging assay, IC50 values of GAE and ascorbic acid were 76.45 and 12.50 μg/ml, respectively. (see constituents above) (40)
• Protective against Scopolamine-Induced Learning and Memory Deficits / Berries: Study evaluated the effect of G. asiatica berries in ameliorating cognitive deficits in scopolamine-induced amnesia using elevated plus maze model. The methanol extract caused restoration of memory as measured on behavioral paradigms by elevation of neurotransmitter acetylcholine, amelioration of oxidative stress markers, restoration of damaged neuronal cells cytoarchitecture and modulation of monoamines mediated behavior. Results suggest potential of phalsa as a nootropic candidate. (41)
• Antiepileptic / Anxiolytic / Leaves: G. asiatica is mentioned in ancient Indian literature as Rasayana due to its stimulant and tonic effects. Study evaluated the antiepileptic and anxiolytic effect of G. asiatica leaves using animal models. The methanol extract at doses of 100 and 200 mg/kg provided protection against both PTZ (pentylenetetrazole) and MES (maximal electroshock) induced seizures in mice. The extract showed significant anxiolytic effect in elevated plus maze, light/dark box and mirror chamber mice models. Results showed significant antiepileptic and anxiolytic effect. (42)
• Antilithiatic / Leaves: Study evaluated the antilithiatic activity of ethanolic leaf extract of G. asiatica in ethylene glycol (0.75%) hypercalciuria and increased urinary volume and pH. Extract doses of 200 and 400 mg/kg were give orally in curative and preventive regimens for 28 days. Extract supplementation significantly (p<0.05) restored urea, uric acid, creatinine, volume of urine and pH levels. Results were comparable to standard drug, Cystone (750 mg/kg). Triterpenoids, flavonoids, and saponins in the extract may be responsible for the the antilithiatic effect and the inhibitory effect on crystal growth, improvement on kidney function, and cytoprotective effect. (43)
• Copper Nanoparticles / Antimicrobial / Larvicidal / Anti-Termite: Study reports on the eco-friendly and cost-effective synthesis of copper nanoparticles (CuNPs) using G. asiatica leaf extract. The CuNPS showed antibacterial activity against E. coli and B. subtilis, and antifungal potential against Aspergillus niger and A. oryzae. The NPs were also found lethal against mosquitoes with maximum efficacy against Aedes aegypti larvae at 100 mg/ml after 24 h. Highest mortality rate in termite species Heterotermes indicola was seen at 100 ppm concentration. (45)
• Hypoglycemic / Fruit: Study evaluated the effect of G. asiatica fruit extract in control of diabetes in male albino rats with Streptozotocin-mediated type-2 diabetes. Results showed the fruit extract significantly improved the blood glucose levels at dose of 200 mg/kg. Glibenclamide was used as standard drug. (46)
• Sedative-Hypnotic / Leaves: Study evaluated the antidepressant and sedative-hypnotic activities of methanolic extract of leaves of G. asiatica in Swiss albino mice. In acute toxicity test, the methanolic soluble fraction showed no significant changes in body weight at doses of 1000, 2000, and 3000 mg/kbw. The extract showed insignificant antidepressant activity in acute models of depression. Sedative-hypnotic activity was evident at doses of 100 and 200 mg/kbw in hole board test and sedative-hypnotic effect of short duration was observed in hole cross and open field test. (47)

Availability
- Wild-crafted.
- Seeds in the cybermarket.