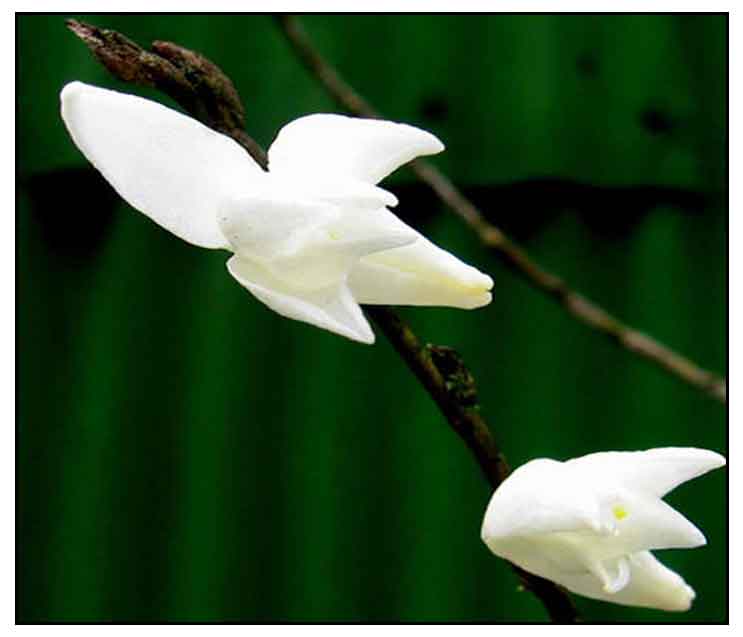 Botany
Pigeon orchid has stems that are slender, fascicled, smooth, elongated, up to 1 meter in length, with upright, sympodial pseudobulbs at the base, 8 to 12 centimeters long, about 2 centimeters thick. Leaves are scattered, distichous, oblong, 5 to 8 centimeters long and 1.5 to 2.5 centimeters wide, with a blunt tip. Flowers are pure white, fugacious, very fragrant, solitary or somewhat fascicled, appearing on the upper parts of the stems at the nodes; the center of the lip is pale yellow, 2.5 to 3 centimeters long.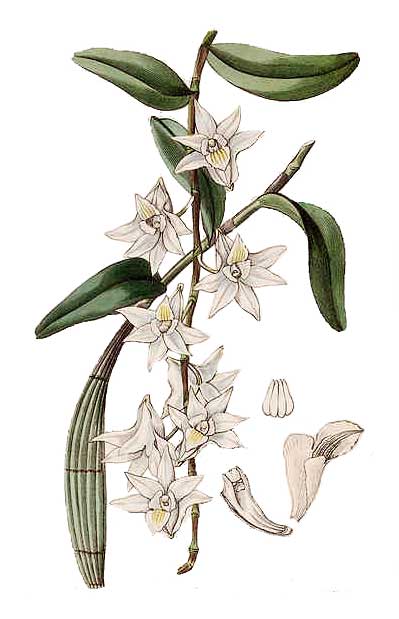 Distribution
- Common and widely distributed orchid in the Philippines.
- Growing at sea level to an altitude of 500 meters.
- Also occurs in Sri Lanka, Burma, the Malay Peninsula, Vietnam, Indonesia, Borneo.
- One of the most common species of orchids in Asia.
Constituents
- Plant yields trace alkaloid in the pseudobulbs and leaves.
Properties
- Studies have suggest antimicrobial, analgesic, anti-inflammatory, antioxidant properties.

Parts used
Pseudobulbs and leaves.

Uses
Folkloric
- The Malays commonly used the juice of the pseudobulbs for treating ear infections. In Java, used similarly.
- Poultice of leaves used on boils and pimples.
Others
- Fibers from the stems are used as decorative material in basket making and other crafts.

Studies
• Analgesic / Anti-Inflammatory / Antioxidant: Study of ethanol and methanol extracts showed anti-inflammatory, anti-nociceptive and antioxidant activities which may be related to the changes in the content of total alkaloids.(1)
• Reproductive Function Effects: Study evaluated the effect of pigeon orchid pseudobulb juice on female reproductive function using Wistar rats. Results showed a significant increase in estradiol level and increase in the number of tertiary follicles. (4)
• Antibacterial: In a study that evaluated nine plant samples for phytochemicals and biologic activity, Dendrobium crumentatum showed antifungal and antibacterial activity. (6)
• Antimicrobial / Stem, Root & Pseudo-bulbs: Study evaluated the potential antimicrobial activity of various parts of Dendrobium crumenatum against 8 pathogenic bacteria. The methanolic extract of stem, root, and pseudo-bulb exhibited antimicrobial activity comparable to standard antibiotics. Activity could be due to the presence of alkaloid and flavnoid compounds. (7)

Availability
Wild-crafted.