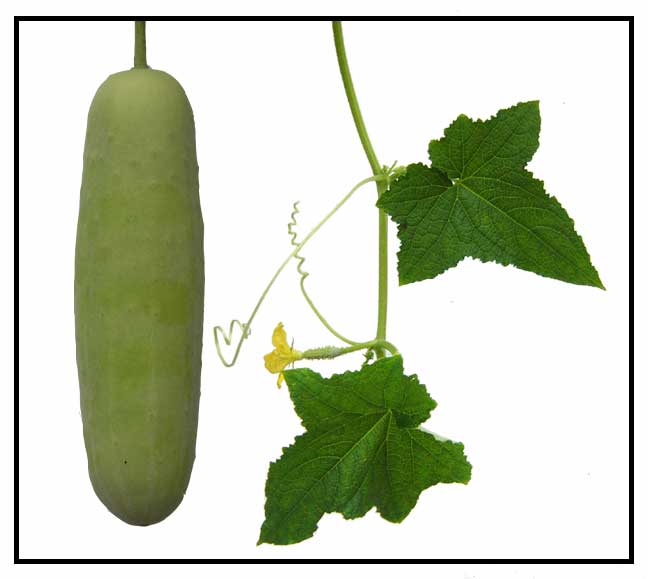 Botany
Pipino is an annual, rather coarse, fleshy, prostrate or climbing vine. Leaves are ovate, 8 to 14 centimeters long, 5-angled or 5-lobed, the lobes or angles being pointed, and hispidious on both surfaces. Flowers are axillary, solitary, or fascicled, stalkless or short-stalked, and bell-shaped. Male and female flowers are similar in color and size, yellow, and about 2 centimeters long. Fruit is usually cylindric, 10 to 20 centimeters long, smooth, yellow when mature, and slightly tuberculated. A variety is smaller and greenish. Seeds are numerous, oblong, compressed, and smooth.
Distribution
- Cultivated in the Philippines.
- Planted in all warm countries.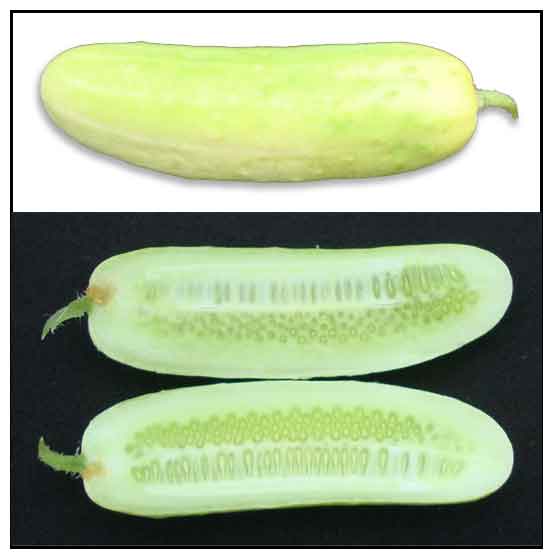 Constituents
- Phytochemical screening yielded alkaloids, glycosides, steroids, saponin, flavonoid, and tannin.
- Fruit contains dextrose (0.11 to 0.98%); saccharose (0.05 to 0.13%); fixed oil (0.11-0.98%).
- Seed contains fixed oil (Gurken oil) 25% consisting of oleic acid (58%), linoleic acid (3.7%), palmitic acid (6.8%), stearic acid (3.7%); phytine; and lecithine.
- Aerial parts contain a 14a-methyl D-phytosterol.
- Pulp yields shikimate dehydrogenase.
- Leaves contain urea and an alkaloid, hypoxanthine.
- Study yielded two new megastigmanes from the leaves of C sativus - cucumegastigmanes I and II with other known compounds.
- Study of seeds showed an abundance of phenolic compounds (93.5 ± 0.1 mg GAE g-1), flavonoids (57.4 ± 0.1 mg QE g-1), ß-carotene (19.46 ± 0.4 mg carotenoids per 100 g). (see study below) (28)
- Phytochemical screening of ethanol extract of leaves yielded glycosides, alkaloids, phytosterol and steroids, protein and amino acids, tannins, triterpenoids, and saponins. (41)
- Nutrient analysis of raw cucumber with peel (per 100g) yielded: (Proximates) water 95.23 g, energy 15 kcal, protein 0.65 g, total lipid 0.11 g, carbohydrate (by difference) 3.63 g, total dietary fiber 0.5 g, total sugars 1.67 g; (Minerals) calcium 16 mg, iron 0.28 mg, magnesium 13 mg, phosphorus 24 mg, potassium 147 mg, sodium 2 mg, zinc 0.20 mg; (Vitamins) vitamin C (ascorbic acid) 2.8 mg, thiamin 0.027 mg, riboflavin 0.033 mg, niacin 0.098 mg, vitamin B6 0.040 mg, folate 7 µg, vitamin B12 0, vitamin A 105 IU, vitamin E 0.03 mg, vitamin D 0, vitamin K 16.4 µg; (Lipids) total saturated fatty acids 0.037 g, total monosaturated FA 0.005 g, total polyunsaturated FA 0.032 g, total trans FA 0, cholesterol 0. (42)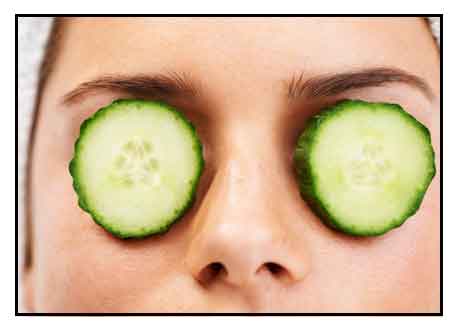 Properties
- Seeds are anthelmintic; also, cooling, diuretic, and strengthening.
- Active ingredient of the essential oil is considered aphrodisiac in nature.
- Checkmate dehydrogenase from the pulp is considered a facial skin softener; also cooling and a natural sunscreen.
- Studies have shown anticancer, antidiabetic, antiurolithiatic, adsorbent, anthelmintic, skin whitening, antifungal, antibacterial, carminative, antidiarrheal, gastroprotective, hepatoprotective properties.

Parts used
Fruit, seeds, leaves.

Uses
Edibility / Nutritional
- Peeled raw fruit is peeled, sliced thin, served with vinegar, sugar, salt, pepper and calamansi makes a good vegetable side dish.
- Common salad ingredient; also boiled in stew dishes.
- Seed kernel is edible.
- A variety is used for making pickles.
- In Malaya, young leaves are eaten raw or steamed.
- Good source of calcium and iron, vitamins B and C.
Folkloric
- Juice of leaves used as an emetic in acute indigestion in children.
- Ripe, raw cucumbers said to be good for sprue.
- Bruised root applied to swelling from the wound of hedgehog quill.
- Raw cucumbers used for dysentery.
- Cucumber salve used for scalds and burns.
- Seeds used as taeniacide (1 - 2 oz of seed thoroughly ground, with sugar, taken fasting, followed in 1-2 hours with a purge). Also used as an emetic with water.
- In Indo-China, immature fruit given to children for dysentery.
-In India, used as diuretic and for throat infections. Pulp considered healing and soothing, used to keep facial skin soft; is toning and soothing on damage skin and provides a natural sunscreen.
- In Bangladesh, fruit used with cumin seeds for throat infections.
- In Pakistan, fresh fruit is cut in small pieces and taken three times daily for jaundice and hepatitis.   (56)
Others
- Cosmetic: Fruit is excellent for rubbing over the skin for softness and whiteness.
- Cooling, healing, and soothing to the skin irritated by the sun or raw from effects of eruptions
- Used in the manufacture of cucumber soap.
- Cucumber scent, one of a few others, linked to female sexual arousal. source
Studies
• Phytochemicals / C-Glycosides: Study yielded the following C-glycosides from the leaves: isovitexin 2″-O-glucoside, isovitexin, isoorientin, 4′-X-O-diglucosides of isovitexin and swertiajaponin. Flowers yielded kaempferol 3-O-rhamnoside and 3-O-glycosides of kaempferol, quercetin, isorhamnetin was revealed.
• Hypoglycemic / Anti-Diabetes: In Mexico, one of the edible plants with hypoglycemic activity. (2) Antihyperglycemic effect of 12 edible plants was studied in healthy rabbits. Cucumis sativus significantly decreased the area under the glucose tolerance curve and the hyperglycemic peak. Study suggests the integration of a diet that includes edible plants with hypoglycemic activity. (6) Study evaluated the efficacy of an ethanolic extract of C. sativus fruits as a hypoglycemic agent on Sprague-Dawley rats. Efficacy was compared with intraperitoneal injection of insulin. Results showed highest hypoglycemic activity with treatment of C. sativus extract. Results suggest potential as alternative therapy for treatment of diabetes mellitus. (53)
• Anthelmintic: Ethanolic extract of C sativus exhibited a potent activity against tapeworms comparable to the effect of piperazine citrate. (3)
• Skin Whitening / Melanin Inhibition: Six plants parts of C sativus were studied for its inhibitory effect on melanogenesis. Leaves and stems showed inhibition of melanin production. Of 8 compounds isolated, lutein was a potentially skin whitening component. (4)
• Hepatoprotective / Antioxidant: Studies have isolated isovitexin and isoorientin, two C-glycosylflavones. Isoorientin has exhibited hepatoprotective effect and isovitexin, an antioxidant effect.     (7)
• Cytotoxicity / Antifungal: Studies of various extracts of leaves and stems were evaluated for cytotoxicity and antifungal activities. Chloroform extract showed lethality against brine shrimp nauplii. Ethanol and chloroform extracts showed moderate antifungal activity against all tested organisms. Aspergillus niger was most sensitive to the ethanol extract. (11)
• Antacid / Carminative: Study evaluated the carminative and antacid properties of C. sativus fruit pulp aqueous extract. Result showed the extract significant results for neutralized acid and showed resistance against pH changes and also showed good carminative potential. (12)
• Antidiabetic / Seeds: Study of C. sativus seed extracts in STZ-induced diabetic rats showed no initial phase effects but showed blood glucose lowering and weight lost after 9 days of continued daily therapy. (13)
• Hepatoprotective: Study showed an aqueous extract of Cucumis sativus possessed hepatoprotective and antioxidant activity against CHP (cumene hydroperoxide) induced-cytotoxicity and ROS (reactive oxygen species) formation. (14)
• Delayed Cataractogenesis: Study in Sprague-Dawley rats investigated the anti-cataract properties of Cucumis sativus and Cucurbita pepo prior to induction of cataracts using galactose. Both C. sativus and C. pepo significantly delayed cataract formation. Results suggest regular low doses may be effective in delaying cataractogenesis. (15)
• Cosmetic Ingredients: Study evaluated the safety of six ingredients from various extracts of Cucumis sativus (fruit, juice, seed) used in cosmetics as skin conditioning agents. The extracts were found safe in present practices of use and concentration. (16)
• Phytochemicals / Antimicrobial: Analysis of for proximate principles showed cucumber to be high in all nutritional content, with considerable amounts of proteins, carbohydrates, calcium, iron, phosphorus, vitamin C and crude fibers. Antimicrobial activity of aqueous extract of cucumber with and without peel against Salmonella typhi showed an MIC of 100%. (17)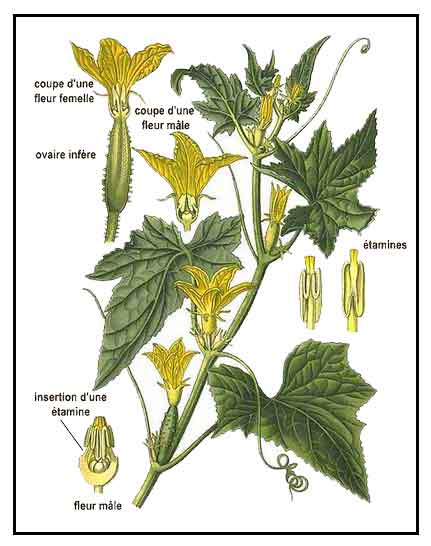 • Antacid and Carminative Properties / Fruit Pulp: Study of C. sativus fruit pulp aqueous extract showed significant carminative properties and antacid effect (p<0.05) at different doses, with results comparable to that of standard NaHCO3. (18)
• Amelioration of Ulcerative Colitis: Study evaluated the effect of an aqueous extract of fruit of Cucumis sativus in acetic acid induced colitis in wistar rats. Results showed potent therapeutic value in the amelioration of experimental colitis in the animal model by inhibition of the inflammatory mediator. (19)
• Antiulcer Effect / Fruit Pulp: Study evaluated the gastroprotective potential of C. sativus fruit pulp aqueous extract in gastric ulcerated rats. Results showed gastroprotective properties with significant increase in pH, decrease in gastric juice volume, free and total acidity, and lipid peroxide levels. Polyphenols and flavonoids may be responsible for the gastroprotective effect. (20) Study evaluated a hydroalcoholic extract of fruit pulp in gastric ulcerated rats. In indomethacin, ethanol and pyloric ligation model, pretreatment with the extract significant reduced ulcer index and free acidity. Extract showed significant (p<0.05) increase in pH with significant decrease in volume of gastric juice, free and total acidity. (33)
• Anti-Inflammatory / Seeds: Study evaluated the anti-inflammatory activity of C. sativus seed in Carrageenan paw edema model and xylene induced ear edema model using albino wistar rats. Results showed significant anti-inflammatory activity, with inhibit on of carrageenan induced paw edema comparable to that produced by indomethacin. (21)
• Antimicrobial / Cytotoxic / Leaves: Study investigated various extracts of leaves for antimicrobial and cytotoxic activity. The ethyl acetate, chloroform, and n-hexane extracts exhibited almost the same antimicrobial activity against most of the bacterial test strains, with moderate to good antifungal activity. Cytotoxic potentiality showed significant activity against A. salina. (22)
• Antifungal / Cytotoxicity / Reducing Power: Study of ethanol extracts of peels yielded the presence of alkaloids, glycosides, saponins, flavonoids, steroids and tannins. The extracts showed significant reducing power, antifungal activity, and cytotoxicity in the brine shrimp lethality assay. (23)
• Antidiarrheal / Leaves: Study investigated the antidiarrheal activity of crude methanol extracts of leaves. Results showed significant dose-dependent inhibitory activity against castor oil induced diarrhea., with a significant reduction in gastrointestinal motility in charcoal meal test i mice. Effect was probably through an antisecretory mechanism. (24)
• Analgesic / Free Radical Scavenging / Fruit: Study evaluated an aqueous fruit extract of C. sativus for free radical scavenging and analgesic activity. Results showed maximum antioxidant and analgesic effect at 500 µg/ml and 500 mg/kg, respectively. The effects were attributed to the presence of flavonoids and tannins in the extract. (26)
• Anti-Inflammatory / Fruit: Study evaluated acute toxicity and the anti-inflammatory activity of C. sativus whole fruit homogenate in albino mice. Paw edema progressively decreased within 5.5 hours of CS. There were no adverse effects at concentration range of 0.5 mg/kbw to 5 mg/kbw. Results suggest anti-inflammatory activity with no dose-dependent side effects. (27)
• Phenolic Contents / Antioxidant /Food Preservation: Study evaluated the antioxidant potential of Cucumis sativus seeds and correlated the findings with mayonnaise enrichment and extension of its shelf life. Seeds showed abundance in phenolic compounds, flavonoids, ß-carotene, and high free radical scavenging activity. CSS (200 ppm) and butylated hydroxyanisole (200 ppm) were incorporated in mayonnaise and oxidative stability. Results suggest CSS has potential as a natural preservative against lipid oxidation or food enrichment while developing functional foods. (see constituents above) (28)
• Antibacterial / Antioxidant /Food Preservation: Study investigated the potential of fruit extract as antibacterial against six pathogenic bacteria and cytotoxic agent against human non-small cell lung carcinoma (H1299) and human breast adenocarcinoma cell line (MCF-7). Phosphate buffer extracts exhibited more significant antibacterial and cytotoxic activity compared to aqueous extracts. (29)
• Anticancer / Human Liver Cancer / Flowers: MTT assay showed a compound isolated from ethyl acetate fractions of Cucumis sativus flowers cytotoxicity against human liver cancer HepG2 cell line. Various concentrations were able to induce apoptosis. The CTC50 value of sample was 103.7 µg/ml against the cell line. (30)
• Adsorbent / Removal of Dyes / Seeds: Study reports on C. sativus seeds as an eco-friendly and economically feasible adsorbent for the removal of typical basic dyes, crystal violet and rhodamine B from aqueous solution. (31)
• Silver Nanoparticles / Photocatalytic / Antibacterial: Study reports on a novel single-step, eco-friendly biological synthesis of silver nanoparticles using fruit extract of Cucumis sativus. The biosynthesized nanoparticles showed effective photocatalytic and antibacterial property (S. aureus, K. pneumonia, and E. coli) by degrading the dye and inhibiting bacterial growth, respectively. (32)
• Wound Healing / Fruit Formulation: Study investigated ameliorative effect of C. sativus fruit cream formulation on experimentally induced wounds in rats. Topical application showed no signs or symptoms of skin irritation. Results showed significant decrease in wound area (p<0.05), epithelization period (pp0.001), and scar width (p0.001), with a significant increase in wound contraction (p<0.001). Antioxidants and the presence of flavanoids may be responsible to wound contraction and increased rate of epithelization in the test animals. (34)
• Corrosion Inhibition of Carbon Steel / Peel: Study showed Cucumis sativus peel extract can act as an inhibitor against the corrosion of carbon steel in the HCl medium. (35)
• Antihepatotoxic / CCl4 / Cucumis sativus and Pogostemon patchouli: Study evaluated the hepatoprotective potential of Cucumis sativus and Pogostemon patchouli against carbon tetrachloride induced hepatotoxicity in rats. Results showed a hepatoprotective role, both biochemically and histologically. (36)
• Adsorbent / Acid Black-7 / Peel: Study showed the pee of C. sativus has suitable adsorption capacity in the removal of Acid black-7 from aqueous solution, with adsorption that is dependent on contact time, adsorbent dose and pH. (37)
• ANO1 (TMEM16A) Activator / Treatment of Cystic Fibrosis and GI Disorders: Study purified a positive fraction from C. sativus and isolated compounds that activated ANO1, member of the CaCC family. Results showed the purified extract has potential therapeutic value for the treatment of cystic fibrosis and gastrointestinal disorders like constipation via activation of ANO1 mediated Cl- secretion in epithelial cells. (38)
• Antiurolithiatic / Fruits: Study showed the preventive and curative potential of extract of fruits of Cucumis sativus in urolithiasis induced by ethylene glycol in albino rats. (39)
• Antidiabetic / Leaves: Study showed the antidiabetic property of aqueous leaf extract of Cucumis sativus in alloxan induced T2 diabetic rats. Glibenclamide was used as standard drug. (40)
• Antidiabetic / Hypolipidemic / Fruit: Study evaluated the antidiabetic property of C. sativus ethanol extract of fruit powder. Extract dose of 400 mg/kbw exhibited the more significant antidiabetic activity. Extracts also significantly lowered cholesterol and LDL levels. (43)
• Blood Pressure Lowering Effect: Study evaluated the effect of cucumber (Cucumis sativus) juice on lowering blood pressure in a cohort of 20 elderly patients > 60 years old. Results showed a significant blood pressure lowering effect. (44)
• Silver Nanoparticles / Enhanced Wound Healing / Callus and Leaves: Study reports on the rapid method of synthesis of metallic silver nanoparticles using callus and leaf extracts of Cucumis sativus. Topical application of an ointment prepared from the AgNPs enhanced wound healing activity in a Wistar albino rat model. (45)
• Anti-Ulcerogenic Activity / Aspirin- and Ethanol-Induced Gastric Ulcer: Study evaluated the anti-ulcer activity of C. sativus ethanolic extract in wistar albino rat model. Results showed significant antiulcer activity, possibly synergistically contributed to by phytoconstituents like alkaloids, steroids, flavonoids, and polyphenols. (46) Animals treated with aqueous extract of C. sativus showed significant (p<0.0001) dose dependent protection against aspirin- and ethanol-induced gastric ulcers in rats. (48)
• Thrombolytic / Analgesic:Study evaluated the thrombolytic and analgesic activity of methanolic crude extract of Cucumis sativa in a mice model. Results showed moderate activity (45.15%) in clot lysis test. Extract also showed significant peripheral analgesic activity using acetic acid induced writhing method, 34.006% at 300 mg dose and 30.62% at 200 mg dose. It showed significant central analgesic activity with hot plate method. (47)
• Vitexin / Antiangiogenic Potential: Angiogenesis is the process of formation of microvessels from preexisting microvasculature and is responsible for the growth, malignancy, and metastasis of cancer. Study evaluated the potential of vitexin in targeting Hsp90 to restrain angiogenesis. Study showed Vitexin, a prominent glycosylated natural flavonoid, has promising inhibitory potential against Hsp90. Results showed prominent antiangiogenic potential surpassing different in silico parameters and could be a multi-targeted novel antiangiogenic lead. (49)
• No Effect on Glucose Absorption through Intestinal Mucosal Membrane:Study evaluated the anti-hyperglycemic effect of C. sativus on glucose absorption through the intestinal mucosal membrane of Wistar rats. Results showed no significant difference in absorption of control and treatment solution. (50)
• Amelioration of Cisplatin and Gentamicin-Induced Nephrotoxicity / Seeds:Study evaluated the protective effect of hydroalcoholic extract of seeds of CS against cisplatin and gentamicin-induced nephrotoxicity in male albino Wistar rats. Treatment with both curative and prophylactic regimens of the extract significantly attenuated the elevated levels of biochemical parameters. Histopathology studies also substantiated the nephroprotective effect. (51)
• Hypolipidemic / Seeds / Randomized Double-Blind Placebo-Controlled Clinical Trial: Randomized double-blind placebo-controlled trial evaluated the effect of seed extract of C. sativus on serum lipid profile in adult patients with mild hyperlipidemia. Consumption of C. sativus seed extract at daily dose of 500 mg resulted in desirable effects on the serum lipid profile. Results suggest cucumber seed could be considered a food supplement for the treatment of dyslipidemia. (52)
• Purification of Antimicrobial Proteins / Seeds: Antimicrobial peptides extracted from seeds were assayed for antibacterial activity against four pathogenic bacterial strains known to cause foodborne infections and spoilage of food and herbal drugs. Highest concentration was seen with elute fractions1 and 3. Among four selected bacterial strains, E. coli was most sensitive. Results suggest potential for the seed extracts as antimicrobial agents. (54)
• Amelioration of Arsenic Induced Toxicity: Arsenic is considered a category 1 carcinogen. Study evaluated the ameliorating effect of C. sativus on toxicological effects of arsenic toxicity in mice. Results showed significant amelioration of the renal and hepatic biochemical parameters as evidenced by normalization of enzymatic and non-enzymatic activities. (55)
• Effect on Blood Glucose and Blood Pressure of Healthy Individuals / Dose Related Response: Study evaluated the effect of C. sativus on plasma glucose and blood pressure measurements of 50 apparently healthy individuals aged 18-29. Results revealed cucumber has hypoglycemia and anti-diabetic effects since an intake of increased dose at concentration of 400g caused a significant change in blood glucose concentration. There was also a significant effect on blood pressure if taken in higher quantity for a considerable period of time. (57)

Availability
Small or large scale commercial production.