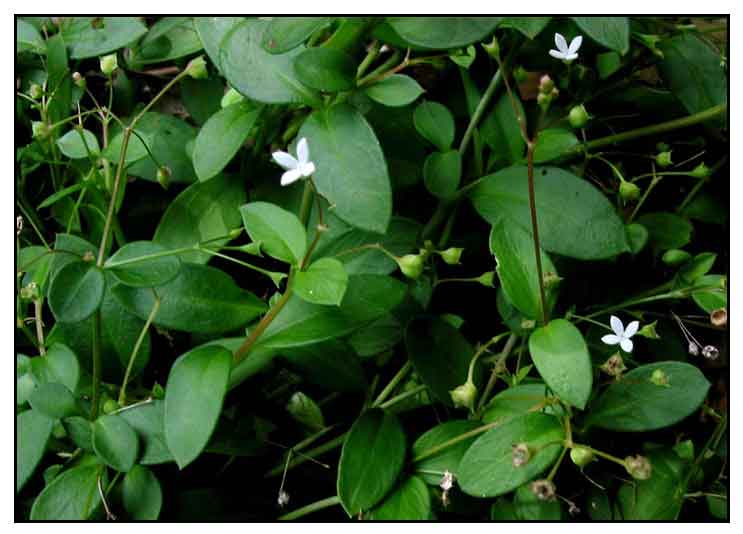 Botany
Pisek is an annual, smooth herb. Branches are somewhat angled, ascending, and up to 30 centimeters in length. Leaves are shortly stalked, oblong, oblong, elliptical to narrowly elliptical, up to 5 centimeters long. Cymes with 3 to 7 flowers occur in the upper axils, somewhat paniculate, and with slender pedicels. Calyx is green. Corolla is white and small. Capsules are cup-shaped or ovoid, about 3 millimeters long, crowned by four small calyx teeth.
Distribution
- Common weed in waste places, cultivated soil, etc., at low and medium altitudes throughout the Philippines.
- Also occurs in India to China, Malaya and Polynesia.
Constituents
- Phytochemical screening yielded alkaloids, tannins, and flavonoids. Saponins and steroids were absent. (see study below) (4)
- Study of Hedyotis biflora roots isolated two novel cyclotides: hedyotide B10 (HB10) and HB11, besides known HB1 and HB9. (see study below) (6)
Properties
- Considered a bitter tonic, febrifuge, anthelmintic, alterative, anti-dysenteric, anti-ulcer.
- Studies have shown cytotoxic, antiproliferative, antibacterial properties.

Parts used
Whole plant, leaves.

Uses
Folkloric
- In the Philippines, plant is pounded and applied to wounds.
- Used for fever and gastric ulcers.
- Decoction given internally for diarrhea and dysentery.
- In India, leaves used for remittent fevers, gastric irritation and nervous depression.
- In Hindi medicine, used in prescriptions for fever, diarrhea, skin diseases. Decoction of plant used in bilious fever, stomach irritability, and delirium.

Studies
• Furocoumarins / Cytotoxic Compounds: Study of methanol extract isolated three new 6-oxygenated 8,9-dihydrofurocoumarin-type compounds, hedyotiscones A, B and C, together with 7 known compounds. Compounds 1-3 showed marginal cytotoxicity against Hep G2 cells (human liver cancer cells). (2)
• Antibacterial / Leaves: Study evaluated various extracts of leaves of Oldenlandia biflora and Pegularia daemia for phytochemical constituents and antibacterial activities against Gram-positive (B. subtilis, S. aureus) and Gram-negative (Pseudomonas epidermis, E. coli, S. dysenteriae and S. typhi) bacteria. Oldenlandia biflora extracts showed better activity than P. daemia extracts. The ethyl acetate extracts of both plants exhibited greater antibacterial activity compared to petroleum ether and aqueous extracts. (4)
• Novel Cyclotides / Bactericidal / Roots: Study of Hedyotis biflora roots isolated two novel cyclotides: hedyotide B10 (HB10) and HB11, besides known HB1 and HB9. Both cyclotides showed bactericidal activity on E. coli and Streptococcus salivarius. Results showed potent activity against Gram-negative bacteria and bacterial drug resistance. (6)
• Cytotoxic Cyclotides / Inhibition of Proliferation and Migration of Pancreatic Cancer Cells / Leaves and Roots: Recent studies yielded two cytotoxic cyclotides. In this study, another five novel cyclotides, hedyotides B5 (HB5) to HB9, were isolated from leaves and roots, along with known HB1 and HB2. In vitro MTT assay showed all the hedyotides exhibited significant cytotoxicity on four kinds of pancreatic cancer cell lines, especially HB7. HB7 inhibited the cell migration and invasion of capan2 cells. HB7 could significantly inhibit tumor weight and size compared to placebo control. (7)
Availability
- Wild-crafted.
- Plants available in the cybermarket.