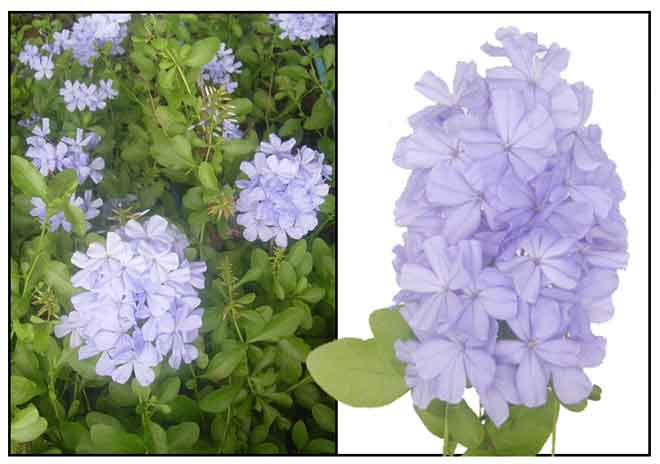 Gen info
The genus Plumbago comprises 10 species from the warm climate parts of the world. Etymologically, the name derives from plumbum, meaning lead, referring to its use for lead poisoning. Auriculata means ear-shaped, referring to the leaf base. It was originally named Plumbago capensis by botanist Thunberg in 1794 and renamed P. auriculata by Lamarck in 1786.

Botany
Plumbago auriculata is a semi-climbing, diffusely branched perennial shrub, growing to 2 meters. Leaves are alternate, simple, entire, oblong or oblong-spatulate, up to 5 centimeters long, with the base tapering to a short petiole. Flowers are short spikelike racemes; calyx is tubular, shorter than the slender corolla. Corolla tube measures 2 to 2.5 centimeters long, five-lobed, azure blue and spreading. Fruit is a capsule that splits into five parts.
Distribution
- Cultivated in gardens in towns and urban-suburban areas. Used as border plant, ornamental hedge, or ground cover.
- Propagated by seeds and stem cuttings.
- Native to South Africa.
Constituents
- Crude chloroform extract of roots isolated the naphthoquinones plumbagin and epiisoshinanolone the steroids sitosterol and 3-O-glucosylsitosterol, plumbagic and palmitic acids. (2)
- All parts of the plant yield the naphthoquinone plumbagin (2-methyl juglone), which may blister the skin. (10)
Properties
- Considered styptic, wound healing, analgesic.
- Studies have suggest various activities to Plumbagin: antimicrobial, anticancer, cardiotonic, and antifertility. (10)

Part utilized
Root.
Uses
Folkloric
- No reported folkloric medicinal use in the Philippines.
- Name derives from use for lead poisoning.
- In other folklore systems, used for warts, broken bones, headaches.
- Used as an emetic and for wound healing.
- Also used for preventing nightmares and warding off lightning.
- Roots used as toothpaste and for fevers.
- In Maharashtra, India, for acidity, root juice or extract taken before each meal for a week.
- In south Africa, decoction of aerial parts or roots used to treat blackwater fever. Root infusion used as emetic. Root powder used for warts; also used as snuff to relieve headaches. Powdered and roasted root rubbed into scarifications over fractures to promote healing. Rubbed on painful areas of the body caused by strenuous exercise. Root extract used as styptic in scrofula. Excess use may cause irritation, even death. (10)
- In Tamilnanu, India, Roots used for piles, epilepsy and jaundice.
- Fresh cut flowers used for bruises and for soothing sunburn, burns, spots and rashes. (11)
Veterinary
- In South Africa, the roots of P auriculata and Pelargonium reniforme are soaked water for one hour, strained and given to cows to treat diarrhea.
Others
- Ornamental: Flowers used as ritual ornamental.
- Dye: In East Africa, dye extracted from flowers and leaves are used for textiles: beige, lemon or yellow when combined with alum; or gold when combined with chrome. The sap of roots (grey-blue) used for tattoos. (10)

Studies
• Phytochemical Study / Plumbagin: Crude chloroform extract study yielded the naphthoquinones plumbagin and epi-isoshinanolone, steroids sitosterol and 3-O-glucosylsitosterol and palmitic acids. Naphthoquinones are typical components of Plumbago species showing interesting biological activities. (2)
• Antimalarial Activity: Extracts (n-hexane and DMC) of aerial parts of P auriculata showed moderate activity against Plasmodium falcifarum. (4)
• Antioxidant / Cytotoxicity: Study in rats investigated the antioxidant properties of the leaves of P. auriculata. Results showed the ethyl acetate and ethanol crude extracts had higher antioxidant activity than petroleum ether and dichlormethane extracts. The EA and petroleum ether extracts significantly inhibited the proliferation of HeLa cells.
• Anti-H. Pyloric Activity / Cytotoxicity: Study evaluated detoxified ethanol root extract of Plumbago auriculata, P. indica, and P. zeylanica for possible activity against H. pylori and cytotoxicity activity. All three plants showed dose-dependent cytotoxicity in HGE-17 cell lines. P. indica showed more anti-H. pylori activity than the other two plants, with P. auriculata having the lowest zone of inhibition. (9)
• Antifungal: P. auriculata contains an antifungal protein that inhibits spore germination in Macrophomina phasiolina. (10)
• Antiulcer: Study evaluated the antiulcer effect of Plumbaginales P. auriculata, P. indica and P zeylanica.
Plumbagin showed cytotoxic activity at 40.16 µg/ml. P auriculata decreased the number of ulcers and increased the percentage of gastric protection. (11)
Toxicity concerns
• Plumbagin: (1) The plant has been reported to cause skin blistering, and excessive use has been reported to cause death. (2) Because of plumbagin, the use of Plumbago auriculata in traditional medicine is not without risk. Decoction of plant parts should be taken with caution. (10)

Availability.
Wild-crafted.