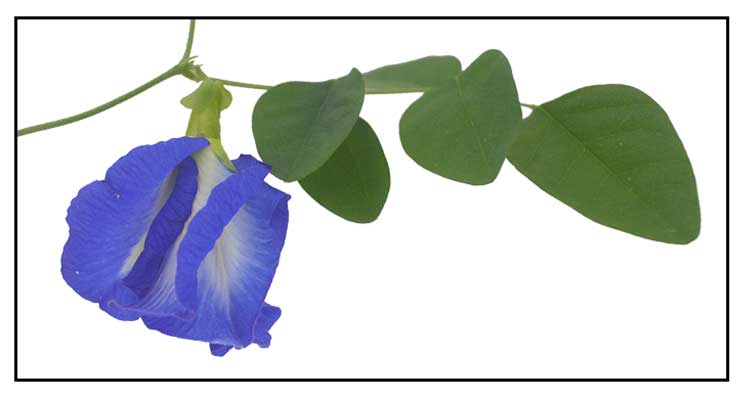 Botanical factoid
- If you stare long enough and let your mind stray, you might appreciate how both scientific and common names derived from the flower's similarity to the female external genitalia: clitorea from clitoris and pukingan, Tagalog variant for vagina. (Also see: Butterfly pea, Centrosema pubescens)
- The genus was named after the female clitoris, the flowers resembling the vulva. The first described species of the genus was given the name Flos clitoridis ternatesibus in 1678 by Rumpf. The vulvar analogy drew sharp censure. However, less explicit alternatives failed to prosper, and Clitoria survived as the genus name. Many vernacular names, likewise, are similarly based on references to the female external genitalia. (72)

Botany
Pukiñgan is a twining herb or climbing vine with cylindrical and slender stems, sometimes up to 1 centimeter in diameter.
Leaflets are 5 to 7, elliptic to oblong, 3 to 7 centimeters in length. Stipels are small, and acicular. Flower is solitary. Calyx is green, about 1.5 centimeters long. Corolla is 3.5 to 4 centimeters long, with the standard deep blue with a white, yellowish, or pale-blue center. Pods are 5 to 10 centimeters long, flat, with 6 to 10 seeds.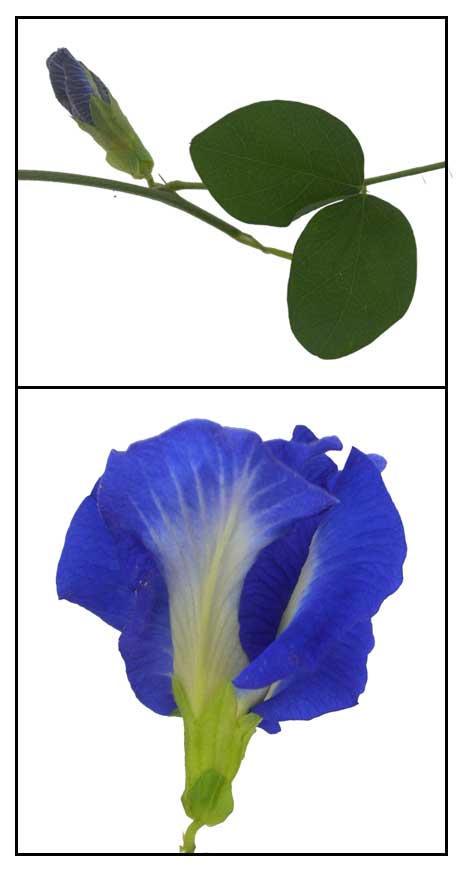 Distribution
- Throughout the Philippines, in thickets in settled areas at low and medium altitudes.
- Cultivated for its conspicuous blue flowers.
- Introduced; now pantropic.
Constituents
• Studies have isolated triterpenoids, flavonol glycosides, anthocyanins and steroids.
• Root-bark contains starch, tannin and resins.
• The seeds contain a fixed oil, bitter acid resin (the active principle), tannic acid, glucose, and 6% ash. Testa of the seed is brittle and contains a cotyledon which is full of granular starch.
• The seed is reported to contain a toxic alkaloid.
• Phytochemical screening has yielded tannins, resins, taraxerol and ternatins.
• Screening of petals of CT yielded three flavonol glycosides - kaempferol 3-O-(2″-O-α-rhamnosyl-6″-O-malonyl)-β-glucoside, quercetin 3-O-(2″-O-α-rhamnosyl-6″-O-malonyl)-β-glucoside, and myricetin 3-O-(2″,6″-di-O-α-rhamnosyl)-β-glucoside - together with 11 known flavonol glycosides.
* Leaves of blue and white varieties of Clitoria ternatea showed significant amount of crude protein, crude fiber, ash, carbohydrates and minerals such as potassium and iron. (35)
• Phytochemical screening of ethanolic extract of leaves yielded alkaloids, flavonoids, free amino acids, glycosides, phenols, proteins, reducing sugars, steroids, and tannins. Quantitative analysis yielded flavonoids 20.48±0.96 mgRE/g extract, tannins 78.75 ±2.09 mgTAE/g extract, total phenols 245.14 ±6.97 mgTAE/g extract, vitamin C 118.83 ±0.47 mgAAE/g extract, total carbohydrate 176.03 ±1.19 mg/g extract, and total protein 3110 ±18.02 mg/g extract. (47)
• Study of the bromatological and mineral composition of both varieties of C. ternatea (blue and white) leaves yielded significant amount of crude protein, crude fiber, ash, carbohydrates and minerals such as potassium and iron. (48)
• GC-MS analysis of water extract of flowers showed five peaks that represented components namely inositol (38.7%) and pentanal (14.3%). The methanol extract yielded fifteen chemical components with major chemical constituents of mome inositol (33.6%, cyclohexen, 1-methyl-4-(1-methylethylidene)- (7.1%), acetic acid, cyano- (6.5%), and hirsutene (5.7%). (see study below) (51)
• A total of 6.23 g of hydromethanolic extract from 50 g of leaves had a percent yield of 12.46%. The extract yielded carbohydrates, tannins, saponins, flavonoids, alkaloids, steroids, phenols, and glycosides. Phytochemical screening of roots have yielded ternatins, alkaloids, flavonoids, saponins, tannins, carbohydrates, proteins, resins, starch, taraxerol and tarxerone. Flower yields delphnidin-3, 5-diglucoside, delphinidin-3ß-glucoside, malvidin-3ß-glucoside, kaempferol, and p-coumarin acid. Roots have yielded ß-carotene, stigmas-4-ene-3,6,diene, taraxerol and teraxerone, starch, tannins, and resins. (52)
• HPTLC analysis of C. ternatea stems, leaves, and seeds for alkaloid profile yielded 26 different types of alkaloids with 21 different Rf values with range of 0.02 to 0.93. The seeds yielded 10 alkaloids, followed by 9 in the leaves. Of the ten alkaloids in the seeds, seven were unique to the seeds. (56)
• In a study of 15 red- and blue-flowered plants for anthocyanin content (Vankar and Srivastava), Clitoria ternatea ranked 3rd with 227.42 mg/kg, behind Mirabilis jalapa (magenta, 338.61 mg/kg) and Impatiens balsamina (red, 336.56 mg/kg). (see study below) (62)

Properties
• Roots considered laxative, diuretic, anti-inflammatory and anthelmintic.
• The roots taken as purgative, have been reported to be toxic and narcotic, causing irritability, loss of memory or unconsciousness.
• The roots and seeds are considered emetic, diuretic and emmenagogue.
• Roots considered vomitive and laxative. An alcoholic extract is used as a cathartic.
• Studies have suggested antimicrobial, antipyretic, anti-inflammatory, analgesic, diuretic, anesthetic, insecticidal, vascular smooth-muscle relaxing, platelet-aggregation inhibiting , wound healing, immunomodulatory, antiproliferative properties.
Parts utilized
Roots, leaves, flowers, seeds.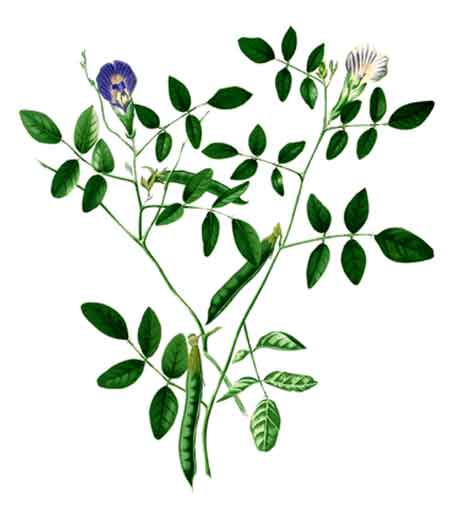 Uses
Edibility / Culinary
• In Southeast Asia, flower pigment is used for food coloring.
• Flowers used in coloring desserts and in making blue-colored tea.
• In Thailand, an indigo-blue drink, nam dok anchan, is prepared with butterfly pea flowers, honey, and sugar syrup.
• Flowers are dipped in batter and fried.
• Flowers added to pot while cooking rice to give a bluish tint.
Folkloric
• In the Philippines poultices of leaves used for swollen joints.
• Infusion of leaves is used for eruptions.
• Warm leaf juice mixed with common salt is applied around the ears for earache.
• Leaves are used as poultices for swollen joints.
• Seeds are mildly laxative and purgative; also, anthelmintic.
• In India, the white flowered specie is considered superior to the blue variety.
• The roots of the blue flowered variety is used for piles. For earaches, the juice of the blue variety is used.
• The roots, in soup, used to remove phlegm in chronic bronchitis and to induce nausea and vomiting when necessary. (Note toxicity above.)
• Root-bark infusion used as demulcent for bladder and urethral irritation. Alcoholic extract has been used as a cathartic.
• For hiccups, the seeds are burned for fume inhalation; same also used for asthma.
• Also used for throat, eye infections, skin diseases.
• To hasten delivery twinning branches of the white flowered variety are wrapped around the waist.
• Root ash is used for facial care.
• Root powder is used for jaundice.
• Roots used to treat mental disorders and to relieve stress.
• For renal stones, the roots used with boiled rice.
• Roots and seeds used as diuretic and emmenagogue; also to induce vomiting.
• Juice of leaves mixed with green ginger used in cases of sweating in hectic fever.
• Juice of leaves mixed with common salt is applied warm around the ear for earaches, especially when accompanied by swelling of the surrounding glands.
• Root juice, applied in the nose for migraine.
• For painful boils, mix the root juice with vinegar and apply to the boils.
• A traditional Ayurveda medicine as a brain tonic, memory and intelligence enhancer, antidepressant, anti-stress,anxiolytic, sedative and anticonvulsant.
• In South Travancore, India, leaf juice taken twice daily for 6 days for scabies. source
• In West Bengal, root juice used for fevers.
Others
• Food Coloring: In some parts of SE Asia, used for food coloring.
• Cosmetics: In Thailand, flower extracts are used as component of cosmetics.

Studies
• Acetylcholine / Memory: Root extract of CT significantly increased the ACh content in rat hippocampi. ACh content in the hippocampus may be the neurochemical basis for improved memory and learning. (

3

)
• Anthelmintic: Study showed the alcoholic extracts of CT with significant anthelmintic activity. (

5

) A methanolic extract showed dose dependent anthelmintic activity against Pheretima posthuma, with piperazine citrate as positive control. (

34

)
• Antipyretic: The methanol extract of CT showed dose-dependent antipyretic effect comparable to that of paracetamol. (

6

)  
• CNS Effects: The methanol extract study on the CNS showed it to possesses nootropic, anxiolytic, antidepressant, anticonvulsant and antistress activity. (

7

)
• Cytotoxic Activity: Methanol crude extract of leaves and 3 fractions (n-hexane, di-chlormethane, methanol) demonstrated promising cytotoxic activity. (

8

)
• Antifungal: Leaf extract exhibited considerable antifungal activity against filamentous fungi in a dose-dependent manner. (

9

)
• Larvicidal: Screening of natural products for mosquito larvicidal activity against Aedes aegypti, Culex quinquefasciatus and Anopheles stephensi was done with three potential plant extracts. Of the three, C ternatea showed the most promising mosquito larvicidal activity. Phytochemical analysis of the seed extract showed carbohydrates, saponins, terpenoids, tannins and proteins. (

10

)
• Hypoglycemic / Leaf and Flower: Study evaluated the effects of aqueous extract of Clitorea ternatea leaf and flower extracts on alloxan-induced diabetes in rats. The aqueous extracts significantly (p<0.05) reduced serum glucose, glycosylated hemoglobin, and activities of glyconeogenic enzyme, glucose-6-phosphatase. There was increase in serum insulin, liver and skeletal muscle glycogen and activity of glycolytic enzyme, glycokinase. (

11

)
• Antihyperglycemic / Antihyperlipidemic: Study suggests the C ternatea leaves and flower extracts showed antihyperglycemic and antihyperlipidemic effects and may alleviate liver and renal damage associated with alloxan-induced diabetes in rats. (

12

)
• Antihistaminic Activity / Roots: Clonidine, an a-2 adrenoreceptor agonist induces dose-dependent catalepsy in mice and releases histamine from mast cells responsible for asthmatic conditions. Study results suggest antihistaminic activity of C. ternatea ethanol extract of root as shown by significant inhibition of clonidine-induced catalepsy in mice. (

14

)
• Wound Healing: Study showed seed and root extracts significantly improved wound healing in excision, incision and dead-space models, both orally by gavage and as ointment. The activity in animal models was attributed to flavonol glycoside and phenolic compounds through alterations in the inflammatory and immune components of wound healing. (

15

)
• Cytotoxicity / Dalton's Lymphomas Ascites: Study evaluating the the petroleum ether and ethanolic extracts of CT in short term in vitro cytotoxicity using Dalton's Lymphoma ascites cells showed both the extract poses significant cell cytotoxic activity. Phytochemical screening of PEE yielded steroids, triterpenoids, tannins, and saponins, while the EE yielded flavanoids. (

16

) Study evaluated the anticancer activity of C. ternatea in Dalton's lymphoma (DLA) bearing mice. MECT effect was assessed using in vitro cytotoxicity, survival time, peritoneal cell count, hematological studies and antioxidant parameters. MECT treatment decreased tumor volume, PCV, and viable count. Results suggest MECT exhibited significant antitumor effects in DLA bearing mice. (

61

)
• Antiasthmatic: Study of ethanol extract of C. ternatea roots showed antiasthmatic activity which may be due to the presence of flavonoids or saponins.
• Antidiabetic Effect: Chronic administration of plant extracts for 14 days reduced the blood glucose levels of the diabetes-induced animals compared to the diabetic control group. The antidiabetic effect was comparable to the standard antidiabetic drug Glibenclamide. (

18

)
• Anti-Inflammatory / Analgesic / Flowers: Study of a petroleum ether flower extract of C. ternatea exhibited significant anti-inflammatory and analgesic properties. On acute toxicity study, it was safe even at doses of 2000 mg/KBW. Phytochemical screening yielded taraxerol, a pentacyclic triterpenoid, which may be responsible for the pharmacologic activity. (

22

)
• Antioxidant: Study evaluated the antioxidant effects of leaf extracts Clitorea ternatea and Alternanthea sessilis in treated yeast cells DNA. The leaf extracts effectively decreased the extent of DNA damage. DPPH scavenging activity was highly elicited by the methanol extracts of Clitorea ternatea. (

23

)
• Juvenile Diabetes / Hippocampal Area Ca 3 Effect: Encepalopathy is a major complication in juvenile diabetes mellitus that can cripple physiomorphological growth and development in childhood. Study of an alcoholic root extract of C. ternatea showed significant gross impact in preventing possible complications to brain hippocampal area CA3 and pancreatic tissue in juvenile diabetic rat models. (

24

)
• Hypoglycemic Effects / Leaves: Study of a methanol extract of leaves showed significant reduction of blood glucose in alloxan-induced diabetic rats twelve hours after administration. (

25

)
• Nootropic Effects / Leaves: A methanolic extract of leaves showed promising nootropic effect in scopolamine induced amnesia in rats. (

26

)
• Antibacterial / Leaves: Various extracts of leaves were tested against Bacillus cereus, Staphylococcus aureus, Klebsiella pneumonia, Proteus vulgaris and Salmonella typhi. A methanol extract showed the most potent inhibitory effect. (

27

)
• Antiasthmatic / Roots: Study evaluated the bronchodilator activity of an alcoholic extract of roots on histamine-induced bronchospasm in wistar rats. Results showed a bronchospasmolytic activity, with 47.45% protection against histamine-induced bronchoconstriction. (

28

)
• Hepatoprotective / Paracetamol Induced Damage / Leaves: Study evaluated the hepatoprotective and antioxidant activity of C. ternatea leaf extract against liver injury induced by paracetamol in mice. Treated mice showed significant decrease in ALT, AST, and bilirubin, together with protection against histopathological alterations. Hepatoprotection was attributed to potent antioxidative activity. (

29

)
• Synergistic Antidiabetic Effect / Clitorea ternatea and Tricosanthes dioica: Study evaluated the antidiabetic effect of combined leaf extracts of T. dioica and C. ternatea on STZ induced diabetic Wistar rats. The extent of reversal of hyperglycemia in the combined extract treated animals compared well with the glibenclamide treated group. (

30

)
• Neuroprotective and Nootropic Activity / Diabetic Induced Cognitive Decline / Leaves: An ethanol extract showed nootropic and neuroprotective activity in diabetes-induced cognitive decline rat model.     (

31

)
• Phenolic Compounds / Radical Scavenging Activity: Study evaluated the total phenolic compounds and DPPH scavenging activity in flowers and leaves of Clitoria ternatea and Vitex negundo. Results showed antioxidant activity in both leaves and flowers of CT and VN and suggest a potential alternative source of natural antioxidants. (

32

)
• Anti-Compulsive Effect: Plants used to treat anxiety and depression suggest a potential therapeutic strategy for treatment of OCD (obsessive compulsive disorder). To evaluated this possibility, study evaluated an ethanolic extract of Clitoria ternatea on marble-burying behavior in mice. Study showed reduction of marble burying behavior, comparable to that of fluoxetine. Results showed EECT can modulate obsessive compulsive behavior and also potentiate the effect of fluoxetine, with a potential as an herbal treatment for OCD. (

33

)
• Anti-Ulcer / Leaves: Various extracts of leaves were evaluated for gastroprotective activity on pylorus ligation induced ulcer and ethanol induced ulcer models. Results showed a protective effect on the ulcer induced models when compared to standard drug Omeprazole. Activity could be due to an antisecretory mechanism attributed to cytroprotective and free radical scavenging antioxidant activities. (

36

) Study of chloroform and methanol leaf extracts of C. ternatea leaves showed protection against indomethacin induced ulcer through inhibition of the COX pathway which is helpful in the formation of mucus membrane. The methanol extract showed better activity at lower dose than the chloroform extract at higher dose. (

64

)
• Antidepressant / Motor Coordination and Locomotor Effects / Roots: Study of ethanolic root extract showed significant antidepressant activity, mild reduction in locomotor and motor coordination activity. Results suggest a potential resource for natural psychotherapeutic agent against depression and mood disorders. (

37

)
• Neurogenic Potential / Roots: Study of Clitoria ternatea root extract showed growth promoting neurogenic effect on aSVZ (anterior subventricular zone) NSC (neural stem cells and their survival similar to neurotrophic factors like Survivin, Neuregulin 1, FGF-2, BDNF possible the basis for enhanced learning and memory. (

38

)
• Antipyretic / Purgative / Leaves: Study using albino rats showed significant antipyretic and purgative activities of ethanol and acetone extracts of leaves. The antipyretic activity was higher than than standard drug paracetamol; the purgative activity was higher than standard sodium picosulphate. (

40

)
• Immunomodulatory / Seed and Roots: Study investigated the immunomodulatory activity of C. ternatea seed and root extracts. Results showed significant immunosuppressive effects which may be attributed to decreased immune cell sensitization, immune cell presentation and phagocytosis. Antioxidant and anti-inflammatory properties of the plant could be playing a major role in the immunomodulatory activity. (

41

)
• Chemosensitizing Cyclotides: Cyclotides have been shown to have antitumor effects and cause cell death by membrane permeabilization. Study showed cytotoxicity and chemosensitizing activities of certain cyclotides from C. ternatea against paclitaxel-resistant lung cancer cell, and suggests a potential in chemosensitization application. (

42

)
• Inhibitory Effects on Protein Glycation: Accumulation of advanced glycation end products in body tissues lead to degenerations, atheroslcerosis and diabetic complications. Results showed CT extract significantly and dose-dependently inhibited formation of AGEs, markedly reduced fructosamine and amyloid cross ß-structure formation. Results suggest a potential for a new natural product for prevention of AGE-mediated diabetic complications. (

43

)
• Corrosion Inhibitor / Flower: Study evaluated the corrosion inhibitive action of flower extracts of Clitoria ternatea on mild steel corrosion. Results showed extracts functioned as good inhibitors in 0.5 M H2SO4 solution, with inhibition increasing with extract concentration. (

44

)
• Amelioration of STZ Induced Cognitive Impairment: A hydroalcoholic extract prevented STZ-induced cognitive impairment dose dependently by reducing oxidative stress, cholinesterase activity, and ROCK II expression. (

45

)
• Protective Activity on Testicular Damage Caused by Ketoconazole / Antioxidant / Flower: Ketoconazole (KET) has been reported to have adverse effects on the male reproductive system. Study investigated the protective effects of Clitorea ternatea flower extracts on male reproductive system including sperm concentration, serum testosterone level, histopathology of testis, and testicular tyrosine phosphorylation levels in rats induced with KET. The CT flower extracts showed DPPH scavenging and high reducing power. CT flower extracts protected from testicular damage induced by KET in rats. At 100 mg/kbw, the extract showed no toxic effects on the male reproductive system. (

49

)
• Wound Healing / Hyaluronidase and Matrix-Metalloproteinase-1 Inhibitory Activity / Leaves: Study evaluated the wound healing potential of C. ternatea methanol extract and fractions in terms of different enzymatic models associated with skin wound. Results showed significant (p<0.001) hyaluronidase (IC50 18.08 ± 0..46 µg/ml) and MMP-1 (p<0.05) inhibition. Elastase inhibition was insignificant. Among the fractions, the EA fractions showed significant hyaluronidase (p<0.001) and MMP-1 (p<0.01) inhibitory activity. HPLC analysis showed the ME and EA fractions are enriched with taraxerol. Results suggest CT may be recommended for treatment of different skin wound types, where taraxerol may be a biomarker. (

50

)
• Antiproliferative / Flowers: Study evaluated aqueous and methanol extracts of flowers of Clitorea ternatea for cytotoxic effect on six types of normal and cancer cell lines. The water extract of CT exhibited significant effects (p<0.05) against MCF-7 (hormone dependent breast cancer cell line) with IC50 of 175.35 µg/ml. (see constituents above (

51

)
• Review / Antimicrobial / Leaf, Flower, Stem, and Root: All parts of Clitorea ternatea viz. leaf, flower, stem and root have potential antimicrobial activity against S. aureus, B. cereus, E. coli, P. aeruginosa, K. pneumonia, S. agalactiae and A. hydrophila. (

53

)
• Nootropic / Protective Effect Against Stress Induced Amnesia / Antioxidant / Roots: Study evaluated the protective effect of an ethanolic extract of Clitorea ternatea roots against stress induced amnesia in rats. Antioxidant evaluation showed significant dose-dependent inhibition against DPPH and nitric oxide radicals. Daily administration of C. ternatea enhanced cognition in a dose dependent manner in normal rats and fast retrieval was observed in extract treated stress induced rats. Results suggest a protective effect of CT against stress induced amnesia and potential for use in combating stress induced CNS disorders. (

55

)
• Antianxiety / Stems and Leaves: Study evaluated a methanol extract of stems and leaves of the blue variety of CT for antianxiety activity. The stem extract at 200 mg/kg and leaf extract at 100 or 200 mg/kg exhibited significant antianxiety activity. The decreased locomotor activity may be due to central nervous system depressant activity. The IC50 values of ascorbic acid, blue variety of stem and leaf extract were 20.01, 254.32 and 251.13 µg/ml, respectively. (

57

)
• Antioxidant / Flower Petals / Eye Gel: Study evaluated the potential antioxidant activity of various C. ternatea extracts and an extract containing eye gel formulation. Aqueous extracts showed higher antioxidant activity as measured by DPPH scavenging activity than ethanol extracts (IC50 of 1 mg/mL and 4 mg/mL, respectively. Aqueous extract incorporated in an eye gel formulation were shown to retain this activity, although significantly less than a commercial anti-wrinkle cream for comparison Total phenolic content was 1.9 mg/g extract as gallic acid equivalents. (

58

)
• Spectrum of Activity of Clitoria ternatea on the Central Nervous System: Study evaluated a methanol extract of Clitoria ternatea on the CNS by its effects on cognitive behavior, anxiety, depression, stress, and convulsions induced by PTZ and MES. The extract was found to possess nootropic, anxiolytic, antidepressant, anticonvulsant, and antistress activity. Studies are suggested to isolate the active principles responsible for the activities and its mode of action. (

59

)
• Monoamine Oxidase (MAO) Inhibitor Against Neurodegenerative Diseases: Study presents extricated phytocompounds from C. ternatea as new potent and selective MAO-inhibitor. Two compounds viz. (Z)-9-17-octadecadienal and n-hexadecanoic acid are potential lead molecules for developing selective MAO-A inhibitor which can confer herbal remedy in the treatment of psychiatric disorders such as depression, anxiety, and cognitive impairments in Alzheimer's and Parkinson's diseases. (

60

)


• Extraction of Anthocyanin Using Spray Dryer / Flower:

Study reports on the extraction of anthocyanin from Clitoria ternatea using water. The anthocyanin extract was encapsulated by spray dry method, a technique preferred because transformation of difficulty in transforming the juices into dry powders due to high sugar and acid contents. (see constituents above) (

62

)


• Green Nanoparticles / Antibacterial / Leaves:

Study reports on the simple, rapid, and eco-friendly synthesis of silver nanopartilces using leaf extracts if Clitoria ternatea and Solanum nigrum. The silver nanoparticles showed excellent activity against nosocomial pathogens, with the AgNPs of C. ternatea showing high activity than the AgNPs of Solanum nigrum. The prepared NPs can be used as bactericidal in wound healing and water purification and various other applications in the field of medicine. (

63

)


• Analgesic / Leaves:

Study evaluated C. ternatea leaves for analgesic properties using hotplate and tail immersion method with mice. A petroleum ether extract of leaves showed significant activity compared to pentazocin which was used as standard. (

65

)


• Antinociceptive / Leaves and Roots:

Study evaluated leaf and root extracts of C. ternatea for antinociceptive activity using various antinociception models viz. hot plate, tail-flick, and formalin tests along with naloxone (a non-selective opioid antagonist). Results showed antinociceptive activity that may be mediated at both central and peripheral levels. (

66

)


• Antinociceptive / Antioxidant / Roots:

Study evaluated methanol extracts of various parts (flowers, leaves, stems, seeds, and roots) of C. ternatea for analgesic and antioxidant activity. Hot plate method and tail immersion methods were used for evaluation of central analgesic activity while acetic acid induced writhing was used for evaluation of peripheral analgesic activity. In-vitro antioxidant activity was evaluated using DPPH, reducing power assay, lipid peroxidation and NO scavenging models. A methanolic extract of roots exhibited more significant antinociceptive and antioxidant activities. (

67

)


• Thermal Degradation Behavior of Blue Antocyanin Extract / Commercial Applications / Flower:

Study evaluated the thermal degradation behavior of anthocyanin extract of C. ternatea flower (CTAE) at 5-160º, along with the effect of benzoic acid and light on its stability at storage temperature. Results demonstrated that blue CTAE has great thermal stability and capability to withstand high temperature for a duration longer than normal high processing temperature for certain food and cosmetic products. Its antioxidant properties give it good potential as functional blue colorant in food, cosmetics and pharmaceutical products. it has a pleasant taste makes it a better natural blue colorant and present a good replacement for synthetic blue colorant such as indigiotine, E132, FD&C Blue No. 2, and Brilliant blue FCF E133 or FD&C Blue No 1. (

68

)
• Sero-X Insecticide: This PUBLIC RELEASE SUMMARY reports on the registration of Sero-X Insecticide, containing 400 g/L Clitoria ternatea extract, for the control or suppression of various insect pests in cotton. The APVMA concludes the proposed used of the product is unlikely to have unintended effects harmful to animals, plants, or the environment. (

69

)
• Brain Drug Across the Blood Brain Barrier / Leaves: GC-MS analysis of aqueous extract of leaves extracted 17 different compounds. The phytocompounds hexanoic acid-4-hexadecyl ester and 9,12,15-octadecatrien-1-ol (Z,Z,Z) furnished a least binding energy affinity with the efflux protein P-Gp and has potential as lead molecule in the development of an efficient brain drug that can surpass the BBB. Results suggest Clitoria ternatea is a competent brain drug across the blood brain barrier at par with the established European folk medicinal plant Hypericum perforatum L. (St. John's wort). (

70

)
• Pancreatic Regeneration Potential / Antidiabetic and Antihyperlipidemic / Aerial Parts: Study evaluated the pancreatic regeneration potential of different fractions of ethanol extract of C. ternatea in STZ-induced diabetic rats. An ethanol extract and butanol soluble fraction exhibited the most significant pancreatic regenerative activity, antidiabetic and antihyperlipidemic activity. The newly generated islets may have formed from ductal precursor cells. Reduced oxidative stress may have helped in restoration of ß-cell function. (

71

)


Availability
- Wild-crafted.
- Flowers and tea in the cybermarket.