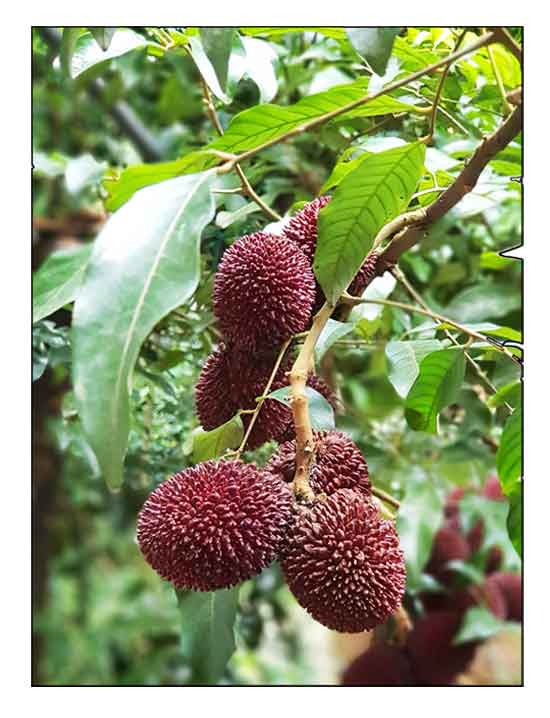 Gen info
- Nephelium is a genus of about 25 species of flowering plants in the family Sapindaceae, native to southeastern Asia.
- It is closely related to rambutan and sometimes confused with it.
- The common name pulasan comes from Malay word pulas (twist), which is phonetically related to the Tagalog pilas (to rip or tear), and relates to the opening of the fruit by twisting the fruit with both hands, thus 'pulasan'.
Botany
Nephelium ramboutan-ake is a tree up to 10(–36) m high; bark usually reddish, brownish or grayish, usually smooth or with minute lenticels; young branches subglabrous. Leaves 1–7-jugate; young rachises subglabrous at most. Leaflets (ovate to) elliptic (to obovate), 4–120 by 1.8–11 cm, papyraceous; base acute or obtuse to rounded to attenuate in lower leaflets; margins convex, often rolled up when dry; apex mostly acuminate; domatia present; glabrous to puberulous on midrib above, usually short hairy to glabrous underneath. Inflorescences axillary, partly together pseudo-terminal. Flowers pale green or white, small, slightly scented. Sepals hardly to up to halfway connate, lobes deltoid, 1–2.75 mm high. Petals absent. Stamens 5–8; filaments white, anthers light yellow. Ovary 2(–4)-locular. Fruits yellow, red or green; lobes ellipsoid to subglobular, 4–6.5 by 2.5–5 cm, covered with short, up to 1(–1.5) cm long, blunt spines; wall coriaceous, up to 7 mm thick. (Flora of Thailand)
N. ramboutan-ake is a variable species and may closely resemble N. lappaceum. The spines on fruits in N. ramboutan-ake are usually short and stubby, but long filiform in N. lappaceum.

Distribution
- Introduced to the Philippines. (Some compilations list it as 'native'.)
- Native to Assam, Bangladesh, Borneo, Himalaya, Jawa, Malaya, Myanmar, Sumatera, Thailand. (1)
- Cultivated as a fruit tree.
- Mostly in lowland primary forests, often on river banks but rarely in swamps, usually on sand or clay. (6)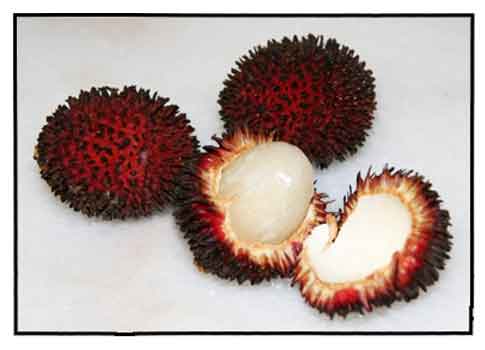 Constituents
- Studies on fruit rind have yielded steroid in hexane extract; alkaloid and terpenoid in ethyl acetate extract; alkaloid, phenolic, flavonoid and terpenoid in methanol extract. (2)
- Study for volatile constituents of fruits yielded 39 constituents, mainly alipathic hydrocarbons (70.2%), particularly pentadecane (61.4%) and alipathic alcohols (19.4%). (4)
- Study of crude methanolic extract of fruit peel for total phenolic content and total flavonoid content yielded 306.04 mg GAE/g crude extract and 14.049 mg QE/g crude extract, respectively. (see study below) (7)
Properties
- Studies have suggest antibacterial, antioxidant, cytotoxicity, anticancer properties.

Parts used
Leaves, fruits, rind, roots.

Uses
Edibility
- Fruits are edible; ripe fruits eaten raw, sweeter than rambutan and lychee; also made into jam.
- Seeds are edible, boiled or roasted; used to prepare a cocoa-like beverage.
Folkloric
- Used for treatment of scabies and itching.
- Roots and leaves used as poultices, anthelmintic and to treat fever.
Others
- Wood: Used in general construction.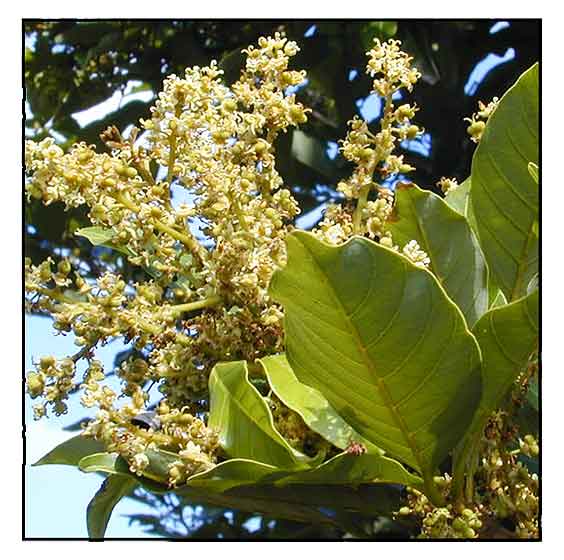 Studies
• Antineoplastic Effects: Antineoplastic potential has been observed with the aqueous fraction of rind reducing cell viability of HT-29 (human colorectal adenocarcinoma cell, HTB-38), HCT-116(human colorectal carcinoma cell, CCL-247), Ca Ski (human caucasoid cervical carcinoma cells, CRL1150) and MDA-MB-231 (human breast adenocarcinoma cells, HTB-26) cell lines in a dose-dependent manner. (2)
• Apoptosis in Human Colorectal Adenocarcinoma Cells / Rind: Study evaluated the cytotoxic and apoptotic effects of N. ramboutan-ake rind in selected cancer cell lines. Crude ethanol extract and fractions (ethyl acetate and aqueous) of Nr-ake inhibited the growth of HT-29, HCT-116, MDA-MD-231, Ca Ski cells by MTT assays. The aqueous fraction exhibited greatest cytotoxic effect against HT-29 in a dose dependent manner, with apoptotic cell death evidenced by chromatic condensation, nuclear fragmentation, and apoptotic body formation. Combined results suggest the aqueous fraction induces mitochondrial-mediated apoptosis. (3)
• Antioxidant / Peel: Study evaluated the antioxidant activity of crude methanolic extract of fruit peel using five different assays and ascorbic acid and EDTA as standard. The hydrogen peroxide scavenging activity was slight higher than ascorbic acid. DPPH radical scavenging and ferric ion reducing power were slightly less than ascorbic acid. The plant extract possessed less antioxidant activity against hydroxyl radical when compared to ascorbic acid, and less ferric ion chelating ability than EDTA. (see constituents above) (7)
• Antioxidant / Antibacterial / Leaves: Study evaluated the antioxidant and antibacterial activity of N. ramboutan-ake leaf extract by three solvents of extraction (n-hexane, ethyl acetate, ethanol). All extracts potentially scavenged DPPH free radicals at concentration of 25, 50, and 100 ppm. Extract showed activity against Streptococcus mutans and S. sobrinus. (8)
• Antioxidant Activity of Different Parts: Study evaluated the antioxidant activity of different parts of Pulalsan, including peels, seeds, and leaves, using DPPH method and Vitamin C as control. The ethanol extract of leaves showed highest antioxidant activity with value of 20.99 µg/mL (very strong), while seeds and peels showed activity of 520.68 µg/mL and >1000 µg/mL (not active as antioxidants) respectively. Results suggest leaves can be developed as a natural source of antioxidants. (9)
Availability
- Wild-crafted.
- Cultivated as a fruit tree.