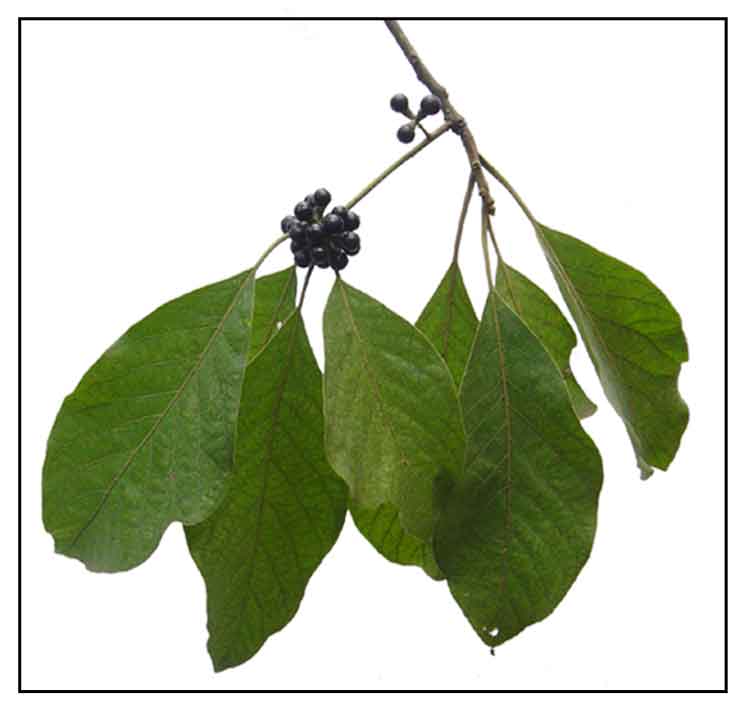 Gen info
- While all parts are used traditionally, only the bark has high commercial value. The tree is over-harvested and exploited, principally used as a binding agent in the incense stick industry and as a binding agent in tablet formulation. It is also used as plaster for fractured limbs.
Botany
Puso-puso is a small tree reaching a height of 10 to 15 meters. Younger parts are usually more or less softly hairy. Leaves are elliptical to oblong-elliptical, 9 to 20 centimeters long, broadly pointed at the base and tapering to a fine, pointed tip. Flowers are small and yellowish, crowded in umbels in the axis of the upper leaves. Fruits are rounded, about 8 millimeters in diameter.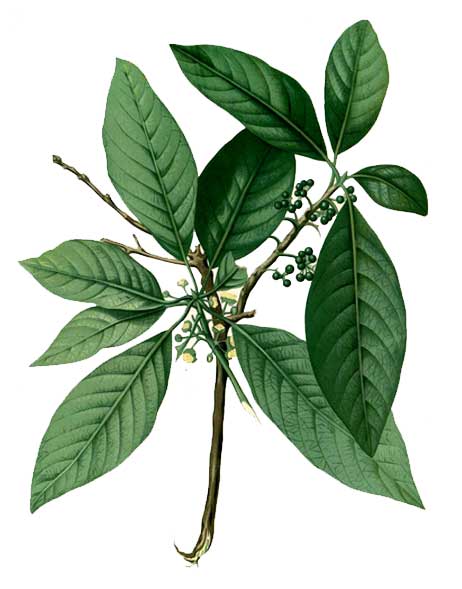 Distribution
- In secondary forests at low and medium altitudes throughout the Philippines.
- Also occurs in India to southern China, through Malaya to tropical Australia.
- Endangered species in the Philippines.
- Because of unsustainable collection of the bark, it has become rare and vulnerable to extinction in many countries. (40)
Constituents
• Seeds contain a slightly aromatic, tallow-like oil (49%); 85% of which is laurostearin; the rest, olein.
• Study yielded volatile oil constituents from the leaf and fruit. The major constituent from the leaf was phytol (22.42%), caryophyllene (21.48%), thujopsene (12.17%), and ß-myrcene (5%); from the fruit oil, lauric acid (44.84%), 3-octen-5-yne, 2,7-dimethyl (28.72%), α-cubebene (6.84%) and caryophyllene 95.04%). Phytol, the main component of the leaf is totally absent from the fruit; and lauric acid, found in the fruit oil, is absent from the leaf oil. (1)
• Study isolated a water-soluble arabinoxylan (d-xylose and l-arabinose) from the mucilaginous bark.
• Study extracted mucilage polysaccharides from the leaves, 12.0%.
• Study yielded a new abscisic derivative, litseaglutinan A and a new arylnaphthalene-type lignan, together with nine known lignans. (14)
• Study of butanol extract of leaves and twigs yielded two new aporphine alkaloids, namely litseglutine A and B, along with two known aporphine alkaloids, boldine and laurolitsine. (22)
• Study of methanol extract from the heartwood yielded four new butenolides, (3R,4S,5S)-2-hexadecyl-3-hydroxy-4-methylbutanolide, litsealactone C, and litsealactone D, litsealactone G, and a new benzoic acid derivative named eusmoside C. (17)
• Study of isolated a water soluble arabinoxylan (D-xylose and L-arabinose in molar ration 1.0:3.4) from the mucilaginous bark of L. glutinosa. (23)
• GC/MS analysis of methanolic extract of bark powder showed the presence of oleic acid, tricosene, crucic acid, tetradecanoic acid, pyrrolidinone, piperidine, eicosanoic acid. Alkaloid fraction was rich in eicosane, piperizine, pyridine, thio-coumarin, tetrahydroisoquinoline. (28)
• Study of leaves and twigs yielded a new megastigmane diglycoside (6S, 7E, 9R)-6, 9-dihydroxy-4, 7-megastigmadien-3-one-9-O-[α-L-arabinofuranosyl-(l→6)]-β-D-glucopyranoside(1) along with glycosides (6S, 7E, 9R)-roseoside (2), (7'R, 8'R)- 3, 5'-dimethoxy-9, 9'-dihydroxy-4, 7'-epoxylignan 4'-β-D-glucopyranoside (3), (7'R, 8'S)-dihydrodehydrodiconifenyl alcohol 9'-O-β-D-xylopyranoside (4) and pinoresinol 3-O-β-D-glucopyranoside (5). (31)
• Study of aerial parts yielded two crystalline substances identified as a-phenylcinnamic acid and p-coumaric acid. (32)
• Study of aerial parts isolated five compounds from the EtOAc partition of a 95% EtOH extract identified as pubinernoid A (1), vomifoliol (2), atroside (3), 1,2-dihydro-6,8-dimethhoxy-7-1-(3,,5-dimethoxy-4-hydroxyphenyl)-N1N2-bis-[2-(4-hydroxyphenyl]ethyl]-2,3-naphthalene dicarboxamide (4), and daucosterol (5).
Properties
• Leaves are considered antispasmodic, emollient, wound healing.
• Roots considered emmenagogue.
• Studies have shown antibacterial, hypotensive, antioxidant, mosquito larvicidal, analgesic, antioxidant, aphrodisiac, anti-inflammatory, thrombolytic, osteoprotective properties.

Parts used
Roots, bark, leaves, seeds

Uses
Folkloric
- In Jolo, decoction of roots used as emmenagogue.
- In the Visayas, poultice of roots and leaves used for sprains and bruises.
- Decoction of bark used for intestinal catarrh.
- In Singapore, seeds are pounded and applied to boils.
- Poultice of freshly grounded bark used for wounds and bruises.
- In the Dutch Indies, leaves used as poultices.
In Bangladesh, leaves are used for diarrhea and dysentery, for excessive semen flow in young boys, poultices for wounds and bruises. Also, used for insomnia and neurosis. Oil from berries used for rheumatism.
• In India the bark is used as demulcent and as mild astringent in diarrhea and dysentery. Also, the paste of bark applied to wounds to facilitate wound healing.
• In Mauritius, in a concoction for intestinal parasitism, 3 leaves of LG is combined with 3 leaves of Psidium guajava and 6 pieces of Phymatodes scolopendria rhizomes. For dysentery, the combination of P scolopendria and L glutinosa. source
• In India, leaves are used for nausea, vomiting and diarrhea. Decoction of bark applied to sores, scabies and to aches and pains. Juice of crushed leaves applied to sore eyes. (3) Bark preparations also used for pain and arousing sexual capability; also used as anti-diarrheal.
• In Western Ghats, aromatic oil from seeds used for treatment of rheumatic pain.
• Healers of Sikkim Himalayas drink a decoction of bark and leaves for the treatment of dysentery. (35)
• In Australia, used traditionally by aboriginal people for gastrointestinal disorders. (37)
• Dried bark powder used for treatment of osteoporosis. Used in Auirveda for its bone protecting effect. Used in traditional medicine for healing fractures.(42)
• Garo tribe and local healers of Bangladesh use leaves for the treatment of gonorrhea. Also used for burning urination, constipation, and to increase body strength. (43)
Others
- Soap Making: Seed oil used by the Chinese in making of white soap.
- Wood: Used for light construction; firewood and charcoal.
- Binding agent: - While all parts are used traditionally, only the bark has high commercial value. The tree is over-harvested and exploited, principally used as a binding agent in the incense stick industry and as a binding agent in tablet formulation. It is also used as plaster for fractuured limbs. (40)
Studies
• Antibacterial: In a study of the antibacterial activity of some Indian medicinal plants, LG showed highest activity against S. aureus and lowest with P. aeruginosa. (2)
• Hypotensive: Study showed the essential oil to reduce blood pressure when given intravenously to rats. Effect was attributed to ligustilide, a main component.
• Antioxidant / Stems / Leaves and Bark: Study of ethyl acetate and methanol stem extracts showed antioxidant activity. (3)
• Phytochemicals: Study of extract of leaves and twigs yielded two new aporphine alkaloids: litseglutine A and B, with two known aporphine alkaloids, boldine and laurolitsine. (4)
• Antioxidant / Wound Healing / Anti-Inflammatory: Phytochemical screening yielded flavone glycosides, reducing sugars, amino acids and tannins. Results showed the extracts have significant antioxidant, anti-inflammatory and wound healing activity and supports the traditional use of the plant for some painful and inflammatory conditions. (6)
• Larvicidal / Mosquito Control: In a study, Litsea glutinosa delayed the molting of larvae into pupae resulting in the abnormal development of mosquitoes at later stage The results suggest a significant potential in vector control. (7)
• Antimicrobial / Phytochemicals: Various dried extracts yielded alkaloids, glycosides, flavonoids, saponins, tannins, and phenolic acids. The bark extracts showed antibacterial and antifungal activities against Staph aureus, P aeruginosa, Salmonella typhi, E coli, A fumigatus and C albicans. (10)
• Leaf Oil Composition: Steam distilled fresh leaves produced an oil in 0.15% yield. The essential oil yielded 78 compounds, 95.18% were terpenoids. The major components were (E)-b-ocimene, b-caryophyllene, and bicyclogermacrene.(11)
• Glutin / Flavone Glycoside: Study yielded a new 2'-oxygenated flavone glycoside, glutin, along with four known compounds. (12)
• Analgesic / Bark: Study evaluated an ethanol extract of the bark of L. glutinosa for analgesic potential. At a dose of 100 and 300 mg/kg, study showed a significant (p<0.05) increase in pain threshold in hotplate, as compared with the control group. (15)
• Antinociceptive / Leaves: A leaf extract was evaluated for antinociceptive activity by abdominal writhing and tail flick methods using mice. Results showed dose-dependent inhibition of nociception induced by acetic acid. Tail flick method showed significant results compared to acetyl salicylic acid. (18)
• Antioxidant / Antinociceptive: A methanolic leaf extract study in Swiss albino mice exhibited pronounced antioxidant property compared to ascorbic acid as standard and dose-dependent analgesic effect. (19)
• Antibacterial / Stem Bark and Leaf: Various extracts of stem bark and leaf were screened for antibacterial activity. The ethanol extract exhibited significant antibacterial activity against Bacillus subtilis, Escherichia coli and Staphylococcus aureus indicating a potentially potent drug for treatment of diarrhea and dysentery. Potent activity against K. pneumoniae suggests a suitable drug for respiratory disorders.   (20)
• Antibacterial / Bark: Study evaluated the in vitro antibacterial activity of ethanolic extract of bark against multidrug resistant bacteria including Staphylococcus aureus, Bacillus cereus, Pseudomonas aeruginosa and Escherichia coli. The extract showed antibacterial activity when compared with gentamicin. Phytochemical analysis yielded alkaloids, saponins, cardiac glycosides, and tannins. (29)
• Mucilage / Binding Property: Mucilage isolated from powdered bark was evaluated for binding properties in tablets and granules, using paracetamol as model drug. Results showed the concentration of mucilage ranging from 6% to 8% may be a better option as binding agent of tablets as compared to starch (10%). (24)
• Aphrodisiac / Possible Male Anti-Fertility Activity/ Bark: Study evaluated LG bark extracts for aphrodisiac and infertility treatment activity on male albino rats. Results showed significant (p<0.05) aphrodisiac activity, together with significant increase in number of mounts (p<0.00e), number of ejaculation (p<0.001), ejaculation latency (p<0.001), intromission interval (p<0.001) and decreased latency of first mount (p<0.001). Results showed significant aphrodisiac and possible male anti-fertility activity with improved testicular performance. (25)
• Antipyretic / Analgesic / Anti-Inflammatory / Thrombolytic / Leaves: Study of various hydrocarbon soluble extracts showed analgesic (acetic acid induced writhing test), ant-inflammatory (carrageenan paw edema), anti-pyretic, and thrombolytic (clot lysis) activities. (26)
• Biodiesel Potential / Fruit: Cetane number is the most important parameter of biodiesel. Cetane number of oil from Litsea glutinosa is 64.79 compared to Jatropha curcas with 57.1. Since it is not edible, it does not conflict with the issue of fuel versus food production. With its cetane number, it is ideal for ignition, and its fruit with 61.29% lipids can yield valuable quantities of biodiesel. The commercial production of fuel is dependent on the fruit, which seasonality limits. Litsea glutinosa has resisted transformation by Agrobacterium rhizogenes. (30)
• Hepatoprotective / CCl4 and Paracetamol Hepatotoxicity: Study evaluated the hepatoprotective activity of methanol extract of Litsea glutinosa on carbon tetrachloride and paracetamol induced hepatotoxicity in rats. Oral ME of Litsea glutinosa (100-200 mg/kg) provided significant dose dependent protection against paracetamol and CCl4 hepatotoxicity and restored biochemical parameters to control levels. Activity was comparable to silymarin. (33)
• Mosquito Larvicidal / Leaves: Study investigated the effect of Mhee Men crude extract as biologic control against Aedes aegypti larvae. A crude methanol extract yielded 32.30% saponins. Extract showed highest larval mortality after 48 hr exposure, with highest larval mortality at 15 mg/L (20.5% ± 4.15) with LC50 and LC90 value of 34.90 and 62.30 g/L against Ae. aegypti larvae, respectively. (34)
• Acute Oral Toxicity Study / Stem Bark: Study evaluated an ethanol extract of stem bark of Litsea glutinosa for in vitro cytotoxicity against breast adenocarcinoma, prostate, and colon cancer cell lines. Results showed no cytotoxicity against cell lines from 5 to 320 µg/ml. In acute toxicity study, no lethality was observed up to 3000 mg/kbw. (36)
• Antiproliferative Aporphine Alkaloids:Four known aporphine alkaloids viz., N-methylactinodaphnine (1), boldine (2), N-methyllaurotetanine (3), and isoboldine (4) were tested for cytotoxicity against HT29, SKMEL28, and primary human keratinocytes. Compound 1 was the most cytotoxic possible through the mechanism of stabilization of topoisomerase II (ß) DNA-enzyme complex. (37)
• Cellular Proliferation in Wound Healing / Aerial Parts: Study of extracts of Litsea glutinosa leaves on proliferation of primary dermal fibroblasts and immortalized human keratinocyte cell line (HaCaT) in the context of wound healing. A neutral fraction exhibited 153% proliferation (p<0.01) in HaCaT cell at 100 µg/ml concentration, but show no significant effects against dermal fibroblasts. (38)
• Hair Loss Treatment Using Jak Inhibitors: Studies are looking into the potential use of Jak inhibitors for the treatment of hair loss. Jak inhibitors were developed to interfere with the signal pathways of the Jak family or Janus kinase. Jak inhibitors, ruxolitinib and tofacitinib, have been studied for the treatment of alopecia areata and other scalp and hair problems. Abnormal activity of the Jak enzymes can result in hair loss. Ruxolitinib and tofacitinib are being evaluated for topical or oral use in the treatment of hair loss. (39)
• Detergency Property / Saponins: Study evaluated the detergency properties of surfactant extracts from the most frequently cited detergent plants in northern Thailand viz. Sapindus rarak. Acacia concinna, and Litsea glutinosa. The plants showed moderate in foaming and detergency abilities compared to synthetic surfactant. Phytochemical analysis detected saponins in L. glutinosa plant extracts. Highest callus formation was found in L. glutinosa explant. Mass spectrometry showed the surfactant was of the steroidal diagnostic type. (41)
• Osteoprotective: Study evaluated the ossteoprotective efficacy of crude extracts of three botanicals viz. Curcuma aromatica, Terminalia arjuna and Litsea glutinosa using serum and tissue biochemical parameters in an ovariectomized rats. Litsea and Curcuma showed significant effects in ameliorating the changes induced by ovraiectomy, while Terminalia had no effect. Both plants showed inhibitory activity similar to that seen with estrogen supplementation. Bone remodeling markers were upregulated in OVX an9immals and amelioration was seen with plant treatment. (42)
• Antihyperglycemic / Antihyperlipidemic / Alkaloid-Rich Bark: Study evaluated the the anti-hyperglycemic and anti-hyperlipidemic effects of an alkaloid-rich bark extract of L. glutinosa in ob/ob mice. Results showed significantly reduced serum levels of fast9ing glucose HbA1c, and glycosylated serum protein (GSP). Increased insulin sensitivity was evidenced by decreased fasting serum insulin reduced insulin resistance. There was alleviation of dyslipidemia, amelioration of liver steatosis, increased activity of serum lipase and alleviated inflammation. Results;ts suggest potential as an effective agent for the treatment of type 2 diabetes. (45)
• Glutinosine A / Morphinandienone Alkaloid / Effect on Glucose Consumption of HrpG2 Cells / Root Bark: Study isolated a mew morphinandienone alkaloid, glutinoside A, from the root bark of Litsea glutinosa. The compound showed no activity on stimulating glucose consumption in HepG2 cells. (46)
• Antidiarrheal / / Potentiation of M3- Muscarinic Acetylcholine Receptor: Diarrhea is one of the leading preventable causes of deaths in developing countries. Study of Litsea glutinosa identified five novel compounds and evaluated them for antidiarrheal potential in microorganism- and chemical-induced diarrhea models. M3-muscariinic acetylcholine and 5-HT3 targets were used to evaluated the binding affinity using molecular docking analysis. A pure compound, oxoaporphine, was isolated from the methanol extract. The extract showed statistically significant zones of inhibition, highest against Shiigella dysenteriae and E. coli, 24 and 16 respectively. compared to ciprofloxacin. In castor oil-induced diarrhea, the same extracts showed 82.50% inhibition, significant compared to loperamide. In biochemical assays, EA and ME extracts restored Na, K, Cl and HCO3 levels in induced diarrhea model. The EA extract normalized IgE and CRP The oxoaporphine showed lower binding energy which was close to loperamide. (47)

Availability
- Wild-crafted.
- Extracts in the cybermarket.