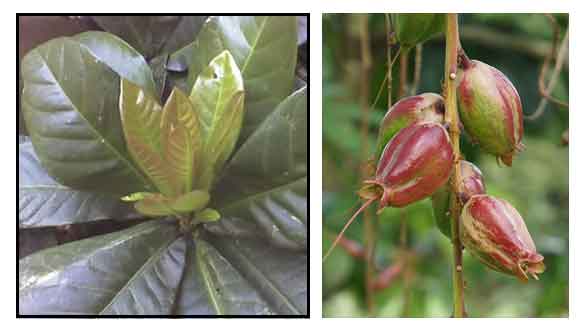 Botany
Putat is a smooth, small tree, growing to a height of 10 meters. Branches have prominent leaf-scars. Leaves occur at the ends of the branches, subsessile, oblong-ovate, 10 to 30 centimeters long, pointed at both ends, toothed at the margins. Flowers are white or pink, borne on terminal racemes or on drooping races from axils of fallen leaves, 20 to 60 centimeters long. Calyx encloses the bud, later splitting irregularly into 2 or 3 ovate, concave segments. Petals are oblong-ovate to lanceolate, 2 to 2.5 centimeters long, slightly united at the base. Stamens are very numerous, 3 to 4 centimeters long. Fruit is ovoid to oblong-ovoid, 5 to 6 centimeters long, somewhat 4-angled, crowned by a persistent calyx. Leathery pericarp of the fruit is green or purplish in color.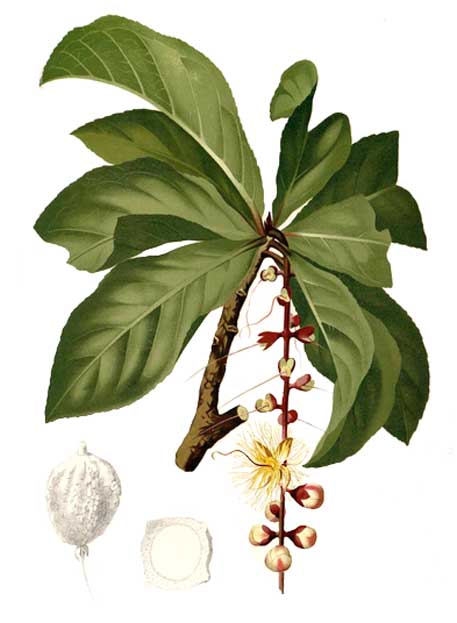 Distribution
- Throughout the Philippines in most or all islands and provinces, occurring In thickets and damp places along the seashore and streams at low altitudes.
- Occasionally planted as a roadside ornament for its drooping inflorescences of white and pink flowers.
- Also occurs in India to Malaya and Polynesia.
Constituents
- Study of ethyl acetate extract of stem bark isolated five compounds: 3,3'-dimethoxy ellagic acid, dihydromyticetin, gallic acid, bartogenic acid and stigmasterol.
- Ethanolic extract of roots yielded two novel neo-clerodane-type diterpenoids - nasimalun A and nasimalun B.
- Bark contains tannin.
- Fruit kernels yield two sapogenins: barringtogenil and barringtogenic acid.
- Proximate analysis of leaves yielded 70.52% moisture, 0.96% ash, 2.54% protein, 0.26% fat, 1.38% crude fiber, and 25.71$ carbohydrates. TPC of the methanolic extract was 1585.20 ± 25.54 mg GAE/100 g compared to the aqueous extract at 1314.12 — 66.19 mg GAE/100 g. (see study below) (15)
- Study of a chloroform extract of B. racemosa fruits isolated two new metabolites along with isoracemosol A and betulinic acid as known metabolites. (22)
Properties
- Considered analgesic, antipyretic.
- Bark is antirheumatic.
- Roots are considered deobstruent and cooling.
- Seeds are aromatic.
- Studies have show anti-tumor activity.

Parts used
Bark, leaves, fruit, seeds.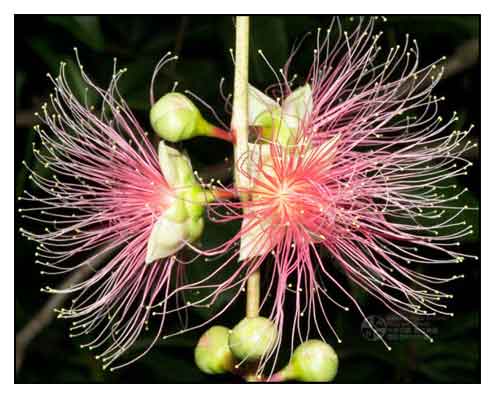 Uses
Edibility
- In Malaysia, young shoots and leaves eaten raw as vegetable for its medicinal value. (14)
- Pounded seeds yield a starchy content, which is made into cakes. (19)
Folkloric
- Decoction of bark used externally as antirheumatic.
- Stem sap from stem incisions mixed with coconut oil
- Poultices of leaves used for skin itches, chicken pox, alone or with bark or root.
- Fruit used for asthma, coughs and diarrhea.
- Seeds are used in colic and ophthalmia.
- Bark and leaves are used for rat and snake bits, on boils and gastric ulcers.
- Pulverized fruit used as snuff for hemicrania; combined with other remedies, applied for skin affections.
- Seeds, given with milk, used for colic; also used for parturition.
- Powdered fruit used as snuff to clear the nostrils; also applied externally, in combination with other remedies, for throat and skin eruptions.
- In Kerala, India, seeds traditionally used to treat cancer-type diseases.
- In Malaysia, used as anti-inflammatory and anti-cancer. Leaves used to treat high blood pressure. (19)
- In South Africa, the Zulus used the fruit to treat malaria. (14)
Others
- Fish poison: Bark is used as a fish poison. Seeds are used for intoxicating fish. (•) Fruits reportedly used to poison wild pigs. (14)
- Illuminant: Oil from the seed used as illuminant.
- Wood: In some places, used for making native huts. Light and soft, it is used for light construction, moldings, interior finish, house utensils, boxes, crates and wooden pallets. (19)
- Fiber: Fibers used in making particle board and block board. (14) Used for the production of pulp. In Kenya, bark utilized as cordage. (19)
- Insecticide: Plant extracts are used as insecticides against Citrus aphids. (14)
- Fuel: Provides suitable firewood. (19)
- Tannin or dyestuff: Bark yields tannin. (19)

Studies
• Antinociceptive / Toxicological Studies / Bark: Study evaluated an aqueous bark extract for antinociceptive potential using three models of nociception i.e., tail flick, hot plate, and formalin tests. Results showed antinociceptive activity in hot plate and formalin tests, without producing unwarranted side effects and toxicity. The effect was mediated mainly via opioid mechanisms, probably through phenolic and steroidal constituents in the extract. (1)
• Anti-Tumor / Non-Toxic: Study of methanolic seed extract on mice challenged with Dalton's Lymphoma Ascitic cells showed remarkable dose-dependent anti-DLA activity in mice in an efficacy better than standard drug, vincristine. The extract seemed devoid of acute and short-term toxicity. (2)
• Molluscicidal / Cercaricidal / Mosquito Larvicidal / Antiplasmodial: Study of aqueous extracts of fruit and seed approximately equipotent molluscicidal, cercaricidal, larvicidal and antiplasmodial properties in experimental models used. Biological effects were attributed to the triterpenoid saponins, esp barringtogenol and barringtogenic acid in the fruit and seed of the plant. (3)
• Anti-Arthritic / Fruits: Study validates the ethnomedicinal use of fruits of BR in the treatment of pain and inflammatory conditions and establishes its potent anti-arthritic. (4)
• Antifungal / Leaves and Bark: Study of extracts of B racemosa leaves and bark yielded two different phenolic acids (gallic and ferrulic) and four flavonoids (naringin, rutin, luteolin and kaempferol). Results showed antifungal activity against Fusarium sp, Aspergillus sp. and T koningii. Results provide scientific basis for use of the plants extracts for future development of antifungal, antioxidant and anti-inflammatory agents. (5)
• Antioxidant / Anti-Inflammatory / Lycopene: Study showed crude extracts to be strong inhibitors of NO. Phytochemical analysis showed B racemosa to be an important source of lycopene, long recognized as an important antioxidant, in vivo and in vitro. The study concludes with a correlation between the antioxidant activity and lycopene content of B racemosa. (8)
• Antioxidant / Aerial Parts: Study of methanolic and ethanolic extracts of all aerial parts exhibited very strong antioxidant properties when compared to BHT, ascorbic acid, and a-tocopherol in free radical scavenging and reducing power assays. (9)
• Anti-Inflammatory / Analgesic / Fruits: Study of ethanol extract of fruits showed significant inhibition of carrageenan/formalin-induced paw edema. The activity was comparable to that of Indomethacin. It also showed significant inhibition of acetic acid-induced writhing, almost comparable to acetylsalicylic acid.   (10)
• Immunomodulatory / Fruits: Study evaluated a hydroalcoholic extract of fruits of B. racemosa for immunomodulatory properties in animal models. Results showed significant decrease in DHT (delayed-type hypersensitivity) reaction using sheep RBCs. Effect was less compared to cyclophosphamide treated group. Also, the SRBC's induced antibody titer was also reduced. (11)
• Alpha-Glucosidase Inhibitory Activity / Seeds: Study evaluated a seed extract of B. racemosa for alpha-glucosidase inhibitory activities. The extract exhibited potent yeast and intestinal alpha-glucosidase inhibitory activities. The methanol extract showed best activity with lowest IC50 of 26.96 g/ml. Results suggest a potential for alpha-glucosidase related diseases, like diabetes. (Gowri et al) (14)
• Antioxidant / Leaves: Study evaluated methanolic and aqueous extracts of leaves for antioxidant activities by FRAP and DPPH assays. The methanolic extract showed higher DPPH scavenging activity and FRAP value than the aqueous extract. (see constituents above) (15)
• Antioxidant / Cytotoxic Toward MCF-7 Human Breast Cancer Cell Line / Fruit: Study evaluated the cytotoxic effects of B. racemosa and H. Sabdariffa methanol fruit extracts toward human breast cancer cell lines (MCF-7) and its antioxidant activities. B. racemosa fruit extract exhibited higher antioxidant activities in DPPH radical scavenging assay and i-carotene bleaching assay. B. racemosa also showed higher TPC and TFC. In MTT assay, B. racemosa also showed higher cytotoxic activity (IC50 57.61 ± 2.24 µg/mL) compared to H. sabdariffa. (16)
• Antioxidant / Effect on Gene Expression in HepG2 Cells / Leaves: Study evaluated the effect of antioxidant-rich leaf extract on gene expression in HepG2 cells. Analysis showed a total of 138 genes were significantly altered with BLE treatment (p<0.05). Results suggest BLE has potential to be developed into a novel chemopreventive agent provided the cytotoxic effects related to methylglyoxal accumulation are minimized in normal cells that rely on aerobic glycolysis for energy supply. (17)
• Antioxidant / Anti-Inflammatory / Lycopene / Leaves: Study evaluated the antioxidant and anti-inflammatory effects of leaf extract by FTC, TBA, and DPPH free radical scavenging methods. Chloroform and hexane extracts exhibited very strong antioxidant properties when compared to vitamin E (a-tocopherol) in FTC and TBA method. Both extracts exhibited radical scavenging activity with IC50 of 54.29 and 63 µg/ml, respectively. The active compound was revealed to be lycopene. (18)
• Antidiabetic / Leaves: Study evaluated a methanol leaf extract for antidiabetic potential on alloxan-induced diabetic rats. Results showed a significant and consistent hypoglycemic effects. The extract prevented a significant increase in glycosylated hemoglobin level in diabetic rats fed daily for 28 days with B. racemosa. (20)
• Protective Effect against Oxidative Damage in HepG2 Cells / Shoots: Study evaluated water extracts of leaves and stems from shoots to protect HepG2 cells against oxidative damage. Five major polyphenolic compounds were identified viz., gallic acid, ellagic acid, protocatechuic acid, quercetin, and kaempferol. The extracts were non-cytotoxic, improved cellular antioxidant status as measured by FRAP assay, protected HepG2 cells against H2O2-induced cytotoxicity, inhibited lipid peroxidation and production of ROS. Results suggest the shoots can be an alternative bioactive ingredient in the prevention of oxidative damage. (21)
• Anti-Inflammatory / Bartogenic Acid / Fruits: Study evaluated a ethyl acetate fraction of fruits of B. racemosa for anti-inflammatory activity in experimental models of acute (carrageenan induced paw edema) and chronic inflammation (cotton pellet induced rat paw edema and oxazolone induced delayed type hypersensitivity model). The extract exhibited dose-dependent anti-inflammatory activity in both acute and chronic models in mice. The reduction in paw inflammation was also evident in histamine and serotonin induced inflammation in rats. The effect on delayed-type hypersensitivity indicated inhibition of immune mediated inflammation. Study showed bartogenic acid as a major constituent, and anti-inflammatory activity can be partially attributed to it. (23)
• Anti-Epileptic / Leaves: Study evaluated the anti-epileptic activity of chloroform extract of leaves of Barringtonia racemosa in mice with convulsions induced by maximum electroshock (MES), pentylenetetrazole (PTZ), and isoniazid (INH) methods. In MES, inhibition of convulsions was more potent than diazepam. In PTZ, inhibition was more potent than phenobarbitone sodium. In IND, there was delayed onset of convulsions less potent than diazepam. (24)
• Antiherpes Simplex Virus / Leaves: Study of aqueous extract of Barringtonia racemosa leaves produced strong indication of antiviral effect against herpes simplex virus type 1 in vitro. (25)
• Chemomodulatory Potential / Bartogenic Acid Against DMBA /Croton Oil Induced Carcinogenesis / Fruits: Study evaluated bartogenic acid (BA), a triterpenoid constituent from fruits of Barringtonia, for cytotoxicity property using human skin carcinoma cell line (SCC-13) and human peripheral blood mononuclear cells (PBMC). Chemopreventive efficacy was evaluated against DMBA/Croton oil-induced skin carcinogenesis in mice. In vitro results showed BA induces cytotoxicity against SCC-13 cells (IC50 7.5 µM). In vivo data from mice model of DMBA/croton oil-induced skin carcinogenesis showed BA, orally or topically, reduced precancerous skin lesions and the incidence of tumor bearing. Results suggest chemopreventive efficacy of BA and demonstrates the cytotoxic and antioxidative effects of fruits. (26)

Availability
- Wild-crafted.
- Ornamental cultivation.