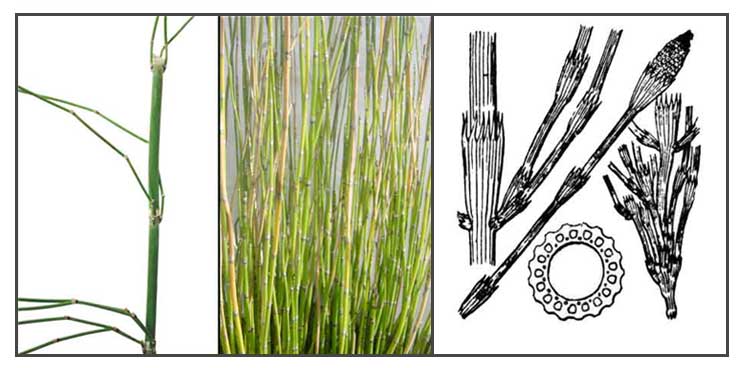 Botany
Putod is a perennial herb, with jointed and branched rootstock. Roots are in whorls from the nodes.
Stem is hollow and noding, the length of the internode 2 to 6 centimeters with longitudinal striations at the surface. Leaves are obsolete, reduced to scales around the node. Cones (strobili) are oblong, green-yellow in color depending on maturity, terminal or spirally borne on the tip of the stem.

The species differs from Equisetum debile in that the fertile stems are much branched, and are grooved and rough.

Distribution
- Widely distributed throughout the Philippines at medium to high altitudes (about 1,000 to 6,000 ft above sea level).
- Usually found along exposed stream embankments on sandy to stony soil.
- Easily overlooked because it blends with grassy landscape. Easily grown in ordinary garden soil.
Components
- Study of aerial parts for chemical composition of essential oil yielded 37 compounds. α-Bisabool oxide A (12.3%) and cuminaldeyde (9.8%) were identified as major constituents. (see study below) (8)
Properties
- Sweet and slightly bitter tasting.
- Cleanses the liver and clears the eyesight.
- Diuretic and astringent.
Parts utilized
· Stem.
· Collected year round.
· Rinse, cut into pieces, and dry under the sun.
Uses
Folkloric
• Hypertension, reddening and swelling pain in the eye, pterygium of the cornea.
• Used for diarrhea, jaunditic hepatitis, and renal lithiasis.
• Dosage: 15 to 30 gms of dried material in decoction.
• In China, decoction of whole plant used from wounds and ulcers. Also, used as antitussive and diuretic.
• In India, used as cooling medicine for gonorrhea.
• In India, plant paste applied to bone fracture; young cones used to treat kidney problems. (10)
• Used to improve fertility in women. In Africa, rhizome decoction used to facilitate fertilization in barren women.
• In Turkey, decoction used as diuretic and for removing kidney stones. (9)
Studies
• Antioxidant: Study on scavenger activities of three equisetum species, including E ramosissimum, showed E telmatela to have the most scavenger and antioxidant activity. (1)
• Diuretic / Toxicity / CNS Depressive Activity: An ethanol extract administered to Swiss albino mice showed moderate level of toxicity and central nervous depressive properties. The ethanol extract also exhibited an interesting diuretic activity in male Sprague-Dawley rats when administered orally and intraperitoneally. (4)
• Protective Against Oxidation, Melanoma, and Melanogenesis: Study compared five extracts for inhibiting effects on three human malignant melanomas: A375.A375.S2 and A2058. The EA fraction discontinued or terminated free radical chain reactions. In human melanoma, EA and DM extracts affected the viabilities of melanoma cells and showed low toxicity in both normal human cells, HaCaT cells and fibroblasts. The EA extract inhibited cellular melanin production. Overall, biofunctional activities of EA extract in food and cosmetics protect against oxidation, melanoma and melanin production. (6)
• Biochemical and Hematological Effects in Pregnancy: Study investigated the maternal toxicity of aerial parts of Equisetum ramosissimum on pregnant Sprague-Dawley rats. Daily gavage doses of ER extract produced significant differences in biochemical and hematological parameters in pregnant rats.   (7)
• Essential Oil / Carvacrol / Aerial Parts: Study of aerial parts for chemical composition of essential oil yielded 37 compounds. α-Bisabool oxide A (12.3%) and cuminaldeyde (9.8%) were identified as major constituents. The presence of carvacrol was unusual as compared to other Equisetum spp. Carvacrol has reported ovicidal effect on neonate larvae. (8)
Availability
Wild-crafted.